Finding a good colored pencil can be hard.
With so many options available, you can quickly get overwhelmed and be left with more questions than answers.
We are here to help.
In this guide, we will take a walk down the virtual pencil aisle so to speak, and answer any questions you may have about colored pencils. From how they differ from one another, to simply finding the perfect pencil for your art project. Our goal in this guide is to help you find the right colored pencil to showcase your artistic talents.
So, let's begin!
Summary Of The Best Colored Pencils
For those that want a quick summary, here is what we learned:
Comparing The Best Colored Pencils
For those who like a bit more of a clearer comparison between all the brands covered in this guide, here's a table that calls out a few key points of distinction between the colored pencils we reviewed:
| Name | Purchase Individually? | Pack Sizes | Core Type | Color Chart |
| --- | --- | --- | --- | --- |
| Prismacolor Colored Pencils and Sets | Y | 12, 24, 36, 48, 72, 132, 150 | Wax | Not Available |
| Crayola Colored Pencils | N | 50 | Likely Wax | Color Chart |
| Derwent Colored Pencils ColourSoft | Y | 6, 12, 24, 36, 72 | Wax | Color Chart |
| Blick Studio Artists' Colored Pencils | Y | 12, 24, 36, 48, 72 | Wax | Color Chart |
| Caran d'Ache Luminance Colored Pencils | Y | 12, 20, 40, 76, 80 | Wax | Color Chart |
| Faber-Castell Polychromos | Y | 12, 24, 36, 60, 120 | Oil | Color Chart |
| Koh-I-Noor Progresso Woodless Colored Pencils | Y | 12, 24 | Wax | Not Available |
| LYRA Rembrandt Polycolor Art Pencils | Y | 12, 24, 36, 72, 105 | Oil | Not Available |
| Tombow Irojiten Color Pencils | Y | 12, 30 | Wax | Not Available |
The Best Colored Pencils Reviewed
1. Caran d'Ache Luminance Colored Pencils
When it comes to art supplies, there are only a handful of super premium brands – this small list includes the likes of Schmincke, Sennelier, and Caran d'Ache.
The reason why these companies command such high respect (and an equally high price tag) is due to the fact that they cater only to the highest performing artists in the world.
Without relying on filler ingredients or cheap production methods, when any of these companies introduce a new art product, the industry takes notice.
As is the case with the Caran d'Ache Luminance Colored Pencils.
These pencils are intended solely for professional use and for those artists who make a living from their art.
Available in 5 different set sizes – you can decide whether you want to dive in and go with all 80 colors or simply test out the waters with their 12- or 20-piece set.
But once you do fully commit to these colored pencils, we think you will be pleased with the results.
From the technical standpoint, they check all the boxes:
8mm diameter lead (which can be sharpened to a fine point)
80% of their colors receiving a lightfastness rating of I (meaning they won't lose their luster in 100 years). The remaining colored pencils had a lightfastness rating of II (meaning they will still look great for about 50 to 100 years)
Smooth and velvety consistency that allows for easy blending
Developed and manufactured in Switzerland
For those professional artists who love to see color charts – you can view all the details here which includes lightfastness ratings, pigments used for each color (to verify pigment purity), along with a look at which colors are included in each set.
Bottom Line
Overall, if you want uncompromising performance from your colored pencils and are looking to step up from your previous brand, invest in these pencils by Caran d'Ache. The results will be stunning.
2. Blick Studio Artists' Colored Pencils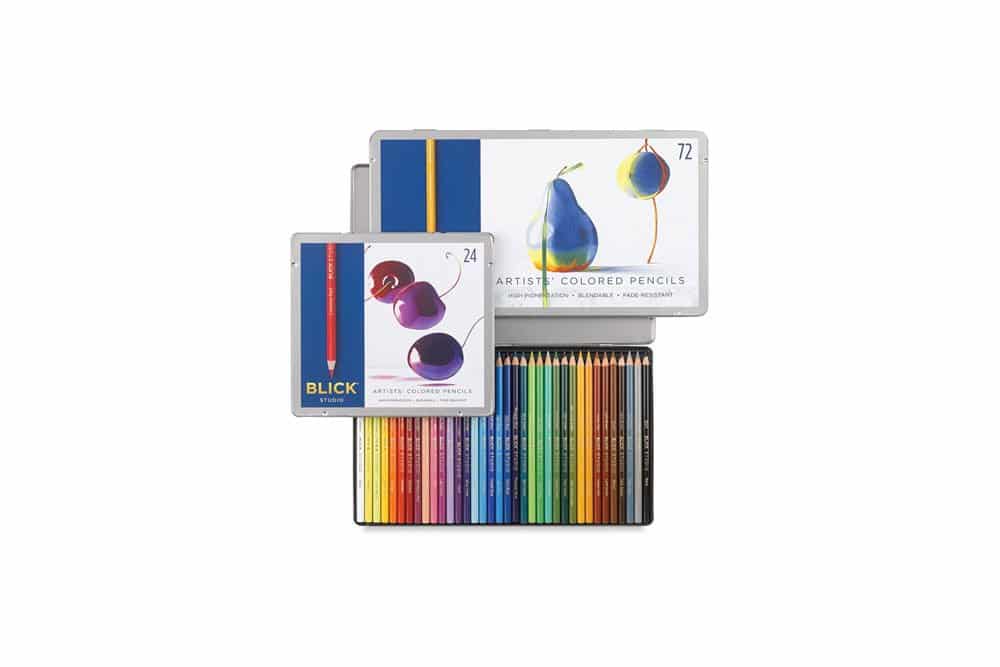 For those who want a cheap, yet professional grade colored pencil, then one of the best picks on the market will be these pencils from Blick.
Maker of all things quality, yet affordable, Blick colored pencils are no exception to the rule.
Available in 12, 24, 36, 48, and 72 set sizes, you can find the perfect sized option for you.
Unlike many of the other colored pencils on our list, these ones by Blick can be purchased separately – making it perfect should you be working on a much larger scale drawing and need to restock without having to repurchase an entire set.
Each of the barrels are made from a cedar casing that provides both comfort and performance.
In addition, the 3.8mm lead core is great for a variety of stroke widths.
For those who want to see color chart and swatch info, Blick does provide this here for all 91 colors.
Given that these are a cheap professional grade colored pencil, when compared to some of the more elementary options on this list, they are one of the more expensive offerings. Expect to pay roughly $0.73 per pencil ($0.95 if purchased individually).
Bottom Line
Overall, for the quality received these are the best colored pencils for those intermediate or professional level artists on a tight budget. The colors are vivid and their performance is one of the best.
3. Prismacolor Colored Pencils and Sets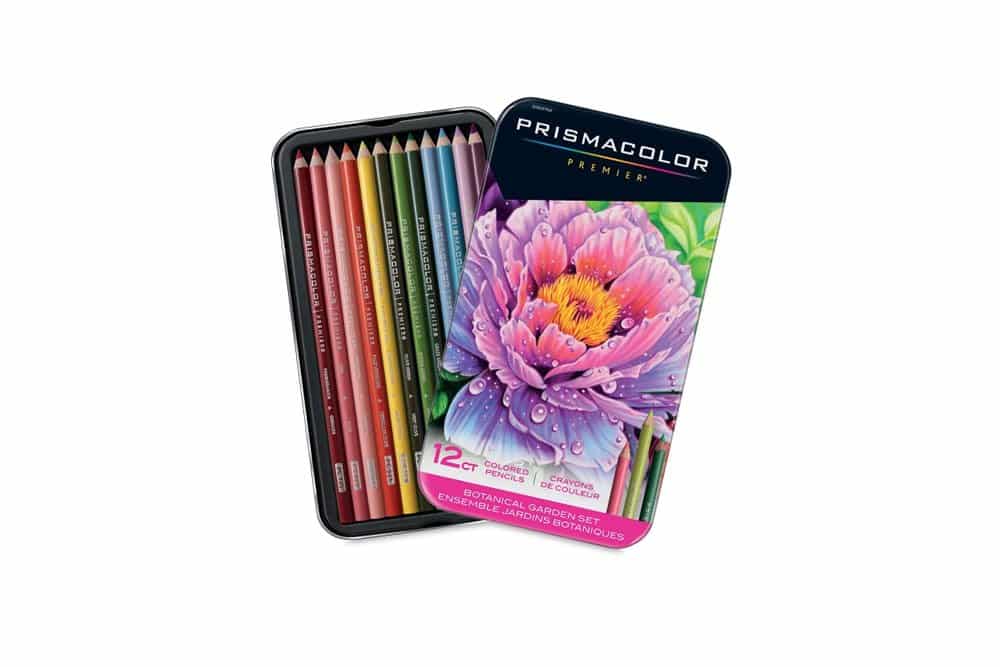 By far the most popular colored pencil in the world will be those made by Prismacolor.
A unique mixture of pigment and wax allows this one of a kind colored pencil to have some key blending properties while still providing bright and vibrant colors.
Available in several different set sizes (between 12 and 150 pencils) you can really find a set that matches your budget.
While today we have just the standard line of colored pencils covered in this article, Prismacolor does offer additional lines for other applications.
Listed on the Prismacolor website you can see the following varieties:
Premiere Col-Erase (Erasable Colored Pencils)
Premiere Watercolor Pencils (Watercolor Pencils)
Scholar Colored Pencils (Colored Pencils For Children)
Premiere Verithin Colored Pencils (Fine Tip Colored Pencils)
Premiere Soft Core Colored Pencils (Soft + Thick Colored Pencils)
Premiere Art Stix Woodless Colored Pencils (Pure Binder + Pigment Without Wood)
Artists both young and old simply loved these pencils and the results they provide on paper.
However, professional colored pencil artists may want to look elsewhere as certain details on lightfastness, permanence, pigment sources, etc. are not publicly available (at least we couldn't find them).
While many may consider Prismacolor pencils to be one of the pricier options available in the market, the reality is that they aren't.
Based on our research and calculations, these pencils cost about $0.60 a pencil (when part of a 24 pack) and is actually much cheaper than average (when compared to equally high performing pencils).
Perhaps it's through this delicate balance of price and performance is why they have become one of the most popular colored pencils in existence.
Bottom Line
Overall, these are one of the best wax based colored pencils on the market today. Prismacolor pencils provide predictable and favorable results.
4. Crayola Colored Pencils
When it comes to art supplies for children, there is no beating Crayola.
Synonymous with crayons, Crayola also makes a mighty fine colored pencil that is great for casual artists looking to just get some of their creative juices on to the paper.
Of course, with a brand like Crayola, when compared to others on our list, might not have the highest pigment concentration, nor the finest extenders and binders within the pencil – but that's completely ok.
If you have an adult coloring book, or simply want to share the art making process with children, then these will more than suffice.
One major benefit for these colored pencils, as is often the case with many Crayola products, is that they are extremely affordable.
As part of the 50 pack, the colored pencils in this set only cost $0.18 per pencil – making it the most affordable option that we reviewed.
Bottom Line
Overall, these are student level colored pencils that are perfect for casual use and those artists who are on a highly restricted budget.
5. Derwent Colored Pencils ColourSoft
One of the top-rated colored pencils that we came across during our research was the ColourSoft line by Derwent.
To put it simply, these colored pencils had all the key properties that professional artists are looking for.
From the easy to understand color chart (with some excellent lightfastness ratings) to the vibrant colors that come from the soft core lead – you can expect some bright and breathtaking results when pencil meets paper.
While the lead in this pencil is soft, it was formed to resist breaks rather well. So, when you are using your favorite pencil sharpener, you won't have to worry about the lead constantly cracking when you want to get a finer point.
Speaking of finer points, this colored pencil does have a slightly beefy 4mm core – which may be a bit too thick for some – especially when doing detail work and fine strokes, but for blending, color blocks, and more, you shouldn't have any problems covering areas with these pencils.
Lastly, blending – a common question artists always have when it comes to colored pencils.
When researching what other artists had to say, the reviews were mixed in this area. However, we were quick to find out that those artists who tried to blend with off-brand colorless blenders had less than desirable results.
On the other hand, those artists that used the Derwent blender, the feedback was overwhelmingly positive.
Bottom Line
Overall, Derwent is a company that has been trusted by artists for 187 years and has perfected the art of making colored pencils. Expect to see terrific results when you add these colored pencils to your studio.
6. Faber-Castell Polychromos
As we eluded to at the start of our article – colored pencils come in two primary types – wax or oil-based cores.
While many of those featured on our list rely on wax as the primary binder the Faber-Castell Polychromos and LYRA Rembrandt Polycolor Art Pencils are the two oil based colored pencils we will be looking at today.
Nearly in a category all its own, these Faber-Castell Polychromos are perfect for those artists who love the slick feel and properties of oil when it comes to their medium.
If you are coming from a background in oil pastels or oil painting – then once you place the pencil in your hand, you will feel at home.
With the oil-based core, artists loved the much easier blending properties of these pencils – especially when compared waxed based pencils.
Added benefits to these pencils will be a natural resistance to water along with a binder that will be more resistant to cracking when being sharpened with your favorite sharpener.
Like the Caran d'Ache, the Faber-Castell Polychromos feature a 3.8mm lead that is a versatile size for both fine detail and larger stroke work.
Bottom Line
Overall, these colored pencils are intensely vibrant and many contain excellent lightfastness ratings. If you find waxed based pencils to perform less than stellar, then these oil-based pencils will probably change your mind.
7. Koh-I-Noor Progresso Woodless Colored Pencils
For those artists that want to see great value in their art supplies, then you will want to take a look at the Koh-I-Noor Progresso Woodless colored pencils.
Yes, you read that right – woodless.
Unlike any other mentioned on our list, this pencil redefines what a pencil really is.
In the Koh-I-Noor Progresso's you have pure lead that is wrapped in a lacquer.
Therefore, if you want anywhere from fine to ultrawide strokes, you can simply tilt the tip of this pencil to your preference.
Only costing $0.58 per pencil (based on the 20 pack), they are also one of the cheapest.
In order to prevent a messy art desk, the lacquer wrapped pencils won't transfer onto your hand or anything else it comes in contact with.
As great as these pencils are, there were a few downsides we came across. Most notably was the lack of color charts and the ability to purchase individually.
However, if this isn't something that is of importance – the value here is undeniable.
Bottom Line
Overall, these colored pencils will perform on par with most. The unique barrel design allows for a much greater value than virtually all others on the market.
8. LYRA Rembrandt Polycolor Art Pencils
Competing head-to-head with the Faber-Castell Polychromos, the LYRA Rembrandt Polycolor Art Pencils are another oil-based colored pencil that provides amazing results.
Available in 5 different set sizes which include 12, 24, 36, 72, & 105 pencils, you really have your selection when going with this brand.
Like the Polychromos, the colors that come from this pencil will be brighter and more vivid than most wax-based colored pencils and will a welcomed medium, especially for those who come from an oil-centric background.
Able to dissolve effortlessly in either an odorless mineral spirit or turpentine, you can easily manipulate this medium on the paper to your liking.
While pros might be turned off by the lack of color chart available (we tried to find one but couldn't), the ability to purchase these colored pencils individually is welcomed – just will have to go through an art retailer like Blick Art Materials.
When looking at the value of these pencils, they are a bit pricier compared to most. We did the math on the 24 pack and found that they cost $1.33 each – making them a bit pricey for some.
However, when compared to the Polychromos – these colored pencils by LYRA are just a bit more affordable.
If there were any pronounced downsides that we saw in artists feedback it was around lead structure. Some found that these pencils chipped and cracked rather easily – so you will want to make sure when sharpening that you use a manual sharpener so you can dial in to your exact preference.
Bottom Line
Overall, these are a great alternative to the Faber-Castell Polychromos. The amount of colors available is welcomed along with the slightly more modest price.
9. Tombow Irojiten Color Pencils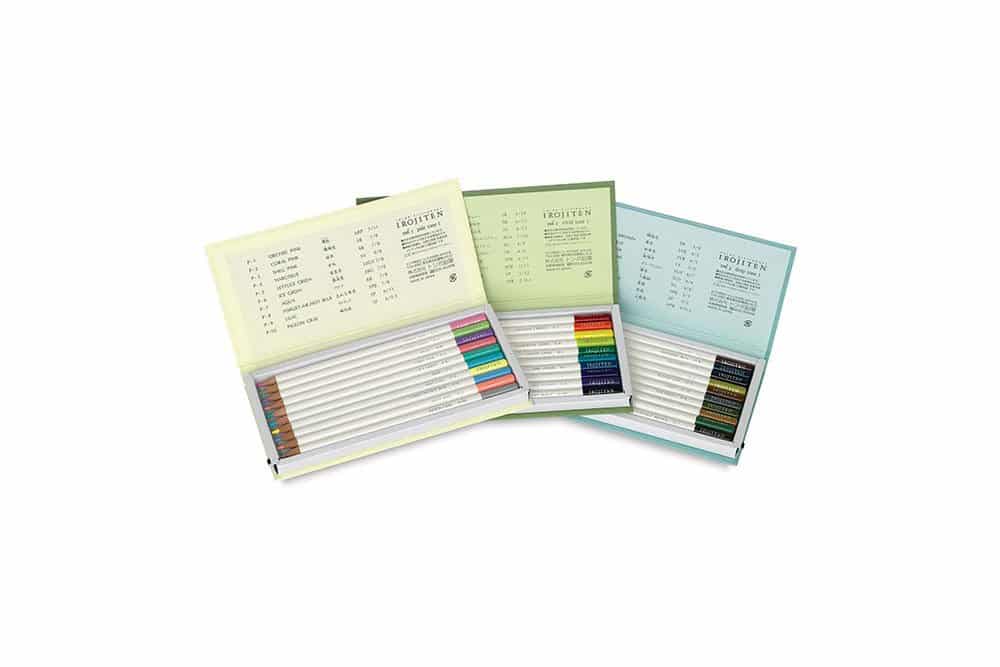 Makers of the best watercolor markers we recently reviewed, Japan based Tombow has been making quality art supplies for over a century (since 1913 to be precise).
The Tombow Irojiten (which Irojiten is the Japanese expression for "color encyclopedia") is a unique name for this truly unique colored pencil.
Relying on a wax base, this colored pencil is available in a wide spectrum of colors (90 total) and comes in rather peculiar sets.
Rather than just being a generic 12, 24, 66, 48, 72 type of set, Tombow only sells their colored pencils as themed sets.
When visiting their product page on the Blick Art Materials website you will see the following (parentheses notes the number of pencils included in the set):
Cool Grey (5)
Fluorescent (5)
Primary (5)
Sepia (5)
Soft Primary (5)
Tranquil (12)
Vivid (12)
Rainforest (30)
Seascape (30)
Woodlands (30)
Now of course if you don't consider your colored pencil drawings to be Woodlands or Rainforest, Tombow does sell their colored pencils individually as well (typically costing about $2.39 / piece).
While their sets may appear limiting to some, what was extremely evident in the reviews from fellow artists was their uniqueness.
Time and time again we saw exclamations like "richly pigmented", "unique colors" to simply "I just love these".
Bottom Line
Overall, if you are looking to change up your colored pencils and want some colors that deliver quite a bit of pop – then we think you will love the Irojiten line by Tombow.
Before You Decide: A Few Things To Consider
While doing our research, we discovered that there were a distinct points of confusion and consideration when it came to artists choosing the right colored pencil for them.
Here we wanted to share our notes as we hope it will help you understand key differences between colored pencil brands:
Purchase Individually
While many of the brands that we reviewed in making this guide sold their colored pencils individually, this is not an accurate reflection for the colored pencil market as a whole.
Many brands (particularly those sold at mega retailers), are just sold in sets.
This can be a big problem for professional artists.
Should you be working on a commissioned piece, or simply like to have consistency and quality in your drawings, then it's imperative that you go with a brand that sells colors individually.
Inevitably there will come the time where you completely use up a colored pencil. When that time comes you can either purchase the color individually – which will exactly match the previous pencil you were using – or you will have to repurchase the set (which is a waste of money if you only needed one color).
Trying to mix and match colors across brands not only noticeable, but the composition of the pencils themselves also slightly differ.
Inconsistent colors aside, blending and smoothing of the colored pencils will just simply be harder when brands are mixed together.
Many retailers like Blick Art Materials, Jerry's Artarama, etc. sell colored pencils individually, so be sure that you look for this if you decide to go with a brand that isn't featured on our list.
Lastly, and perhaps most importantly – is testing.
Pencils that are sold individually is a great way to test across brands and see if you really like the brilliant and vibrant results that comes out of the lead.
If you are a professional, this is an affordable and really effective way to compare all the top brands for under $30 bucks.
Professional vs. Student
Whether its oil paints, watercolors, or even acrylics – in the world of art supplies, materials are largely bucketed into two main categories:
Beginner/Student Grade
Professional Grade
So, which one makes sense for you?
And more importantly, is it worth the price premium?
It depends.
If you are just starting out and simply want to explore the colored pencil medium, or perhaps you are purchasing a set for a child or teen, then student grade colored pencils will more than suffice.
The biggest difference between student and professional grade comes down to 2 main details:
Let's take a quick look at each one of these facets:
Lightfastness
When selecting any professional medium, it's always important to note the lightfastness rating.
Lightfastness is a standard used by art companies to test how well their medium resists fading over time (source).
However, it does get a bit more specific than that.
Within various colors made by one brand, you can have differing levels of lightfastness ratings.
Many art companies follow the ASTM standard when it comes to labeling – as evident in this color chart for Caran d'Ache colored pencils.
Ratings will typically be any one of the following (from poor to best):
Very poor lightfastness rating = V / less than 2 years before fading
Poor lightfastness rating = IV / 2-15 years before fading
Fair lightfastness rating = III / 15-50 years before fading
Very good lightfastness rating = II / 50-100 years before fading
Excellent lightfastness rating = I / over 100 years before fading
Now if you are a professional artist and are thinking that you should go with a brand that only makes "Excellent Lightfastness" rating pencils – this notion would be misplaced.
The reason why you will never find a "perfect" lightfastness rating pencil set is due to the pigments used during the production process.
Since many pigments are sourced naturally (organic), the pigment just simply can't ever attain a perfect lightfastness rating.
For consistency sake, when looking at a brand like Caran d'Ache – we see that some colors are only able to achieve a lightfastness rating of II: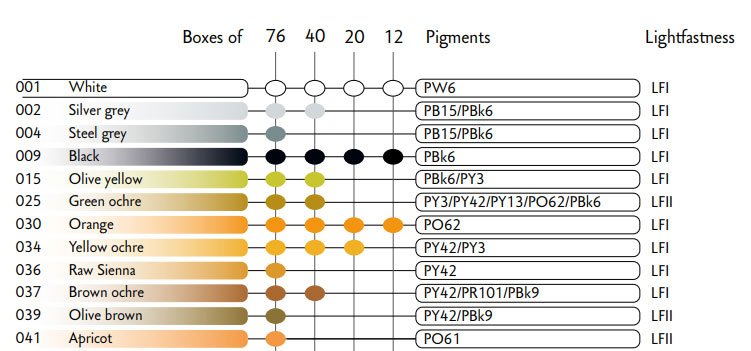 As covered earlier, even those colored pencils with a lightfastness rating of II will still withstand at minimum 50 years before they begin to even lose their luster.
What's the takeaway here?
If you are a professional, strive to get pencils that have a lightfastness rating of at least III or better.
They will withstand the test of time (your lifetime anyways) and won't degrade a few years after application.
Permanence
Permanence can be a bit hazy when it comes to its formal definition.
The reason is largely due to the lack of a governing body that dictates what particular things mean when it comes to labeling art materials (ASTM at least standardizes some of this).
With that being said, you will see some colored pencil companies state that their colored pencils have great permanence properties.
This can mean one of two things – they are using the term in place of lightfastness (typically trying to hide something if this is the case), or its that their colored pencils won't chemically change after it has been applied to the paper.
Furthermore, we have also seen permanence referred to the opacity of the pencil itself.
The key takeaway here is to reach out to the company should you be looking for additional explanation – they are usually always more than happy to answer your questions!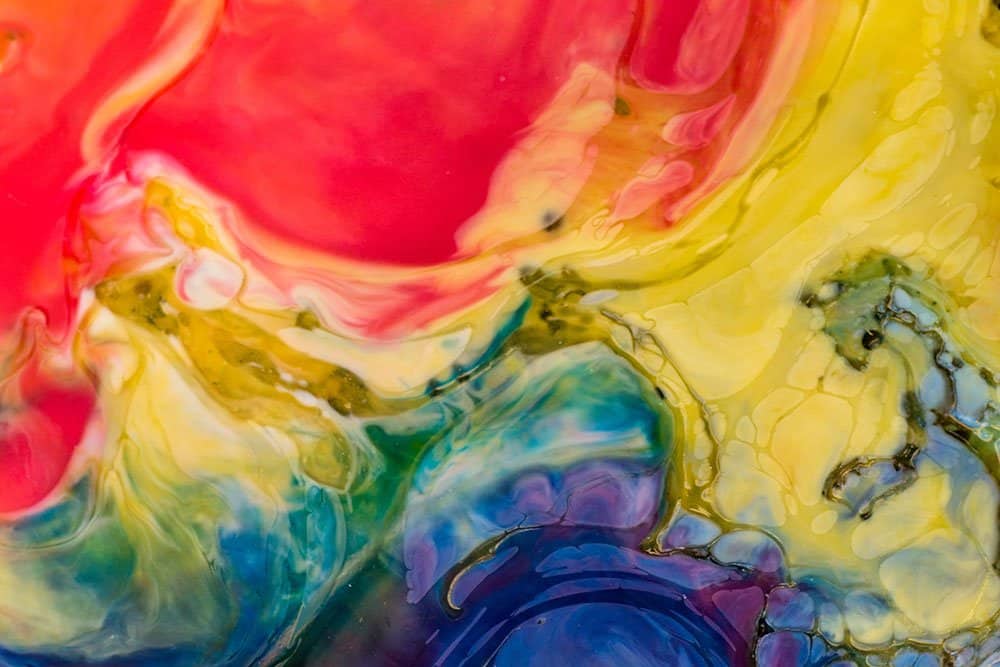 Composition
Within the world of colored pencils, you will have two distinct types of compositions within the cores:
As we fully unpacked their key differences when learning how to blend colored pencils – here's a brief summary of the important things you should know when purchasing a new set:
Oil – Found in only two brands featured on our list, Faber Castell Polychromos and the LYRA Rembrandt Polycolor Art Pencils – colored pencils that contain oil in their lead will be much more softer (nearly creamy) when compared to their wax counterparts.
Oil based colored pencils (still different that pastel pencils) will be manipulated in a much different way that wax based colored pencils by relying on odorless mineral spirits or turpentine.
Wax – Most of the colored pencils on the market today will contain wax as the primary binder.
Wax based pencils behave very differently when compared to their oil counterparts. From the blending ability to how they perform on even the best papers for colored pencils will be like night and day.
Rather than using a solvent like odorless mineral spirits to dissolve the pencil on the paper, wax based colored pencil artists will use baby oil / mineral oil (which really is liquid paraffin) or a xylene based pen (which we think is more effective) when it comes to getting clean and effortless blends.
If you are unsure of the composition within the colored pencils you plan on purchasing at a store or online retailer, and it isn't disclosed on the package, then it's safe to assume that it's a wax based colored pencil.
Set Sizes
As you can see from our table above, colored pencils come in many different set sizes.
During our research we found that sets came with anywhere between 6 (Derwent Colored Pencils ColourSoft) to 120 (Prismacolor Colored Pencils) pencils each.
In addition to set sizes, we also came across subject-based sets such as those offered by Tombow – where you can find sets with like color palettes labeled Tranquil, Vivid, Rainforest, Seascape, etc.
If you are still at the beginner or student level when it comes to colored pencils, we recommend going with a 24 pack or smaller.
Why?
With 24 colored pencils, it allows you to really test the blending abilities of a pencil, see if you actually like the properties within the pencil itself, and most importantly – saves you quite a bit of money.
Now, if you are a professional and already know the brand you like – then of course a 120 set will make perfect sense.
This will of give you greater vibrancy in your piece across the entire color spectrum without having to rely on blends.
So, take a minute and think if you want to make a career (or simply want better results) with colored pencils or if you are looking to just test out the medium and see if you like it.
Gifting
Colored pencils make the perfect gift for those at any age due to it being such an accessible medium that anyone can learn (yet only a few will master).
If you are getting colored pencils for someone who has no prior history in art, then a 24 pack should be more than enough to get them started (just don't forget to pick up a top rated sharpener for colored pencils and some paper)!
Now, if you are looking for a gift for someone who knows their way around the art studio, or simply want to get a gift for yourself, then we recommend going with a complete set that comes with a wooden box.
Brands such as Blick, Faber Castell, Derwent, and many more sell wooden box sets that are perfect for both organization and gift giving.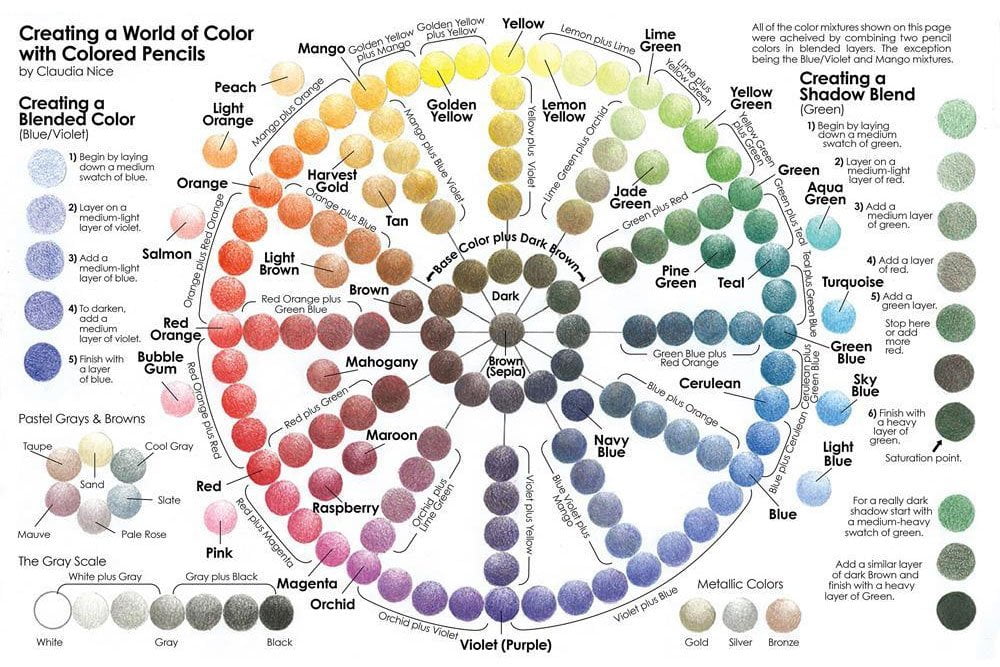 Color Chart
Many artist grade colored pencils will feature accompanying color charts that highlight the differences between each one of the colors that they sell.
Color charts are not only a great way to see the number of pigments mixed together when making a colored pencil, but color charts also allow great insight to other details as well (lightfastness rating, model number, etc.).
In our table above, we linked to all the color charts (right most column) that we could find for all the brands we reviewed.
So, if you are looking for specific details about a particular pencil, then be sure to review the table mentioned at the beginning of this guide.
Questions Artists Commonly Had About Colored Pencils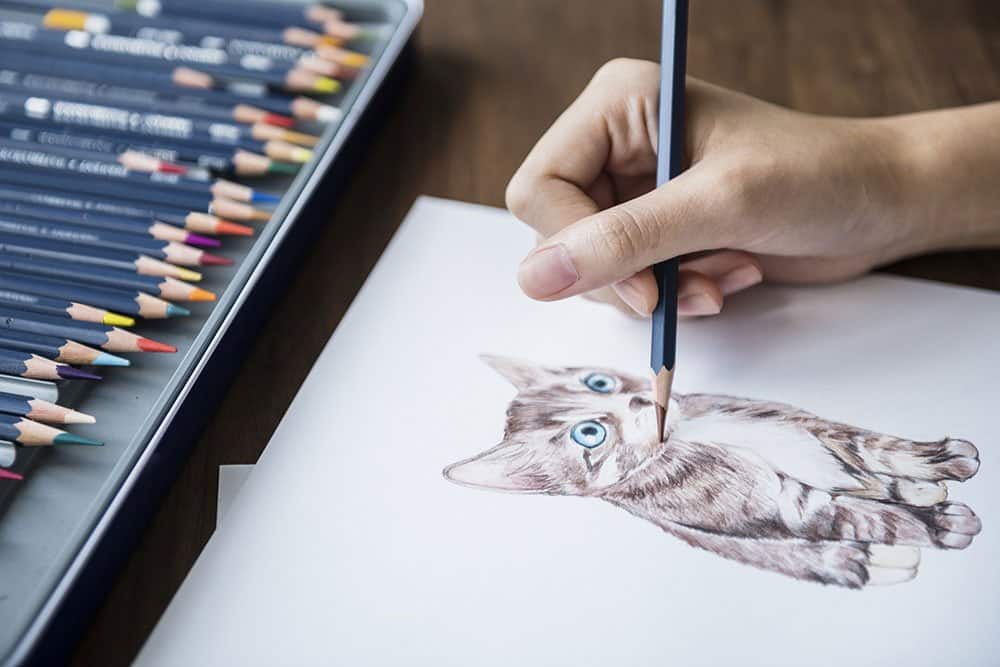 In order to get the most out of your colored pencils, we wanted to answer a few common questions that many novice artists had:
Where To Buy Colored Pencils Online?
Of all the art mediums, colored pencils are one of the most popular. With that being said, their distribution is fairly wide.
However, if you are looking for quality colored pencils, then you will want to skip some of the general craft stores and go with retailers that specialize just in art supplies.
While we recently covered a few online art supply shops in this post, when purchasing colored pencils we would recommend the following:
Now this only of course covers a few, but generally any of the above will have favorable shipping and return policies.
Based on our findings we also found that many of these retailers had competitive prices.
Can I Use An Electric Sharpener With My Colored Pencils?
It depends.
Electric pencil sharpeners have come a long way in recent years and now feature blades that are both extremely sharp and precise.
This allows even some of the softer core colored pencils to be used with one.
However, if you want precision or the ability to sharpen to either a fine or rounded tip, there is no denying the effectiveness of an old-school manual pencil sharpener.
They not only cost a fraction of a price of their electric counterpart, but the ability to precisely sharpen your colored pencil is always advantageous no matter if you are a student or professional artist.
Is Blending Colored Pencils Really That Tough?
No!
In fact, we recently wrote a post that covered many of the most popular techniques that professionals use in order to get smooth and clean looking blends from their colored pencils.
All of the blending techniques should work whether you decide to go with an oil or wax based colored pencil.
Is There Specific Paper You Should Use For Colored Pencils?
Kind of.
If you are using a colored pencil that are more suited for beginners or students, general mixed media paper or sketching paper should have enough tooth and texture for the colored pencil binder and pigment to latch on to effortlessly.
However, for the professional results you will want to get a top-rated paper for colored pencils as it will simply perform much better in regards to both tooth and blending.
Choosing The Best Colored Pencils
There you have it – the best colored pencils of 2020. When we initially set out on this assignment, we knew it was going to be tough. Primarily due to the number of options that exist in the marketplace today.
However, after approaching this in an unbiased and planned out manner, we are confident that any one of those covered in our list above should work perfect for you.
Naturally, there are many more colored pencils available than what we covered today. If you don't see your favorite brand listed above, we would love to know what makes it so great.
So, be sure to get in touch with us when you have a few extra minutes.
Colored pencil selection aside, its always important to remember that practice and persistence make you better as an artist – not the amount you spend on supplies.
A skilled artist can (and will) still be able to make beautiful results with a set of Crayola's when compared to a novice using professional grade pencils like Caran d'Ache.
It's practicing that makes the biggest difference in your ability in an artist – not how much money you spend.
So, no matter what colored pencil you decide to purchase, just be sure to not let them gather dust!
Lastly, always have fun while making art!