A quality watercolor marker can strike the right balance by marrying both the best properties of a water brush and traditional watercolor paint.
Their unique characteristics allow the watercolorist to have complete control over the piece of work they are creating.
Not only can you achieve similar light-wash effects as you would with a traditional watercolor paint, but you can also get extraordinarily deep and vibrant colors as well.
When reviewing the best watercolor markers available for watercolorists, we found that the Tombow Dual Brush Pen Art Markers were simply the best.
Not only did they exhibit all the key qualities that a watercolorist will look for when selecting a marker (line control, dissolvability when mixed with water, color vibrancy, etc.), but Tombow also had the widest color selection and were incredibly reliable.
Here's a comparison of the watercolor markers that we reviewed:
Comparing The Best Watercolor Markers
Summary Of The Best Watercolor Markers
Reviews of The Best Watercolor Markers
1. Tombow Dual Brush Pen Art Markers
The gold standard when it comes to watercolor markers will be this set by Tombow.
The Tombow marker is amazing in every single way.
First off, color selection:
Unlike many of the watercolor markers featured in this list with a limited color selection (typically coming in packs of 12 to 24), this Tombow set comes with a staggering 95 colors (+1 for the blender marker).
Why does a vast color selection matter?
Accurate color representation.
One of the inherit drawbacks to watercolor markers will be color mixing.
Sure, the pigment will dissolve effortlessly when exposed to water, but when mixing colors from markers, it is terribly difficult, even for professional watercolorists to manage color selection.
Therefore, having a wide array of colors from the start will not only make for pleasing and expected results, but will also ensure less mistakes or general frustrations while painting.
While the color selection of the Tombow kit are second to none, the markers themselves are downright terrific.
Featuring a dual tip design (brush tip + fine tip), you have a wide range of brush strokes that you can employ within your artwork.
The brush tip features synthetic fibers that can paint either very fine or very broad strokes, ultimately giving you even greater control of your piece as you are painting.
The pigment within the brush has an exceptional light fastness rating and is also acid-free.
But it gets better…
The pigment within the barrel is great for reworking as well. So, if you are a watercolorist that finds themselves working on a piece over several days, just simply adding water back to your piece will allow the pigment to lift from the paper and get reworked.
Now there is one aspect about these pens that we absolutely loved, and that's the smart cap design.
You may notice when looking at these that they have a small notch on the cap.
But why?
This prevents the markers from rolling around when placed on your desk!
Not only will this help you stay organized, but it ensures that no markers roll off and you lose one (especially if you bring these to your local coffee shop).
While this set does come with a desk stand, the little notch on the cap is a wholly underrated feature that you will come to appreciate with time.
Secondly, the Tombow set does include a blender marker which give you additional control and options over your piece.
Lastly, and perhaps the most important aspect of this set is the markers self-cleaning feature found within the tips. Unlike other cheaper/poor performing watercolor markers where the tip may 'muddy' when mixed with different colors, the Tombow's are self-cleaning.
This ensures accurate color representation throughout the entirety of your artwork.
Overall, if you are looking for uncompromising performance, then you must go with this set by Tombow.
Note: The Tombow markers can be purchased individually. Therefore, if the pigment runs dry in one marker, you can head over to a large art retailer like Blick and restock for an affordable price.
Pros
Extensive color selection
Unparalleled performance
Perfect for beginners to professionals
Includes desk stand
Blender marker also included
Smart cap design
Markers can be purchased individually
Cons
Expensive (but worth every penny)
2. Winsor & Newton Water Color Markers
A close runner up to the amazing Tombow markers was this set from Winsor & Newton.
The name recognition that Winsor & Newton carries in the art community is second to none.
Primarily known for their oil or acrylic based paints, Winsor & Newton makes an amazing set of watercolor markers (Note: they also recently purchased Letraset – also featured on this list).
So, what makes the Winsor & Newton watercolor markers so special?
Like any quality watercolor marker, they feature a dual tip design with one end being a fine nib while the other end has a synthetic bristle brush design.
This not only makes them perfect for calligraphy or other lettering styles, but also for craft work as well as watercolors.
The dual tip design will give you a range of strokes (both small and broad), along with terrific control over the final results.
As nice as the dual tip design may be, the most important aspect will be dissolvability/blending when exposed to water along with the vibrancy of the pigment.
These markers by Winsor & Newton deliver on both fronts.
First and foremost, the dissolvability is downright terrific.
When making a stroke with these markers, when you take the included blending marker or simply a wet brush to the stroke, it will unlatch from the paper effortlessly allowing you to pull out a wide range of hues.
This not only guarantees uncompromising performance but equally amazing results.
The vibrancy of the pigment also matches the Tombow markers. Some respected watercolorists have stated that "[The Winsor & Newton markers] are absolutely beautiful and stunning watercolor markers".
The storage of these markers is great for artists who want to watercolor en plein air.
Housed in a metal tin, you can slide these markers into your purse, backpack, or any other means and travel with ease.
However, there is a major drawback to these markers:
Color selection.
The largest pack size for these markers is 12.
This will require you to do quite a bit of mixing in order to get accurate color representation for your piece.
Now, we were able to find that Winsor & Newton does sell these markers individually.
When visiting Blick Art Materials, we found an additional 24 colors available. This not only makes it a terrific option for refill purposes, but you can easily expand your color selection by purchasing only the colors you may need.
Pros
Amazing color vibrancy
Excellent light fastness rating
Professional level watercolor markers
Perfect for travel/class use
Cons
Doesn't include blending marker
Limited color selection for pack
Slightly expensive
3. Letraset Aqua Marker
These wide barreled markers by Letraset are a terrific option for beginners (and even kids).
Not only do they feature a dual tip for both fine and broader stroke sets, but the tips will be firm to ensure their structure over time.
Therefore, if you share art supplies with little ones, the firm heads on these can withstand a bit of abuse.
However, for those watercolorists reading this looking for a quality watercolor marker, fret not.
The Letraset's do blend effortlessly when exposed to water – ultimately giving you that dynamic range of hues that you are seeking out.
The fine tip nib on the one end of the marker will be perfect for smaller scale pieces or detailed work.
One such case of where this fine tip nib could really shine is with botanical paintings. If you are painting the skeletal structure of the leaf, the fine tip nib will create absolutely stunning results.
The light fastness (i.e. no prone to color dilution when exposed to light) of the Letraset markers are equally amazing.
You can expect to see the same stunning results an hour or month after you finished the piece.
Lastly, the blending marker that comes with the kit will be perfect for watercolorists not necessarily looking to use a watercolor brush to create a dynamic appearance to their work.
Overall, this is a quality set for a pretty affordable price tag.
Pros
Firm broad and fine tip nibs perfect for all ages
Excellent lightfastness
Dissolves easily with water
Affordable price tag
Includes 12 colors + blending marker
Cons
May be a bit rudimentary for some watercolorists
Nibs are more akin to a traditional marker than a brush
4. Bienfang Watercolor Brush Pens
Bienfang, a brand under the umbrella corporation Speedball, has been a respected art supply company for over 100 years.
Their dedication to the arts rivals some of the ancient European brands.
So how do the Bienfang watercolor markers carry the legacy?
Quite well!
Coming in either sets of 9 or 12, the Bienfang markers exhibit qualities that rival some of the nicer brands on the market.
Not only will you see great color vibrancy within their lineup, but you also see a pretty good light fastness as well.
The non-toxic and affordable nature of these watercolor markers make them not only great for beginners, but also kids!
But given that they are geared towards a more novice audience, there are inevitably going to be some major drawbacks.
First off, the Bienfang markers don't feature a dual tip design – which severely limits your capabilities as an artist.
Under the cap you will find a synthetic bristle brush, giving you the option of three strokes – fine, medium, and broad.
However, unlike other markers we reviewed, the absence of a fine tip nib will prevent you from making detailed markings within your piece.
The reliance on an additional watercolor brush will definitely be needed if you go with this set.
Another drawback to this set is the 'rollability' of the markers themselves. Unlike the Tombow's that we loved, the markers are susceptible to rolling off the edge of your desk if accidentally nudged.
While definitely not a deal breaker for many, it's worth mentioning for the more seasoned artists reading this.
But as we eluded to earlier, if you are purchasing these as a complete beginner or for the little ones, then they will be acceptable.
Their lower price tag coupled with fair performance still make them a compelling offering and ultimately the reason why we included Bienfang on this list.
Pros
Beginner friendly
Affordable
Includes blending marker
Comes with a case
Cons
Simply better options at higher price points
Only one tip available
5. MozArt Supplies Brush Pen Set
Not to be confused with the classical composer Wolfgang Amadeus Mozart, these markers by MozArt are still considered to be a classic (and beautiful) watercolor marker.
Packaged in either 12 or 20 packs, these markers are extremely beginner friendly, and one that you should definitely consider if it's your first foray into the world of watercolor markers.
Unlike the high price tag of the Tombow's reviewed, these watercolor markers by MozArt are more in line with that of the Bienfang (although delivering nearly twice as many markers for the same price).
They feature a slender barrel with only one tip (also like the Bienfang's).
While this limits your stroke variety to either fine, medium or broad, this should be more than enough for the watercolorists out there just looking to get comfortable in the medium.
If you are looking for additional versatility with these brushes, then you will definitely want to invest in a few additional watercolor brushes to use in tandem with this set.
The single brush tip does feature synthetic fibers that should spring back to a fine tip with each stroke that you make.
For beginning options available within the market, these are definitely worth of a consideration.
The wide color selection for the relatively low price point will be just enough for you to get comfortable in the medium before you decide to upgrade to some of the more professional options on this list.
Pros
Beginner friendly design
Affordable
Wide array of colors
Cons
Single tip design
Cannot purchase individually
6. Tanmit Dual Tip Art Markers
Nearly matching the Tombow 95-piece set offering, this set by Tanmit is quite extraordinary with 60 different colors included.
As terrific as the color selection may be, equally amazing will be the price point.
With a price equal to that of both the MozArt and Bienfang markers, you get an unparalleled selection of markers at your fingertips.
But it gets better…
Not only does this set feature more markers at a comparable price tag to some of the others, it also features a dual tip design!
The Micron pen like fine nip on one end coupled with brush tip on the other, you allow you to have incredible control over your artwork.
It's important to remember that the Tanmit markers are geared towards beginners. Therefore, you won't see nearly the same vibrancy as either the Tombow or Winsor & Newton markers.
Secondly you won't see the same level of dissolvability when the pigment is exposed to water.
What does this mean?
When examining your artwork up close, expect to see some remnants of the original stroke you placed on the paper to remain.
While likely not a big deal for beginners or those using these markers for craft use, when performing at a professional level, it may limit the amount of control you have over the painting itself.
Overall though, these markers by Tanmit are an amazing buy considering their dual tip design along with the affordable price point.
Pros
60-piece color selection
Dual tip design
Affordable
Beginner friendly
Cons
Better options exist for professionals
Dissolvability may limit control
7. US Art Factory Watercolor Markers Set
By and far the most comprehensive beginners kit on this list will be this one by US Art Factory.
Not only does it include 20 watercolor markers, but you will also find a refillable water brush (which will be amazing for blending purposes), but also a pad of watercolor paper (12 sheets at 250 gsm), along with an eBook walking you through the basics (again, extremely beginner friendly).
The watercolor markers themselves feature a single synthetic brush end that will give you a few options for stroke width (fine, medium, and broad) ultimately giving you some control over your piece.
As many astute readers may notice, this is a single tip design, therefore the absence of a fine nib like that found in the Tanmint's will be a bit of a drawback.
However, the performance of these markers will be on par with some of the nicer brands reviewed and should still produce stunning results.
The organized case that comes with the watercolor markers will make color selection a bit easier than a cylindrical case.
Overall, these markers are great for complete beginners, kids, and those looking for an inexpensive solution when using on various crafts.
Pros
Great beginners set
Perfect for gift giving
Inexpensive
Kid friendly
Great color selection
Cons
Unable to purchase refills individually
8. Tropic Desire Watercolor Markers
There is a lot to love in this 20-piece watercolor marker set by Tropic Desire.
First, the color selection.
With over 20 colors to choose from, you won't have to rely on blending nearly as much as you may when using the Bienfang's.
This not only makes it great for beginners, but also to create much cleaner and crisp colors.
The single tip design does limit you to only brush strokes, however, if you are looking for additional versatility, you may want to consider picking up a few watercolor brushes.
While the Tropic Desire markers produce vibrant results and a great light fastness, what we really liked about this set was the included travel case.
Truly embracing the nature of painting outside the four walls of your studio, these markers will be great for those watercolorists always on the go.
The canvas body coupled with the Velcro closure will ensure that your watercolor markers remain secure when being transported.
The additional loops within the travel case can be used for other key art supplies including brushes, pens, pencils, etc.
Lastly this set by Tropic Desire comes with a satisfaction guarantee. They will refund your purchase should you be less than pleased with the performance of these markers (which we don't think you will be).
Pros
Great for gift giving
Beginner friendly color selection
Added travel case is a nice touch
Affordable
Cons
Single brush tip limits control
9. Spectrum Noir Aqua Markers
Known primarily for their alcohol-based markers, Spectrum Noir provides a comprehensive watercolor marker aimed squarely at the artist who are somewhere between both the beginner and intermediate levels.
Coming in a variety of color profiles including Primary, Essentials, Floral, and Earth, you can get the right set that suits your subject preference.
This not only reduces waste of purchasing markers that will likely never get used, but also allows you to save a few extra bucks as well (truly a win-win scenario).
So, what makes these markers stand out among so many others that we reviewed so far?
Their dual nib design.
With a fine nib on one side for detail work coupled with a brush tip on the other, you will total control over the creation of your piece.
But while this might not seem much from the onset (after all many of the watercolor markers we reviewed had this feature), this feature is typically reserved for those with a much higher price point.
The Spectrum Noir's are not only incredibly affordable, but feature very similar characteristics found in the high-end offerings like Tombow and Winsor & Newton.
Most notably you will find that the Spectrum Noir's have an excellent light fastness rating, hexagon designed barrel for roll-prevention and comfort, pigment dissolvability.
Overall, if you have tried some of the entry level options on this list and are looking to bring your watercolor marker set to the next level, then the Spectrum Noir markers are a fine consideration
Pros
Smart design (roll prevention)
Affordable
Vibrant colors
Great for intermediates
Cons
Color selection may be limited for some
Unable to purchase individually
Brushes To Use With Watercolor Markers
To have greater control over your artwork along with the ability to create stunning gradients, you will want to make sure that you have a few watercolor brushes on hand.
Unfortunately, with watercolor markers, one of the drawbacks is their limited control over line weight and pigment flow – so expect some constraint when using only the watercolor marker.
Now, when you use a top-rated kolinsky sable watercolor brush, not only will you get the quality 'spring' that snaps back to fine point, but you also have a variety of brush types (i.e. round, flat, rigger, spotter, wash, etc.) that you can use in your artwork.
So, if you plan on painting either a larger or smaller scale piece and want a bit more control over the artwork you are making, be sure you have a few watercolor brushes on hand.
Lastly, and this is perhaps the most important, is type of brush:
While we eluded to the quality found in kolinsky sable hair brushes, you will want to make sure that you get a brush made specifically for watercolors.
While most watercolor markers have well-performing tips made from synthetic fibers, there is just no way of matching the performance of a natural animal fiber.
Why?
Well natural animal fibers carry water a bit better along with a better bristle structure to compliment the much wetter environment when compared to other mediums (i.e. oil, acrylic, etc.).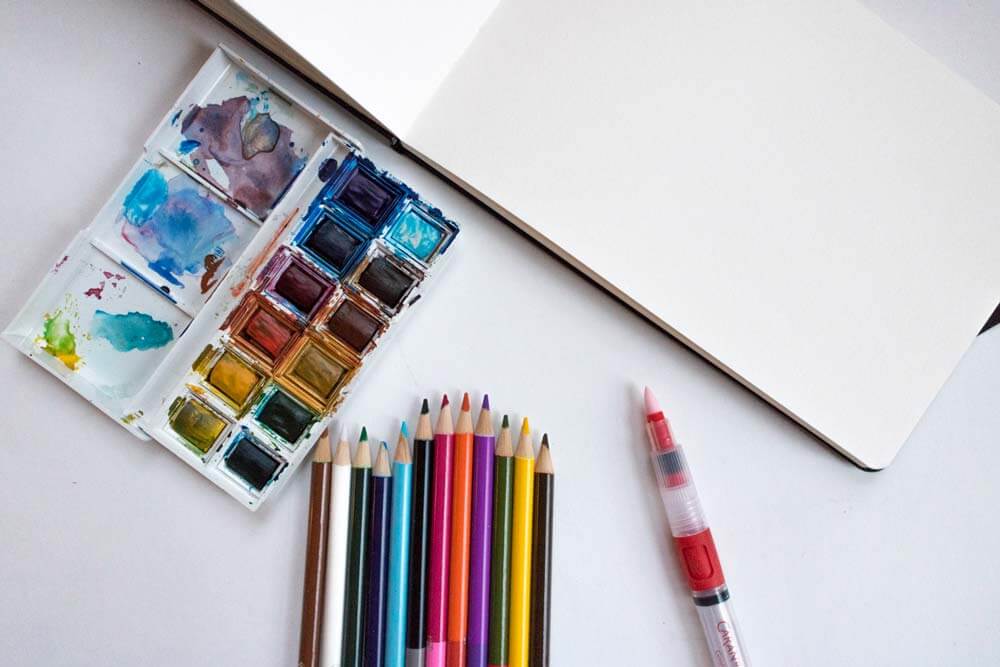 Watercolor Markers Vs Watercolor Pencils
Both watercolor markers and pencils have very similar application methods.
Instead of having a liquid based pigment coming out of the barrel of the marker, with pencils you will have a hardened substance.
But unlike your traditional colored pencils that feature typically a waxed core, watercolor pencils will have a water-soluble core (meaning it will dissolve in water – creating the same effects as watercolors).
So how does all this apply to your next painting?
The most important difference between these two very similar mediums is their vibrancy.
Watercolor markers are much more vibrant that a watercolor pencil.
From the onset, watercolor pencils look no different than a standard colored pencil. Whereas watercolor markers allow the pigment to flow more freely onto your paper and produce stunning results.
So why would anyone get watercolor pencils?
In short, watercolor pencils can help a watercolorist achieve much more subtle effects with their painting. Secondly, their ability to go plein air (i.e. travel friendly) is unmatched.
Watercolor pencils are definitely worth looking at, however, we find that more watercolorists tend to gravitate towards markers over pencils simply due to their already liquid nature along with the intensely vibrant colors.
Lastly, the watercolor marker is a preferred option for those who want to get creative with either calligraphy or various crafts.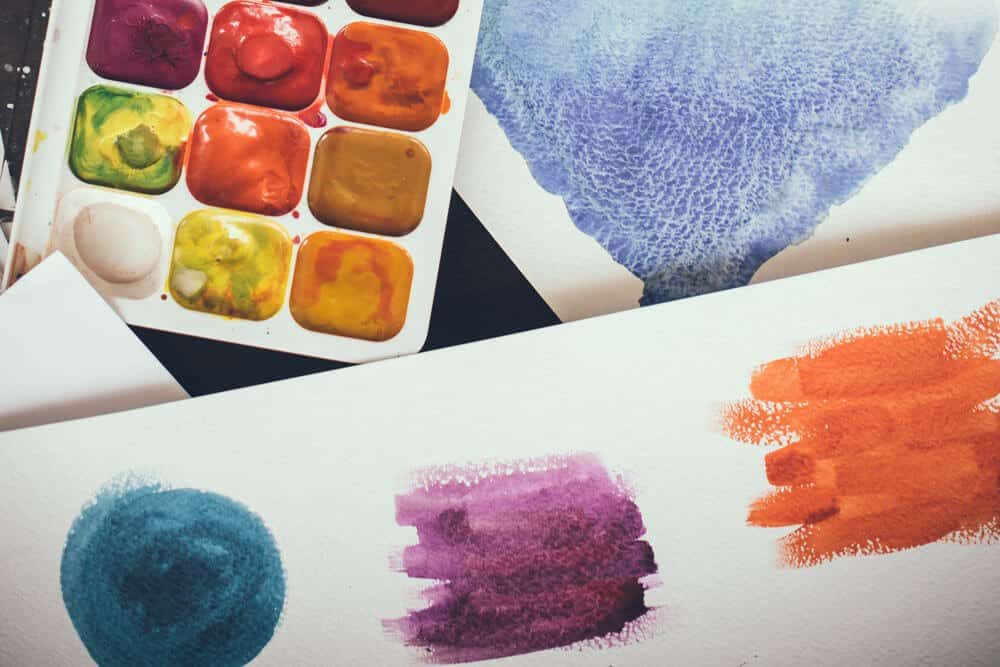 Best Paper For Watercolor Markers
When it comes to using watercolor markers, it's important that you select the right type of paper.
While markers can traditionally be used on fine tooth drawing paper, using your new watercolor markers on them will ultimately yield poor results, here's why:
Watercolor paper is manufactured in a much different manner than your traditional paper.
In the world of watercolor papers, you will see hot pressed, cold pressed, and rough.
Hot pressed paper is very similar to traditional paper that you might be accustomed to.
The surface is much smoother, but will exhibit some key absorbency issues.
Now when it comes to watercolor markers, you will largely want to either use cold pressed (often referred to as NOT – as in NOT hot pressed) or rough papers.
These papers not only have a great texture for the pigment and water to latch on to along the surface, but their absorbency is exponentially better than a hot pressed watercolor paper.
What does this all mean?
Well, you have much better control over your medium as an artist and it will reflect in the final results.
Secondly, the thicker paper will ensure there is no wrinkling or warping of the surface along with better long-term preservation (assuming you go with an acid-free paper).
If you don't have any watercolor paper presently on-hand, then we would recommend checking out our guide to the best watercolor papers, there we review a variety of sheets and blocks.
These will give you the uncompromising performance you are looking for and will ultimately give you better results with your new watercolor markers.