When it comes to sharpening your colored pencils, its critical that you get a sharpener that doesn't break the lead every single time you want to get a fine point.
Colored pencils are not at all like your standard graphite pencil or mechanical pencil you are likely familiar with.
While the wood casing is their only shared attribute, the core of colored pencil is a comprised of a mixture between wax/oil (varies from brand to brand), binders, and pigment – whereas graphite pencils are made of rock.
Some of the best colored pencil sharpeners must have an incredibly sharp blade, gently handle the delicate core of the colored pencil, and be able to form a fine point tip on command – like the Mobius & Ruppert colored pencil sharpener.
The focus of today's guide is two-fold:
Go over a few key considerations you will want to think about before purchasing a sharpener for your colored pencils
Review some of the most popular colored pencil sharpeners on the market today
Let's dive in:
Summary Of The Best Sharpeners For Colored Pencils
As you will see in just a minute, colored pencil sharpeners come in many different shapes, sizes, and categories.
After completing our research, we found the following sharpeners to be some the best in the business:
Comparing The Best Sharpeners For Colored Pencils
Before You Decide: A Few Things To Consider
When looking at sharpeners for colored pencils, there were 5 key factors that separated one from another – here's a few things you will want to think about before you buy:
Sharpener Type – Manual vs. Electric
When looking at other blogs and 'authoritative' art sites – many immediately dismiss the thought of using an electric pencil sharpener…
…and in the past, that made sense.
I still remember the new one we got in High School and how crummy it was…
9 times out of 10 it would completely obliterate a graphite pencil – I wouldn't even want to see what would happen when a colored pencil was inserted!
However, technology has gotten better over the years, and companies like X-ACTO and Bostitch have perfected the electric sharpener to work well with colored pencils.
Inevitably there are some drawbacks when it comes to using electric pencil sharpeners – such as the ability to just finely tune a tip of a colored pencil is still a challenge, along with the need for an outlet.
But as technology has improved, some electric sharpeners are powered through batteries increasing their portability.
In addition, we even came across an electric sharpener that can be used manually as well too!
On the other end of the spectrum, you have the much more basic manual sharpeners.
Coming in a wide variety of shapes and sizes, manual sharpeners are still favored by many as they are relatively inexpensive and can get the job done in a reliable manner.
In addition to being low cost, the ability to visually see the colored pencil tip getting sharpened is a featured preferred by pros.
Budget
Generally speaking, good manual sharpeners will be around $5 to $15 a piece whereas an electric or battery powered sharpener can set you back anywhere between $20 to $40.
This largely becomes a personal preference and your specific use case.
If the sharpener is going to be shared with others, an electric sharpener makes sense.
However, if you just casually use your colored pencils and want something small – then a manual one is probably better to go with.
No matter what you find works best for you, just be sure to take a minute and think about how you will use it before making a purchase.
Replaceable Blades
Some of the higher end manual and electric colored pencil sharpeners on our list do offer replaceable blades.
For professionals this can be great as you can always load in a fresh blade to get great results from your colored pencils.
In addition, replacement blades typically cost a fraction of the price of the sharpener itself – making it a great way to save a few bucks.
Multi-Use
When it comes to selecting a colored pencil sharpener, you will also see that many of them are compatible with watercolor pencils, pastel pencils, and even a softer charcoal pencil.
If you like to dabble across mediums, keep an eye out for this as it the sharpener can be dual-use.
Chambers / Tip Variety
Two chambers in a sharpener does have its advantages.
Whether you are looking for a wider set tip or one that is a bit finer – a dual chamber sharpener will be preferred.
Unfortunately, with virtually all electric sharpeners you don't have that choice – should this be important to you, get a manual sharpener such as the Staedtler or Mobius & Ruppert – both of which have two chambers.
The 12 Best Colored Pencil Sharpeners Reviewed
1. Mobius & Ruppert Brass Round Double Hole Sharpener
One of the most instantly recognizable sharpeners on our list is from the 111 year old German company Mobius & Ruppert.
This mini circular sharpener has just about anything a professional colored pencil artist could want:
Open blade design
2 chambers
Affordable
While this sharpener checks all the boxes, the knurled design around the sharpener ensures that you get a firm grip when fine tuning your colored pencils.
Artists have claimed that the blades on this sharpener have lasted them for years after heavy use.
Bottom Line
Overall, this is one of the best in the business. It's small, affordable, and does a great job at sharpening both colored and graphite pencils.
2. Bostitch QuietSharp
Winner of the Teachers Choice Award (2019), the Bostitch is another industrial/classroom grade electric pencil sharpener that plays nice with colored pencils.
With a removal blade that can be cleaned between uses should the wax binder cause gunking – artists loved the fine point tip they were able to get time and time again with the Bostitch QuietSharp Glow.
As the name infers, one of the biggest selling points about this sharpener is the nearly soundproof design.
Instead of making a loud motor noise like electric sharpeners of yesteryear, this one emits very little noise that won't be distracting.
The reason we recommend this one over the much more popular (and cheaper) Bostitch QuietSharp 6 is solely due to the ability to order replacement blades.
Unlike the QuietSharp 6, you can order a replacement blade for the QuietSharp Glow for less than $10 bucks – making this a great long term investment.
From what we can tell, the QuietSharp 6, and others in the Bostitch line for that matter, have a different setting so the same replacement blade can't work.
Bottom Line
Overall, this is a well performing electric pencil sharpener that will withstand years of abuse from your colored pencils. The ability to purchase a replacement blade is welcomed. In addition to colored pencils, this can be a great shared sharpener for the rest of your family as well.
3. Duet Battery-Operated/Manual Pencil Sharpener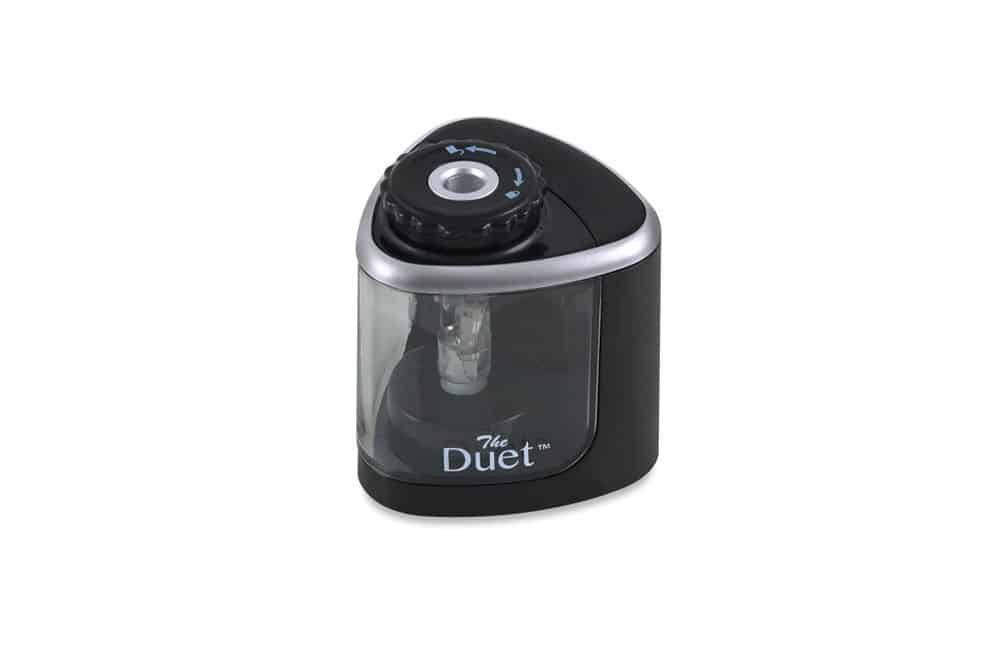 Another product that bridges the gap between both manual electric sharpeners is this innovative offering by Duet.
Able to work both in a powered (2 AAs) and manual setting – you can fine tune your sharpening to the exact point you prefer.
How can this come in handy for you?
If you accidentally broke the lead or your colored pencils come in the box unsharpened – you can let the electrical part of this sharpener do 80% of the work while you fine tune the last 20% to your preference when sharpening.
Lastly, for less than half the price and weight of the TripWorthy Electric Sharpener we also reviewed – this one is a perfect option for those who want an electric sharpener on the go.
Bottom Line
Overall, this is a great design for those artists who want the convenience of the electrical sharpener but the precision of a manual one. This sharpener is also travel friendly given that it needs only 2 AAs to operate.
4. Alvin Brass Bullet Pencil Sharpener
USA based Alvin Company makes one of the smallest colored pencil sharpeners in existence with their Brass Bullet Pencil Sharpener.
The size of a bullet and featuring just a single barrel – you can gently and precisely sharpen a colored pencil with ease.
Winning rave reviews from pros across several different types of colored pencil brands, it's become the go-to travel and studio sharpener for many.
The cutting is performed by a blade that has been crafted in Germany (likely a Mobius & Ruppert blade) along with a knurled grip to ensure that this doesn't slip when sharpening to a fine point.
With a price tag under $10 bucks, this is a great travel sharpener for pros who like to work in the field.
Bottom Line
Overall, we really liked a lot about this sharpener. It's a perfect travel tool for pros. If you find the single barrel sharpener a bit too restrictive, upgrade to the double barrel by Mobius & Ruppert – it's basically the exact same but with greater sharpening variety.
5. Staedtler Metal Sharpeners
184 year old German company (source), Staedtler, has been serving artists for nearly two centuries and is by far one of the most highly respected on our list.
In true German precision, this set of two open-faced colored pencil sharpeners is perfect for getting your colored pencils to a fine or wide tip with its dual design.
While not particularly the most kid safe, it is perfect for professional color pencil artists who want reliability.
Given that there is no enclosure, you will need to make sure you have a trash can near your art desk as to not create a mess with the shavings.
Bottom Line
Overall, it's a no-frills and simple sharpener that has withstood the test of time. The two pack allows you to have a separate sharpener for your field kit when outside the studio.
6. TripWorthy Electric Pencil Sharpener
Electric pencil sharpener on the go.
That's what you need to know about this offering by TripWorthy.
One of the most exciting electric pencil sharpeners on our list comes from a relatively new startup that makes sharpening both soft and hard leads smooth and easy.
Powered by 4 AA batteries, you can toss this 5″ x 3″ x 2″ mini pencil sharpener in your backpack when going to make a few colored pencil drawings out in the field.
When reading reviews from other users, they were surprised that both their Prismacolor and watercolor pencils got a reliably sharp point with every single use.
If there were any faults to this sharpener it would be the single chamber design. As is the case in virtually all electric sharpeners, for those pros reading who like to choose between a wider or finer tip with the colored pencils, you will be a bit limited here.
Should you decide to go with this sharpener by TripWorthy, they do stand by a 100% Satisfaction Guarantee.
Bottom Line
Overall, this is a fun little electric sharpener for colored pencils that performs well. Drawing on just 4 AA batteries, this is a perfect middle ground between manual sharpeners and corded electrical ones.
7. Prismacolor Premier Pencil Sharpener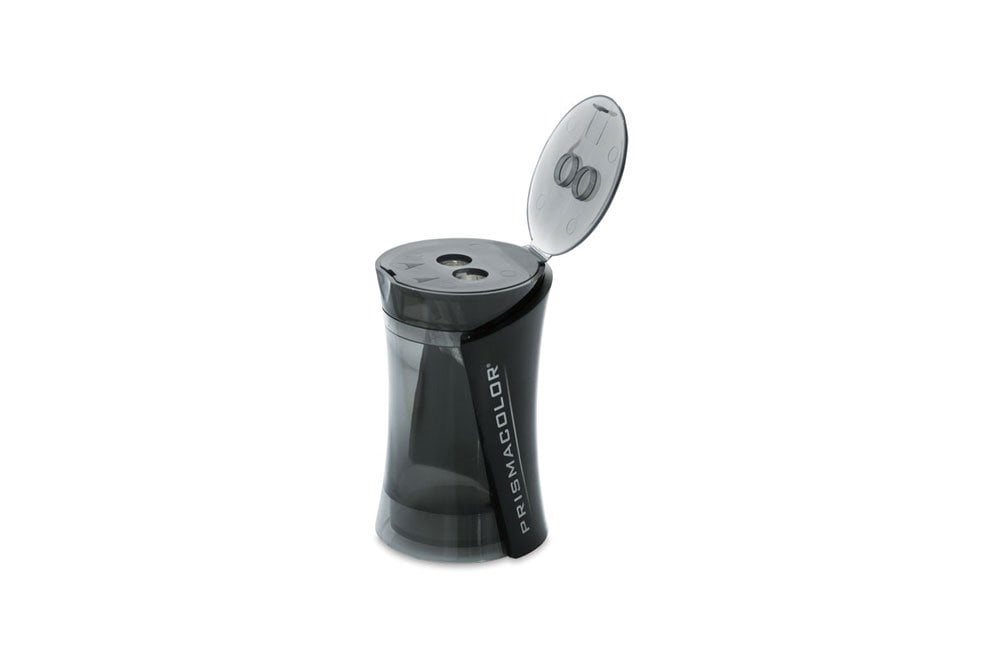 No other name carries as much clout in the colored pencil world than Prismacolor.
Defining what a colored pencil should be, Prismacolor put together a terrific sharpener that will work flawlessly with their own brand of pencils.
With an encased design to catch shavings along with a dual chamber, this is one of the best portable colored pencil sharpeners on our list.
As evident in the thousands of reviews across several online retailers, this sharpener lives up to the quality standards that are expected when thinking of Prismacolor.
Bottom Line
Overall, this is a good colored pencil sharpener. It will work well with the Prismacolor line of colored pencils. Those using colored pencils from other brands found the sharpener to be a bit rough at times.
8. Staedtler Encased Sharpener
While we also reviewed a set of Staedtler open faced sharpeners in this article, here is a slight variant from the same brand.
If you want a simple encased sharpener for your colored pencils – this sub $5 product is great for beginners.
While it's got a really clean design and sharp blades, you can spot a few limitations immediately.
Most notably the lack of dual chambers – for pros this will be unacceptable. However, this sharpener is great for kids as it hides the blade exposure for maximum safety.
Bottom Line
Overall, it's a cheap colored pencil sharpener that is safe for all ages. Kids will love the bright colors. The single chamber will lead to predictable sharpening every single time.
9. X-ACTO Electric Sharpener
Makers of some of the sharpest razors on the planet, X-ACTO knows a thing or two when it comes to cutting and shaving within the art studio.
And it only makes sense that this trusted brand for generations has introduced a commercial grade sharpener.
Able to work on both hard and soft leads, graphite and colored pencils specifically, this powerful electric sharpener can cut away the wood barrel with ease while still preserving the inner core of the pencil with its proprietary flyaway cutter system.
Backed by a 10-year warranty, it's a strong electric colored pencil sharpener that shouldn't falter after only a few uses.
While you might be purchasing this for studio use, the rotating barrel sizes allows all types of pencils to be sharpened with safety (including triangular barreled pencils).
Bottom Line
Overall, this is a commercial grade sharpener packed with a ton of technology. Should it experience heavy usage, replacement blades are available.
10. Maped Hand-Held Sharpener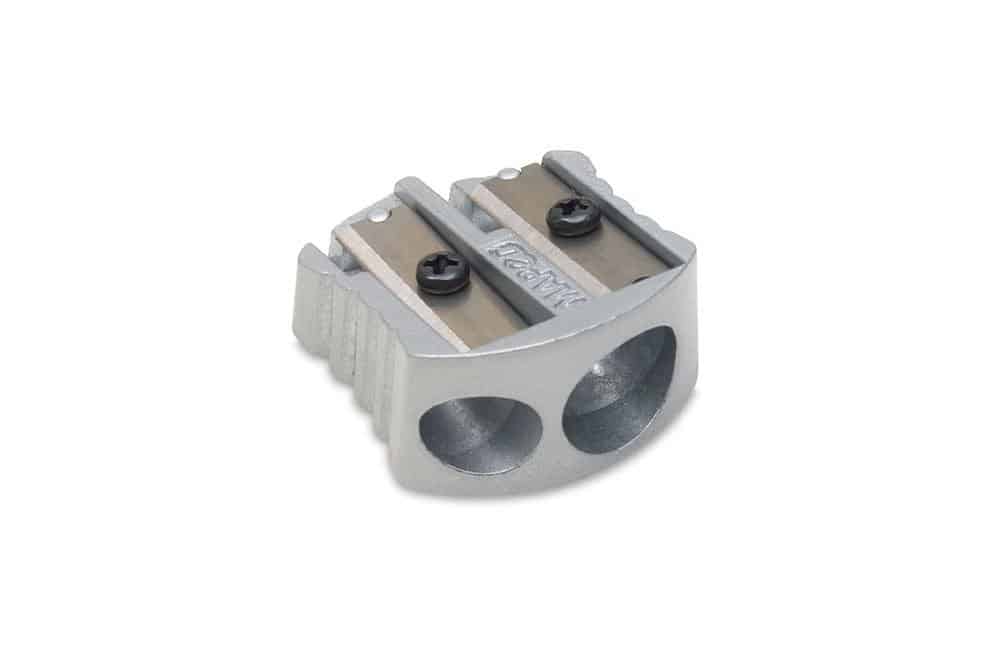 We really loved this hand-held sharpener by Maped for a few reasons.
First, it is incredibly inexpensive as it costs less than $0.79 for a single chamber and $1.79 for a double chamber (this was one of the cheapest sharpeners for colored pencils on our list).
Beyond the attractive price tag, the Maped sharpener has a few features that professionals loved (hence its near perfect rating of 4.8 out of 5.0 on the Blick Art Materials website) such as the rigid grip on either side to prevent slippage and wide open barrel that works across several mediums including both charcoal and pastels.
Naturally this isn't one suited for children, so you will want to keep it in a safe place.
Secondly, with the open-faced design, you will want to make sure you have a trash can handy when sharpening your colored pencils.
Bottom Line
Overall, this is a great alternative to the pricier Staedtler's we reviewed. The affordable price tag and double chamber design is tough to beat. It's a great pick for pros.
11. Blick Pencil Sharpener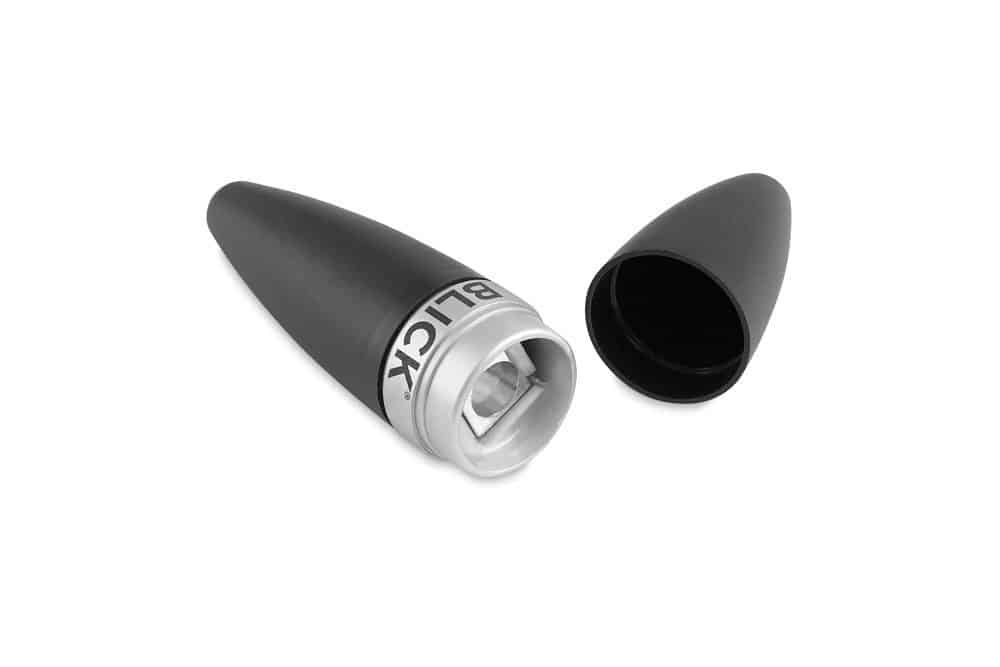 Evoking the design aesthetics of a luxury beauty product, this colored pencil sharpener by Blick is more about form over function.
With a single chamber design, you are restricted to one level of sharpness on the tip of your colored pencils.
Best for children and beginners, the shavings are trapped in the lower half of this sharpener and can be easily cleaned.
Aesthetics aside, when it comes to pencil sharpeners, this is going to be one of the better picks when it comes to the travel friendly nature.
Should you set up a table in Starbucks and want to make a quick field sketch of those waiting for their cup of coffee, you can easily get a fine tip without making a mess.
Bottom Line
Overall, it's a nice little portable sharpener. While the design restricts it from sitting upright and the limited number of chambers, we think this is best for kids and beginners.
12. Dahle Professional Pencil Sharpener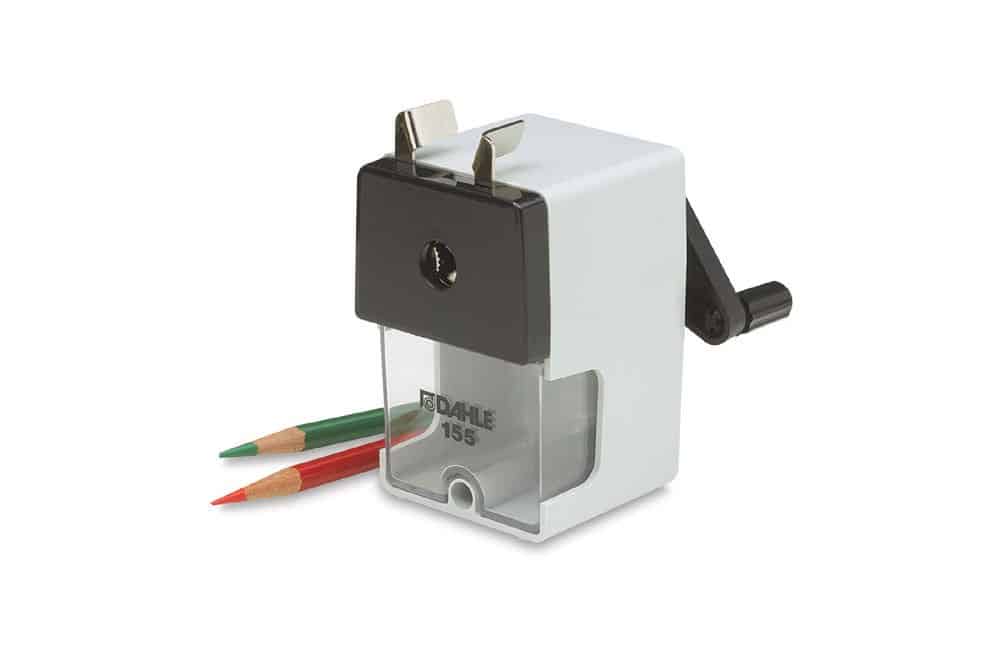 Designed specifically for art pencils including pastel, charcoal, watercolor, and of course colored pencils – this sharpener by Dahle marries both old and new school technology.
We all probably remember the old crank shaft pencil sharpeners and how they would just spin but never really do anything…
…well the crank shaft survives in the Dahle sharpener!
But when it comes to sharpening, it's a whole different experience.
With a point adjustment lever and oversized barrel opening, you can get just the right sized tip time and time again with your colored pencils.
So, if you are coloring broad patches in a drawing, you can get all your colored pencils to perform the exact same way – making for much greater control as an artist.
Bottom Line
Overall, this is a perfect manual sharpener for your home studio. Expect a predictable point every time to go to sharpen any one of your favorite art pencils.
Choosing The Best Sharpeners For Colored Pencils
We had a feeling that when we set out to find the best sharpener for colored pencils in 2020 it was going to be tough, and we were spot on.
During our research we affirmed that there are a ton of sharpeners to choose from. However, as big as the selection may be, the number that actually worked well with quality colored pencils was small.
But after hours of research, reading reviews from other professional artists, and comparing key differences between all the sharpeners, we feel confident that the above list covers the best ones that currently exist in the marketplace today.
However, given that we are a smaller team here at Createlet, there is likely a sharpener or two that we may have missed. If this is the case and you want us to include one, please get in touch, we would love to know!
We hope that you found this guide valuable and don't forget to come back to read more reviews on the site the next time you need some fresh art supplies!