Finding a reputable online art supply store can be hard.
Finding an art store that carries the rare supplies that you are looking for can be even harder.
Therefore, we wanted to round up some of the best online art supply stores that not only carry the widest selection of supplies sourced throughout the world, but also feature great deals that will save you a dollar or two at the checkout.
So if you plan on getting a plein air easel or simply want to upgrade your watercolor paper, here's some great companies you can check out before you make your next purchase:
Here Are The 10 Best Online Art Supply Stores
Blick Art Materials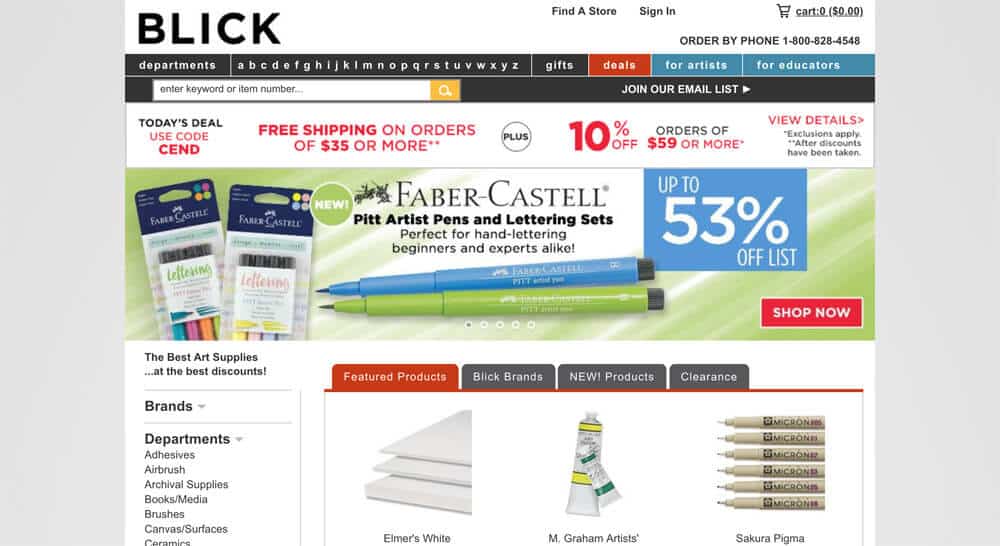 One of the oldest and most established art supply companies on this list (and one of my personal favorites) is going to be Blick Art Materials (also known as Dick Blick).
They have everything.
But not only do they have an incredibly expansive art supply collection, but they also carry some of the finest supplies imaginable as well.
Whether you rely on the best watercolor paints from Schmincke or need an oversized linen canvas for your next oil painting – Blick simply has it all.
If the product selection weren't enough – their art material labeling is second to none.
When looking at just about any paint, gesso, or other solution, you can usually always find the corresponding MSDS (safety data sheet) pdf right next to it:

When it comes to shipping, Blick matches toe-to-toe with rivals like Jerry's Artarama, Cheap Joe's, and yes, even Amazon.
With a $35 minimum on your order, you don't have to worry about meeting minimums and get caught up paying hand-over-fist in shipping.
Another great part of Blick is their regular promotions.
At the time of publication, they offered 10% off orders over $59 (+ free shipping) – helping to further offset expenses for artists who are strapped for cash.
While this article is focusing solely on online art supply stores, we would be remiss if we didn't at least mention the retail locations that Blick covers.
If you live in a large city, chances are that a Blick store is near you: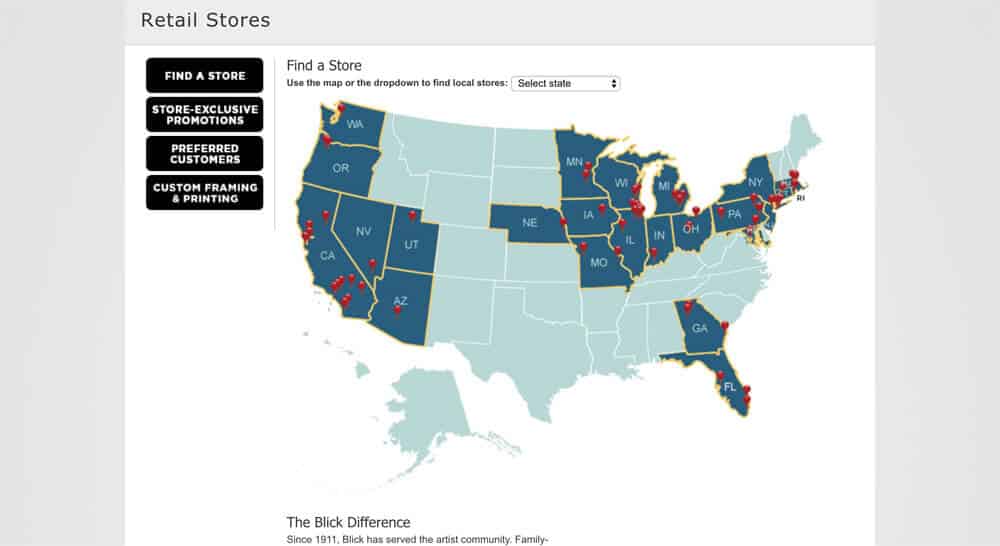 Lastly, the return policy.
All too often we might get our hands on a canvas or paint and find that it just doesn't meet our expectations.
With Blick's 365-day 100% satisfaction return policy, you don't have to worry about coming up with excuses on why the product didn't meet your needs.
Jerry's Artarama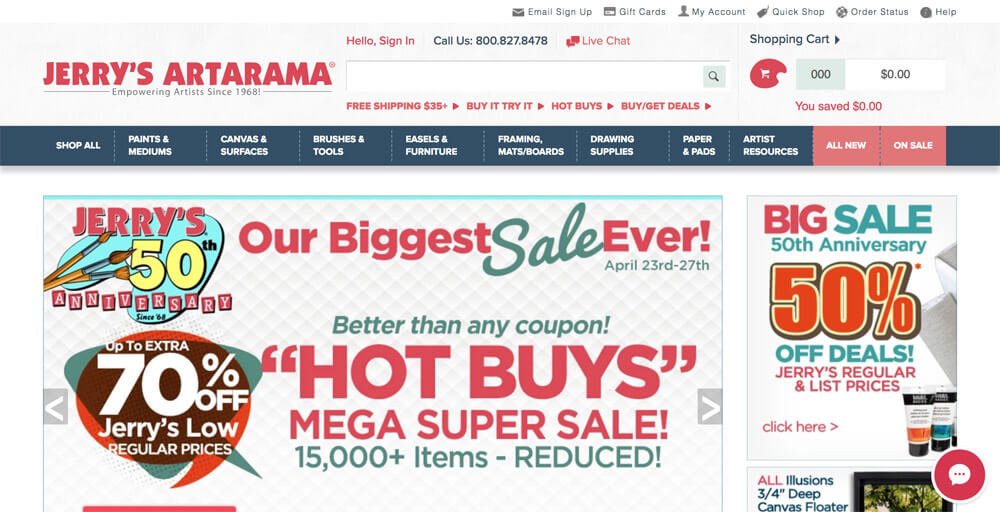 Started in 1968 by Jerry Goldstein, Jerry's Artarama is one of the de facto standard for many artists looking to not only get quality art materials, but to get them at an affordable price.
Frequently running deep discounts and countless deals, you can definitely pick up some great savings if you check their site regularly.
As far as product selection, only few retailers (namely Amazon and Blick) match Jerry's 70,000 different art materials:
So, if you are really looking for an obscure European paint or pochade box, then you might want to give them a visit.
One aspect that you definitely won't find on even some of the most popular online art supply stores is an actual resource or learning section…
…here's where Jerry's delivers.
With 2,000 free art lessons, you can really perfect your medium of choice through one of their helpful videos.
Now normally you would think that when the prices of supplies are low, the company will make up the difference in shipping…
…however, with Jerry's that not the case:
With free shipping on orders $35+, you don't have to worry about minimum order values and buying stuff you don't really need just to get free shipping.
If you are looking for a new place to check out, then take a look at Jerry's Artarama.
Plaza Artist Materials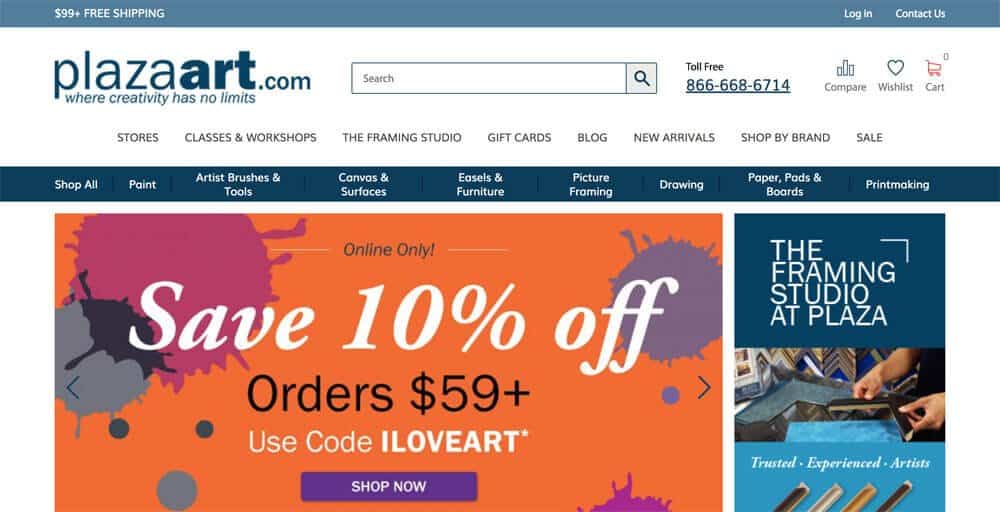 Founded in New York City in 1960, Plaza Artist Materials has been serving traditional artists in the eastern United States for over 50 years.
But beyond the 6 states that they serve, they also have quite an expansive online store to pick up some quality supplies at affordable prices.
Artists will love their customer centric approach – which is clearly outlined on their About Us page.
Getting in touch with any members of the Plaza team is simple:
Atop each one of their pages they have a phone number for reaching out should you have any questions. This makes it easy to get detailed info about a particular product you might be after.
In addition, if you need to get MSDS info on a particular solution, paint, solvent, etc. you can always give them a quick ring to find out more.
The return policy of Plaza Artists Materials is good (but not great compared to others) by giving you up to 30 days to contact them via email to get everything settled.
Lastly, shipping.
Always a big sticking point with online retailers, Plaza does have a rather high free shipping threshold ($99+ at the time of writing). While this can quickly be attained when restocking your studio, it's at least worth mentioning if you plan on purchasing a one-off material (Amazon or Blick would likely be well suited for this).
Cheap Joe's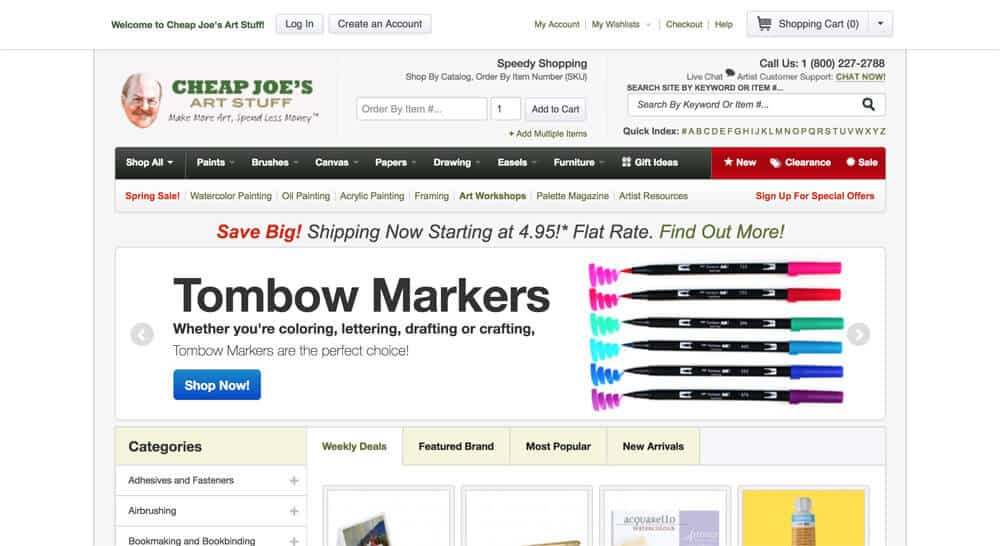 In the same vein as Jerry's Artarama, Cheap Joe's focus is on both product availability and affordable art supplies.
However, given that they do have a pretty low cost selection on the staple supplies, the one sticking point that some folks will have (especially in this day and age of Amazon Prime) is that they do charge for shipping.
Unlike retailers like Blick or Jerry's Artarama that will ship for free once you meet the $35 minimum, Cheap Joe's charges a modest $4.95 per order (not bad by any means).
One nice feature that we really loved about Cheap Joe's is their Live Chat.
Should you have any questions whatsoever, you can get in contact with a person in mere seconds – great if you require that little bit extra of help before you buy.
But even if you order something that just simply doesn't meet your expectations, like Blick, Cheap Joe's offers a 365-day return policy: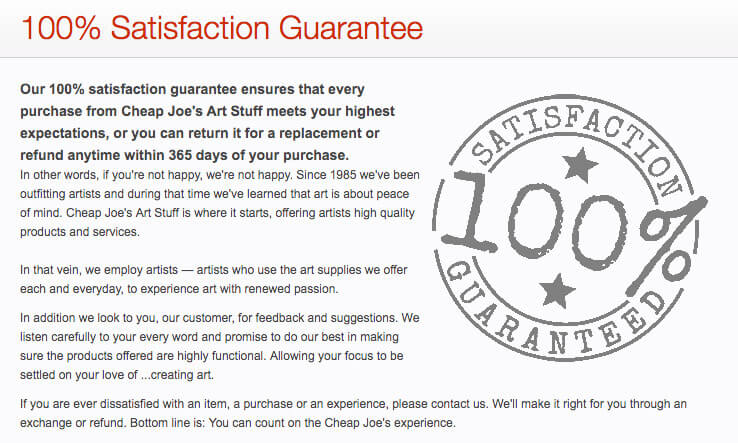 So, you can purchase without having the fear of going through the dreaded return process if something just simply doesn't meet your expectations.
Artists & Craftsman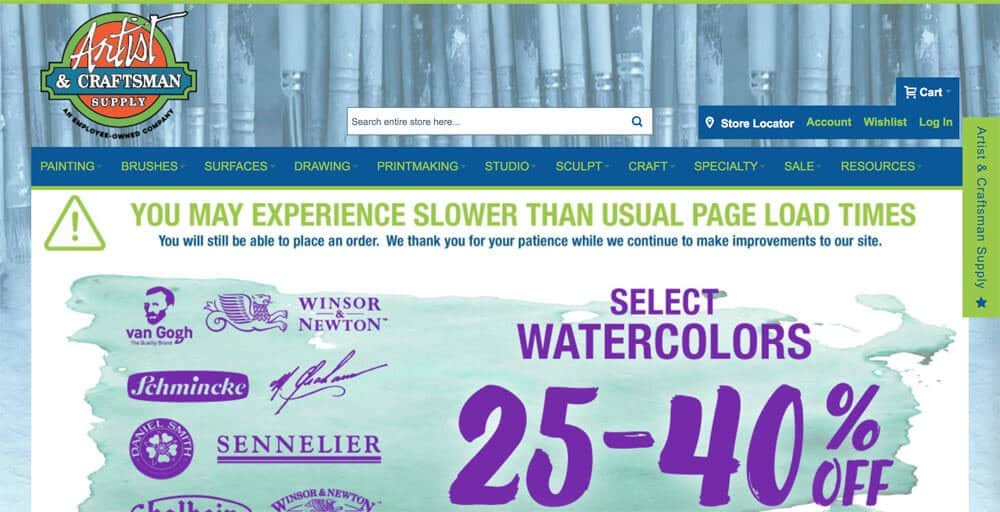 As the name would infer, not only is this online retailer great for the staple art supplies, but also for many of the key products you will need for other artistic endeavors including sculpting and printmaking.
Having been around since 1999, Artists & Craftsman has a great no-frills website that focuses squarely on serving the artist.
With rock bottom prices (currently at the time of publication they had a sale of 25-40% off watercolors), you might be able to nab some pretty good deals if you frequent the site regularly.
While they don't have nearly as low of free shipping requirements when compared to some of the other online art supply stores we looked at, at $69 bucks, it's really not too far out of reach if you plan on purchasing a few supplies.
Artists looking for more fair companies will love that Artists & Craftsman is 100% employee owned: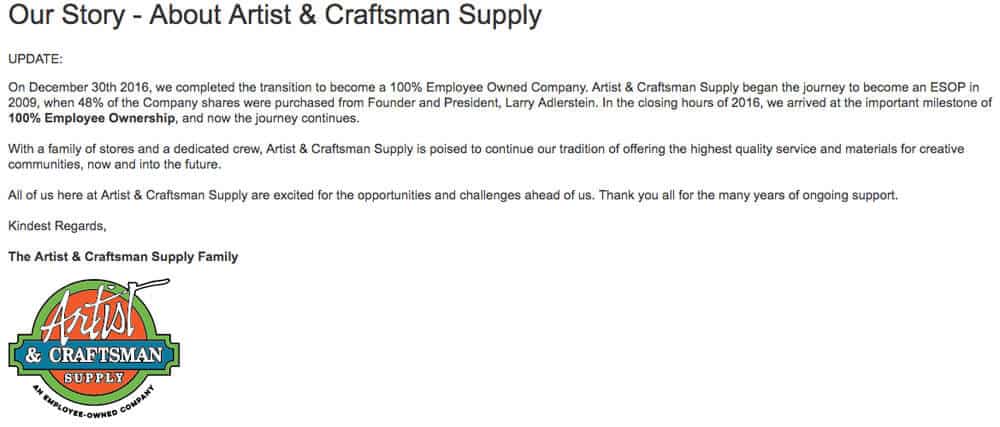 Like Blick Art Materials, the retail footprint of Artists & Craftsman is fairly good, with retail locations largely along both coasts: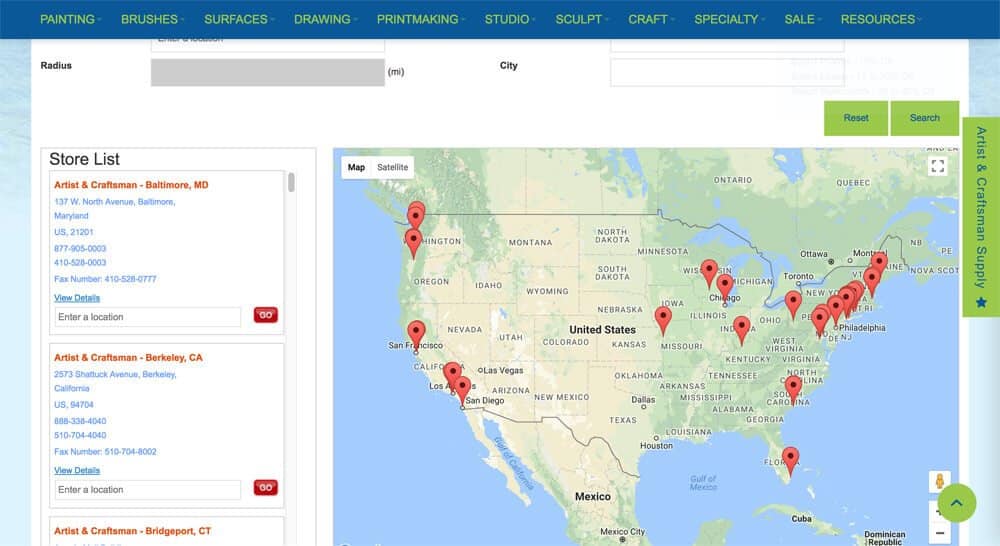 So be sure to pop into one of their locations if you live nearby to check out their full selection of art supplies.
Utrecht Art Supplies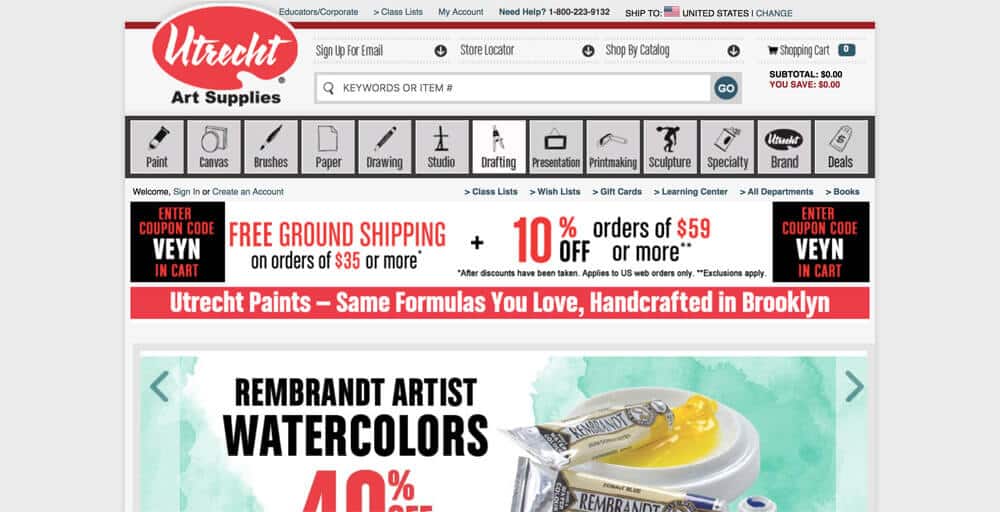 Based out of Brooklyn, NY Utrecht is an art supply company rich in history. Originally becoming famous for their world-class acrylic gesso, they quickly expanded into the other corners of the market and became a world-class art supply company.
But fast-forward a few decades and you will be quick to discover that they were acquired by Blick Art Materials in April 2013 (also featured on our list).
Therefore, many of the products, deals, and prices you can expect to be the same between the two companies (free shipping on $35+ order, 365 return policy, etc.).
In addition to sharing the same parent company, Utrecht also carries the Blick private label art supplies as well.
Overall, there is largely not a huge difference between the two companies however we thought it worth covering to bring their similarities to light.
Canadian Online Art Supply Stores
Curry's Art Store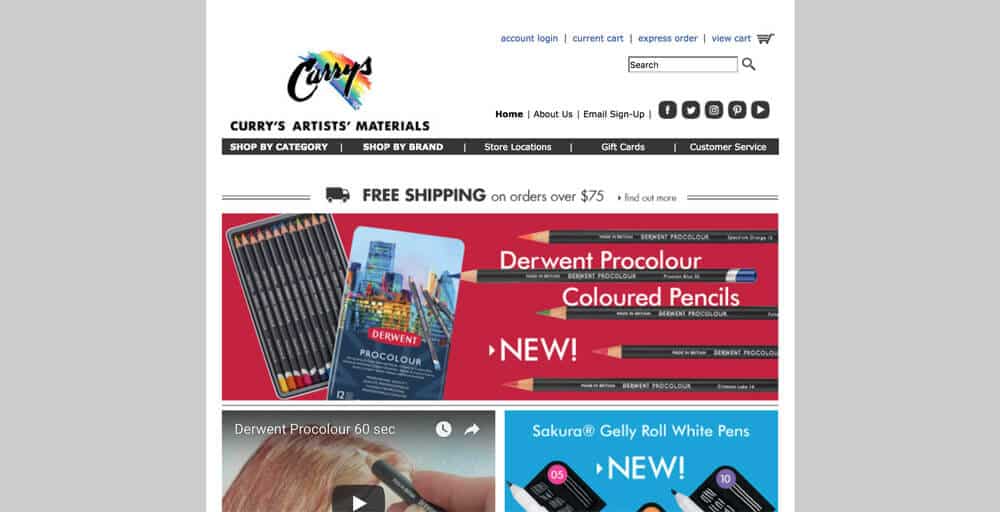 Canadian readers who are unable to shop at many of the retailers listed above (simply due to shipping restrictions) will want to take a look at Curry's.
Every bit as good as Blick and Jerry's Artarama, Curry's features an impressive lineup of art materials that can satisfy artists of just about any medium possible.
The Ontario based retailer not only sells the staple products such as mediums and solvents, but you can also find a great selection of paper, book binding materials, projectors, and more.
Mona Lisa Art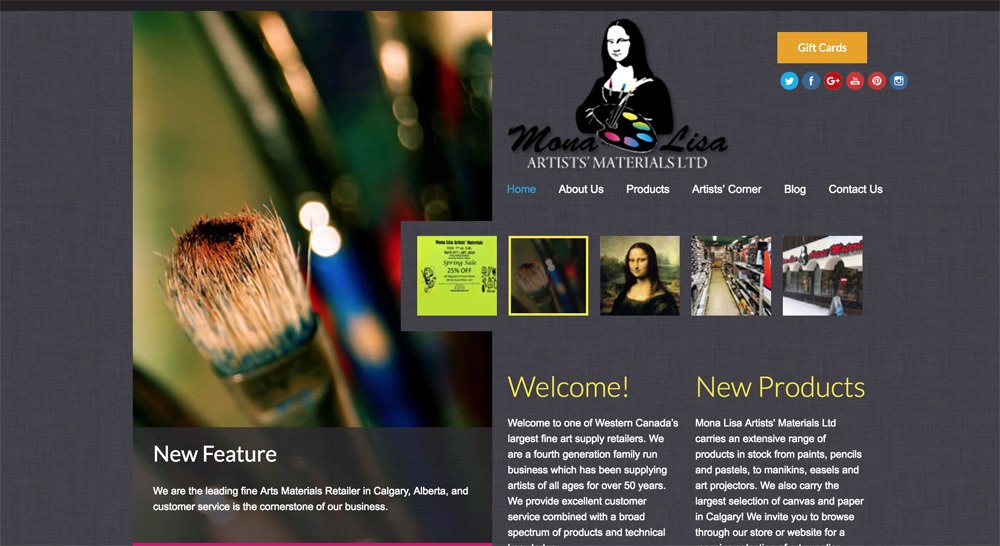 While not technically an online storefront, Mona Lisa is a great retailer for those artists living in the beautiful city of Calgary (personally one of my favorite cities to visit).
There you can find not only all the necessary products to get you started, but also an ample selection of fine art materials for professional use.
While they aren't technically an online retailer, Mona Lisa does offer up their entire product catalog on their site.
So, if you plan on making the drive out to their store on the corner of 7th St SW & 17 Ave SW – you can prepare accordingly.
General Retail Stores
eBay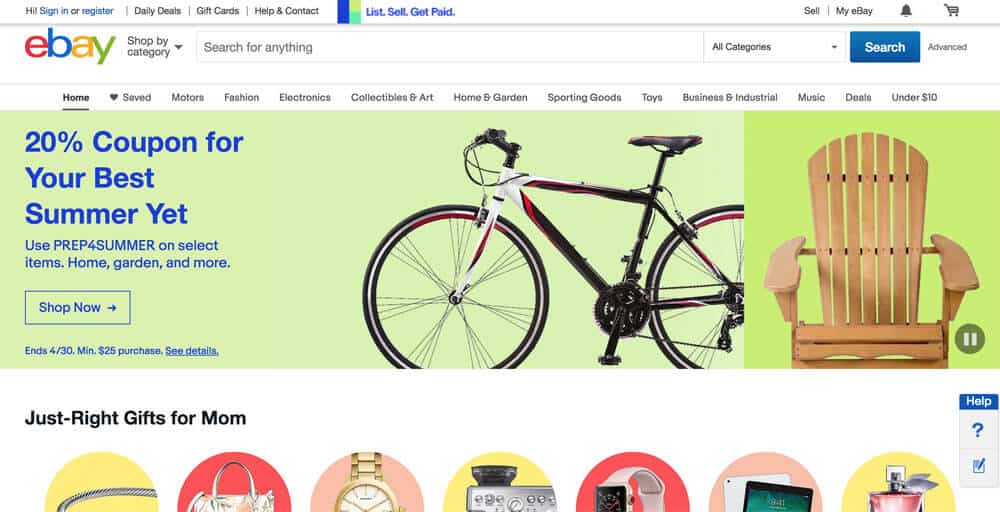 While many folks may think of eBay as being a place to buy secondhand goods at a deep discount, their large collection of art supplies is wholly underrated: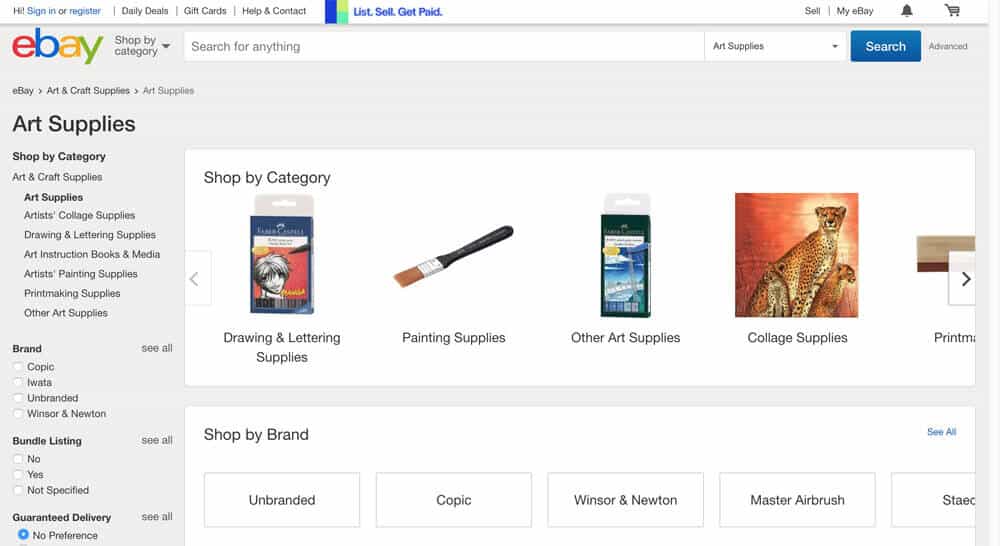 With a huge selection of both new and used supplies, eBay is a great place to find rare supplies that aren't likely to be carried at some of the large retailers that we covered in this list.
Secondly, for the artists looking to really save some money, they do feature an Unbranded section that is loaded up with some great low-cost alternatives.
Michael's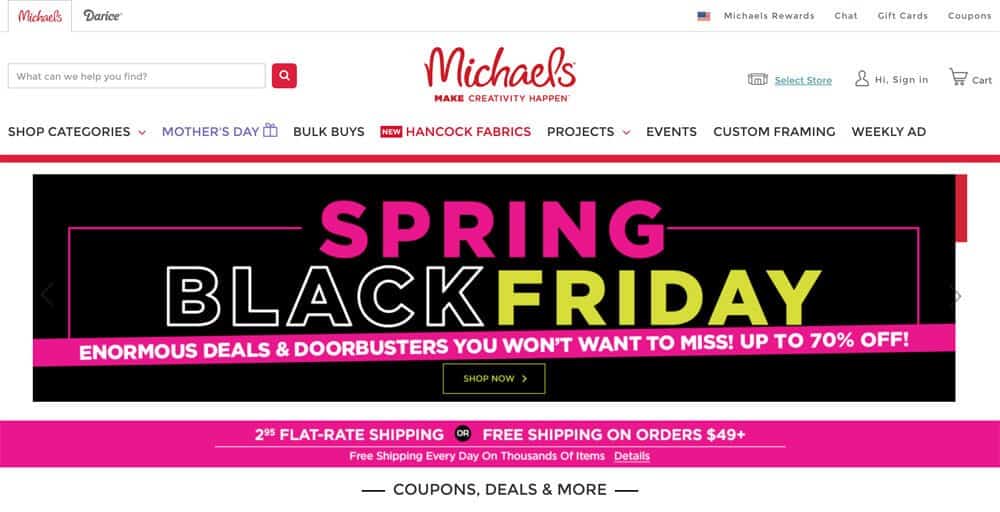 Likely not needing an introduction for many of the readers, Michael's is a general craft store that does have a fairly good selection of art supplies: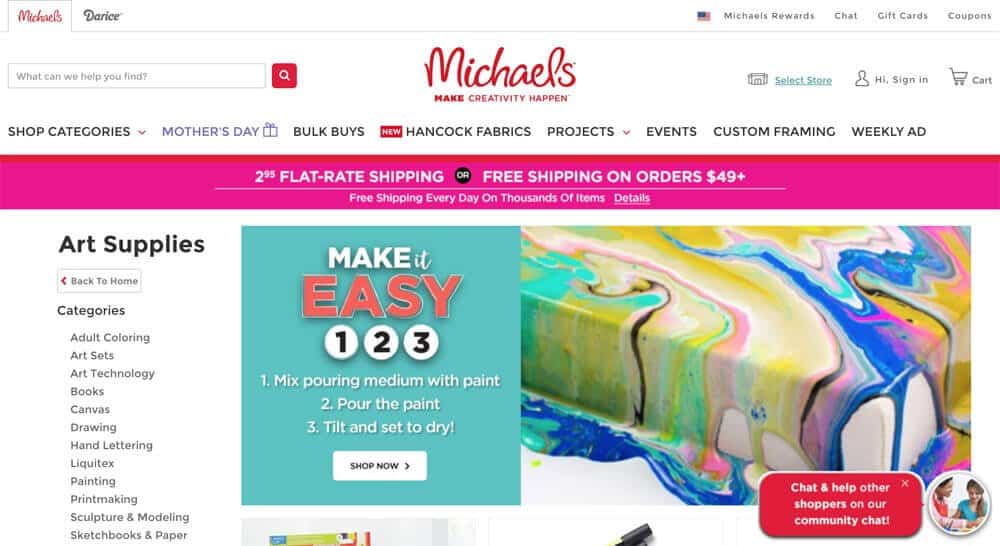 While not as expansive as say Blick Art Materials or Jerry's Artarama, you still will be able to pick up the more popular brands like Winsor & Newton, Strathmore, etc.
The biggest reason to consider Michael's though is the deals.
At the time of publication, they featured 20% off the entire order and 40% off any one regular priced item – that's crazy!
Therefore, if you were planning on picking up a pack of canvases, easel, or even a complete oil painting set, it's a great way to lower your overall art expenses.