An age-old medium dating back to the 15th century, pastels have been favored by artists around the world.
In this guide we will cover all the essentials that there is to know about pastels.
Furthermore, we will also dig deep into the types of pastels that exist, what they are made from, if they are dangerous (I was also surprised by this one myself), and so much more…
Of course, no guide explaining pastels would be complete without a few pictures and videos that really showcase this vibrant medium!
So, let's take a look at why artists have been using pastels for centuries:
What Are Pastels
Pastels are molded sticks of pigment, chalk, and a binder.
Just like a tube of quality acrylic paint, that will contain pigment and an acrylic polymer, pastels use a different type of binder that is mixed with the pigment.
As you will learn in just a minute, the type of pastel binder can vary greatly depending on the desired effect.
But pastels are a bit more complex than just the three ingredients…
Pastels are considered to be more of a dry medium, making them great for both studio and plein air.
So, if you want to set up post in a local coffee shop, and don't mind making a bit of a mess (just be sure to clean up after yourself), some pastels can be incredibly portable.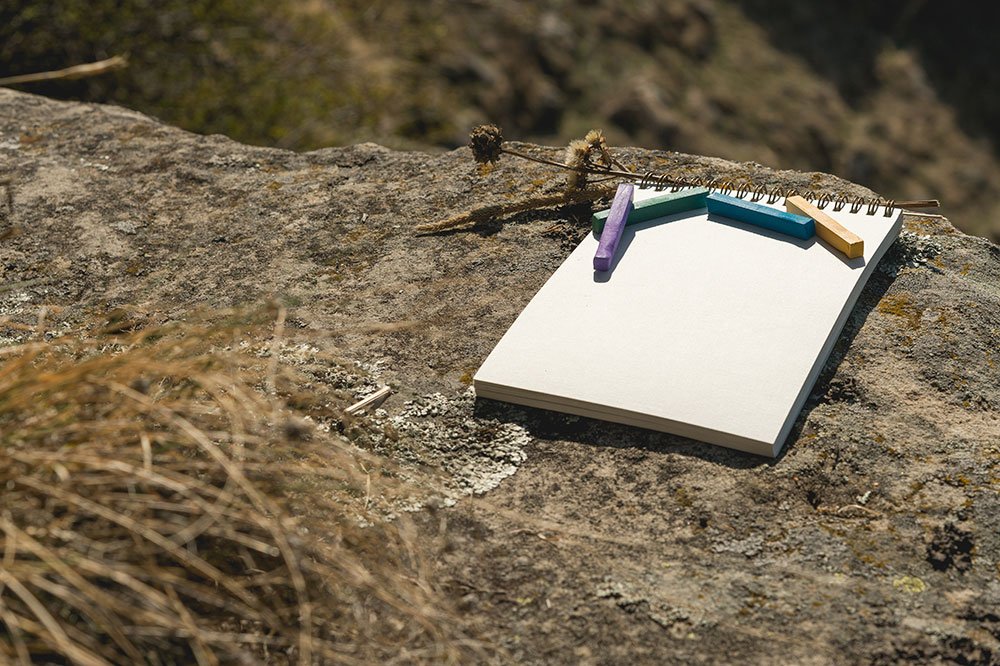 Now as far as form, they can vary just a bit.
Typically, you will find at your local art store, pastels will come in either round or rectangular body shapes.
There is no one shape that is better than another and you will want to go with one that you personally find comfortable.
As great as their simplicity and portability are, one of the most favored attributes of pastels is their brilliance.
Without the need of an entire studio setup that is required with traditional paint, pastels can generate extremely bright colors that rival the finest of wet mediums.
Here's a look at how each pastels differ from one another:
Types Of Pastels Available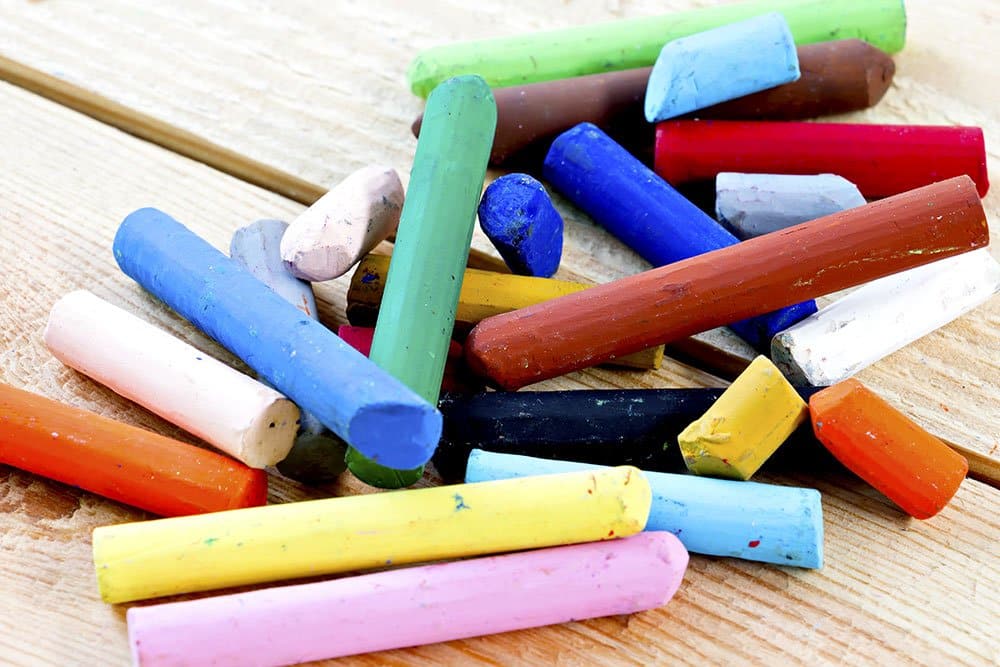 In order to truly understand what pastels are, we will take a look at all the different types available:
Soft Pastels
By and far the most popular type of pastel, and the most traditional, will be the soft pastel. Soft pastels are made from the pigment, chalk (or perhaps clay), and the binder (typically gum arabic – same binder found in watercolors).
However, unlike watercolors, the addition of chalk into the blend for soft pastels will make them crumble when used.
While this makes blending between colors extraordinarily easy with your fingers, it does allow for dust to kick up while you are using them.
Pan Pastels
A newer type of pastel that was introduced over the recent years is the pan pastel. Think of this type of pastel as a hybrid between both watercolors and the soft pastel.
With each color molded into a pan (much like a watercolor or makeup set), this type of pastel must be used with brushes or even specialized tools.
Pan pastels can be perfect for not only for the artist coming from a traditional painting background, but also for those who might want to use them only on occasion, or if you want to work only on small scale pieces.
Hard Pastels
Much like a stick of compressed charcoal, this type of pastel is great for outlines and detailed work.
Sharing the same core ingredients as the soft pastel (pigment, chalk, gum arabic), this form of the pastel just has a higher ratio of binder to help it get a much stiffer body.
Since these don't crumble like soft pastels, some artists like to take these when doing work outside their studio as they are relatively 'clean' compared to the soft pastels.
Pastel Pencils
In the same vein as hard pastels, you will find pastel pencils. With a single stick of pastel encased in wood, this is the ultimate tool for very fine detail work.
Pastel pencils, like hard pastels are perfect for portability. Even though they do come in a pencil form, they do have a bit of give allowing you to move around the pigment for blending purposes if necessary.
Oil Pastels
A completely different pastel from all the others we covered so far is the oil pastel.
Instead of relying on pigment, chalk, and gum arabic to form the stick, oil pastels use the following ingredients:
This creates a pastel that will provide much more painterly strokes than that of a hard or even soft pastel.
In addition to making a completely different stroke types, oil pastels won't blend easily.
Oil pastels are best suited for expression or larger scale pieces. Trying to do detailed work with an oil pastel can be near impossible given the form factor.
To add another dimension to this medium, if you come from an oil painting background, you can still use turpentine or odorless mineral spirits to manipulate this medium and create stunning washes or effects.
Water Soluble Pastels
The last pastel we want to cover are water soluble pastels. Similar to watercolor pencils, water pastels are sticks of pigment bound with polyethylene glycol that can dissolve in water.
Rather than being encased in wood like a watercolor pencil, water soluble pastels look nearly identical to crayons.
As you would guess, when using these pastels, you can simply add a bit of water and brush the pigment to your desired effect or wash.
Working With Pastels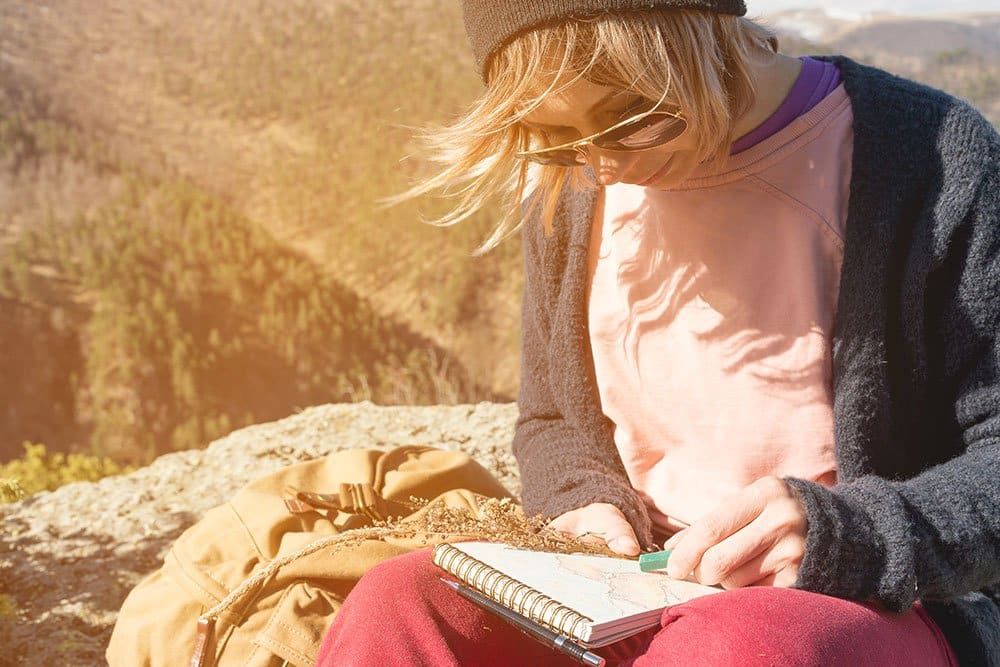 Now it's one thing to talk about what pastels are, but it's another to understand what to expect and how to get the most out of them.
Depending on the type of pastel that you are interested in trying out, there are a few key things to know when working with pastels…
First, paper.
Like watercolor paints, pastels need a certain type of paper in order to really showcase their strengths.
Pastel paper will have the right amount of tooth for the pastel to latch on to, while also giving you enough give in order to blend the colors to desire.
While it might be tempting to use watercolor paper or drawing paper when using pastels, go with a true pastel paper (at least for the very first time).
This way you can see how pastels are intended to work on their preferred surface.
Second, blending.
With non-oil pastels, all the blending is done directly on the surface.
There is no separate palette or mixing tray that you use in order to dial in the color of choice.
This can be a good and bad thing.
Good, because it's not another supply you have to own (and also the reason why many artists love this medium)…
…but also bad.
With direct application of the media to the surface, and no blending tray, should you make a poor color selection, you simply have to live with it.
Pastels can't be blended out like paint.
So, expect a certain level of permanence when using them.
Now, of course you can try to work around those mistakes, just don't expect the results to be perfect…
…and that's completely ok!
Now when using oil pastels, as we eluded to above, they cannot really be blended that well (especially when compared to the other types of pastels).
Next up, fixatives.
If you every drew with charcoal, chances are that you are familiar with fixatives.
While many artists may use hairspray as an alternative to a formal art fixative, this product is key in helping your chalky pastels to 'stay put'.
In addition to keeping everything in place on the paper surface, fixatives can also be used to build up a layer or two in your artwork.
So, if you want to generate a bit of tooth again for another layer of pastel, just simply give it a spray with a fixative of your choice, let it dry, and start working again.
Transporting Pastel Pieces
While a good fixative can help to transport a piece that has been made with soft pastels, if you are not quite done blending or perhaps don't have the time to wait for a fixative to fully dry (at the end of a great art class anyone?!), we recommend that artists check out glassine.
Glassine is a special type of paper that is used for protecting and preserving pastel works.
In fact, some pads of pastel paper will actually have glassine between each one of the sheets for easy portability – like the Canson Mi-Teintes Pastel Paper Pad.
It's a perfect all-in-one solution for field or classroom work.
What About The Archival Qualities Of Pastels?
One thing that is truly unique about pastels is the exposure of pigment in the finished piece.
Unlike paint where the pigment is mixed in with a binder, the pigment in pastel is fairly raw…
…and it's a huge reason why pastels look so vibrant in the first place.
Given this exposure, pastels must be taken special care of when on display.
This includes proper mounting and a UV barrier (source).
Are Pastels Dangerous?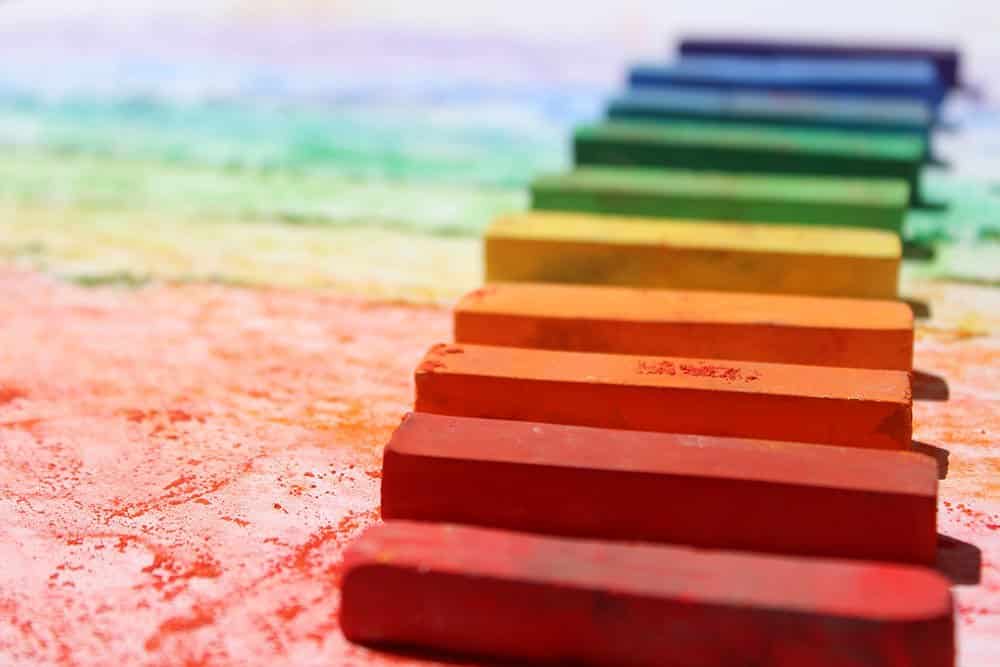 On the whole pastels aren't particularly dangerous.
However, unlike other mediums you might be familiar with, pastels (particularly soft ones) are going to kick up dust while you are working.
Therefore, it's important that when you work with pastels you either wear a respirator (same thing that commercial painters wear) or work in a well-ventilated room.
Should the weather be nice, some artists may like to sit outside while using pastels and simply place their pad either on their lap or a sturdy art easel.
If you do plan on sitting at an art desk while working with pastels, we would recommend putting anything away that is in the proximity of the surface so you don't cause any sort of staining.
Samples Of A Few Pieces Of Artwork That Were Made With Pastels
As much as we would love to keep talking about pastels, we wanted to show you a few pieces of work that really caught our eye.
Here you can see the raw beauty of pastels and the type of work you can plan on creating yourself in your own studio when you take the plunge into this lovely medium:
Oil Pastels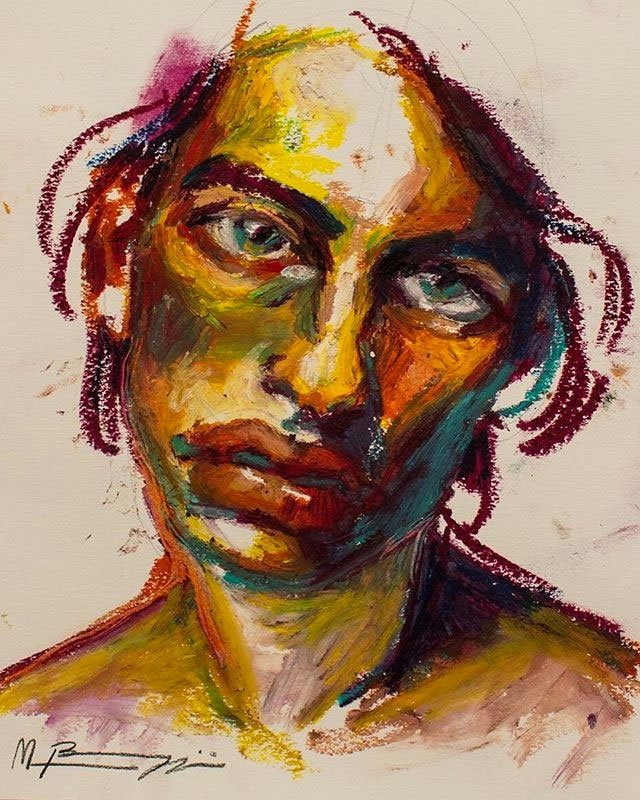 Soft Pastels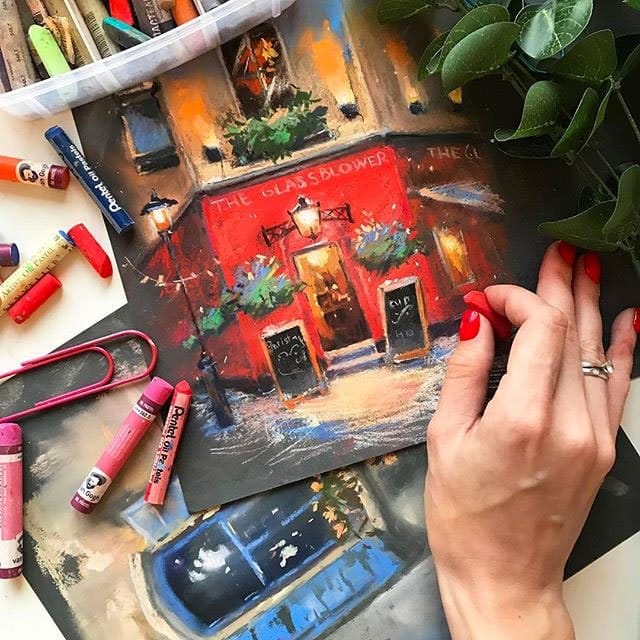 Is That Everything There Is To Know About Pastels?
Pastels are a complex medium. To capture their true essence in just one article wouldn't be doing them justice.
From techniques to the nuances between just soft pastels alone would be enough for us to write for weeks on end.
But alas, as we have exclaimed here countless times on the site, learning doesn't equal doing.
So, if you are thinking about trying pastels, do it!
It's a fun medium and one that you will likely see the joys of working with immediately!