Seasoned watercolorists know just how important selecting the best watercolor paper for their painting can be.
Not only will a perfect watercolor paper not warp immediately, but will showcase the pigments from the paint with absolute brilliance.
In fact, we found that Arches watercolor paper to be one of the best performing papers on the market.
Arches watercolor paper just simply withheld water the best without any pronounced warping.
We found that we weren't alone in these findings. In fact, most artists who watercolor regularly found this to be one of the best performing watercolor papers time and time again.
Summary Of The Best Watercolor Papers
Comparison Top Watercolor Papers We Reviewed
But before we walk you through the reviews, we wanted to explain how this guide is organized and in particular how it will help you find the best watercolor paper for you and your specific use case:
How This Guide To The Perfect Watercolor Paper Is Organized
Ok, so here's the deal:
While we will give recommendations for the best overall watercolor paper, we understand that every artist reading this is different…
…and were not just talking about skill level.
This guide will also help any artist who may find themselves having to make the tough budget choices on their art supplies and those who don't mind paying just a little extra to get a whole lot better of quality from their paper.
Secondly, we will also look at papers that not only work within the four walls of your studio, but watercolor papers you can take with you to your local coffee shop so you can paint while you have your morning brew or perhaps even go plein air and paint while on a hike or even camping.
Lastly, and this is really for the art nerds out there, we also dive into the details of watercolor paper by dissecting the different forms (hot vs cold pressed), along with differing GSMs and what they all mean.
To ensure there isn't too much clutter in the guide, we went ahead and stuffed all this information at the end of the guide.
If you want to hop around this guide quickly, be sure to make use of the table of contents listed here:
Why You Should Trust Us
Now there are thousands of 'review sites' out there that exclaim to give you their 'honest' opinion when reviewing a product. In fact, you are also likely familiar with many product reviews on retailer websites with 'artists' claiming that they 'received this product for free to give their full and complete honest opinion'…
Here's how we're different:
We didn't receive any of these products for free from the manufacturers. Nor are we being paid directly from the manufactures to list their products within this post.
As noted clearly in the terms of our site, we generate revenue through affiliate commissions.
This means that should you purchase a product through one of the links on this page we will receive a few cents on the sale at no additional cost to you.
Furthermore, if you don't like the product we recommend and return it, we don't get paid on the sale – which to us is a pretty fair deal.
Therefore, it's our goal to help you by delivering the best information possible so you can get uncompromising performance from the next watercolor paper you buy.
As artists ourselves, we wouldn't recommend anything to you unless we ourselves would use it in our personal studio daily.
Selection Of The Best Watercolor Papers Available
As you may have noticed when reviewing the previous section, instead of listing out all watercolor papers in a long list, we grouped our reviews on how watercolorists will be looking for paper best suited for them.
Therefore, we are going to go with the most popular, and likely relevant to you, section first:
Overall Best Watercolor Paper
You don't have to look far before you see in forums, galleries, and even museums that one of the most beloved papers from artists at all levels will be those made by Arches.
Imported from France, watercolorists have loved Arches for centuries.
Founded in 1492 (yes, the year Columbus sailed the ocean blue), Arches has withstood the test of time.
Let's face it:
You don't stay in business for over 500 years by just selling mediocre products.
So, enough about the lineage, why do artists today love their paper?
Simple:
Their absorbency coupled with the texture is absolutely perfect.
While the price can be a bit commanding for some, even watercolorists who only have 50 hours worth of painting under their belt will immediately see better results in their work – making them start to really see their own abilities within.
But beginners aside, expert artists also love Arches paper for several reasons as well:
For those of you who plan on doing commissioned pieces, the paper provided by Arches is both acid-free and pH-neutral.
The paper itself should be able to withstand a couple hundred years worth of display time before a conservationist will even have to perform any work.
Now, here's where it gets better:
When selecting watercolor paper previously, you might have had to bend to the manufacturers will and select a paper that is either just a bit too big or too small.
Or perhaps you found that the weight of the paper itself was just simply 'passable', requiring you to still have to stretch it prior to water coloring.
What made us select this watercolor paper ahead of all the others, was its artist receptive nature.
Coming in 5 different weights (185, 300, 356, 640, and 850) GSM, you can pick up the right paper for your next painting…
…but it gets better:
You also have the choice between hot, cold, and rough watercolor paper textures!
Note: Not sure of the differences between all of these options? Scroll down to our appendix section to learn more.
Bottom Line: Overall, if you are taking your water coloring seriously and want to see better results, instead of investing in expensive brushes or paints, watercolor papers provided by Arches are simply the best option that is currently available on the market.
Notable Mentions Of Other Watercolor Paper Brands We Reviewed
Best Watercolor Paper For Plein Air
When going beyond the 4 walls of your studio (plein air), you will want to bring a different watercolor paper with you.
Now while we love the Canson Montval Watercolor Block, there are a few things you must consider before making a purchase.
First and foremost, the location of which you will be watercoloring.
If you are an outdoorsy person that will want to watercolor while hiking a trail or perhaps while summiting a mountain, you may want to go with a more compact watercolor block like this Field Artist 4" x4" watercolor journal.
The small design will allow you to effortlessly slide it into your backpack without adding too much weight (only 4oz.).
This allows you to really enjoy the watercolor process on the trail, while not having to carry around a hefty easel and block along with your paint.
Now, for the watercolorist who like to paint at their local coffee shop, backyard, or anywhere else where you have a flat surface or portable easel, then the Canson Montval will be a sound choice.
Coming in many different sizes and weights, this watercolor block will be able to withstand a slight breeze while having plenty of backbone to stand upright on an easel.
While the form factor of the block itself is nice, what's also great is the texture and absorbency of this paper.
One common problem many watercolorists have when going plein air is keeping hold of their paint to prevent it from 'running' in their painting.
The absorbency of the paper, especially the cold pressed 300 gsm option will offer you the control that you are seeking.
Editors note: We thought it was important to mention that both Canson and Arches are part of the same company.
Bottom Line: For artist who want to go beyond the four walls of their studio, this watercolor block not only will perform well, but also is an affordable option. Just don't forget to pack the water when you go outside!
Notable Mentions Of Other Watercolor Blocks For Plein Air That We Reviewed
Best Watercolor Paper For Beginners
When evaluating watercolor papers for beginners the importance of archival quality, acidity, absorbency start to diminish.
While any artist would love to start out on Arches brand of papers, the reality is that it would be a costly endeavor.
When reviewing the best watercolor papers for beginners, we found that the Strathmore 300 Series will be your best choice for a few reasons:
First and foremost, it carries a terrific 300 GSM weight that can be somewhat elusive in this category and price.
Costing an estimated $0.33 / sheet (at a 9" x 12" size), this watercolor paper is a steal.
When compared to comparable watercolor papers, you will often find papers that will cost upwards to $0.50 to $0.80 per sheet.
When just starting out as a watercolorist, these prices can really add up with time.
If there is any reason that a beginner is ever frustrated about painting, it shouldn't be due to budgetary reasons – and this offering by Strathmore completely eliminates any cost concerns.
Now when it comes to performance, this paper still has an uncompromising performance.
Just as you might experience when purchasing a fancy camera, you don't need all the bells and whistles when just starting out.
You just won't be able to fully take advantages the quality of a watercolor paper (like the Arches or Canson Montval paper we reviewed) until you have taken full command of watercoloring.
Bottom Line: This paper is perfect for beginners. It's terrific performance coupled by a rock-bottom price per sheet not normally exhibited in this category makes for a sound choice.
Notable Mentions Of Other Beginner Watercolor Papers That We Reviewed
Hot vs. Cold vs. Rough Watercolor Papers
As you may have noticed in some of the reviews, watercolor papers can come in primary three different varieties:
Here's a diagram that demonstrates the differences: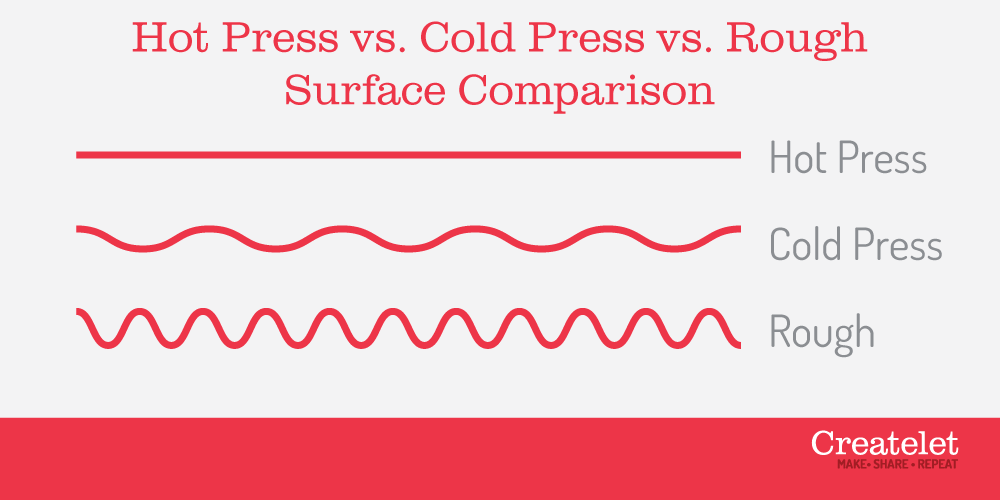 Hot Press: This is watercolor paper that has gone through quite literally a 'hot press'. Akin to ironing your clothes or having them pressed at your local cleaners, watercolor paper that has gone through this process will be incredibly smooth.
Without the apparent peaks and valleys found on the surface of the other papers, hot press papers are typically favored by watercolorists who are looking to have much greater detail in their work.
Secondly, watercolorists who also like to complement their painting with a sketch will also want to use this type of paper.
Regarding performance, hot press watercolor paper may be more susceptible to warping and often cannot hold nearly as much water when compared to the other alternatives. This will be important if you favor paper that can support several layers of a wash.
Cold Press: Opposite of hot press you will find 'cold press' or 'NOT', meaning NOT hot pressed as seen here: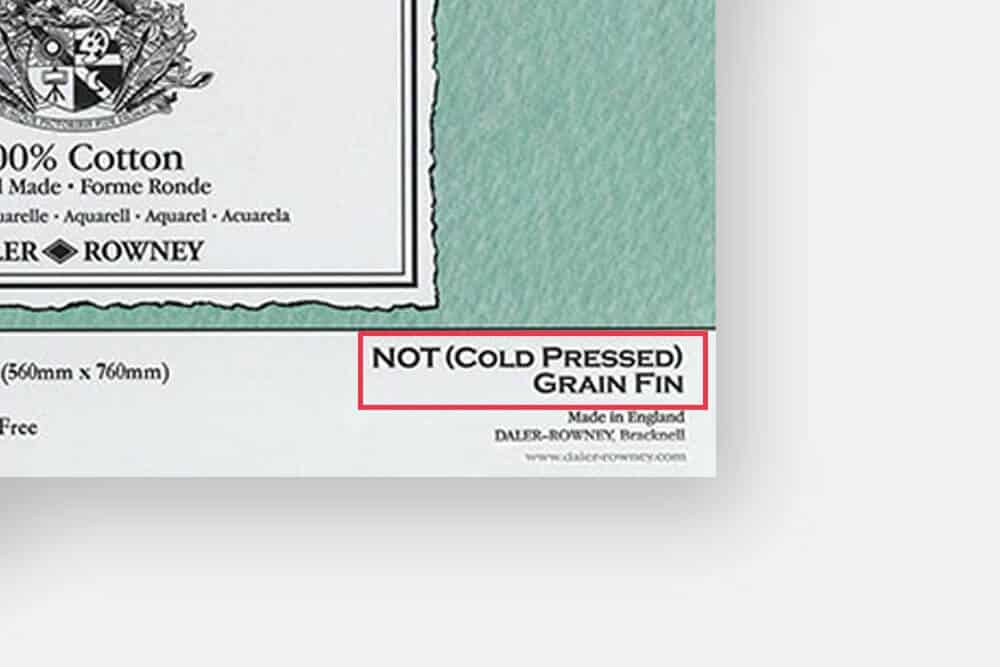 Source: DickBlick.com
As we just learned above regarding hot press, cold press production process is just the opposite – reliance on cold (not heated) metal in order to flatten the paper.
What's the end result?
Watercolor paper that will have much more texture on the surface allowing for not only greater absorption of water within the cotton itself, but also will generally give a watercolorist great control while painting.
Of all the papers that appeared within our review and generally in the art supply world, cold pressed watercolor papers will be the most popular – and likely the one you may already be familiar with.
Given their naturally lower price points coupled with their widespread availability, we often recommend most watercolorists to try cold pressed paper as their first surface of choice when exploring the world of watercolors.
Lastly, given the high absorption rate of this popular surface, cold pressed paper must be stretched prior to painting in order to prevent warping.
Note: We go over GSMs of watercolor papers a bit more in detail in the next section.
Rough: Lastly we have 'rough'. Unlike cold or hot papers that are pressed or flattened during the production process, rough is simply left to air dry…
…and the results are a very distinct surface of which you can paint upon.
Of all the watercolor papers, rough will not only provide the most texture that your pigment can latch on to with ease, but also will be able to handle several layers of water as well.
Additionally, watercolorists do love this type of paper as it can give a layer of dimension to their piece when examined up close.
Now a word of caution:
If you like to perform a very light sketch with a graphite pencil prior to using this surface, expect some difficulty.
Unlike hot pressed paper, with rough paper you may have some troubles defining simple lines and even intermediary detail work. The layered paper can prove to be quite challenging to work with even for more advanced artists.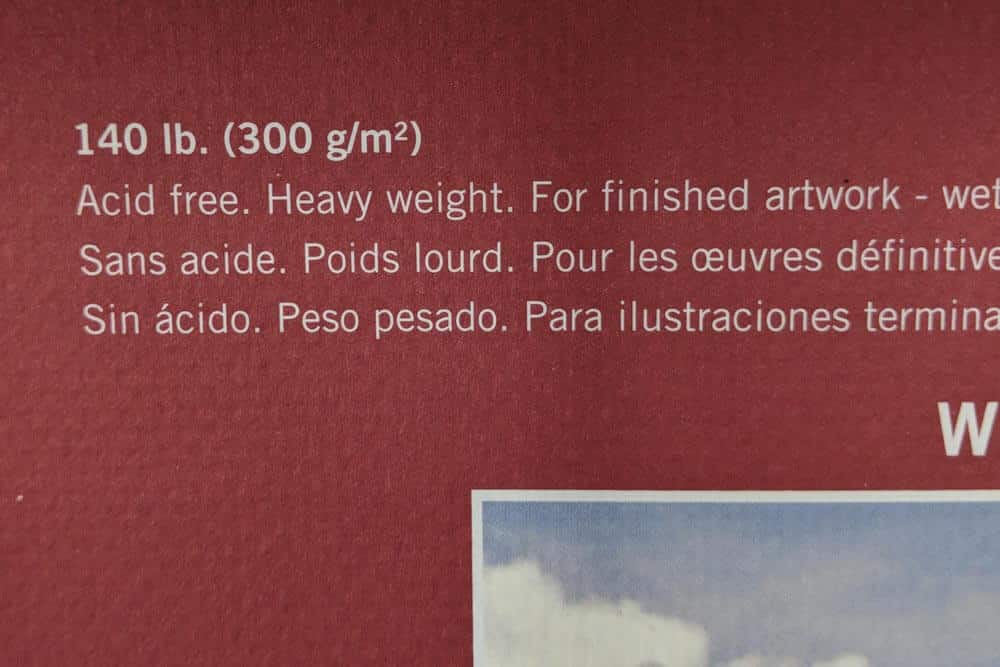 GSM (g/m² Requirements When It Comes To Watercolor Paper
In the world of watercolor papers (and other art papers for that matter), you will often see the GSM (Grams Per Square Meter) unit – also noted on watercolor pads as g/sm.
This simply is the international equivalent to 'lb' (paper weight) we use in the United States. As you may have noticed in many of the reviews above, watercolor paper is sourced from a variety of places around the world (most dominantly from Western Europe).
While GSM may not be all that significant when it comes to selecting your standard copying paper or even notepad paper, when considering watercolor paper, GSM consideration is crucial.
As any experienced watercolorist will tell you, warping of the paper after you are done painting can simply ruin a beautiful piece.
Therefore, most watercolorists tend to agree that paper with a GSM of less than 300 (140lb) will require stretching (taping to a surface) in order to prevent warping.
However, it's worth noting that the higher the GSM there will also be a marked increase in the retail price. Therefore, it becomes a game of tradeoffs for most artists.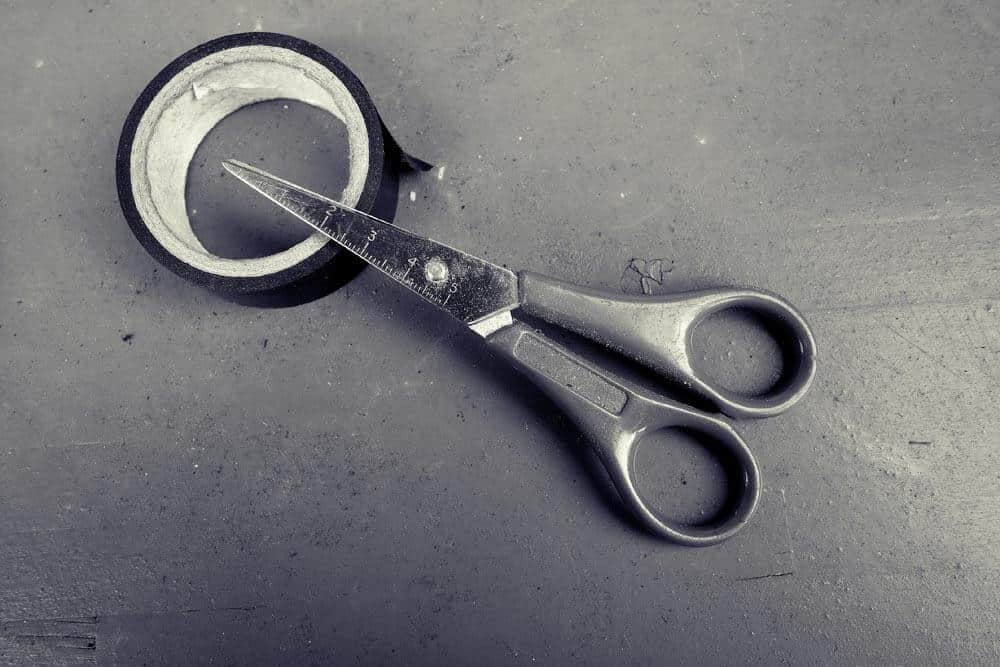 Best Tape For Stretching Watercolor Paper
While you might discover in some forums where artists like to rely on gummed paper tape for stretching their watercolor paper, one problem with this solution is its susceptibility to peeling.
The problem here is that gummed paper tape requires it to be brushed with water before sticking it to a surface.
If you leave it on too long or perhaps add too much or too little of water, you run the possibility of it not performing optimally – and ultimately put your painting at risk.
While the adhesive qualities of gummed tape are far superior to alternatives (as mentioned below), we would recommend that you use an X-ACTO knife in order to cut your painting free.
Opposite of gummed paper tape, you have artist or drafting tape.
Very akin to your standard masking tape, artist tape will be acid free (great for archival purposes) and still will do a great job at keeping the watercolor paper fixed nearly as good as gummed paper tape with a reduced possibility of tearing.
Therefore, if you plan on purchasing some lower GSM watercolor paper, we would recommend that you pick up this artist tape as well:
Watercolor Blocks Are Terrific To Skip The Stretching
Unlike watercolor pads, sheets, or rolls that come 'loose leaf', watercolor blocks are terrific for plein air pieces and for artists who don't like to tape down the corners of their pieces every time they go to watercolor.
Glued down on nearly all edges of the paper, with the exception of a small area unglued – as seen in our diagram below: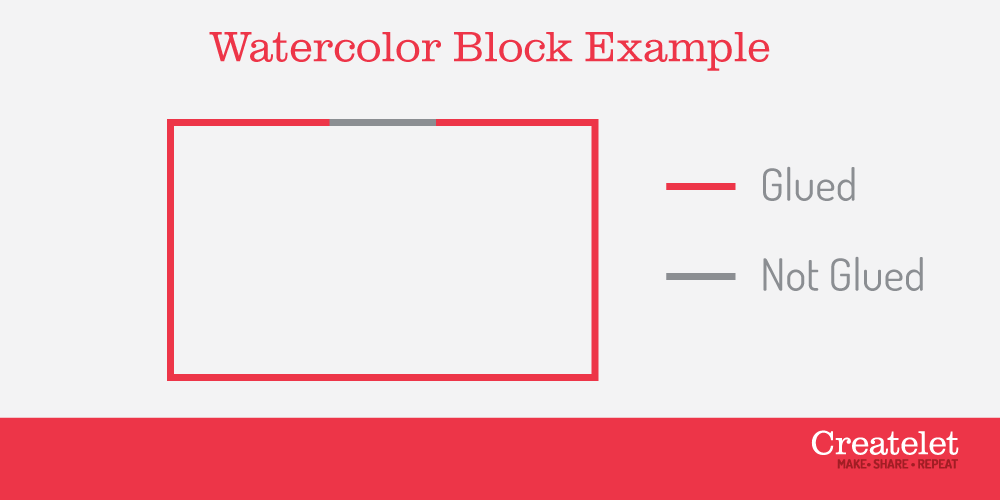 Watercolor blocks are great not only for efficiency, but for results.
Never do you have to worry about the warping that you would otherwise be struggling with when watercoloring outside the studio.
Secondly, as we mentioned in the previous section, leaving tape on a piece of watercolor paper for too long may cause damage to the piece that you are working on.
All of those worries go away when watercoloring on a block.
Once your piece is finished, you can simply take a palette knife and pry the piece of paper off from the block for near perfect results.
Many of the top end manufacturers like Arches and Canson provide their papers in this variety.
Artist vs. Student Watercolor Paper – Here's The Key Differences
When it comes to watercolor painting, while the paint and the pigment concentration can vary greatly between artist and student grade, the paper will still be the biggest difference maker on the final results.
Not only will cheap watercolor warp with just the slightest bit of water, but also poor quality watercolor paper will be susceptible to peeling and just general degradation (including yellowing).
This makes it extremely challenge for even the most expert of watercolorists to try and get the specific look or brush stroke that they are looking for.
Now performance aside, there must be some general rules on the differences between both artist and student grade paper, right?
Well, not exactly.
Given that this isn't a regulated term within the art world, there are no exact definitions.
However, what we experienced based on our research is the following:
Student grade papers tend be sold in bulk quantities (i.e. designed for a classroom), and are largely reserved for artists who are still learning (i.e. students).
Therefore, the archival properties of the paper are typically poor and are meant for subject studies.
Watercolorists who do commissioned pieces won't rely on student grade paper as it will also be likely to yellow with time as well due to an improper pH balance of the paper.
Now with artist quality paper, the results will be just the opposite.
Not only will you have a watercolor paper that is derived from a long staple cotton fiber, but it won't be susceptible to fraying when several washes or layers have been applied to your piece.
Furthermore, the watercolor paper will keep to its true state throughout the time it's on display.
Therefore, if you feel that you have total command in the watercolor painting process or simply want to give a watercolorist you know a very nice gift, then artist grade watercolor paper will be a welcomed addition to the studio.
Where To Buy Watercolor Paper From?
While many of the above products have been linked to Amazon, you should also be able to find them at popular art retailers like DickBlick.com as well.
For some watercolorists who still want to try a nicer watercolor paper but aren't ready to invest in an entire pad due to budgetary restraints, surprisingly eBay does offer quite a few auctions from other artists (just be sure to filter by 'Used' Condition).
Now with larger big box retailers like Michael's and others where many causal artists may go for supplies (after all who can resist their 20% off coupons!), one thing we noticed when visiting our local store the other day was the restrictive selection for watercolor papers.
When visiting we were unable to locate a watercolor paper greater than 300 gsm: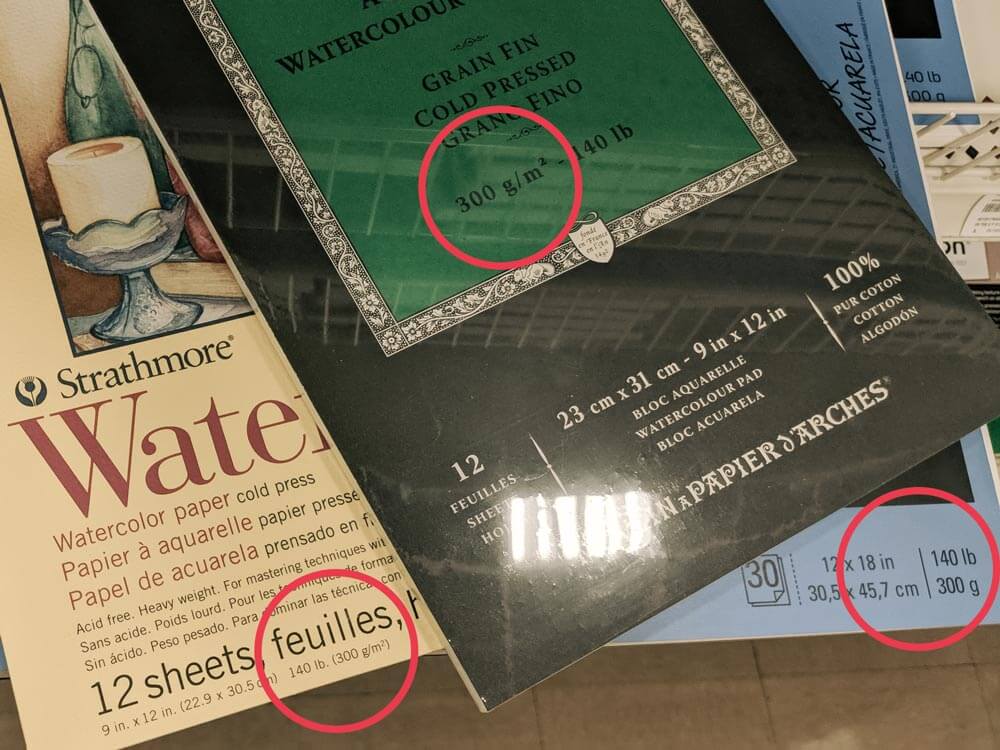 Furthermore, we were also unable to locate any hot pressed or rough watercolor papers.
While we understand that retailers like Michael's will carry products that are most commonly used, this does restrict your ability as an artist to paint on other watercolor surfaces that would help expand your experience.
Should You Get Watercolor Paper With A Deckle Edge?
When reviewing watercolor papers, especially those that are rough or have had been handmade, you may notice a natural tearing along the edges.
This is referred to by watercolorists as having a deckled edge.
While there are machines that can reproduce this design flare, it largely harkens back to the day when watercolor papers were handmade.
So, is the deckled edge worth it?
It largely boils down to your specific tastes and the where the piece of work is going to be served.
There are some art snobs that prefer the work – and that is completely ok. If you plan on displaying your work in a local gallery, you may want to do a bit of research on pieces displayed there and see if the gallery owner has a bias to this unique design characteristic (much like they do when selecting linen over cotton canvases).
As we mention, on the whole, this is largely a personal preference of the artist.