While traditional watercolor pans and tubes will likely always be the favored form factor for watercolorist, there is no denying the versatility, convenience, and performance of watercolor pencils.
Helping traditional drawing artists bridge the gap to watercolors, watercolor pencils are a great intermediary tool for those looking to explore the world of watercolors without the feeling of having to invest in extremely large pan sets or tubes.
Based on our hours of countless research and what other artists had to say about watercolor pencils, we found that the Faber-Castell 120 Watercolor Pencil set is hands down one of the best set of watercolor pencils on the market. Not only will the pencils produce amazing and vivid results, but the color selection is second to none.
Summary Of The Best Watercolor Pencils
Overall Best Watercolor Pencil (Including Professional Artists) – Faber-Castell
Best Watercolor Pencils For Beginners & Budget Minded Artists – Derwent
Best Watercolor Pencils For Intermediates – Caran d'Arche
How This Guide To The Very Best Watercolor Pencils Is Organized
In just a second we will deep dive into all the reviews of the pencils we looked out following this section.
But for those artists who are exploring this medium for the very first time, we wanted to offer you a wealth of information found at the bottom of this article.
In the appendix we go over key aspects on what you should look out for when selecting a top-rated watercolor pencil, what makes watercolor pencils completely different from your standard colored pencil, along with some complimentary supplies you will definitely want to make sure that you have on hand when making your next piece of artwork with a watercolor pencil.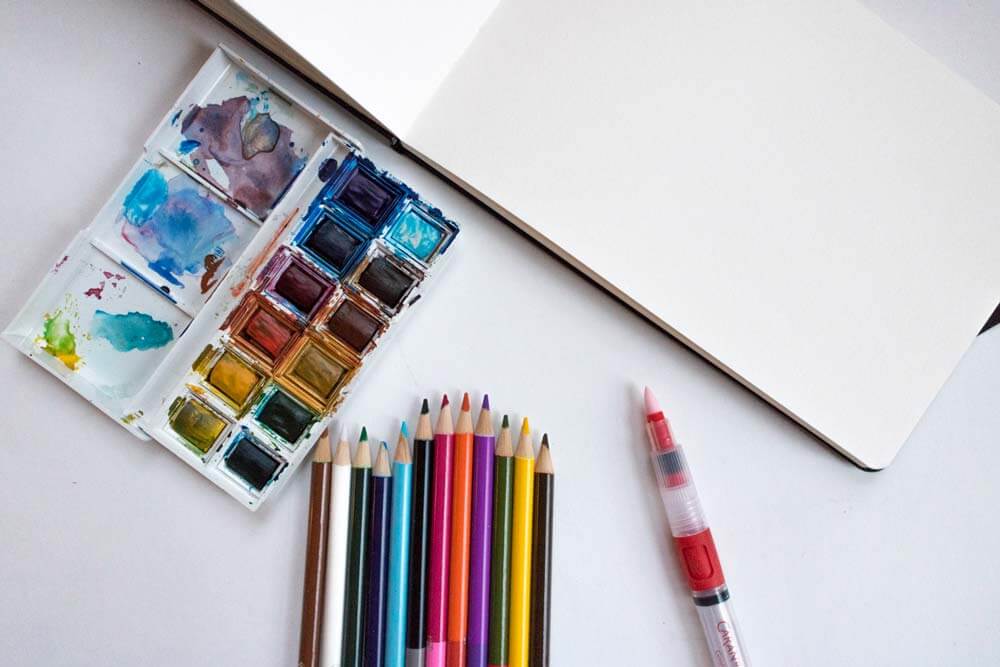 Why You Should Trust Us
As we explicitly state in every buyer's guide that we put together, whether its our roundup of the best watercolor papers, or best watercolor brushes, trust is paramount in the review process.
That's why of all the watercolor pencils listed in this article have been hand selected by us.
Therefore, all the reviews you are reading in this piece are based on our own research, and we aren't receiving direct payment from the manufacturer for their placement in this guide.
As disclosed in our terms of service (linked at the bottom of every page on this website), we only get paid through affiliate programs. Therefore, should you decide to purchase a watercolor pencil mentioned in this guide, we will receive a small (typically no more than a few cents) commission on the sale – all at no additional cost to you.
Furthermore, should you return a pencil simply because it doesn't meet your expectations, we don't get paid.
We think this is a pretty fair deal and one that makes us deliver the best and most accurate information for our readers.
Review of The Best Watercolor Pencils
1. Faber-Castell Albrect Durer Watercolor Pencil Set
If you are looking to take your watercoloring seriously, then there is no better option that this watercolor pencil set by Faber-Castell.
While the selection of 120 watercolor pencils is amazing in its own right, the performance of them is equally astonishing.
With the ability to completely dissolve when exposed to water, unlike cheaper brands that may leave pigments, these will make your artwork look amazing.
Now it goes without saying that who's on the end of the pencil really matters more than the paint itself, but the uncompromising characteristics of these pencils can really make a marked improvement for a lot of artists.
And we are not alone in our evaluation of this watercolor pencil set.
Whether you look at online retailers like Dick Blick or Amazon (both of which rated this set at 4.8 and higher at the time of publishing), or online forums, you will see watercolorists clamoring over their performance.
As evident in this post, the Faber-Castell pencils "go on smooth and blend well".
For the purists out there looking for strong and vibrant colors, you should be more than pleased with the results – especially compared with many of the other watercolor pencils available on the market.
Bottom Line
It doesn't get any better than this. If you can swallow the slightly higher price point, you will fall in love with these uncompromising watercolor pencils from Faber Castell.
2. Prismacolor Watercolor Pencil Set
I still remember the day that I received my first set of Primsacolor's colored pencils. Their naturally soft core was a world apart from the student grade colored pencils I had used at the time.
With perhaps the biggest name clout in the colored pencil market, Primsacolor sets the standard when it comes to performance.
Fans of Primsacolor's wide array of products will assuredly welcome their watercolor pencils to their studio.
While a slightly harder core than their colored pencil counterpart, the watercolor pencils will shade effortlessly when exposed to water.
Like the Faber-Castell's, expect the pigments to fully dissolve and make for amazing results.
The biggest drawback to these watercolor pencils though will be color selection.
While blending can be achieved with watercolor pencils, with only 36 colors available in the largest pack (other sizes include 12 and 24), you will have to rely on this skill repeatedly in order to attain the desired color or tone.
Bottom Line
A terrific and well performing offering by Primsacolor is unfortunately limited by the selection of colors available. Great for beginners or budget artists not ready to invest in some of the larger sets.
3. Cretacolor Watercolor Pencil Set
Watercolorists will instantly take notice of this remarkable pencil design by Cretacolor.
Pushing the boundaries of what it really means to be a pencil, these woodless barreled watercolor pencils are just that – pencils that are essentially just a watercolor stick bound in a razor thin laquer.
This ensures that pigment may not be transferred to your fingers while also having the Cretacolor logo and color name emblazoned on the barrel.
While firm enough to still be sharpened, the full watercolor tip will open the options for you to create anywhere between broad strokes from the side of the tip to very fine detail work.
While the 72 pencil set can be gifted to yourself (J) or others, as you use the pencils, you can replace them individually for about $2 per pencil at dickblick.com, making this set truly a home run for watercolorists.
Based on our research when looking at performance, the colors from this set were vivid and, like the Faber-Castell set, able to dissolve fully when mixed with water. The core of these pencils also tended to be fairly soft as well.
Bottom Line
A quality watercolor pencil set that performs better than most on the market. If you are looking for vivid colors and a smooth core, go with this watercolor pencil set by Cretacolor, you will be glad you did.
4. Derwent Watercolor Pencil Set
While perhaps not nearly as well performing as the Cretacolor or Faber-Castell, these watercolor pencils by Derwent are perfect for students and beginners.
Without breaking a budget, these pencils are great for the artists out there looking to slightly dip your toe into the watercoloring world.
With Faber-Castell and Cretacolor commanding the highest prices on this list and best performance, Derwent's watercolor pencil set will have the best gift presentation.
Should you be gifting a watercolor pencil set, Derwent offers either a wooden box gift set or pencil wrap – both present beautifully.
But regardless of the fine packaging, watercolor pencils come down to one thing:
Performance.
The Derwent watercolor pencils reviewed are going to be a fair bit duller than some of the others listed.
However, if you are looking for more vibrant or brighter colors, you will want to check out the Derwent Inktense Watercolor Pencils (just be aware that these do cost substantially more).
Bottom Line
While still a terrific performing watercolor pencil, we would recommend them strictly for beginners and artists on a budget. Other package sizes exist (6, 12, 24, 36, 48, 72) if you are looking for more options.
5. Caran d'Ache Watercolor Pencil Set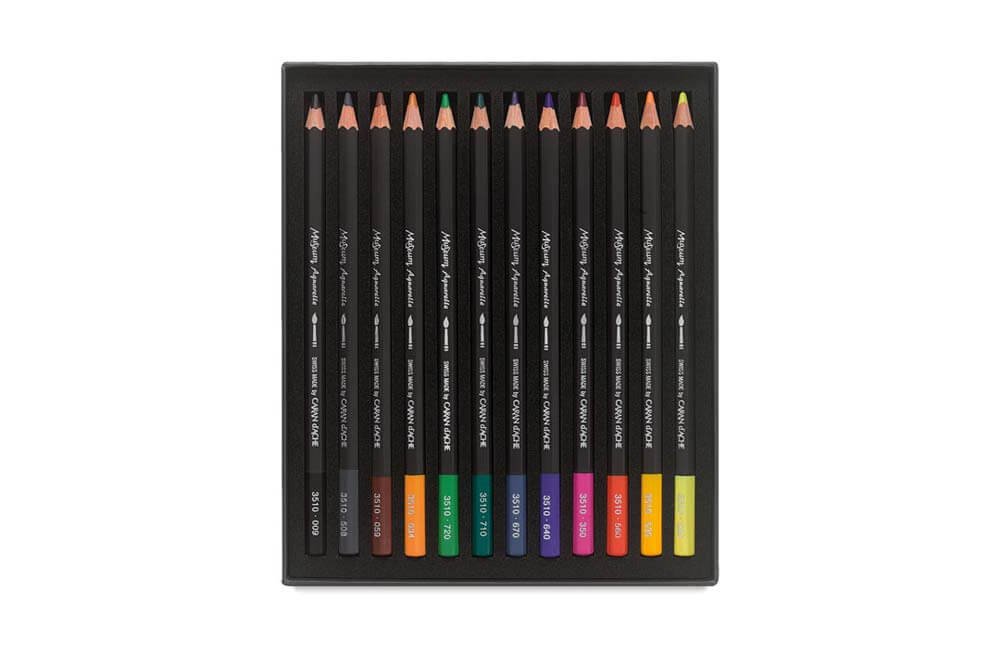 When compared to all the other watercolor pencil sets on this list, Caran d'Ache really took a unique approach.
When browsing the variety of watercolor pencil sets available, you will find the following:
Introductory (12 Pencils)
Landscape (20 Pencils)
Marine (20 Pencils)
As you may have likely guessed, each one of the sets will feature colors likely to be used for that particular subject (i.e. Introductory is a rounded set of colors, Landscapes feature many varieties of yellows, greens and browns, while Marine features many shades of blues and greens).
Therefore, depending on the subject matters that you plan on using with these watercolor pencils will dictate the specific set you will ultimately choose.
As indicative of any higher quality watercolor pencil, the colors and lightfastness of these pencils are remarkable.
When first putting pencil to paper, expect the colors to be extremely vibrant.
Within the water-soluble core itself, you will have an extra-fine pigment at your finger tips. That will result in completely dissolved results with no clumping as you may receive in the budget conscious pencil category.
Therefore if you plan on using these with a blending tool like the Tombow we touched on in the appendix below or perhaps with the Pentel Water Brush, you will be pleased with the results.
Of course this goes without saying, their performance with traditional watercolor brushes will also be well received.
While not the most affordable option on this list (that award still goes to the Derwent line), we think that watercolorists who are a bit seasoned (perhaps intermediates), will be best suited for the Caran d'Ache watercolor pencils.
Overall, it will make a fine addition to your studio or backpack should you decide to go plein air.
Bottom Line
A well rounded set of watercolor pencils that won't completely break the bank. The predetermined Landscape and Marine sets will either be loved or a bit limiting to some. A well performing pencil nevertheless.
Watercolor Pencils vs. Colored Pencils
Watercolor pencils are commonly confused with colored pencils.
While these two products will look nearly identical from the onset, their core makeup is starkly different.
When looking at any colored pencil, you will nearly always find that the pigment of the pencil is relying on an oil or wax binding agent (source).
As you may recall from your 4th grade science class, water and oil don't mix particularly well. Therefore, should you try and induce water into a piece that been made with a traditional colored pencil, you are likely going to witness the water beading up on the surface.
Contrary to colored pencils, and the reason you are here, is the watercolor pencil.
Instead of a wax or oil substance as the binding agent, watercolor pencils will rely on a water-soluble binding agent.
Therefore, you can use a soaked watercolor brush in order to easily blend the colors together (more on this in just a minute).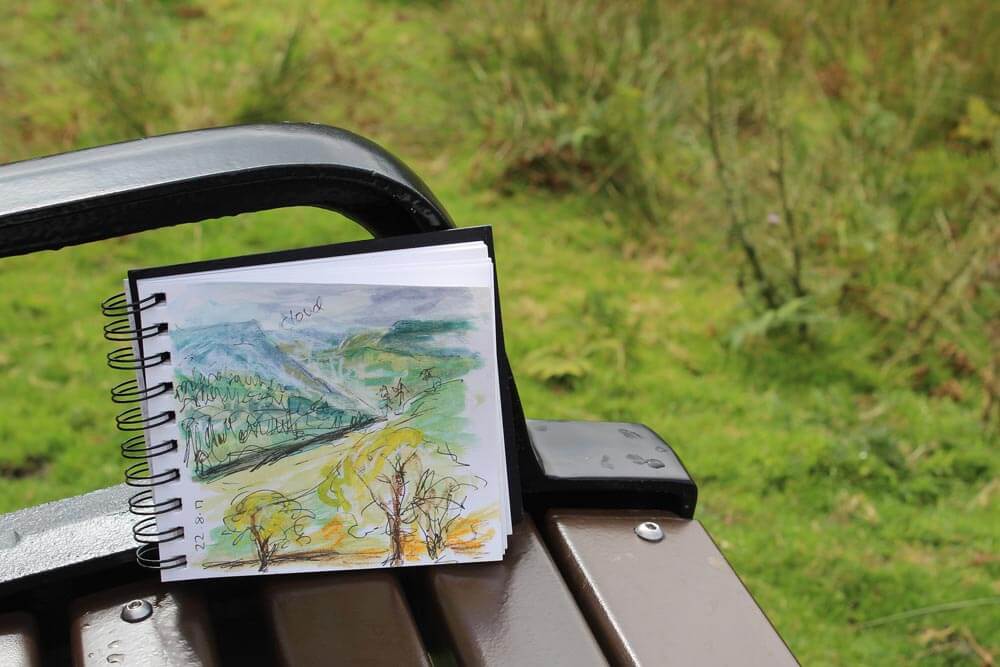 Watercolor Pencils Are Great For Plein Air Painting
Painting watercolors en plein air, can be an extraordinary rewarding experience.
However, one of the biggest battles that watercolorists have when trying to do this is wrestling with their many art supplies.
Of all the watercolor mediums (pans, tubes, etc.), watercolor pencils are without a doubt one of the cleanest and easiest mediums to take with you when painting beyond the four walls of your studio.
Whether you plan on watercoloring a seaside landscape or find some peculiar subjects at your local coffee house, you can easily capture the essence of the scene with watercolor pencils.
In addition, watercolor pencils also make it easy to efficiently place down a very quick sketch to set the composition, all while taking your time to add in the detail work and watercolor blending at your own pace with your watercolor brushes.
As we recently discovered when reviewing the best watercolor brush pens, using a brush like the Pentel Water Brush or the Caran d'Arche, you can conveniently add your watercolor effects all while having water readily available in the barrel of your brush.
Of course one of the most important tools beyond the watercolor pencils themselves that you will want to have on hand will be a watercolor sketchbook.
So be sure to pick up one when checking out.
Tip: If you are looking for a recommendation, check out our reviews of the best watercolor sketchbooks that can fit a watercolorist on any budget.
Additional Products You Should Consider When Buying Watercolor Pencils
In order to get the best results from your work, it's imperative that you rely on the proper art supplies.
There are a few additional products you will want to have hand that we didn't mention.
Most notably will be a quality pencil sharpener.
Investing in a good pencil sharpener will ensure not only that the pigment inside the watercolor pencil has a sharp tip, but will also help to prevent the tip from repeatedly breaking when being sharpened.
A sharpener such as this Prismacolor Pencil Sharpener is well reviewed and does a good job at getting a great point.
While we made a brief mentioned about the Pentel Water Brush as its great for portability, this will be geared for those watercolorists looking to convert their watercolor pencil drawing to a full watercolor painting.
If you want to only blend a few small parts of your painting for the detail work, then a colorless blender will become an invaluable tool.
With both a fine and brush tip, you can achieve a dynamic range of effects.
Types of Techniques You Can Employ When Using Watercolor Pencils
What really sets watercolor pencils apart from the other watercolor mediums is their techniques.
Given that you are working with a hybrid medium that exists in both a solid and liquid state, you can really get creative with the effects you attain.
Here are a few of the more popular techniques watercolorists employ:
Wet Pencil Tip: Yes, just like a paint brush, you can dip the tip of the watercolor pencil into the water. Doing so will make the colors flow in a much more vibrant matter than what you would otherwise achieve in their natural solid state.
This can help you achieve broader strokes of the pencil while also making an accent color really stand out.
Wet Paper + Dry Pencil: When using your watercolor pencil in tandem with a watercolor brush, you can make distinct lines that bleed into the paper. Watercolorists may use this for drawing individual blades of grass or branches when painting landscapes. Other ideas for this method would be commanding lines of buildings when painting urban settings.
While the two above are just a couple samples of some powerful watercolor pencil techniques, this video by Mr. Otter Art Studio further demonstrates some unorthodox techniques that you may also want to try:
Where To Buy Watercolor Pencils
When heading to our local craft store, we were quite surprised by the limited selection of watercolor pencils to buy.
While we suspect this to be the case for quite a few of our readers across the country, we would recommend either trying to stop by more boutique mom-and-pop / family owned art stores to view their selection as it might be a bit more expansive.
Given that all our readers may not be within a fair driving distance of an art store, we recommended a few online retailers including dickblick.com and amazon.com.
They tend to have not only competitive prices but also a much wider selection than what we could find locally.
In addition, these retailers also offer pretty generous return policies should the product you purchase not meet your expectations.