From the earliest cave drawings made over 35,000 years ago to the studios of today's top artists, charcoal has been a cornerstone medium in every time period.
Whether you are placing down an initial composition for an oil painting or simply doing a quick field sketch, charcoal is a workable medium that can be easily controlled to identify various tones or values in the subject.
But here's the deal:
Charcoal can come in many different forms including compressed, vine, pencil, and even powder.
Below we outline some of the best charcoal picks for both beginner and professional level artists.
If you are still uncertain of the nuances between the different types of charcoal, don't worry, we have all that covered at the bottom of this article.
Comparing The Best Charcoal Pencils
Here's a quick comparison of all the charcoal pencils we reviewed in this article:
Best Charcoal Pencils
As we touched on earlier, charcoal comes in many different forms – here are some standout options that you will want to check out in each category:
1. General Pencil Compressed Charcoal
Coming in a 4-pack, this compressed charcoal by General Pencil offers up a variety of weights including 2B, 4B, and 6B. Not only will this allow you to get a greater range of tones within your piece allowing you to really dial it in to your exact preference, but as you get more comfortable with the compressed charcoal, you can really use the varying softness to your advantage.
Unlike most compressed charcoal, one beginner friendly aspect that we really liked about this pick is that they already have a tapered point – ultimately giving you more control over your line weight.
In addition, the barrel of these compressed charcoal sticks feature a rectangular body, so you can set a smooth thin layer of charcoal on the paper that can really set the tone for the piece that you plan on drawing.
Given the price and the variety of weights in this pack, it's easy to see why this compressed charcoal pack from General Pencil is among the most popular pick for both beginners and professional artists – it simply has it all.
2. Heritage Arts Compressed Charcoal
No products found.
Another compressed charcoal stick worth checking out is this assorted pack from Heritage Arts. While they do sell their sticks on an individual basis (which is great if you find yourself heavily relying on the softer ones for darker values), the assorted 6-pack is perfect if you are just starting out.
This biggest drawback to these compressed charcoal sticks will be the tip.
Unlike the General Pencil offering (above), you will need to either use a pocket knife or if you prefer a more appropriate option, a sandpaper block, in order to dial in a fine tip to work the details.
Overall if you are looking to skimp a bit on your art budget, the Heritage Arts 6-pack of compressed charcoal is worth checking out.
3. Global Art Materials Willow Charcoal
Makers of quality watercolor sketchbooks, Global Art Materials has put together one of the most comprehensive packs of vine charcoal on the market.
Now typically vine charcoal is a near commodity product that doesn't really vary too much from one manufacturer to another, but what we (and other professional artists) really loved about this pack from Global Art Materials is its sheer variety.
For under $10 bucks you get 30 sticks of vine charcoal (a really great value) at varying weights and lengths.
This allows you to really get different stroke widths within your piece that can develop into some really nice results along with some incredibly deep black hues for intense contrast.
But where it gets even better is the packaging. Unlike some of the cheaper options on the market, this vine charcoal is packaged in a cardboard box (I know this doesn't sound special).
This helps protect the fragile vine pieces from breaking and drying out.
After you use up all 30 sticks, Global Art Materials does offer packs in the following weights:
Thin
Medium
Thick
Extra thick
Jumbo
Overall, it doesn't get much better than this for vine charcoal for both price and performance.
4. Winsor & Newton Artist Vine Charcoal
If there is one brand that is instantly recognizable on this list to all artists, it would be Winsor & Newton.
Makers of the best watercolor paints for beginners, Winsor & Newton has been serving artists for 186 years in a variety of capacities.
This 12-pack (also offered in a 24-pack) of vine charcoal has been uniformly baked in order to provide consistent tones across all sticks in the package. Due to the production process, you never have to worry about keeping track of charcoal sticks in order to get the same value every time.
It's this type of attention to detail that really makes Winsor & Newton stand out in the art world.
Like the Global Art Material vine pieces reviewed above, the Winsor & Newton's are packaged in a cardboard box as well as being wrapped in plastic. This helps to preserve the charcoal better from drying out and retaining the long fragile pieces from snapping in half (although you may find a broken stick every now and again).
One thing that you must be aware of before you purchase this vine charcoal is the weight. While no variety pack is offered, Winsor & Newton does sell these vine sticks in 4 different weights:
If you are beginner trying out vine charcoal for the very first time, go with medium.
Overall, the Winsor & Newton line delivers predictable performance. If you love the other products this brand offers, then you will likely also love these vine charcoal sticks as well.
5. General Pencil Charcoal Powder
One of the many uses for charcoal powder is that you can create a beautiful underlying tone for your drawing before you sketch out the details.
Whether you want to have a very dark base or one that is very light, using a charcoal powder like this one by General Pencil can achieve such results.
Now when comparing say this charcoal powder from General Pencil to that of the Cretacolor, the results are going to be nearly identical. The nuances between both the products may be the fineness of the charcoal grounds as well as the darkness of the charcoal itself.
At about half the price of the Creatacolor, this charcoal powder from General Pencil is not only a better deal, but even some professional artists loved its matte finished when applied to the surface (as opposed to a shiny finish typically found in graphite).
Here was a pretty compelling video from RixCanDoIt demonstrating the nuances of this charcoal powder:
Given that this medium is geared more towards professional artists, you will want to make sure that you have a paint brush or blending stump to work the powder onto your surface.
In addition, you will also need a dust mask (respirator) like this one so you don't inhale any of the particles when using the powder.
6. Derwent Charcoal Pencils
Like Winsor & Newton, Derwent has been serving artists for over a century. Founded in 1916, they have specialized largely in pencils, sharpeners, and even watercolor pencils.
Unlike traditional graphite that has a slight sheen in the lead, these charcoal pencils can deliver deep black strokes when put to paper.
In the pack you will find the following varieties:
Not only will this give you a full range of values to use within your piece, but the inclusion of the white pencil will give you the option to place highlights in your artwork as well.
Another nice feature when using the Derwent will be the barrel. The rounded wood barrel design is great for both comfort and cleanliness – making them great for quick field studies.
Of course, you do lose the option of laying down a thin coat of charcoal as you can with either vine or compressed charcoal.
Overall the Derwent's are a great entrance to the world of charcoals for those artists coming from a wooden pencil barrel background.
7. General Pencil Peel & Sketch Charcoal Pencils
While other pencils (i.e. Derwent's mentioned above) will require a sharpener to keep a fine point, the primary advantage of these Peel & Sketch charcoal pencils are just that – a pull string barrel that you can simply peel away in order to expose more of the charcoal.
With the perfect balance of between both compressed and vine charcoal, with this unique barrel design, you have more creative freedom both how you hold the pencil and the strokes that you prefer for the artwork you plan on drawing.
Like other wood barrel pencils, you don't have to worry about messy hands or incidental smudges on your artwork, making these great for both in-studio and outdoor use.
In this pack you do get the following weights:
Lastly, General Pencil does include a kneaded eraser which will be perfect for adding highlights and other details in your artwork.
8. Mont Marte Woodless Charcoal Pencils
Somewhere between compressed charcoal and the wood pencil barrels you will find these woodless charcoal pencils by Mont Marte.
While one would initially think that there is no real difference between these pencils and a compressed charcoal stick, they would be wrong.
Unlike compressed charcoal that can be laid on the paper completely flat and put down a thin layer of charcoal, these woodless pencils have a lacquered coating.
This coating will prevent the charcoal from transferring to your hands while adding more weight to the pencil when compared to wood (simply due to charcoal being a much more dense material).
Just like wood pencils, these pencils can be sharpened with either a sandpaper block, knife, or a traditional sharpener. So, if you want a fine tip for the detail work, you don't have to worry about carrying another pencil with you.
Like the Derwent and General Pencil charcoal pencils, Mont Marte also includes three weights:
If you are an artist that prefers a bit more heft in your drawing tools, then these affordable charcoal pencils by Mont Marte are definitely worth checking out.
9. General Pencil 33 Piece Charcoal Drawing Set
You may have noticed that a couple of General Pencil's products have appeared a few categories – they are just that good.
If you want to get basically their entire lineup of products, then you should check out this 33-piece set – which includes the following drawing materials:
10 compressed charcoal sticks
15 charcoal pencils of varying weights
2 white pencils
2 white compressed charcoal sticks
1 sketch pencil
All of this together is everything you could possibly need and then some.
But the real beauty about this set is that it completely avoids the 'oh shoot' moment when you are drawing. Unlike all the other charcoal pencils mentioned on our list, you don't have to worry about getting an eraser, drawing pad, or sharpener separately, it's all included.
Given that this set includes 33 different pieces for the cost that usually hovers around the $30 range, it's a fairly good value buy.
If you are exploring charcoals for the very first time, then we would definitely recommend picking up this set by General Pencil.
10. Royal & Langnickel Charcoal Drawing Set
Now if there was one product that rivals the General Pencil set we covered above, it would be this one by Royal & Langnickel.
For cost reasons alone (this set is under $10 bucks), you get a bit of everything when it comes to charcoal drawing tools.
Included you will find the following:
Charcoal Drawing Pencils
Compressed Charcoal Sticks
Vine Charcoal
Given the wide variety of charcoal mediums to work with, you will be able to determine which one not only works best for your style, but also a better idea on the expected results when it comes to stroke type, firmness, etc. as well.
While this is marketed as a set, just be sure that if you are purchasing this for someone else (or even yourself) who is exploring charcoal for the very first time, be sure to pick up some drawing paper, sharpener, and kneaded eraser as they aren't included.
Compressed vs. Vine vs. Pencils vs. Powder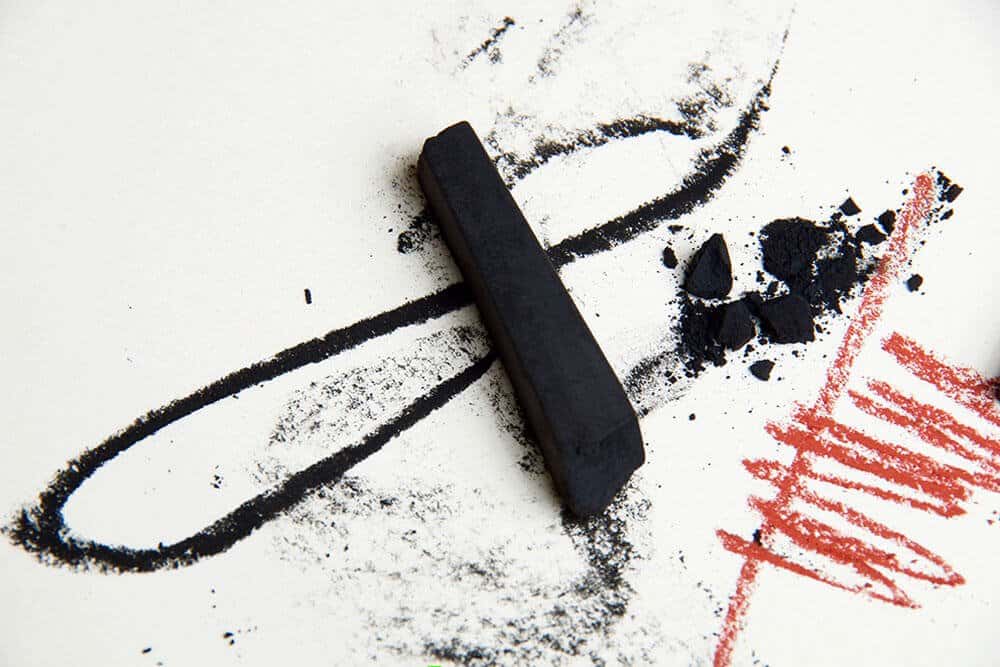 For those artists looking to get into the charcoal medium but are a bit intimidated by all the options – here's a quick primer on how they all differ from one another:
Compressed Charcoal – As the name infers, compressed charcoal is charcoal that is being held together via a binding agent. Many of the compressed charcoals featured on our list will often use gum arabic as the primary agent (sourced from various acacia trees sap).
In drawing, compressed charcoal can be sharpened via a sharpening block or knife in order to form a sharp point – which is great for detail work. Most compressed charcoal is formed in rectangular shape as the side can be rubbed along the paper in order to create a thin layer of charcoal that can set the overall tone for the piece.
Vine Charcoal – Primarily derived from either grape or willow branches (source), vine charcoal is a much softer version of charcoal that can produce drastically dark strokes. Many art teachers prefer their students to start with this form of charcoal as its both affordable and beginner friendly.
While great for beginners, vine charcoal is extremely tough to master. Given the absence of any binding agent, vine charcoal can (and does) break rather easily. The smaller pieces can be great for drawing on their side to create broad strokes in your piece.
Charcoal Pencils – Much like a standard pencil, charcoal pencils often feature a wooden barrel (although as we saw, Mont Marte does offer a woodless option) that is great for work outside the studio.
Sharpened with a standard pencil sharpener, sanding block, or knife, charcoal pencils are great for artists coming from a sketching or drawing background.
Given that charcoal pencils can be formed to a sharp point, many professional artists may use them for the detail work in their pieces.
Unlike traditional graphite pencils that leave a bit of a silvery sheen to them, charcoal pencils will leave a deep black stroke.
Lastly, unlike compressed or vine charcoal, the wooden barrel will prevent the charcoal from transferring onto your hands while drawing – which makes cleanup a breeze.
Charcoal Powder – If you ever wanted to see what compressed charcoal would look like without a binder added to the solution, this is it – charcoal powder.
Perfect for setting the overall tone in your piece, charcoal powder has limited use in the studio. While it can be applied with either a Q-tip or paint brush, make sure that you exercise restraint when using this material as a little can go a long way.
How To Sharpen Compressed and Vine Charcoal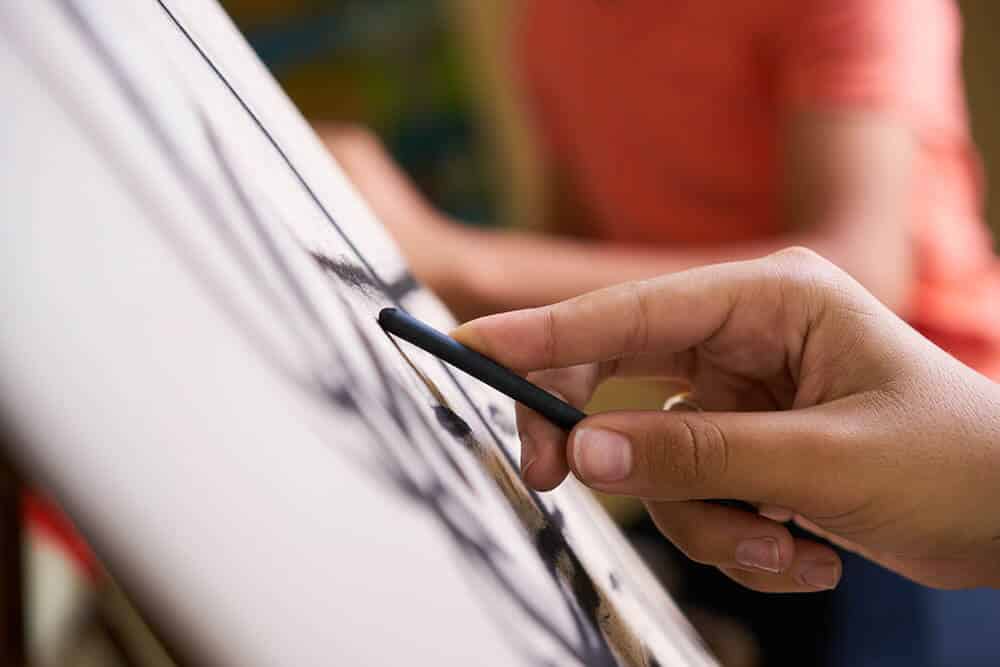 As we touched on in our reviews, the tools used to sharpen charcoal can vary wildly. While some professional artists may prefer a knife as they can get a pretty sharp point for the detailed work, for beginners we would recommend a sanding block.
Sanding blocks like this one, allow you to simply rub the pencil tip on the paper in order to dial in your exact preference. Once you are done sharpening your charcoal, you can simply tear away a sheet from the sanding block.
Fixative For Charcoal Pencils
One of the biggest challenges when working with charcoal will be the mess that it causes.
When charcoal is placed on the paper, it rarely (if ever) stays put. This can be a challenge especially when transporting your piece.
All it takes is one brush with a piece of cloth and your entire piece will be smudged and ruined.
One product that both beginner and professional charcoal artists must rely on is a fixative.
Fixatives, when sprayed on your piece, will keep your charcoal from lifting off the surface.
Just be sure that you opt for a workable fixative, as it will give you the ability to rework any areas that may need a bit more attention paid to them.
Kneaded Eraser Is Mandatory
When working with charcoals, you will often want to pull out the highlights in your piece.
One of the most popular ways to manipulate this complex medium is through a kneaded eraser.
Unlike gum or rubber erasers, kneaded erasers will pick up the charcoal medium from the surface.
With the ability to be molded into a fine point, kneaded erasers are great for both large and small details.
If you plan on using charcoal – you can't substitute any other eraser for the kneaded eraser.
Doing so will result in smudging and generally sloppy results.
Type of Paper To Use With Charcoal
While many self-taught artists may have learned on standard copy or notepad paper, when using charcoal you will want to make sure that you get something that has a bit of tooth on it.
This not only will help the charcoal affix itself to the surface, but will allow you to create more stunning results with ample practice.
Companies like Strathmore, Canson, and US Art Supply to name a few, do make paper specifically for the charcoal medium, here are a few that we like:
As it goes with all forms of art, when it comes to using charcoal, it's not the finest materials that make the artist, but the practice behind the pencil.