Whether you check out the creative streams on Twitch, follow the immensely popular #watercolorsketch hash tag on Instagram, or watched any YouTube tutorials on watercoloring, chances are that you may have seen some watercolorists using a water brush.
While relatively new in the world of art supplies, especially when compared to your standard watercolor brush that has been around for ages, water brushes not only give you an incredible amount of portability (key for painting watercolors en plein air) but they are quickly finding their way into studios and backpacks everywhere.
We compared and reviewed 9 different water brushes and found that the Caran d'Arche Aquarelle Brush to be simply one of the best water brushes on the market.
It's smart rubber push button not only regulates water flow (which is a common challenge faced when using these types of brushes), but it was able to produce stunning results. The Caran d'Arche Aquarelle Brush was able to pull out a range of colors and had a synthetic bristled tip that sprung back to a point with great reliability.
As great as the Caran d'Arche Aquarelle brush was, we would be remiss if we didn't also acknowledge the stellar performance of all the other great water brushes listed in this article.
While we will deep dive into the reviews in just a quick minute, here's a comparison of the water brushes we looked at:
Comparing The Best Water Brushes
| Name | Bristle Type | Price | Variety Pack | Tips | Refill Type | Capacity |
| --- | --- | --- | --- | --- | --- | --- |
| Caran d'Arche Aquarelle Brush | Synthetic | $$$ | Y | Round (S,M,L) | Pump/Syringe | 20ml |
| Sakura Koi Water Brush | Synthetic | $ | N | Round (S,M,L) | Reservoir tank | 4ml, 9ml |
| Pentel Arts Aquash Water Brush | Synthetic | $$$ | Y | Round (S/F, M, L), Flat | Reservoir tank | 6ml |
| Derwent Water Brush | Synthetic | $$ | Y | Round (S,M), Chisel | Reservoir tank | ~6ml |
| Kuretake Water Brush | Synthetic | $$ | Y | Round (S,M,L) | Reservoir tank | ~9ml |
| ProArtistSupply AQUAnaut | Synthetic | $ | Y | Round (S,M,L) | Separate Tool | 8ml |
| Holbein Water Brush | Synthetic | $$$ | Y | Round (M,L) | Reservoir tank | ~8ml |
| Yasutomo Water Brush | Synthetic | $$ | N | Round (M) | Reservoir tank | 7ml (5.5ml for mini) |
| Piston Water Brush | Synthetic + Animal | $$$$ | Y | Round (S,M,L – Animal + Synthetic), 2 Pocket Brushes | Syringe | ~6ml |
The Best Water Brushes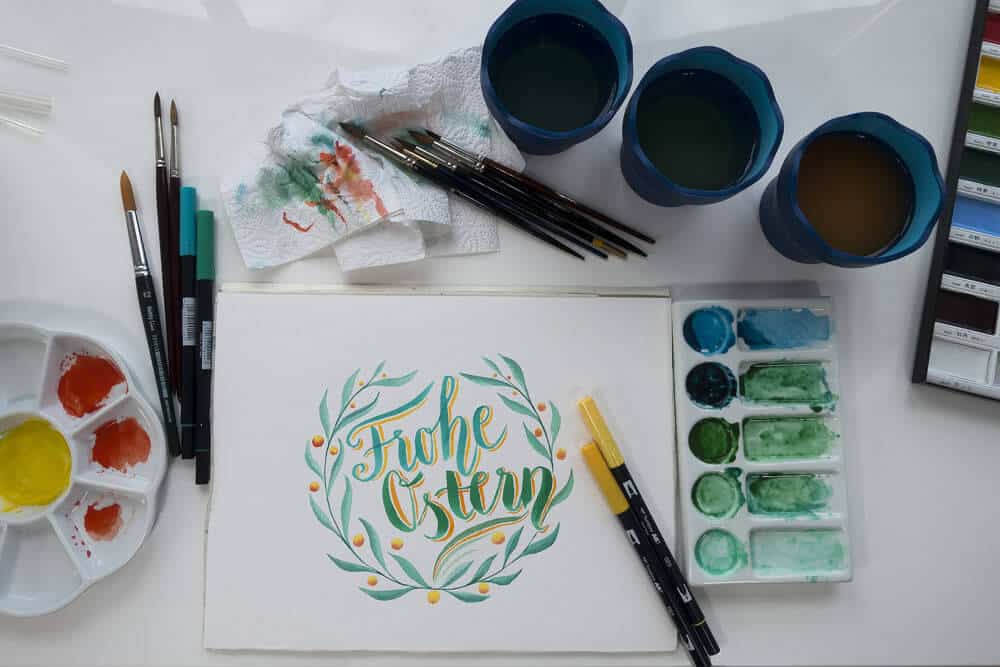 Review of The Best Water Brushes
1. Caran d'Arche Aquarelle Brush Review
There is a whole lot to love about this water brush by Caran d'Arche.
Known for their stellar watercolor pencils, Caran d'Arche sets the standard when it comes to water brushes.
One of the biggest hurdles that comes to using water brushes is control over the flow of water.
As you will quickly see in our compilation of reviews, many of the brands we reviewed just simply have a barrel design.
While some watercolorists would argue that the barrel design (that can be pressed to emit more water) is fine for most purposes, when it comes to making a watercolor painting, even just a little bit extra water can really change the dynamic of a piece…
…and it's this reason why we loved the Caran d'Arche Aquarelle Brush so much.
It simply puts you, the watercolorist, in complete and total control over the flow of water.
Beyond the water flow regulator, the Caran d'Arche is absolutely perfect for travel.
With the incredibly easy to use pump style (syringe) system, you can fill up your brush and head out the door: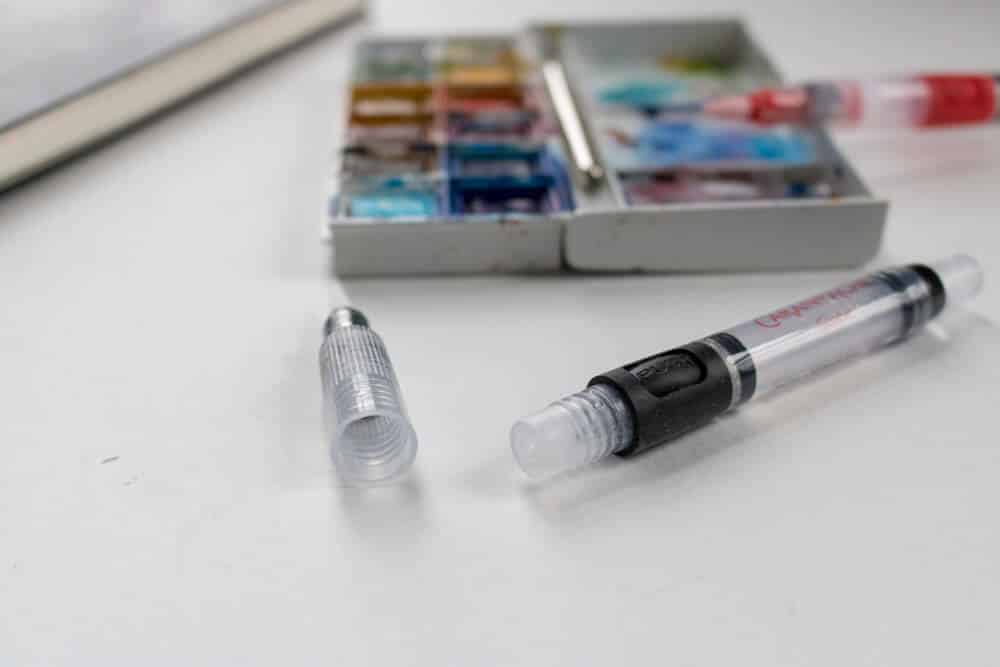 The total reservoir size is an impressive 20ml – making it less likely you will need to refill during the course of your painting.
Like most water brushes, the Caran d'Arche brushes come with synthetic bristle tips which perform as expected.
However, it's worth noting that the fine tip brush included is more akin to a marker rather than a brush.
This is great as it gives you additional stroke variety to employ in your next piece.
Pros
Mess-free pump style refill
Button to regulate water flow
Variety of tips
Clip on cap for organization
Cons
Slightly expensive compared to alternatives
Overall, the Caran d'Arche Aquarelle Brush is everything you need and could possibly want in a water brush.
2. Sakura Koi Water Brush Review
Of all the water brushes featured on this list, the Sakura Koi Water Brush is undoubtedly one of the most popular brands – with perhaps the Pentel Arts Aquash Water Brush as the only exception.
Whether you watch art tutorials on YouTube or even sign up for some private online art classes, chances are that you probably have seen the Sakura Koi at work.
So why is the Sakura Koi so popular?
First off, the price.
Ringing up at a fraction of the cost as the Caran d'Arche and others reviewed, the Sakura Koi water brushes typically cost less than $10 bucks.
This makes it incredibly affordable for beginners to get their feet wet so to speak with water brushes without having to lay out too much money.
Now, there are inevitably a few catches to the Sakura Koi's:
First up, reservoir size:
Unlike other water brushes that may have a reservoir up to 20ml, the Sakura Koi only offers either 4ml or 9ml capacity.
While definitely not a deal breaker for some, the small design naturally will require more frequent refills.
This could in turn result in a natural break in work flow a bit too frequently for some watercolorists (of course you could purchase a few of these and have them on hand).
The second issue with these:
Tip variety.
Unlike several of the brands reviewed, the Sakura's are sold separately.
While it gives you more versatility to pick and choose what you want, if you do want additional brush types, you will need to purchase them together (which we fully recommend).
Having a variety of brush types will not only give you a whole lot more range in your artwork, but will help strengthen your experience as a watercolorist.
Sakura does offer their brushes in the following sizes:
4ml reservoir – Small, Medium, Large
9ml reservoir – Small, Medium, Large
Now as far as travel factor, the Sakura's do travel nicely as the barrel does separate from the brush and has its own individual plug.
This ensures no leakage in your purse or backpack ultimately making it great for plein air watercolorists.
While these brushes are great for beginners, they do tend to grow on you as you reach more intermediate and professional levels.
Lastly, if you plan on doing calligraphy work with these brushes, you can simply pour in some ink into the barrel and use this as well!
Pros
Beginner friendly design
Affordable
Capable of producing amazing results
Separate reservoir tank
Cons
Must be purchased individually
Smaller barrel reservoir than most
3. Pentel Arts Aquash Water Brush Review
Whether you are looking for a water brush that works well for calligraphy or are looking to upgrade an existing water brush, the Pentel Arts Water Brushes are extremely versatile.
Not only do they feature the widest variety pack of any of the options listed, but they have a slightly larger reservoir at 6ml.
While still not matching the Caran d'Arche in reservoir size (20ml), the Pentel brushes still can keep you going for quite some time before you will need to stop and refill.
As we eluded to earlier, the tips offered with this brush are simply amazing.
When you pick up the set, you get the following:
Fine (Round)
Medium (Round)
Large (Round)
Flat
While the first three round types are standard in most water brush sets, the flat brush also included will make this perfect for those looking to write calligraphy or create jarring effects in their paintings.
Like the Sakura Koi's the Pentel's can be purchased individually (which makes it really beginner friendly), or as a set (a much better deal).
While the barrel design can be susceptible to leakage in that it doesn't have a restrictor valve like the Caran d'Arche, most watercolorists do find that the barrel itself does a great job at regulating water flow.
With plenty of practice, a simple light squeeze of the barrel should allow you to get the right amount of water to the paint and paper.
Lastly, the versatility of the Pentel's are nearly unmatched.
If you want to try your hand at acrylic or ink, the open barrel design allows you to test out different mediums.
While ink may be susceptible to staining the interior of the barrel, you will be happy to know that the Pentel's are dishwasher safe – making cleanup a breeze!
Pros
Great for calligraphy
Upgrade for beginners
Excellent tip variety
Dishwasher safe
Compatible with ink and acrylic mediums
Barrel prevents rolling
Travel friendly
Cons
Moderate price tag
No restrictor valve
4. Derwent Waterbrush Review
Makers of the amazing watercolor pencils, Derwent puts together a fine collection of water brushes.
Coming both individually and as a set, Derwent offers their water brushes with the following tip types:
Small (round)
Medium (round)
Chisel
The versatility of these nearly matches that of the Pentel Aquash brushes. With the ability to be used for watercolor, calligraphy, and ink mediums.
You can expect a steady flow of the water (or ink) from the Derewent's that produce controlled and predictable results.
Also similar to both the Pentel and Sakura lines of brushes, Derwent has also employed the barrel design that will need to be gently squeezed in order to express the water.
But another nice feature of the Derwent water brush is the anti-roll design.
All too often art supply companies completely miss the mark on how artists actually use their supplies.
Whether it's through watercolor markers or water brushes, you will commonly see barrels with a flush cylindrical surface.
But why does this matter?
Well if you are painting 'en plein air' or simply at your local coffee house, an uneven table, surface, etc. will make your brush simply roll off the edge.
It's not only distracting, but could lead to either damage of an exposed bristle tip or worse, losing the brush accidentally.
Needless to say, the Derwent's anti-roll design is a wholly underrated aspect that simply doesn't get enough acknowledgement found in other reviews.
Lastly, the bristle performance on these water brushes are terrific and should create stunning gradients when pulling out the pigment in watercolors.
Their ability rivals that of other water brushes we reviewed.
Pros
Affordable
Anti-roll design
Moderately-sized reservoir
Cons
5. Kuretake Fude Water Brush Pen
Hailing from the land of the rising sun, these Japanese manufactured water brushes are remarkable to say the least.
Seasoned artists may instantly recognize the Kuretake name as they have been experts in calligraphy-based writing tools for over 100 years.
Like the Caran d'Arche, Kuretake offers up their collection of water brushes in 3 varieties:
Small (round)
Medium (round)
Large (round)
While absolutely stunning performance for a watercolor painting (likely the majority of our readers), the calligraphists will want to take notice of this brush.
While the Kuretake's use a synthetic bristle brush, the rich history in calligraphy that this company offers translate to a well performing water brush.
Expect to have ample spring and absorbency in the bristles that will ultimately deliver expected performance time and time again.
Now for the watercolorists out there, if you have experience with the Pentel's we mentioned, you will find very similar properties with these Kuretake.
Most notably it will have the same squeeze barrel design for expressing water.
But what's a big difference between the two is the rate of which water leaves the barrel.
With Pentel's they tend to expel a bit quicker than Kuretake.
What doe this all mean?
In short, a bit more control is delivered with the Kuretake's when painting detailed work.
However, if you are doing large washes, the Kuretake's may be a bit tougher to use.
So, you will have to evaluate your own art preference before deciding on one water brush over another.
Pros
Perfect for calligraphy
Restricted water flow for greater control
Ample brush variety
Extremely affordable
Cons
Suited for smaller scale paintings
6. AQUAnaut Water Brush
Featuring a small, medium, and large round bristle tip set, this AQUAnaut water brush goes toe-to-toe with some of the other great brushes featured on this list.
But unlike other brushes that require you to fill them up through a suction or pump type of design, the AQUAnauts come with their own separate syringe.
While some watercolorists may be turned off to the idea of a product needing a separate tool to fill their water brush (and this is completely understandable), we think that this is a pretty intuitive idea that might be found in more water brushes in the future.
The syringe can be especially useful if you decide to do your artwork with ink or other messy mediums.
If at a restaurant or even on a trail at your local state park, the syringe can ensure there is no waste of water or ink.
Which could be great for some reading this.
But what really counts is the performance of the brush itself.
With three synthetic varieties, you can not only get a wide range of strokes, but will be able to create artwork in a controlled manner.
The restriction of the water flow through the bristles is great…especially given the price.
For under $10 bucks you can't really go wrong with this set.
Pros
Syringe for easy refills
3 brushes included
Larger reservoir
Perfect for ink use
Cons
Water flow regulation may be difficult
7. Holbein Art Water Brush
Like Kuretake, Holbein is a Japanese based art supply company that has been around for several years.
While not nearly as popular as some of the other water brushes on our list, their name has been respected on forums WetCanvas and ArtistsForum alike.
The Holbein water brushes cover just the basics when it comes to variety.
Within the package you will find two brushes (M, L). One is great for larger areas of your painting (L) where you will be doing more of your general washes and large color blocks while the other (M) will be suited for the more detailed work.
Each of the barrels twist apart when you need to refill. While not nearly as convenient as the Caran d'Arche's pump design nor the Sakura Koi's larger reservoir tank, for a water brush it's acceptable.
But one accessory that many watercolorists will like is the inclusion of a sponge. Instead of having to pay for your own watercolor sponge, Holbein smartly includes one into the package.
This not only can be used to clean out the tips of your brushes that may be loaded with a pigment, but watercolorists can use this to create really unique effects in their works.
Overall the Holbein's are a nice duo of water brushes that will be perfect for beginners.
Pros
Great for beginners
Sponge included
Larger reservoir for less refills
Cons
Limited brush variety
Unable to purchase individually
8. Yasutomo Water Brush
Yasutomo has been an art supply company since the mid 1950s and largely specializes in a various Sumi-E (ink wash painting) related tools.
Their water brush seen here is a natural extension to this unique and Japanese painting style. While one may infer that Yasutomo is straight from Japan like many of the other brands mentioned in this article, that assumption would be misplaced (they are based in California).
Offering up a water brush in 4 different varieties (each sold individually), you can find the following:
Of the 4 brushes all but the mini holds 7ml of water within the barrel reservoir (mini holds 5.5ml).
A gentle press on the barrel will allow the water to flow from the reservoir to the synthetic bristles.
Expect to have a relatively good spring in the bristles with very little in the way of bleeding.
Compared to most water brushes, these ones tend to be geared towards the more intermediate to professional level artists.
When using the Yasutomo's you can expect to be able to pull out the pigment relatively easy with increased water flow.
Not only will this make for perfect looking gradients, but the synthetic bristles on the tip should do a great job of retaining their shape with time.
While not nearly the cheapest water brush on our list (that's reserved for the Sakura Koi's), many watercolorists loved these brushes simply due to the flow control.
Pros
Excellent flow control
Wide range of bristle types
Generous reservoirs
Establish and trusted brand
Cons
A bit pricey compared to others
9. Blue Heron Arts Water Brush
The last water brush on our list will be the Blue Heron's.
Unlike every other brush mentioned so far, the Blue Heron's are the only ones that feature an actual animal fiber (weasel, sheep, and rabbit).
When compared to the synthetic fibers, animal based fibers have the tendency to retain water at a much higher rate.
This is especially important for watercolors as you will be able to have much greater control over washes and detailed work as opposed to a synthetic fiber.
But there's a kicker:
While animal fibers have a certain amount of 'spring' to them, especially some of the nicer kolinsky sable hair brushes we recently reviewed, poor quality animal fibers can also wear incredibly bad when compared to a synthetic fiber and may need frequent replacement.
Fiber aside, the reservoir chamber on the Blue Heron's very closely resemble the same piston/syringe design found in the Caran d'Arche making the refill process easy.
When it comes to variety, the Blue Heron's offer 7 different variants of the round brush:
Small, Medium, Large (Animal fiber)
Medium, Large (Synthetic fiber)
2 Pocket brushes (Animal and Synthetic fibers)
While the round brushes at small, medium, and large are pretty standard, the plein air artists are going to love the pocket brushes.
At about half the size of most brushes, these brushes will be the ultimate in portability and convenience.
Perfect if an idea pops into your head while out on a trail or perhaps at work, the pocket brush can be incredibly nice to have.
Pros
Has real animal fibers
7 brushes included
Pocket brush for portability
Cons
Artists report leaky barrels
Expensive
How To Use A Water Brush
While getting used to a water brush can take a bit of practice for some, after a few hours of painting, it will quickly become second nature.
Water brushes are straight forward in their use.
Here's a great tutorial from Jennifer Coyle demonstrating the Pentel Aquash:
When looking at the options, you will quickly see they come in two main form factors:
One with a press release restrictor valve like the Caran d'Arche. With this type of brush you press the button on the side of the barrel to begin the flow of water from the reservoir tank.
The other option is the barrel press design (found in all others we mentioned) where you firmly squeeze the barrel of the brush to begin the flow of water.
No matter the type of brush you go with, the painting process remains the same.
You will simply bring the water to the bristles and then load up your brush as you normally would when using a watercolor brush.
For attaining lighter hues, simply expel additional water from the barrel.
Once you are done with a color, instead of dipping the bristles into a jar of water, with a water brush pen you can simply 'paint out' the colors onto a paper towel or sponge.
Paper To Use With Your Water Brush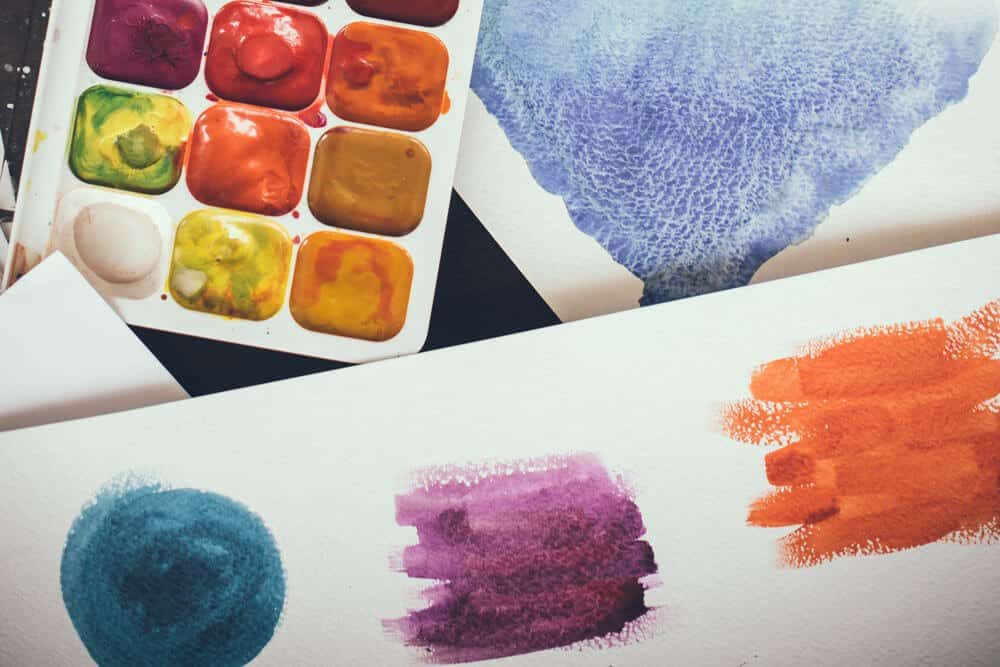 When it comes to using your water brush, you will always want to use a quality watercolor paper.
Watercolor paper, unlike standard paper, is designed completely differently and will have much better absorbency properties.
This not only ensures that your artwork doesn't warp or wrinkle, but also give you greater control and texture for the water brush to latch onto.
If you are looking for recommendations on a particular watercolor paper, you can check out our recent article where we compared the best watercolor papers around.
Secondly, given that water brushes are more portable in nature, a watercolor sketchbook may be of greater interest.
If you are looking for a recommendation there, you can check out our full reviews of watercolor sketchbooks.