To make great artwork, it's not the brushes, paper, or paint that matter as much as the talent on the end of the brush.
But with time, patience, and most importantly practice, a watercolorist will unlock abilities within themselves they may have never thought possible only a few years ago.
As time progresses in your art journey, you will undoubtedly experience art materials that really make you better.
While no one can deny how the best watercolor papers will completely transform a piece of work, equally important will be the watercolor brush itself.
Based on our extensive research, we found that the DaVinci Maestro Series were some of the best performing watercolor brushes that you can buy today.
While performance is incredibly important when it comes to selecting a watercolor brush, so are the fibers, shapes, versatility, and handle lengths.
Therefore, we wanted to put together this comprehensive guide that can steer watercolorists who are either at the start of their painting journey all the way to those who have a strong command on the medium to find the best watercolor brush for them.
How This Guide To The Best Watercolor Brush Is Organized
To try and make things as easy for you as possible, we laid out this guide in the following manner.
First, we will go over a few key points about the information that we disseminated during our research. Following our debrief, we will go ahead and jump into the reviews of a few key watercolor brushes that we looked at.
But instead of just giving you reviews, for those reading (especially beginners), we put together an appendix at the end of this guide that walks you through key aspect of brush design that you should be aware of.
Let's face it:
Heading to your local art supply store or browsing the countless pages found at online retailers can be intimidating to say the least.
With all the different shapes, handle lengths, and fibers for your consideration, it can be hard to spot a good brush from one that is bad.
Of course it's also worth noting that watercolor brushes can range anywhere between less than $1 per brush all the way to several hundred dollars a brush (yes you read that right).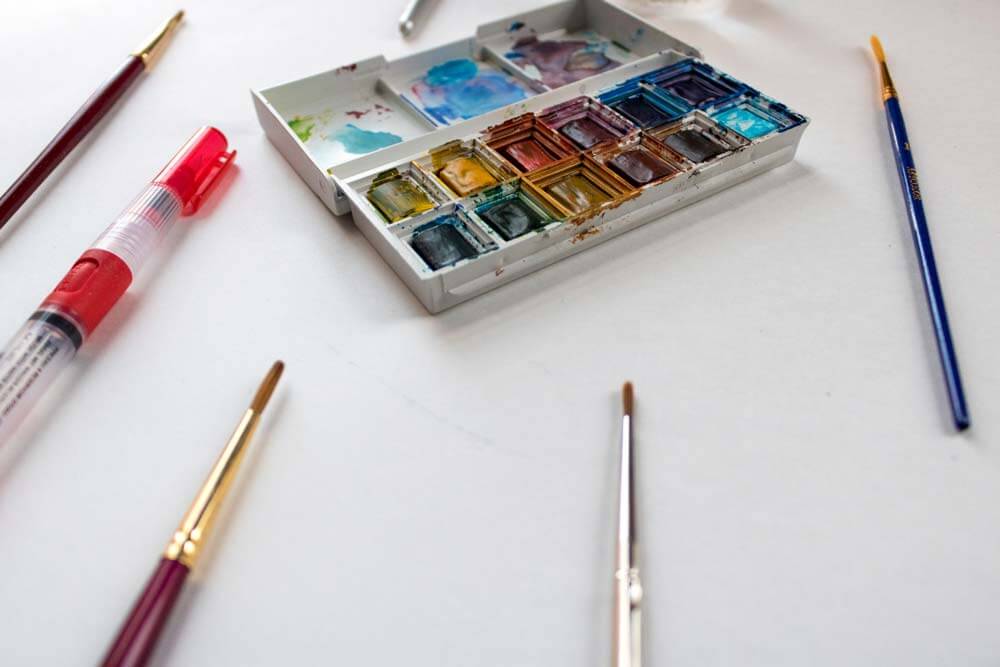 Why You Should Trust Us
We get it, there are countless websites that review products.
However, unlike those websites, we specialize only in products that are geared towards artists.
Therefore, on our site you will never see a review for a bizarre kitchen item next to a review of an essential artist tool.
We take pride in the work we do and are completely transparent in our process as disclosed in the terms and condition that can be found on the bottom of every single page of this website.
During the review process when making this article, we were never paid by a manufacturer to give them a positive review. The viewpoints in this article are based upon our own research.
Reviews of The Best Watercolor Brushes
To try and accommodate any and all scenarios for the watercolorists reading, we went ahead and broke down our reviews based on scenarios that are directly applicable to both your experience level and budget.
Therefore, you will see the following review sections:
Let's get started:
Overall Best Watercolor Brush Brand
The one watercolor brush manufacturer that not only stood out in our research, but was also highly regarded by the watercolorist community on popular forums and social media channels were Da Vinci watercolor brushes.
Offering up brushes in a variety of sizes and fiber types, Da Vinci brushes are perfect for anyone at any point in their artistic journey.
Whether you want the highly revered (and quite expensive) Siberian kolinsky red sable fur brushes from their Maestro line, with brushes costing over $1,000 for a single brush or decide to go with their Nova line of synthetic brushes with much more affordable price point, you can find an exquisite brush to fit your budget.
But what really sets the Da Vinci brushes apart from other brands?
Particularly their sable brushes have that spring that so many watercolorists are after. Furthermore, the bristles on the end of their brushes will also hold plenty of pigment and water.
This not only provides much better results when painting, but also will allow for greater workflow efficiencies.
Made in Germany, the precision of their brushes is unparalleled.
Even little details like the nickel or gold plated ferrules will resist rust – which is a common problem experienced in many other brushes over time.
If you are looking to try out Da Vinci brushes, we would recommend going with the 10 series in the Maestro Kolinsky line.
They may cost a fair bit more, but their quality is unmatched.
Bottom Line: If you don't mind spending a little bit extra for unmatched quality, the Da Vinci line of brushes are among the best in the business. Great for artist who wants to upgrade their materials while on their artistic journey.
Other Recommend Watercolor Brush Brands We Researched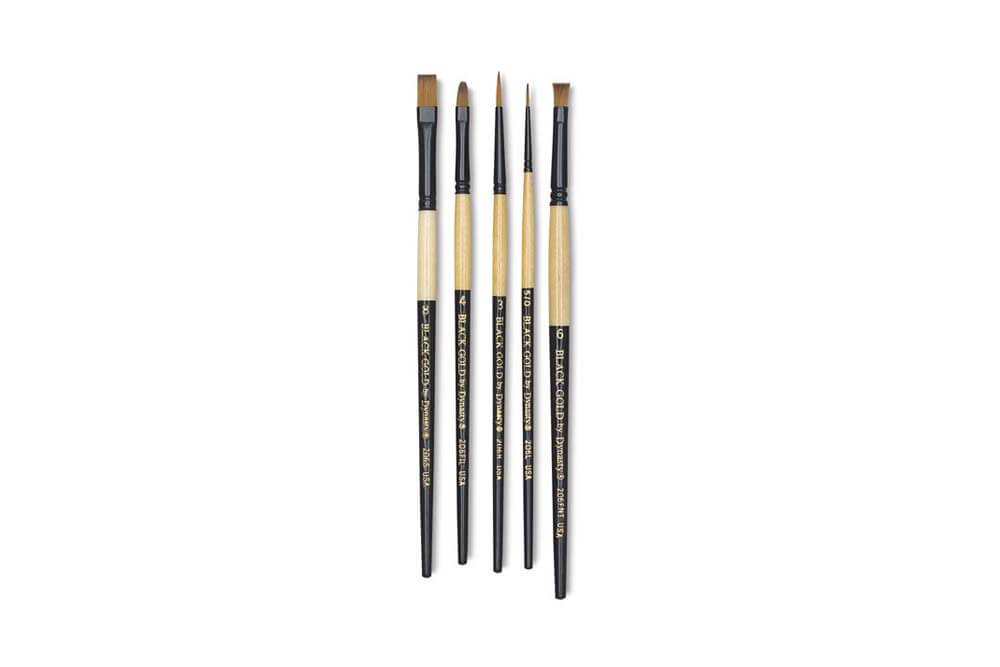 Best Watercolor Brushes For Beginners
One of the best and well-rounded watercolor sets that will work well for beginners will be the Dynasty Black Gold Décor Set.
Crafted from synthetic bristles, these brushes are not only affordable (less than $25 for the set), but are great for those watercolorists still working to get a firm control on this unique medium.
Packaged with 5 different brushes:
Flat (1)
Bright (1)
Filbert (1)
Round (2)
The Dynasty Black brushes will be best suited for watercolorist who want to work on small to medium scale pieces.
The synthetic (nylon) material used to construct these brushes may not hold nearly as much water as a sable brush nor as soft as a squirrel brush, but will still provide adequate spring and should last you quite some time before needing to be replaced.
Even watercolorists who rated this on the dickblick.com website clamor over their performance by giving the Dynasty set a perfect 5 out of 5 stars at the time this article was originally published.
Should you want to stay within the Dynasty family after you have outgrown this starter set, they do also offer a pure Kolinsky sable and faux squirrel brushes.
Bottom Line: An affordable brush set that comes with nearly all the essentials you need to work on your next watercolor painting. A step up from the bargain packs you find stuffed away on the bottom shelves of art stores.
Best Watercolor Brush Set
Whether you are buying this brush set for yourself or as a gift for the watercolorists in your life, there are a lot of things to like about it!
First and foremost, the selection:
With 15 different brushes, you will have a wide array of techniques that you can try when getting these in your hand.
This brush set includes the following:
4 flat brushes
1 fan brush
3 round brushes
4 filbert brushes
1 angle brush
1 rigger brush
1 wide brush
But what also makes this brush set terrific for gifting is the lightweight rolling case. Whether you go paint your watercolors plein air or simply in your studio, the portability of this set is unmatched – especially given the fact that many other brushes mentioned in this article only come individually wrapped.
So, what about the brush fiber?
They are mixed.
For the 4 larger brushes (fan, 2 flat, and filbert) they are comprised of a hog bristle. Which offers great water retention and ample spring.
For the 11 other brushes, they are manufactured from synthetic materials.
Therefore, you can expect a bit better of a backbone in the bristles themselves, but expect to be dipping into the water as their retention properties may be ever so slightly lacking.
Bottom Line: Affordable and elegant watercolor brush set that is highly recommend for both beginners and gift giving. The rollup storage case is a nice touch, especially when painting plein air or bringing with you to art class.
[ acta link="B00OH2GC86″ ]
Other Recommended Watercolor Brush Sets We Researched
Best Watercolor Pen Set
Unlike all other brushes reviewed so far, one unique tool entering the watercoloring world are watercolor pens (also may be referred to as water brushes):
Furthermore, you may find two unique types of pens:Those with ink already loaded into the barrel and perform watercolor like artwork (see Sai Watercolor Brush Pens) and those that only house water within the barrel itself.
Given that this guide is specifically about determining the best watercolor brushes, we will only consider options like the Pentel Aquash or the Caran d'Arche Water Brush. However, it's worth noting that alternative options do exist within the market.
Based on our extensive research, we found that the Pentel Aquash was the best watercolor pen for watercolorists.
What sets this pen apart?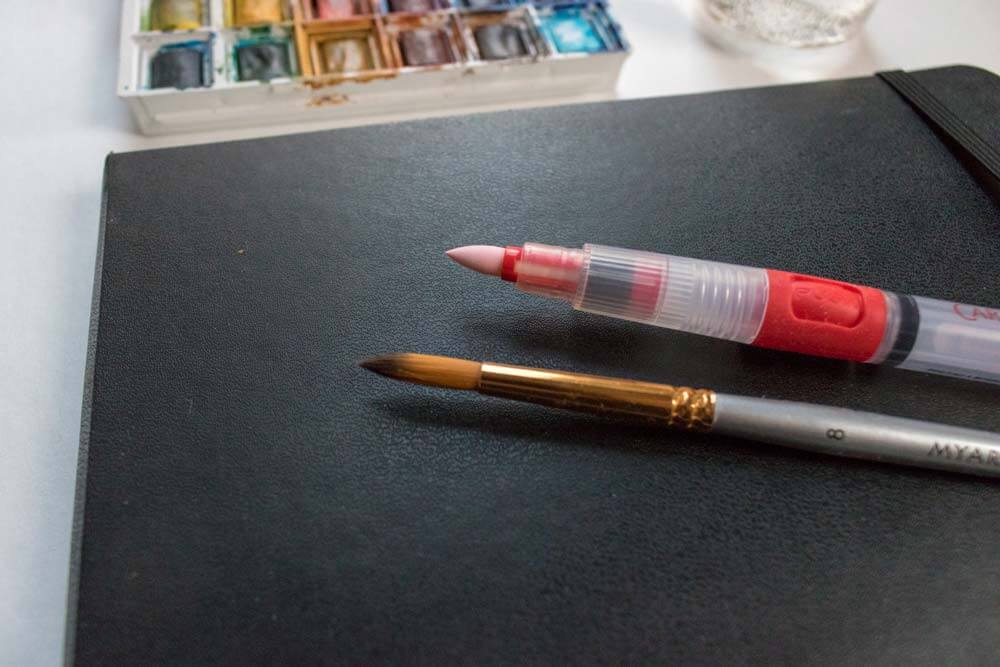 Unlike the Caran d'Arche (which came in a very close second) that has a rubber push button that helped to regulate water flow, we discovered that the Pentel Aquash squeeze barrel provided a bit more control.
This not only made it easier to inject more water to the bristles while painting (especially important for washes), but also made it easier to do detail work.
As convenient as these watercolor pens may be, their biggest drawback will undoubtedly be the variety of bristle types or nibs.
Coming in only 4 varieties:
Flat tip
Fine tip
Medium tip
Large tip
There is very little room for advanced techniques.
But where the Pentel brushes really shine are for artists who paint plein air.
When visiting a local coffee shop or perhaps conducting a quick sketch of the country side, these brushes provide unmatched performance.
The cap design allows you to store easily into your backpack or purse without fear of leakage.
Couple with their relatively low price point, you have a great product for casual watercolorists.
Bottom Line: Designed for watercolorists on the go, the barrel reservoir provides unmatched efficiency while painting. The biggest drawback will be the variety of brush tips to select from.
Other Recommended Watercolor Pens We Researched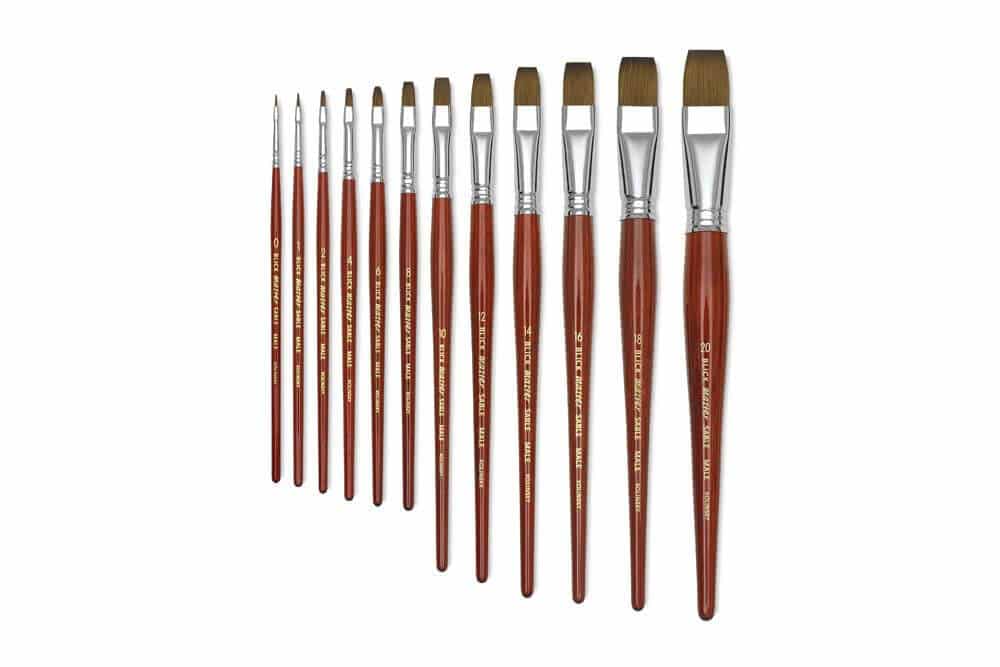 Overall The Best Kolinsky Sable Watercolor Brushes
For those watercolorists reading that want to get uncompromising performance from your watercolor paints and don't mind paying a premium for that performance, then you must go with a Kolinsky sable brush.
While commanding a much higher price tag than any of the other fibers on the market, Kolinsky sable not only will give you a reliant springy bristle for years, but will also be able to adequately hold your water and pigment in an extremely controlled manner.
As we eluded to in our section of the best overall brand of watercolor brushes, the DaVinci Maestro sable brushes are virtually unmatched in performance.
With several options to choose from for any artists budget, you can get the perfect brushes for you.
However, to try and explore outside of the German made DaVinci brand, we would also steer watercolorists to both the Blick Master Series as well as the Winsor & Newton watercolor brushes (for those looking for a slightly better pointed round brush, then you should consider the Winsor & Newton Series 7 selection).
What artists loved most about both the Blick Master Series and the Winsor & Newton series was the fibers natural ability to return to a fine point time and time again.
This resiliency is mark of a well sourced sable and one that will allow you to perform detail work for years without having to be replaced.
If we had to choose one, simply due to the much lower price point but comparable performance, we would go with the Blick Master Series.
The highly favorable reviews given by watercolorists tells us that even over time, these brushes age remarkably well.
Bottom Line: The Blick Master Series is one of the best kolinsky sable watercolor brush on the market. While not as expensive as the DaVinci Maestro series, the well sourced fibers should perform incredibly well for any artist.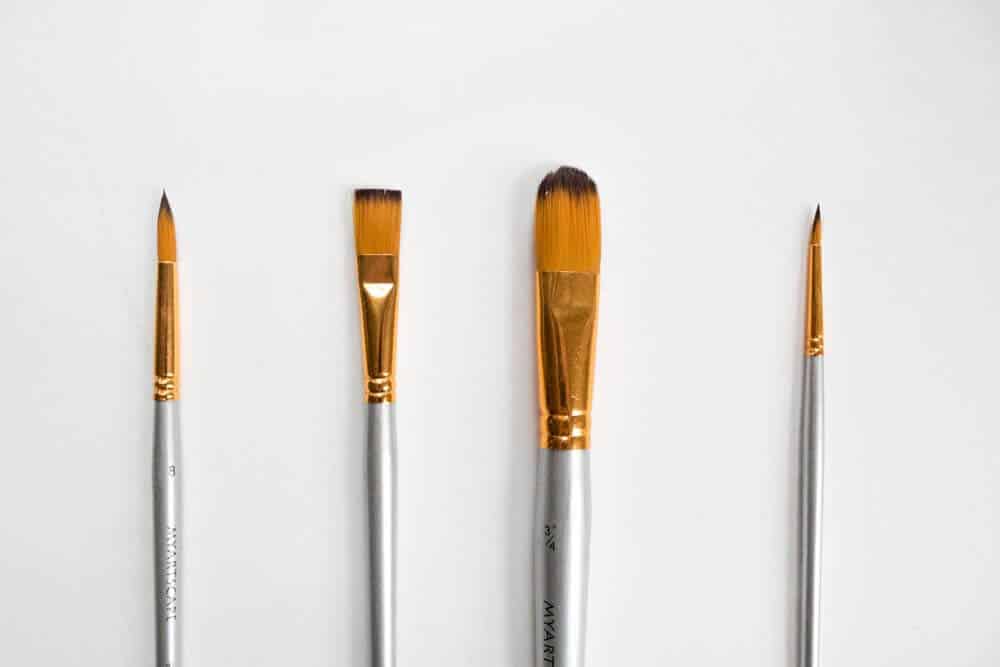 Types of Watercolor Brushes
When browsing all the different types of watercolor brushes, you will find that there are four main varieties:
Each of the four above can all provide very different strokes through various techniques.
Whether you are a beginner or advanced watercolorist, you should have each one of the above readily available in your studio.
But why?
While you might not use a flat brush or perhaps round one that often in your own personal workflow, it's important to always test different brushes.
Not only will this make you a more experienced watercolorist, but it will also open your mind to different techniques you can achieve with each one of them.
If you are uncertain how each of them are used, here is a very brief summary: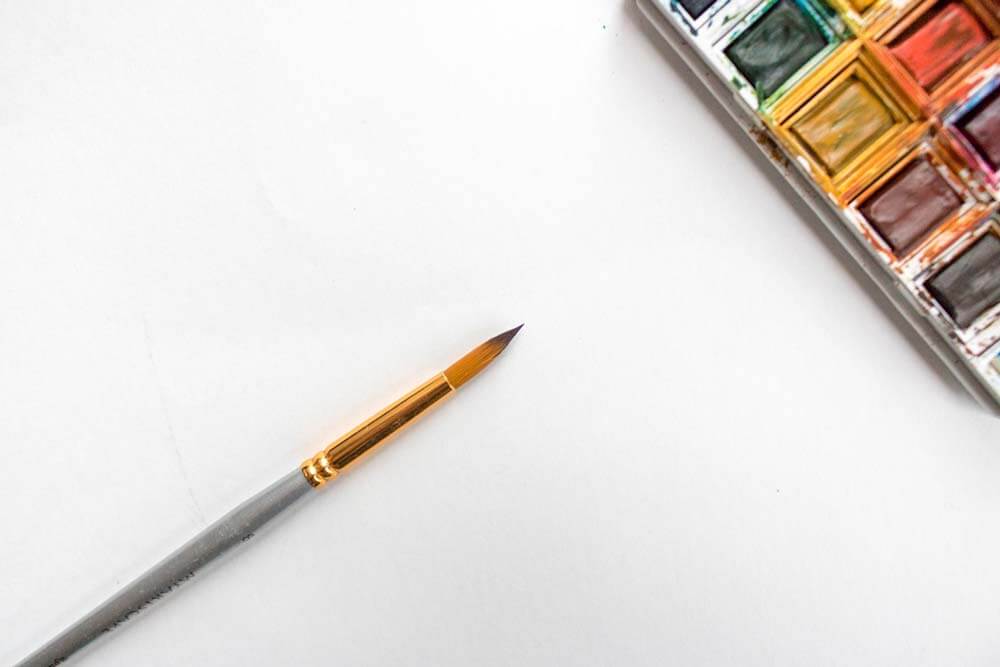 Round Brushes
By and far the most popular paint brush that is used by watercolors (and even included in sets like the Winsor & Newton 12 pan set), this paint brush is often used for the bulk of your work.
With a round ferrule coupled by a rounded bristle body, this brush type can help with general composition of a piece and even may be suitable for some detailed work.
Depending on the level of pressure that you apply to the tip of the round brush will largely define the width of the strokes.
If there is any brush that needs to be a part of your set and one you might want to splurge on, it will definitely be the round brush.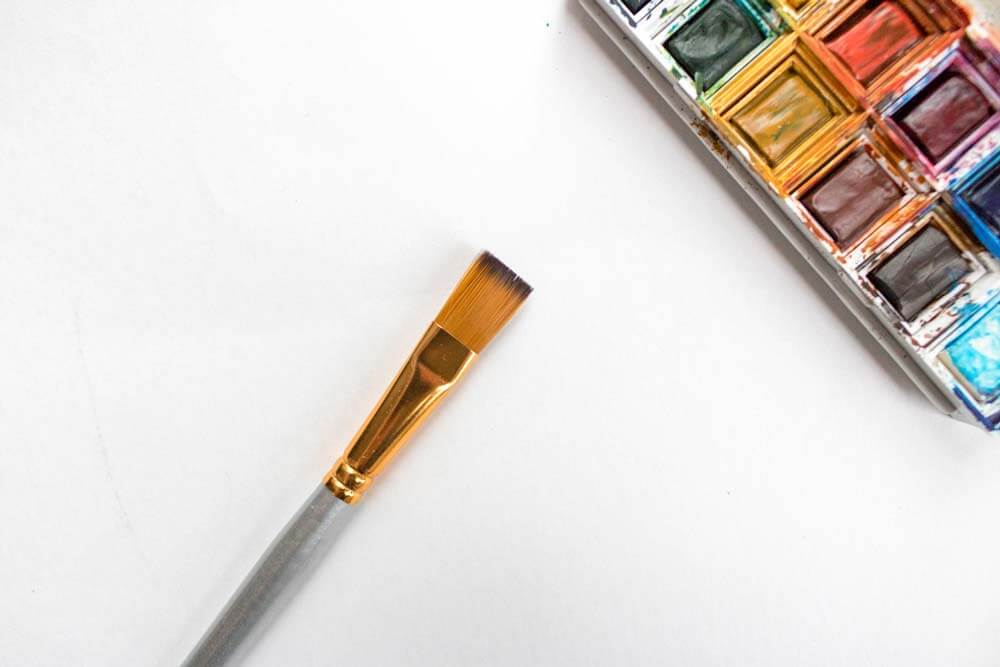 Flat Brushes
Great for performing wide uniform strokes or even washes on smaller scale pieces, flat brushes are going to be the second most popular brush in watercolorists studios.
Unlike the round brush that also has a round ferrule, the flat brush can have slightly different bristle shapes while still retaining a flat or square ferrule.
Common flat brushes include the following:
Each one of the above variants can perform unique brush strokes that can (and will) add additional dimensions to any piece that you paint.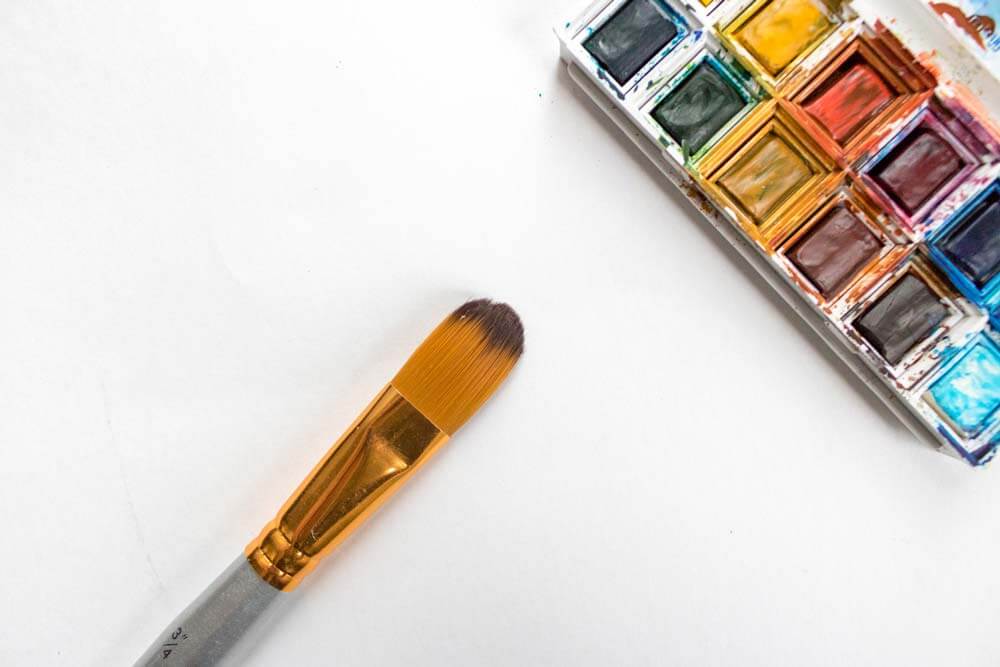 Wash Brushes
Similar to your standard household paintbrush you will find wash brushes.
Like the flat brush, you can find a couple of variants within the wash brush category including:
While you can use a wash brush on a smaller scale piece, these types of watercolor brushes are often reserved for much larger paintings where a flat brush may take quite some time to accomplish the same results.
Of all the brushes that we are covering within this guide, both the hake and mop will be the least used by the majority of watercolorists reading this just simply due to their size.
As we stressed earlier, it bears repeating that just simply because these brushes may not be in regular rotation by many watercolorists doesn't necessarily mean that you should completely skip on them.
The longer and bushier bristles could be used to achieve some dynamic starry effects including night time scenes, bushes, and other larger subjects.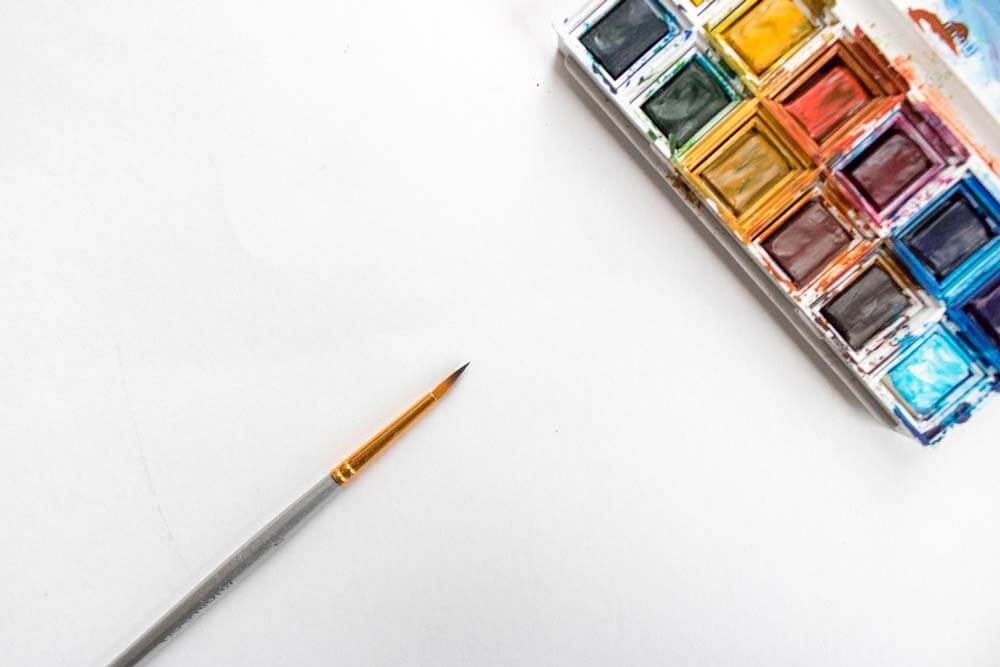 Detail Brushes
Nearly identical as the round brush, but just a hair bit shorter (no pun intended J), detail brushes are great for artists who are working on a much smaller scale or are painting in their beloved watercolor sketchbook.
Like the wash brush, you can find two main varieties within the detail brush category:
Both spotters and riggers feature round ferrules however, spotters will have slightly smaller bristle lengths when compared to riggers.
Thus making spotters more apt for fine short lines.
Riggers are commonly used by watercolorists drawing thinner yet longer lines like hair or individual blades of grass.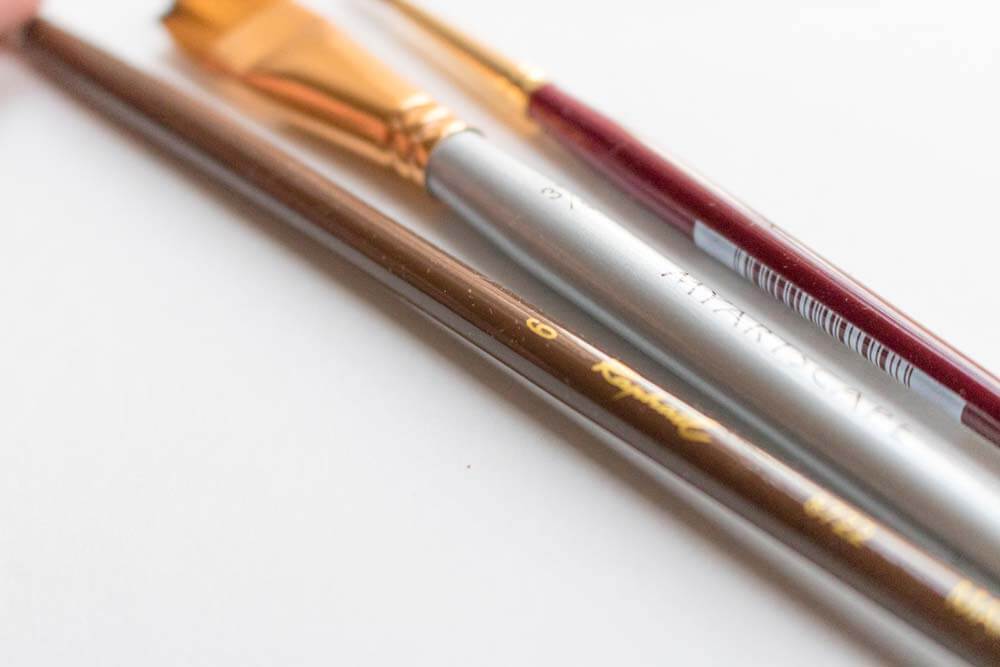 What Size Watercolor Brush Do You Need?
When looking at brushes in the store or online, you will see a dizzying number of sizes for every bristle type.
Take for instance this selection from the Blick Master Kolinsky Sable Brush For Watercolors:
Within the pointed round section, you have a size anywhere from 5/0 to 20 (16 total varieties):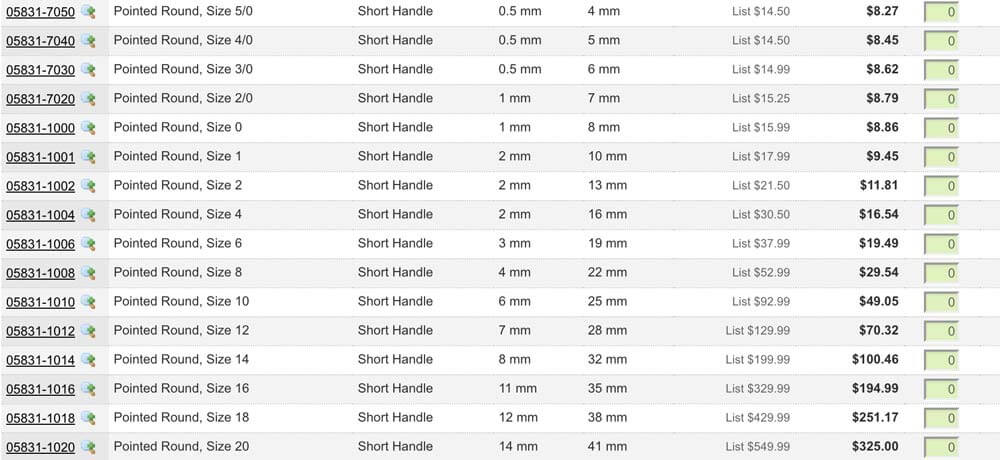 Not to mention that the price can range all the way from $8.27 to $325.00 for a single brush!
So, what do you do?
Well if you are a beginner with no basis for comparison, then we would recommend going with a starter set.
This will allow you to understand the scale of these brushes and just how much they may vary from one size to the next.
Secondly, taking a trip to your local art store will give you a great way to see their sizes first hand.
Just be sure that you don't mishandle the brushes too much (especially in the mom and pop stores) as they can damage them and make them not suited for sale.
For the intermediate and experts alike, you probably already have in mind what size brushes will work on the pieces you have planned – if not, see the above advice and take a trip to your local art store to view them in person.
Should there be no local art stores in your area, many online retailers offer free returns, so use this option if a watercolor brush just doesn't meet your expectations.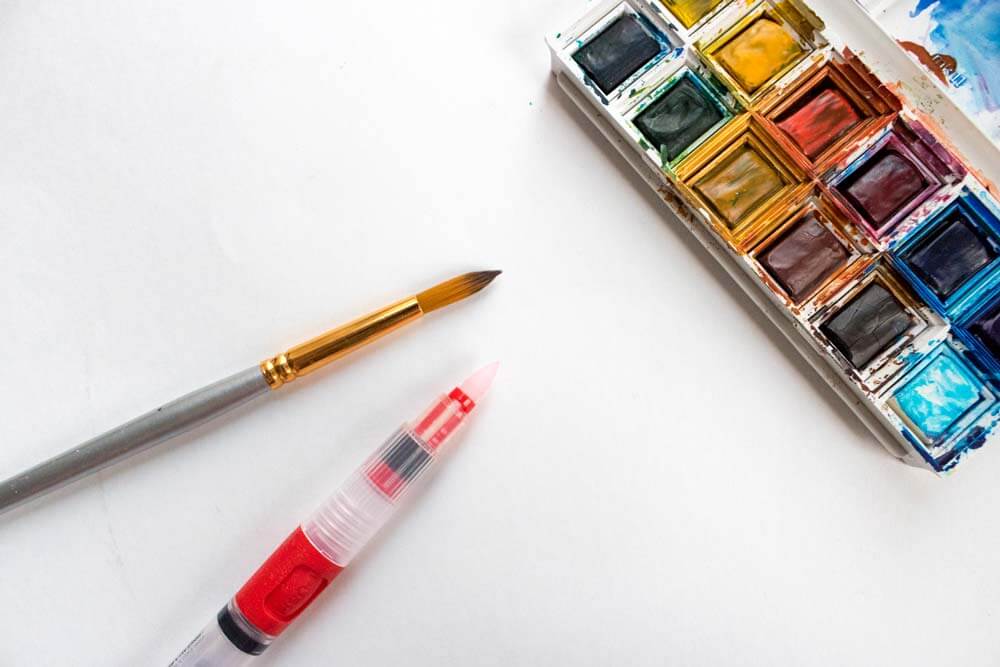 Water Brush vs Traditional Watercolor Brush?
You may have noticed when browsing Instagram or even YouTube artists using a unique and relatively new tool for watercoloring – the water brush.
With brands like the Pentel Water Brush or Caran d'Arche Water Brush, you have a water reservoir that is built directly into the barrel of the brush.
This allows for the watercolorist to be much more efficient with their painting than they otherwise would be when compared to a traditional watercolor brush.
So, does this means that the traditional watercolor brush will be phased out shortly?
Not exactly.
As convenient as the water brush may be, there are inevitably going to be some drawbacks that will turn off the purists immediately.
Most importantly will be the bristles:
With water brushes, what you gain in efficiency, you lose in options when it comes to bristle selection.
While the bristles found on the two brands we mentioned just a short bit ago put together a fine offering, a watercolorist who currently relies on a Kolinsky sable brush will have a hard time making a switch to a water brush.
Furthermore, as evident in both reviews and forum posts by passionate artists, you will see that leaking can sometimes be of concern when using a water brush as well.
Given these strong setbacks to the water brush, we still would recommend them for beginner to intermediate artists.
If your goal of painting is simply for pleasure or social media and not necessarily to be purchased by an esteemed art collector, then they are a great and convenient tool for the watercoloring world.
One aspect that we absolutely love about water brushes is their portability. Should you be watercoloring plein air, then you must make sure that you have these with you at all times!
Animal vs Synthetic Fiber Watercolor Brush?
No matter the medium you are using with your brushes, you are largely going to see two main categories available – synthetic and animal fibers.
Initially, many artists (myself included), will often automatically assume that synthetic means cheap/inferior quality and animal fibers are going to be far superior…
…and while this line of thinking may have been true some years ago, its finally starting to change today.
Let's take a closer look at the fibers available:
Animal/Natural Bristles
Natural fibers can be sourced from a variety of places, most often the case it comes at the expense of slaughtering an animal (which may understandably bother some artists reading this).
Within the watercolor brush world you will often see the following animal fibers readily available:
Camel
Goat
Hog/Boar
Ox
Kolinsky Sable
Squirrel
Of those 6 available fibers, by and far the most renowned one will be the Kolinsky sable brush. Known for its incredible spring and texture, this fiber type is largely used by professional artists.
Sourced from a species of weasel, the kolinsky sable brush can last any watercolorists for several years when cared for properly.
Whether you are doing detailed work with a spotter or rigger, the kolinsky sable will give you unparalleled control.
While normally we wouldn't recommend this fiber type for beginners, often you can find a medium sized kolinsky sable brush for roughly $20 to $30 dollars (putting it within budgetary reach).
Having just one of these brushes in your collection will give you a full appreciation for this specific type of fiber, especially when compared to other lower cost fibers.
Now when you look at the other animal fibers, hog (or sometimes marketed as boar) will be another great natural bristle type.
Having an ample backbone, the fibers will be able to spring back to their original state allowing for great stroke control.
Regarding the goat, squirrel, ox, and camel, these fibers can vary greatly from either being really good or really poor.
While you might find a diamond in the rough, when it comes to these category of brushes, its best to be avoided. While their price tag may skew a bit cheaper, you are better off going with a synthetic fiber as the performance will be more consistent.
Synthetic Bristles
With improved manufacturing methods over the course of several years, synthetic bristle brushes are quickly closing the gap in performance when compared to higher end bristles like the Kolinsky sable.
Beloved by artists who don't like to source their brushes from animals, synthetic brushes overall tend to have much lower price points, making them perfect for both beginner and intermediate level artists.
Secondly, synthetic brushes come in several different varieties including medium, soft, synthetic squirrel, and even a synthetic sable.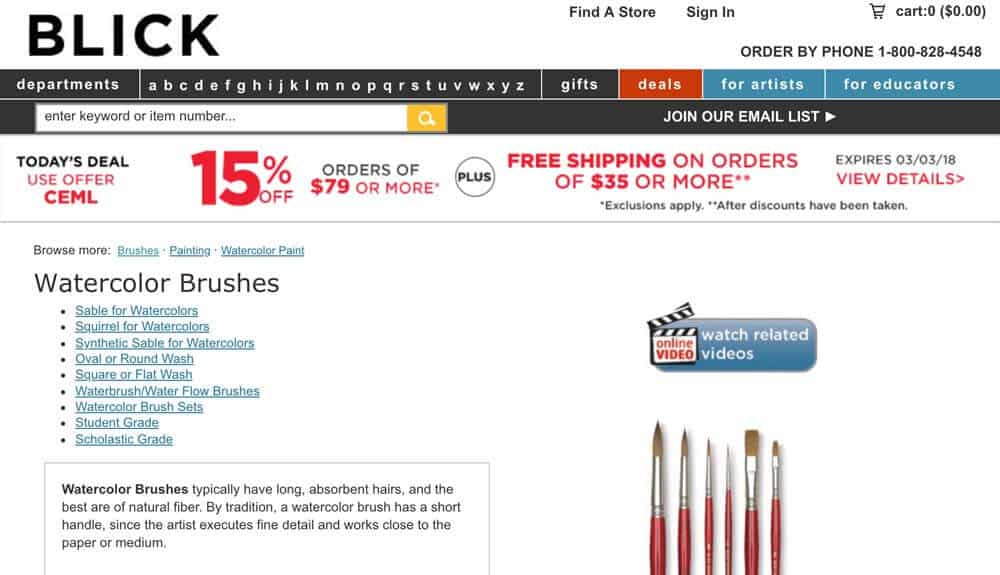 Where To Buy Watercolor Brushes?
For local options, you should be able to visit any major art craft store (i.e. Hobby Lobby, Michaels, etc.) and find a section dedicated to watercolor brushes.
While their selection may not be as vast as some online retailers, they do allow you to take a look (and touch) a few of the options.
However, based on our experience, shoppers and stock clerks may over handle the brushes and consequently cause frayed bristles.
Personally, we like to go with online retailers like DickBlick.com or Amazon.com as they tend to have a much wider selection at a lower price point.
Additionally, many online retailers will offer free returns if the brushes arrived damaged or frayed.