Depending on the subject, scale, and general budget, a quality surface can really make your artistic abilities shine.
As any experienced artist will tell you, a top-rated gesso is a key to great surface tooth. However, the strength of the fabric, craftsmanship in the canvas wrap, along with the stretcher bars used in construction of the surface are still the most important factors in deciding on the best canvas for oil painting.
In our review, we found that any of the 10 canvases listed below are perfect for artists of all skill level.
In our list, we arranged it based on intended use – from the best artist grade canvas all the way to the best student grade canvas for oil painting and learning new techniques.
Here were three canvases in particular that are worth checking out:
The 10 Best Canvases For Oil Painting Reviewed
1. Masterpiece Artist Canvas
One of the best canvases you can use for oil paints will be the Monet Pro by Masterpiece Artist Canvas.
This canvas is what all other canvases aspire to be.
With a 100% thick cotton surface, it has been both sized and double primed to ensure the perfect surface for oil paints.
To take it a step further, the Monet Pro also has an incredibly tight wrap across both the front and corners – ensuring that there is no bubbling or tearing.
As great as this canvas may be, what really makes it shine is the structure of the stretcher bars.
Using both solid pine and fir stretcher bars, coupled with a cross brace, the canvas won't develop slack over time and will allow your artist oils to look perfect for years.
If you want an artist grade canvas and are ready to pay the premium – then it really doesn't get much better than the Monet Pro by Masterpiece Artist Canvas.
2. Blick Premiere Cotton Canvas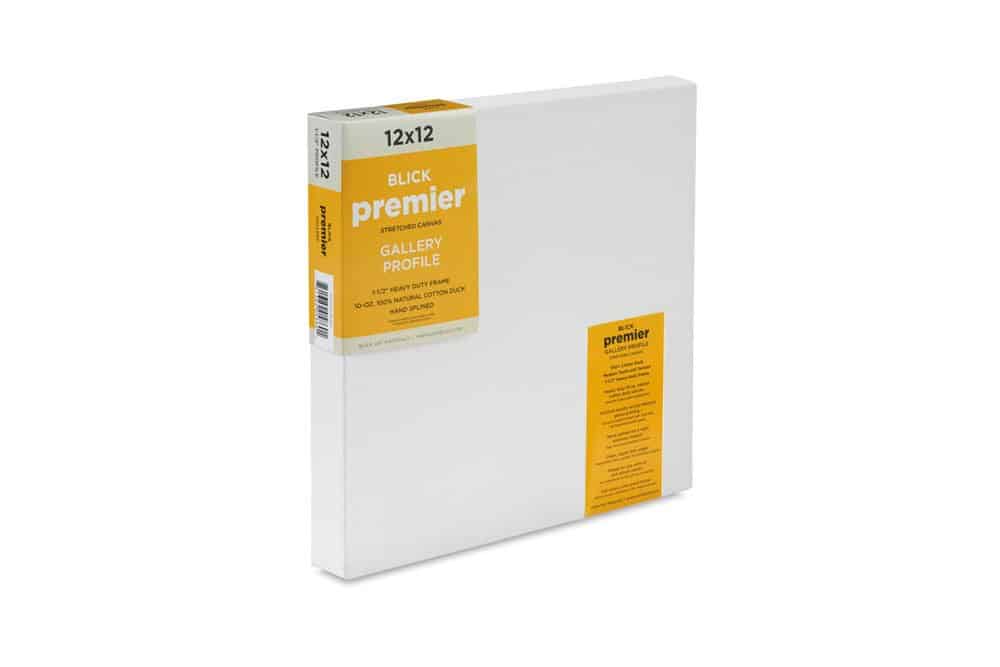 Blick, a great online art store and a maker of several fine art materials themselves, knows a thing or two about what artists are looking for in their supplies.
The Blick Premiere Cotton Canvas is no exception to this either.
Crafted from 100% cotton and available in a variety of sizes (including 3 different depths), this surface is a great intermediate to professional level canvas.
The triple primed surface provides great tooth while still retaining the naturally woven texture found in canvas.
The wood is warp resistance and the corners are wrapped tight – making it great to hang either directly on the wall once you are finished or framed.
While priced higher given the quality, when compared to other artist grade canvases for oil painting – not many get much better than this offering from Blick.
3. Old Holland Stretched Canvas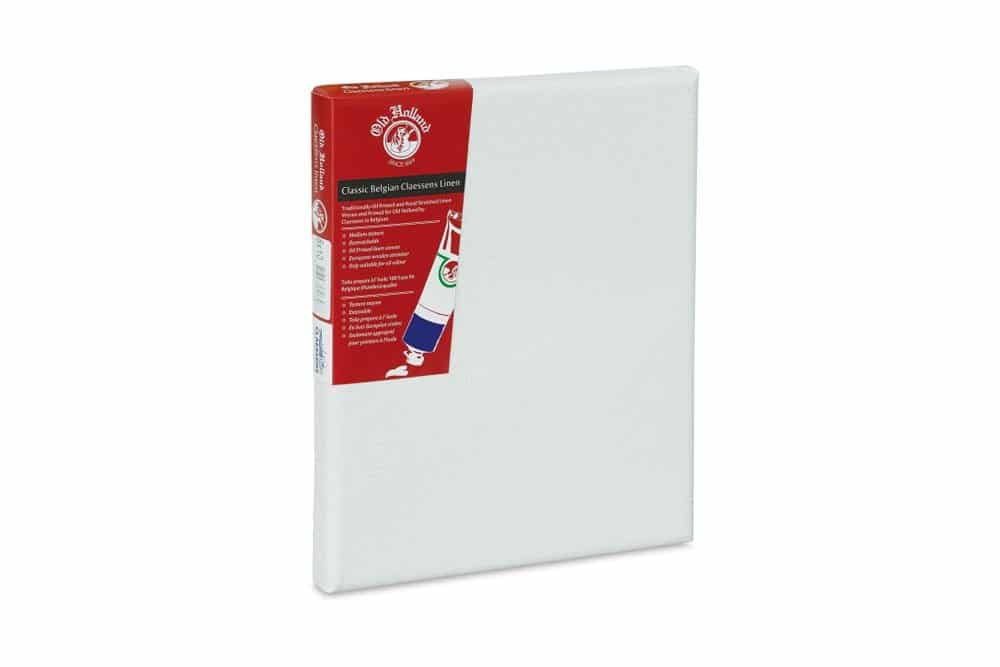 Established in 1664, Old Holland is the oldest art supply company in the world. Their products not only have a timeless design, but know how to serve the artist extremely well.
Perfectly dancing the line between both budget and performance, these 100% Belgian Linen canvases have a smooth and tight surface – which is typical given that flax is a long staple fiber.
With two coats of gesso on top of the surface, your artist grade oils will look both vibrant and flow incredibly well.
Not only will this give you much better results in your artwork, but the tooth of the gesso will allow your paint brush to latch on effortlessly – making for great stroke work.
With a moderate price given the quality, this artist grade oil painting canvas by Old Holland is a high performing canvas worth checking out.
4. Winsor & Newton Stretched Canvas
No products found.
British based Winsor & Newton, expertly serves the artist at all skill levels.
Whether it's through their Cotman Watercolors, Winton Oils, or even their Artist Oils – they are there to help you every step of the way along your artistic journey.
With an intermediate offering and price tag to match, it's no wonder why this stretched canvas is one of the more popular and highly rated ones available.
With 7 different sizes and available both individually or as a pack of 6, you have your choice among their wide lineup.
These back stapled canvases have been handmade and tightly wound to make for very little slack.
The surface on this canvas has also been triple primed – making it a near perfect tooth for most oil paints and brushes.
If you are looking to upgrade from a panel or canvas pad, then this Winsor & Newton stretched canvas will be a welcomed addition.
5. Daveliou Stretched Canvas
Artist grade quality stretched canvas by Daveliou is a perfect canvas for oil painting – especially for intermediate level artists.
With a 3-ply canvas back-stapled to a kiln dried wooden frame (to prevent excess slack), it's a great surface to showcase your artistic abilities.
Using their own laboratory grade primer, the surface has an ample tooth that will allow your quality oil paint brushes to latch onto the surface with absolute ease.
In addition to have a great base primer, this canvas is naturally water resistant – making it perfect for those oil painters looking to paint en plein air.
Backed by a 1 year guarantee (pretty much unheard of in the stretched canvas world), this surface is a perfect upgrade if you are coming from a history of painting on panels and looking for something more from your surface.
6. Art Alternatives Stretched Canvas Super Pack
With a price tag hovering around $5 per canvas, this 5-piece super pack by Art Alternatives is a good economy surface that's perfect for oil painting.
Not only are these stretched canvases individually wrapped, but given the primed surface, you can easily use them with other mediums beyond oil as well (including mixed media and acrylics) – making them a versatile pick if you are still only testing the waters of oil painting.
Like the Daveliou Stretched Canvas, the Art Alternatives surfaces also are stretched using kiln-dried fir wood. Therefore, a painting done today shouldn't develop too much slack over time.
Some artists mentioned that this surface tended to be a bit more absorbent to oils – therefore, a simple coat of gesso prior to painting should help to reduce this issue.
7. Arteza Economy Stretched Canvas
A step up from the Artlicious canvas panels (also reviewed in this article), the Arteza Economy Stretched Canvases are perfect for student and beginning level artists looking to explore the world of stretched canvas without completely breaking the bank.
These individually wrapped canvases are great for casual artists as well, given that they can be stored and not collect dust or incidentally tear.
While these are student grade canvases, there may be a little bit of pillowing on the corners when it was originally folded – likely not a big deal for many reading, but worth noting nevertheless.
For those students who want to display their artwork, you can simply hang the stretched canvas on the wall without a frame and not worry about side staples (they are all on the back into the pinewood stretcher bars).
It's not an artist grade canvas, but makes for a great student friendly pick.
The surface has been primed with an acid-free gesso.
8. Artlicious Canvas Panels
Perfect for painting en plein air and practice, canvas panels like these from Artlicious are not only extremely portable, but fairly cheap – especially when compared to stretched canvases.
Made from 100% cotton that has been imported from India, these panels by Artlicious feature a heavy texture that has already been primed for you.
With a no-fuss solution like these, you can simply take them out of the package and begin painting immediately.
These are great for beginner students, kids, and even classroom settings.
9. U.S. Art Supply Canvas Panels
Maker of all things art – U.S. Art Supply is perhaps the most widely known and widely used company that many beginning oil painters are familiar with.
These panels are perfect for oil painting.
With a triple-primed coating made especially for oil painting, you will see great results in your brush work that will undoubtedly bring out your best qualities as an artist.
Even though these are designed for students, the U.S. Art Supply panels are also acid free – making them great for archival purposes.
So, if you want to look back on your paintings one day, you won't have to worry about the canvas becoming yellow or brittle.
Available in several different sizes, variety packs, and even colors (yes they have a black canvas perfect for deep space artwork), you should be able to find one that works for your next planned piece.
10. Fredrix Canvas Pad
One obscure canvases in the world of oil painting is this offering by Fredrix.
While normally known for their canvas panels that can be found at your local art and crafts store, this Fredrix canvas pad is the perfect beginner oil painting supply.
At a fraction of the cost of canvas panels, this canvas pad is a great way to explore new techniques and bring with you for quick studies.
With a triple-primed surface and a texture that is just like your favorite stretched canvas, you don't have to worry about prepping or wasting your best oil paints when using.
With a price tag hovering around the $7 to $8 range for 10 sheets – it's a perfect way to enter the wide world of oils on a starving artist budget.
The Different Fabrics and Forms Of Canvas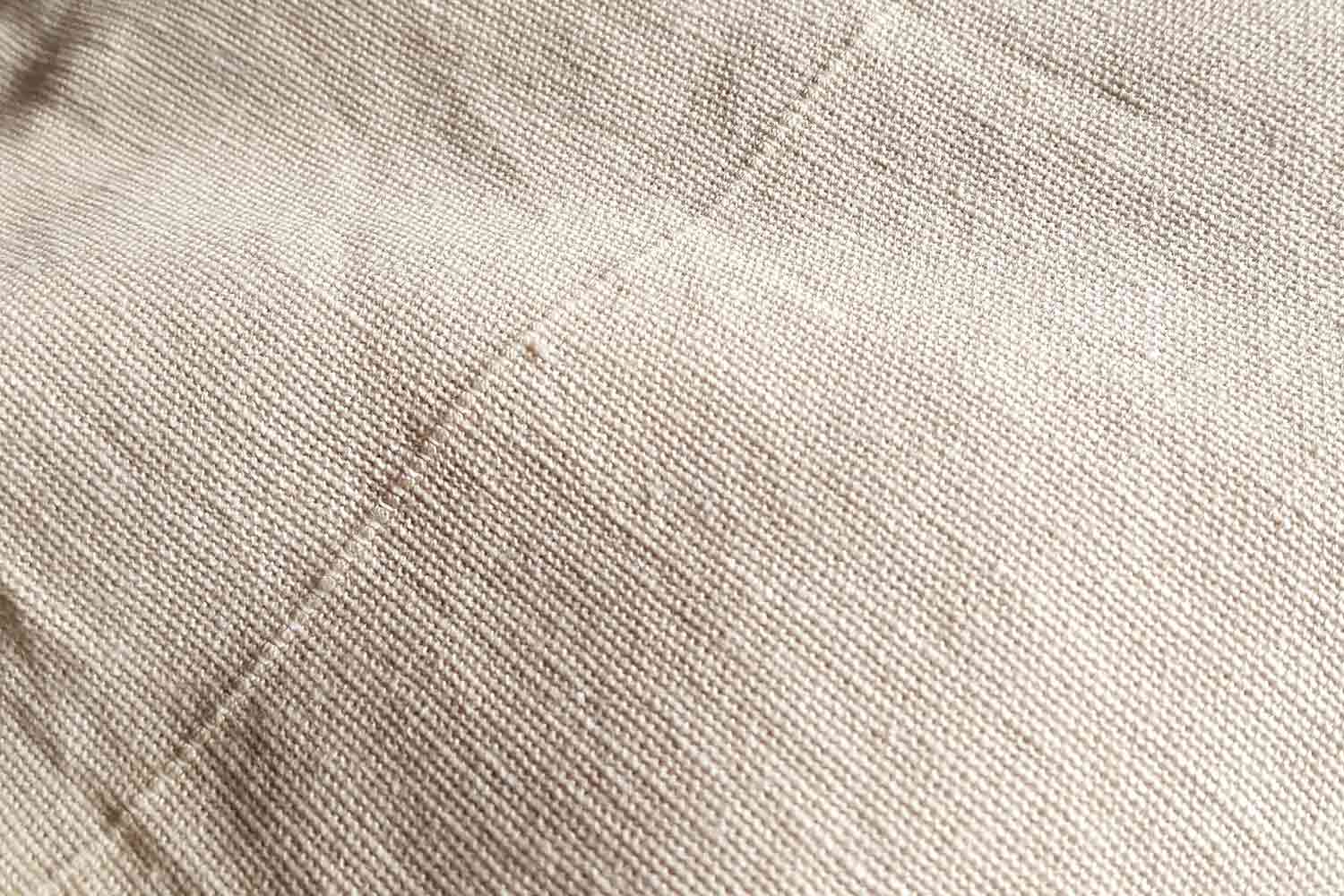 As you learned in the reviews, canvas can come in a couple of different fabrics and forms.
For the fabric offerings there are two primary choices:
While cotton is undoubtedly the more popular of the two, it's a shorter fiber that both gives the artist just enough feedback when pressed down upon while also being rather inexpensive to produce.
However, cotton can come in many different grades and qualities.
As evident in the Masterpiece Artist Canvas – they use a heavy weight duck canvas that is extremely tough, while also having long term archival properties.
The other popular alternative to cotton will be linen. Made from flax, linen fibers are much longer than cotton making for both a smoother and stronger surface.
While not having the same springiness as a cotton canvas, linen is great for artists who prefer a rigid surface like that found in the Old Holland Stretched Canvas.
When compared to cotton, linen is less popular, but fine art retailers like Blick Art Materials do regularly stock a few.
When looking at canvas forms, they fall into three main bucks:
Stretch Canvas
Canvas Panels
Canvas Pads
Stretched Canvases
Stretched canvases are a great surface for both student and professional level artists.
With their springy feedback coupled with their archival properties, they have been a fixture in the art world for centuries.
While priced the highest compared to panels and pads, they are well suited for final artwork pieces.
Canvas Panels
Canvas panels are a great compromise between both stretched canvas and canvas pads.
While a rigid body, canvas panels are often made from 100% cotton and are highly portable.
Given that they don't use wood stretcher bars, their cost is a fraction of the price when compared to a stretched canvas.
These are great for quick studies and practicing techniques on a surface just like a stretched canvas, but at a cheaper price point.
Canvas Pads
Similar to a pad of drawing paper, canvas pads are individual sheets of canvas that are held together in a binding (typically glue bound). They give you a great surface solely for practicing technique.
Not suited for final pieces, these are the cheapest option you can get while still feeling like you are painting on a proper canvas.
Attainting Greater Tooth And Texture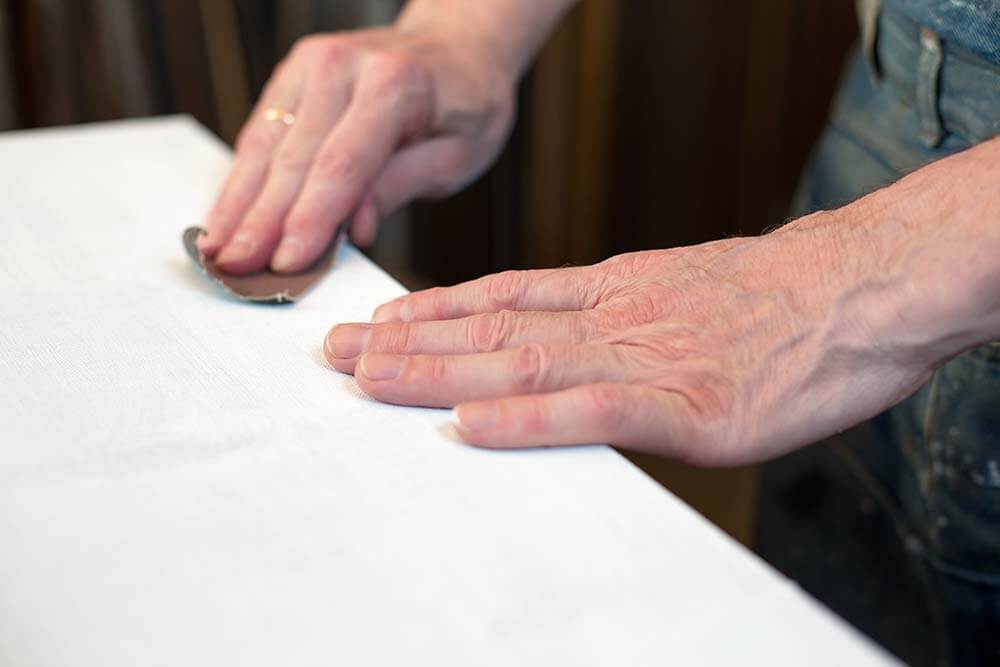 While all the canvases we covered today have at least a single coat of primer (gesso) that has been applied, many artists who have a firm handle on the oil medium like to add a second or third coat of primer.
When an additional layer or two of gesso is applied and sanded, it can provide a much smoother and toothier surface.
Why is this important?
It's two-fold really.
First, a primed and sanded surface won't absorb nearly as much of your paint when applied. This can help prevent you from needlessly wasting your fine oil paints – especially if it's just an initial wash or underpainting.
Secondly, and perhaps more importantly, is the ability for the surface to better latch onto your brush and oil paint.
With a great tooth, you can put down incredibly accurate lines that ultimately translate to much better results.
If you find yourself getting frustrated as the canvas eats up your paint almost immediately, add a layer of gesso to counteract this – the results are striking.
Always Buy In Bulk When Possible
While we understand that some artists are on a strapped budget, when purchasing canvases for oil painting, the best thing you can do is buy in bulk.
This not only saves you money in the long run, but it also allows you to get better with your painting techniques.
As you get comfortable painting on a surface from a particular brand's canvas, you start to learn more about the characteristics of the fabric and improve your skills.
It's a great way to learn how your paint interacts with the canvas and to ultimately speed up your learning of this complex medium.
Choosing The Best Canvases For Oil Painting
Oil painting is a terrific medium to learn and ultimately master. However, during your training you will learn that many of the supplies necessary to really showcase this medium are equally as important as the medium itself.
After reading countless reviews, viewing works from other oil painters, and general feedback from our own field tests, we are confident that we uncovered all the best canvases that work perfectly with oil paint.
No matter where you are in your artistic journey, any one of the above surfaces should be able to serve you well.