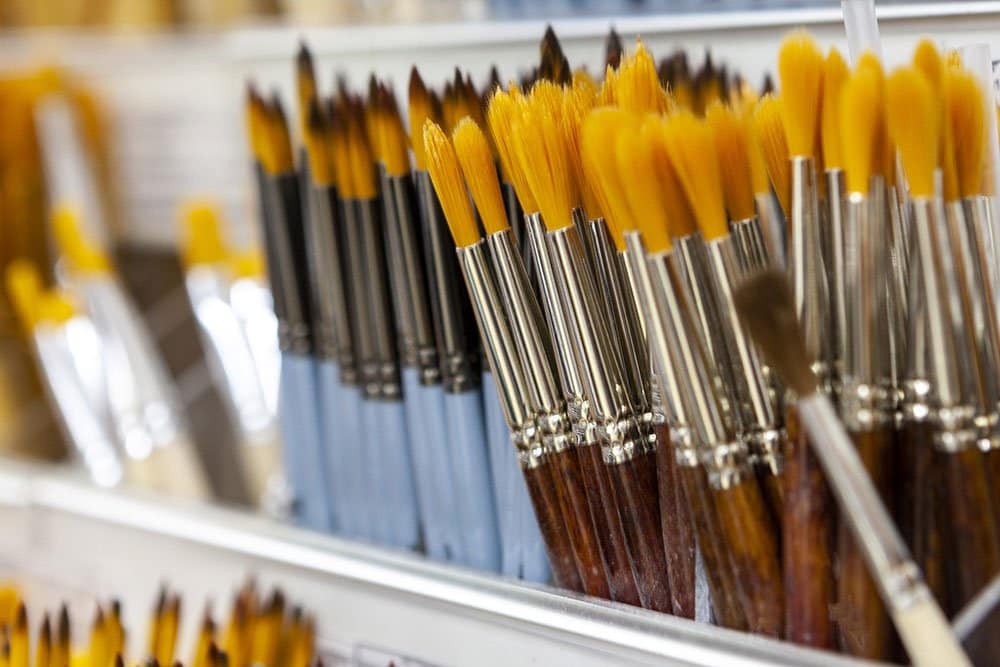 Best Oil Paint Brushes
This Article May Contain Affiliate Links
Whether you are an aspiring artist or one that has a firm handle on this complex medium, a brush is quite possibly the most important supply that you can own when oil painting.
A quality oil painting brush will both latch onto the oil to provide a great flow to the canvas along with having a great spring in the bristles.
During our review, we looked at several different oil painting brushes to find out which one's artists loved, but more importantly will deliver great results in your artwork.
While any of the brushes on our list will perform great, these two were best in their class:
Best Oil Paint Brushes Reviewed
Selecting The Right Size Oil Paint Brush
When it comes to finding the right sized paint brush for you, it can be difficult – especially if you head to your local art supply store and are met with a hundred different brush sizes.
Generally, the rule of thumb is as follows:
For Small / Detailed Work: Go with a size 6 or smaller
For Mid-Sized / Color Blocking Work: Go with a size between 6 – 14
For Large Scale Paintings And Washes: Go with a size greater than 14
Now in the world of art brushes, no two companies are alike.
Therefore, a size 6 from da Vinci is likely not going to be the exact same as a size 6 from Princeton.
This is due in large part that they are handmade.
In addition, there is no art supply governing body that regulates that a size 6 brush must be X inches long, Z inches wide, etc.
Should you be replacing a brush, then we would recommend checking out the manufactures website to get the size dimensions of their brush.
This will allow you to see how your current brushes may compare to the ones they offer.
Sites like Blick Art Materials do a pretty good job at having detailed descriptions to help too:

Note: The width refers to how wide the brush is at the base of the ferrule (where the bristles meet). Length refers to how long the bristles extend from the base of the ferrule.
Oil Paint Brush Types
If you are a complete beginner looking to learn more about brush shapes, check out our write up on all the different types of paintbrushes.
However, when it comes to oil painting, most of your work will be done between a few different brushes – which include the following:
Round: Most Popular – used for patterns, detail work, and curved lines
Flat: Perfect for lines, edges, and general color blocking
Filbert: A great brush for blending
Of course, there are several more brushes that we didn't cover including bright, rake, fan, etc.
But again, if you are a beginner, we would recommend going with the above and mastering those first before taking the leap to the lesser used brushes.
Caring And Maintaining Your Oil Paint Brushes
Just about every brush, with perhaps exception to the Art Advantage Brush Set, on our list should last you a lifetime when cared for properly.
Here's our recommended steps to ensure that you get the most out of your new oil paint brushes:
How To Clean Oil Paint Brushes For A Lifetime Use
Oils can be a stubborn medium as they naturally resist water – making cleanup a challenge.
Therefore, we highly recommend that you use a solvent such as odorless mineral spirits or turpentine during cleanup for more effective results.
This will not only dissolve the safflower or linseed oil found in the oil paints, but will prevent any gunking in the ferrule base.
Caked up paint in the ferrule can lead to a much poorer brush performance by making the bristles split and not retain oils nearly as well.
After the paint has been completely dissolved by the solvent, then we would recommend using a dishwasher detergent (Dawn, Palmolive, etc.) and warm water to fully clean.
Lastly, for those artists who use a natural fiber brush like kolinsky sable or hog, add a drop of linseed oil to the bristles and form it to a tip.
We found that this little trick keeps the bristles springy and to a fine point.
Why Fiber Quality Matters
When reading the reviews, you might be wondering to yourself if you should spring for a pricier kolinsky sable brush or opt for the more affordable synthetics.
Depending on your skill level and preference can help you decide which oil paint brush is best.
Generally, we found the following to be true:
If you work on commission or have a firm grasp on the oil medium, then go with the kolinsky sable brushes. These natural fibers just simply perform much better than their synthetic counterparts.
However, if you like to go between various mediums including watercolors, acrylics, or even gouache, and want to save a few bucks, synthetic will be your brush of choice.
While synthetics can't hold as much paint, over the recent years, they have gotten much better in their design – as was evident in the Princeton Catalyst Polytip brushes.
Storing Your Brushes
For professional artists, you likely already know this, but for the student and beginning painters when it comes to brush storage, always place them tip side up.
While resting a brush in solvent for a few minutes when painting is ok, prolonged pressure on the tip of the brush will lead to bent bristles and ultimately making for poorer results in your artwork.
A simple glass jar or even a paint brush stand is all you need to keep your brushes organized and in great shape.
Choosing The Best Brushes For Oil Painting
Choosing the best oil paint brushes is a difficult task. Given the large number of brushes on the market, we unfortunately don't have the resources to look at each one individually.
However, with that being said, we do feel confident that any one of the above brushes will be a welcomed addition to your studio.
If you would like to have additional paint brushes reviewed, please let us know.
Lastly, while quality art supplies are a critical part of producing great results, talent still takes precedence. So be sure that you practice regularly and consistently with your oil paints to see marked improvements in your artistic journey.
And keep continuing to push your personal limits with each and every oil painting you do!