Whether you are just getting started in the world of acrylics or have a firm control over the medium, one of the most important components when making artwork will be the brush itself.
A quality paint brush that has been designed for acrylics will not only hold onto the paint incredibly well, but will also deliver crisp and clean lines on the surface.
Whether you are painting with acrylics on paper, or even a top-rated stretched canvas made for acrylics, your paint brush shouldn't have fibers falling out and ultimately making your artwork look sloppy.
While any of the acrylic paint brushes listed below will deliver great results for both student and professional artists alike, we found that the following paint brushes were among the best performers in their class:
The 10 Best Acrylic Paint Brushes Reviewed
1. Loew Cornell Golden Taklon
Maker of a wide variety of art supplies (catalog) including brushes, various paint sets, and more – Loew Cornell has become a trusted brand within the art community by delivering predictably well-performing products.
The Golden Taklon line of brushes are no exception.
A multi-medium brush that works between both acrylic and watercolors, this synthetic round brush delivers enough spring to make for great results on the surface while also being able to withstand the abuse of acrylics.
You can expect that even after several paintings the tip of the Golden Taklon will remain pointed even after you have a few paintings under your belt.
The tightly packed ferrule will ensure that bristles will also remain in securely in place.
Pros
Synthetic fiber
Also works with watercolors
Comfortable handle
Great intermediate brush
Cons
2. Grumbacher Goldenedge Acrylic Paint Brush
While we absolutely fell in love with their top-rated gesso, Grumbacher also makes an incredible paint brush that will work great with your acrylics.
Available in 9 different sizes, these artist grade brushes not only perform great, but can work even with a student friendly budget.
The synthetic bristles ensure that they won't fall apart or shed with repeated soaking in the water when cleaning the paint off these brushes.
In addition, the brass ferrule is both incredibly comfortable when working the details in your artwork while also doing a terrific job at keeping the bristles together.
If you are looking for variety in brush stroke, Grumbacher also makes a Bright brush in their Academy line that's worth checking out.
Pros
Holds acrylic paint well
Synthetic fibers
Excellent spring
Brass ferrule
Comfortable handle
Cons
9 sizes may be limiting to some
3. Mont Marte Gallery Series Acrylic Paint Brush Set
This brush set by Mont Marte not only looks sleek with its gun metal ferrule, but also is a well-rounded offering perfect for entry level artists.
In the set you have 6 different brush types available to you:
Round (6)
Round (16)
Flat (8)
Flat (10)
Filbert (8)
Filbert (10)
(parentheses indicates brush size)
The varying sizes make these brushes great not only for the larger washes in your piece, but also finer detail work.
Like the Loew Cornell, these are a synthetic Taklon bristle that provides a nice spring while still holding the acrylic paint incredibly well.
Another advantage of the synthetic fiber is the natural resistance to shedding when soaked in water.
While most brushes on this list are marketed as a multi-medium compatible brush, these Mont Marte brushes were designed strictly for acrylic use.
Pros
Designed specifically for acrylics
Versatile set
For all skill levels
Synthetic fiber
Inexpensive
Cons
Can't purchase individually
4. da Vinci Acrylic Paint Brushes
No other name is more respected in the art brush world than da Vinci. Whether its watercolors, oils, and now acrylics – their brushes are uncompromising in every way.
These professional (artist) grade brushes not only display perfect acrylic retention when painting, but the springiness of the bristles give you ultimate control over your strokes.
Unlike their oil brushes that are constructed from kolinsky sable fibers, the acrylic brushes are synthetic – drastically lowering their cost.
While their oil brushes can command a price tag north of $300 for a single brush (source) – this set of three brushes will cost roughly ~$40.
In addition to the high-performance bristles, the da Vinci brushes are also sourced from a sustainable wood – ensuring that there are no long term environmental impacts due to production.
There's a reason this company has been around for over 110 years – they are simply that good.
Pros
Best acrylic brushes money can buy
Top Acryl bristles
Can purchase individually
Cons
Might be too expensive for some
5. Princeton Acrylic Paint Brush
The Princeton acrylic (and oil) paint brushes are a perfect marrying of a hog fiber, but in synthetic form.
With the ability to withstand long baths when you clean your brushes, you never have to worry about the fibers breaking or falling out of the ferrule.
Available in all the popular brush types which includes the following:
Bright
Filbert
Flat
Round
Fan
Angle Bright
You can get the right brush (and right size of brush) for your next acrylic painting while staying in the Princeton family of brushes – perfect if you really like their comfortable handles.
While not as high performing as the da Vinci's –Princeton still gives many of the other popular brands including Loew Cornell, Grumbacher, and Mont Marte, to name a few, a worthy run for their money.
Overall, we think this brush is perfect for the intermediate level artists reading this.
Pros
Perfect for intermediates
Various types and sizes available
Purchase individually
Cons
6. Royal & Langnickel Short Handle Acrylic Paint Brushes
For artists looking to work on a much smaller scale, then one of the best acrylic paint brushes you can use will be this set by Royal & Langnickel.
In this set you get both 10 rounds of varying sizes along with a shader brush.
The synthetic bristles have a stiff backbone that makes it perfect for painting the details in your piece with accuracy and confidence in the brush itself.
Like any trademark acrylic paint brush, the ferrule is made from a black coated brass right. This helps to keep the bristles in place while also resisting rust.
Lastly, the handles on these brushes are going to be short (as they are designed for small detail strokes), yet have a beefy body that will not cause any fatigue in your hand.
Royal & Langnickel is an art company steeped in rich history dating back to the 1950s – and they truly have perfected the art of fine craftsmanship with this great detail set made for acrylics.
Should you want to expand on this set or buy a replacement brush, you can do so directly from the Royal & Langnickel website.
Pros
Perfect for fine detail work
Synthetic fiber
Comfortable handle
Brass ferrule
Cons
7. Winsor & Newton Monarch Acrylic Paint Brushes
Primarily known for their Cotman watercolors, a popular watercolor set beginners absolutely love, UK based Winsor & Newton furthers their wide array of fine art products with this synthetic brush made for acrylics.
These professional grade brushes are available in a multitude of both brush sizes and shapes.
This allows you to find the perfect brush for the piece of artwork you plan on creating.
Sold individually, you can easily expand your brush set into other sizes or replenish a lost brush that has seen better days.
Like all quality acrylic brushes, this synthetic brush has a rather stiff bristle (but not overly hard) – giving a great spring and tactile feedback while painting.
The long handle on these brushes allow for a fair bit greater comfort and control – especially when working on large scale paintings.
Pros
Many size and brush types available
Synthetic filament
Trusted brand
Professional artists' quality
Cons
8. Jerry Q Acrylic Paint Brushes
This brush set is a terrific pick for kids, beginners, and simply artists looking to save a few bucks.
With bristles constructed of nylon, they are the perfect brush that works well with acrylics and even watercolors.
The longer handles may be a bit tougher for kids, but for adults, they provide a better level of comfort.
In the set you get a total of 12 different brushes that fall into either a flat or round brush shape.
The varying sizes also make it great for you to alternate brushes between larger areas and the detail work in your piece.
With a sub $10 price tag on these brushes, you really can't go wrong if you are just starting to explore the world of acrylics.
Pros
12 different brushes
Less than $.75 per brush
Long handle
Synthetic
Cons
Not suited for professionals
9. LorDac Acryilc Paint Brushes
This set has a little bit of everything for those artists looking to get a rightly priced acrylic brush set.
With the 7 different brushes (3 round, 2 flat, 1 filbert, 1 angular) it provides ample stroke and weight variety.
But what makes this a great set for both students and plein air artists is the inclusion of a travel case. With a smart design that can be configured into a brush holder, this brush set by LorDac is perfect for artists on the go.
Furthermore, we didn't come across any issues of bristle shedding when used extensively.
Overall, it's a fine set that should work into any beginners budget.
Pros
Travel case included
7 different brushes
Extremely affordable
Synthetic bristles
Great for gift giving
Cons
Can't purchase indivdually
10. Blick Master Bristle Brushes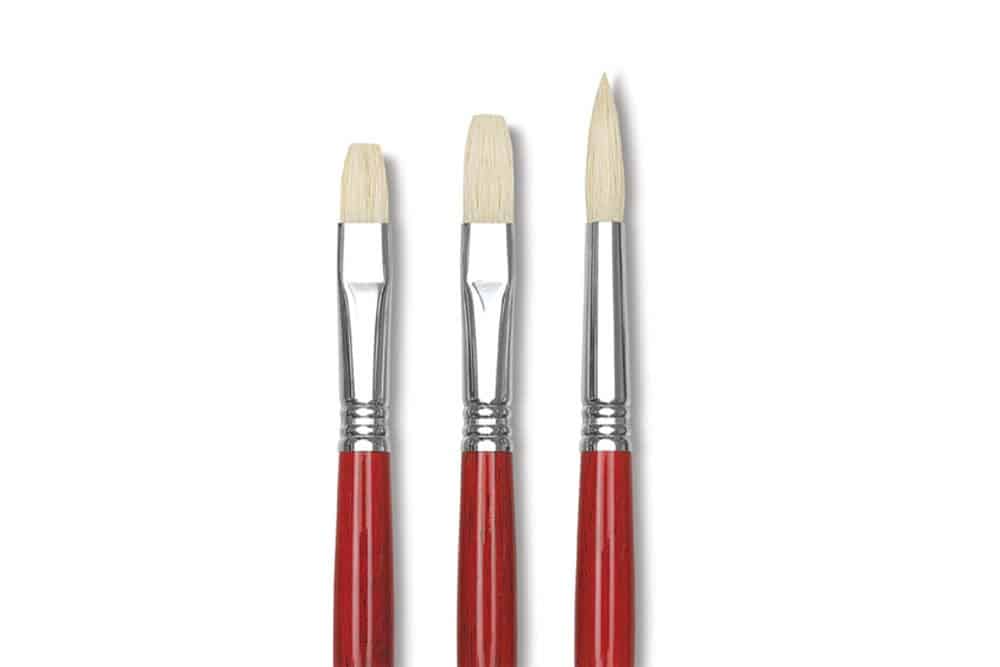 When Blick begins making a new art supply to serve the professional level artists, their approach is second to none.
This couldn't be more true than with their Blick Master Bristle brushes.
These artist grade synthetic fiber acrylic brushes have been made from the ground up for both longevity and performance.
First the production process.
As stated on their website, Blick makes these brushes from a master mold – therefore if you buy a brush today and then buy one a few years down the road, it will have the exact same characteristics.
But it doesn't end at the shape of this long-handled brush – Blick also packs each of the bristles by hand into the ferrule.
This ensures both a tighter pack of bristles, but more importantly, prevents shedding that is common in many machine-made brushes.
For all the brushes we reviewed, with exception perhaps to the da Vinci's, Blick had one of the widest lineups of both size and shapes available.
Lastly, the complete satisfaction promise is second to none.
Blick stands by this brush and gives it a lifetime guarantee – how's that for reassurance.
Pros
Best guarantee
Synthetic fibers
Several brush sizes available
Terrific production process
Cons
Selecting The Right Size Acrylic Brush
When deciding on the right acrylic paint brush to buy, you will notice that they come in a wide variety of sizes.
Here's an example of the Winsor & Newton Rounded Monarch brush:

So, how do you decide which one to get?
Well the general rule of thumb is as follows:
Small sizes (typically less than #6): Detailed work
Mid-range (typically between #6 and #14): Underpainting & color blocks
Large sizes (typically greater than #14): Initial wash
This is highly dependent on the subject and type of piece you are creating.
But here's the tricky part:
Should you go with a round brush from da Vinci at size #10 or a Winsor & Newton round brush also at a size #10 – chances are that they will not be the exact same.
So, if you are a professional grade artist, you will need to review the manufacturers website and get the product details about the length, diameter, and width of the brush you plan on buying and compare it with one of your own.
Of course, most retailers like Blick, Jerry's Artarama, etc. know this and are understanding with their return policy should the unused brush you ordered not meet your expectations.
Various Acrylic Paint Brush Types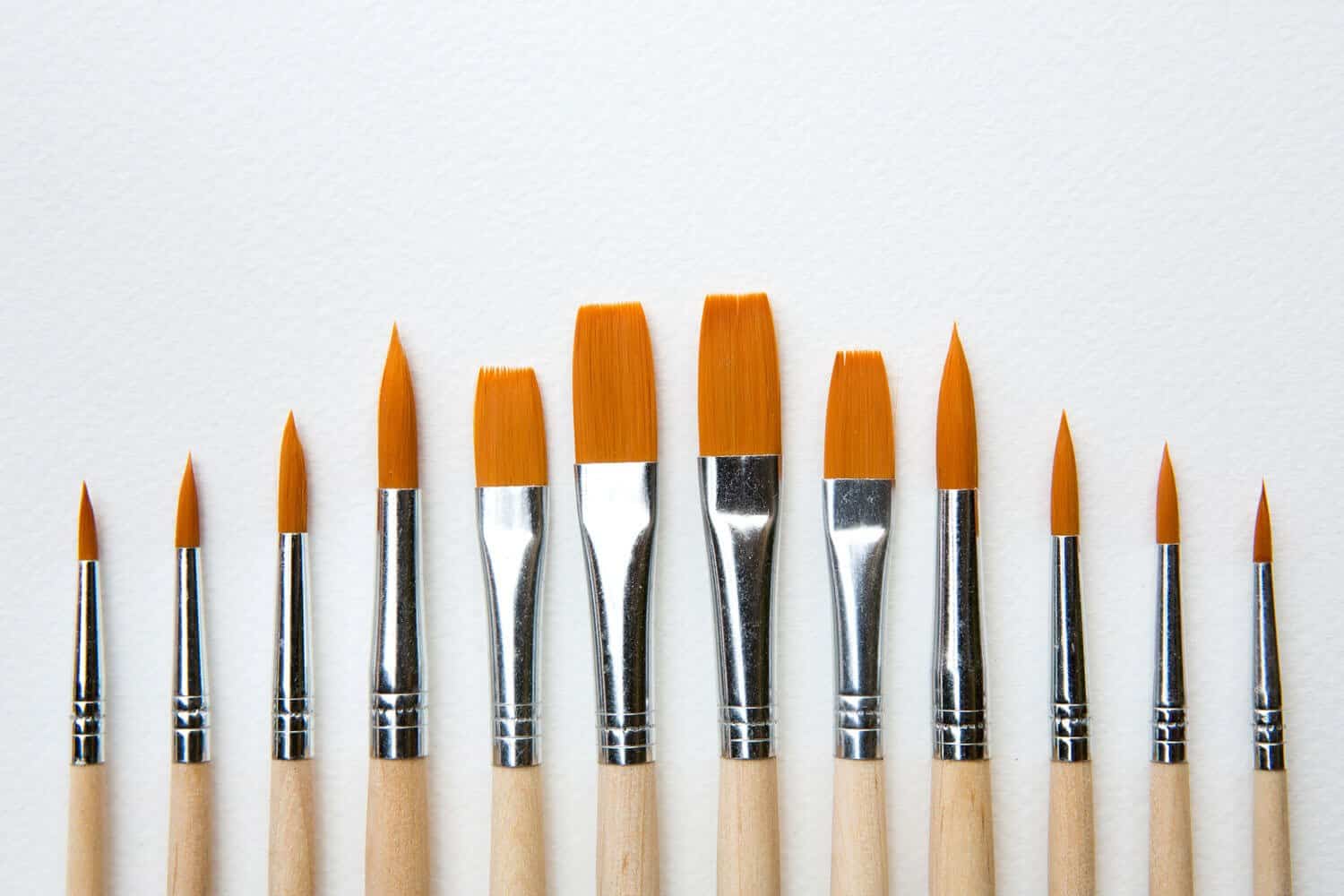 As you may have noticed in many of the reviews, brushes come in several different types including the following:
If you are just painting with acrylics for the very first time, we would recommend that you go with round, flat, filbert (in that order).
Those three brushes are incredibly versatile and can be used in the following ways:
Round: Perfect for patterns, detail, and varying stroke weight.
Flat: Paint perfect lines and edges, also used for straight shapes in your artwork.
Filbert: A mix between a round and flat, is great for blending.
Now if you are trying to push your creative bounds, we would recommend that you check out our write-up of the many different types of paintbrushes for artists.
There we break out even more of the obscure options available including hake, sash, dagger, and fan.
Caring & Maintaining Your Acrylic Paint Brushes
Acrylic paint can easily destroy a brush if it doesn't get cared for and maintained properly.
Here are a few key steps to follow to ensure that you not only get the best performance from your new brushes, but also so you don't find yourself wasting money:
How To Clean Your Acrylic Brushes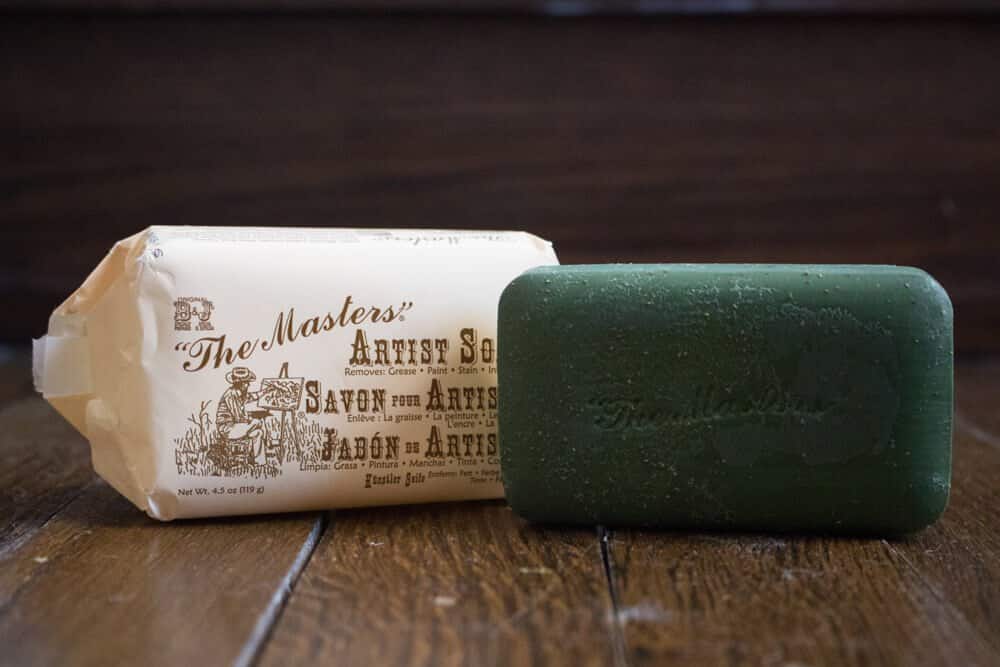 When it comes to painting with acrylic, it's important that you never let the paint rest on the bristles for an extended period.
Given the naturally fast drying nature of acrylics, you want to employ the double bath system when cleaning the brushes.
The double bath system is simply cleaning your brushes in two jars of water between use.
The initial jar is used to take off most of the pigment and acrylic polymer emulsion while the second jar is used as a deeper rinse.
This will help to ensure that the synthetic bristles on your brush don't stick together and also to prevent the acrylic paint from gunking up in the ferrule ultimately making for poorer performance.
You should also wash your brushes with warm soapy water or a brush cleaner once you are done painting for the day.
Expensive Natural Fibers Aren't Well Suited For Acrylics
For those coming to acrylics for the very first time, you should never use animal hair fibers with this medium.
Primarily for two reasons:
First, even a little bit of dried acrylic paint can cause the bristles to snap or split if you aren't careful – which will completely ruin your brush.
Secondly, given that acrylic brushes are cleaned with water while you use them, the hair won't have the same springiness as is the case with a synthetic fiber.
This generally leads to less control over your strokes which of course translates to less than desirable results in your finished piece of work.
Given the risk and very little reward for animal fibers, be sure to use a synthetic brush.
All the ones we covered in this article are synthetic and should perform even better than the finest animal hair brushes on the market.
Storing Your Brushes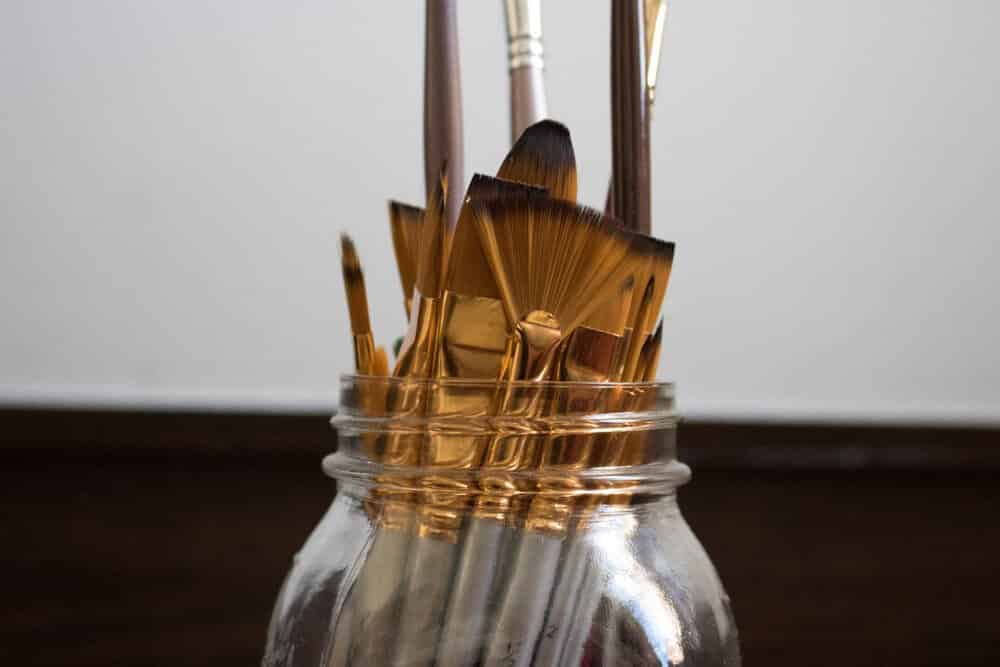 Once you receive your brushes and have started painting with them, it's important that you store them properly to ensure that they survive in your studio for years down the road.
So, when you aren't using them, store them upside down (tip facing up – like the picture above) in either a brush stand or glass jar between use.
This will help to ensure that you don't have any bent bristles the next time you go to paint.
Choosing The Best Brushes For Acrylic Painting
Coming up with our recommendation for the best brushes for acrylic painting took a combination of research, reviewing artist feedback, and ultimately see the results in action.
While we simply don't have the resources to review every single acrylic paint brush on the market, if you feel one should be considered, please let us know.
We feel confident that any one of the above brushes will not only translate to great results in your artwork, but will ultimately make you a happy little artist!