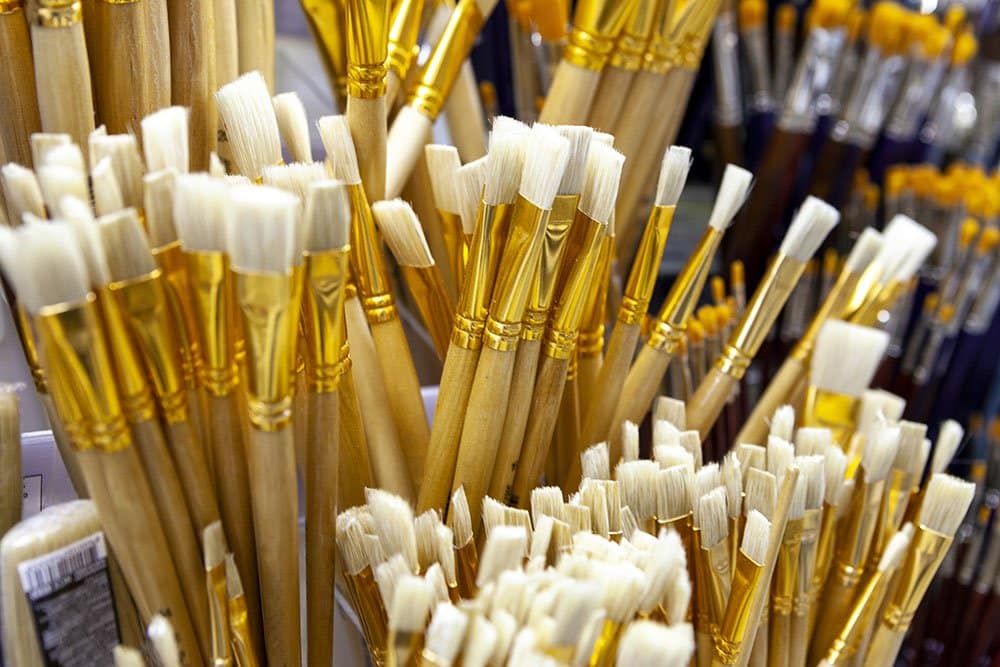 The 10 Best Acrylic Paint Brushes Reviewed
This Article May Contain Affiliate Links
Whether you are just getting started in the world of acrylics or have a firm control over the medium, one of the most important components when making artwork will be the brush itself.
A quality paint brush that has been designed for acrylics will not only hold onto the paint incredibly well, but will also deliver crisp and clean lines on the surface.
Whether you are painting with acrylics on paper, or even a top-rated stretched canvas made for acrylics, your paint brush shouldn't have fibers falling out and ultimately making your artwork look sloppy.
While any of the acrylic paint brushes listed below will deliver great results for both student and professional artists alike, we found that the following paint brushes were among the best performers in their class:
The 10 Best Acrylic Paint Brushes Reviewed
Selecting The Right Size Acrylic Brush
When deciding on the right acrylic paint brush to buy, you will notice that they come in a wide variety of sizes.
Here's an example of the Winsor & Newton Rounded Monarch brush:

So, how do you decide which one to get?
Well the general rule of thumb is as follows:
Small sizes (typically less than #6): Detailed work
Mid-range (typically between #6 and #14): Underpainting & color blocks
Large sizes (typically greater than #14): Initial wash
This is highly dependent on the subject and type of piece you are creating.
But here's the tricky part:
Should you go with a round brush from da Vinci at size #10 or a Winsor & Newton round brush also at a size #10 – chances are that they will not be the exact same.
So, if you are a professional grade artist, you will need to review the manufacturers website and get the product details about the length, diameter, and width of the brush you plan on buying and compare it with one of your own.
Of course, most retailers like Blick, Jerry's Artarama, etc. know this and are understanding with their return policy should the unused brush you ordered not meet your expectations.
Various Acrylic Paint Brush Types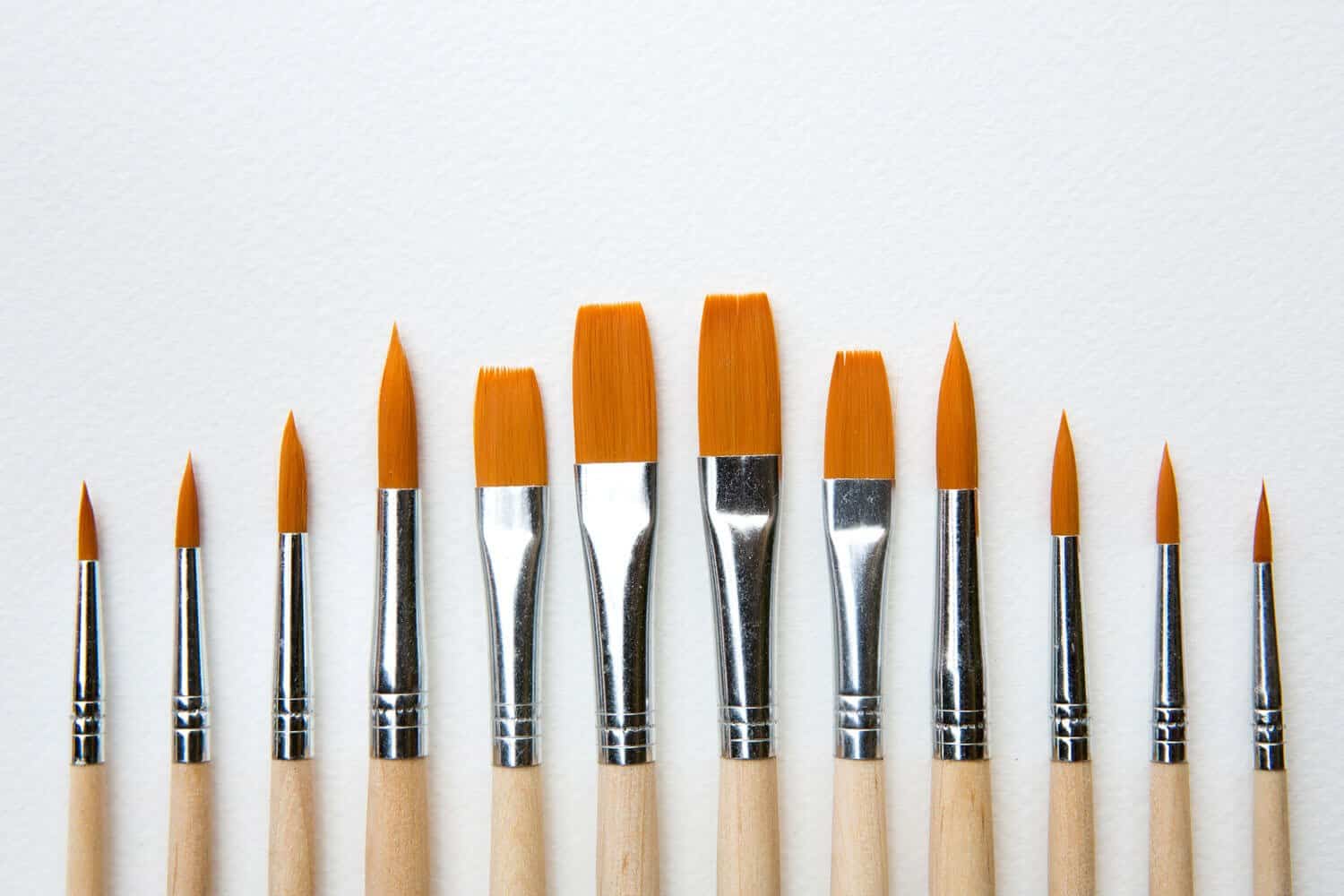 As you may have noticed in many of the reviews, brushes come in several different types including the following:
If you are just painting with acrylics for the very first time, we would recommend that you go with round, flat, filbert (in that order).
Those three brushes are incredibly versatile and can be used in the following ways:
Round: Perfect for patterns, detail, and varying stroke weight.
Flat: Paint perfect lines and edges, also used for straight shapes in your artwork.
Filbert: A mix between a round and flat, is great for blending.
Now if you are trying to push your creative bounds, we would recommend that you check out our write-up of the many different types of paintbrushes for artists.
There we break out even more of the obscure options available including hake, sash, dagger, and fan.
Caring & Maintaining Your Acrylic Paint Brushes
Acrylic paint can easily destroy a brush if it doesn't get cared for and maintained properly.
Here are a few key steps to follow to ensure that you not only get the best performance from your new brushes, but also so you don't find yourself wasting money:
How To Clean Your Acrylic Brushes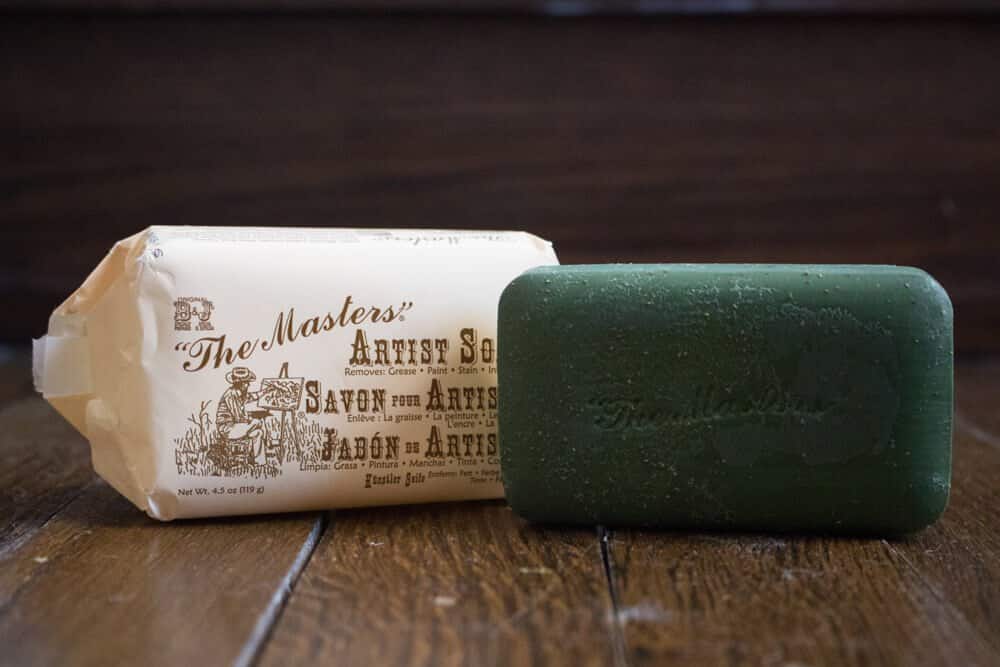 When it comes to painting with acrylic, it's important that you never let the paint rest on the bristles for an extended period.
Given the naturally fast drying nature of acrylics, you want to employ the double bath system when cleaning the brushes.
The double bath system is simply cleaning your brushes in two jars of water between use.
The initial jar is used to take off most of the pigment and acrylic polymer emulsion while the second jar is used as a deeper rinse.
This will help to ensure that the synthetic bristles on your brush don't stick together and also to prevent the acrylic paint from gunking up in the ferrule ultimately making for poorer performance.
You should also wash your brushes with warm soapy water or a brush cleaner once you are done painting for the day.
Expensive Natural Fibers Aren't Well Suited For Acrylics
For those coming to acrylics for the very first time, you should never use animal hair fibers with this medium.
Primarily for two reasons:
First, even a little bit of dried acrylic paint can cause the bristles to snap or split if you aren't careful – which will completely ruin your brush.
Secondly, given that acrylic brushes are cleaned with water while you use them, the hair won't have the same springiness as is the case with a synthetic fiber.
This generally leads to less control over your strokes which of course translates to less than desirable results in your finished piece of work.
Given the risk and very little reward for animal fibers, be sure to use a synthetic brush.
All the ones we covered in this article are synthetic and should perform even better than the finest animal hair brushes on the market.
Storing Your Brushes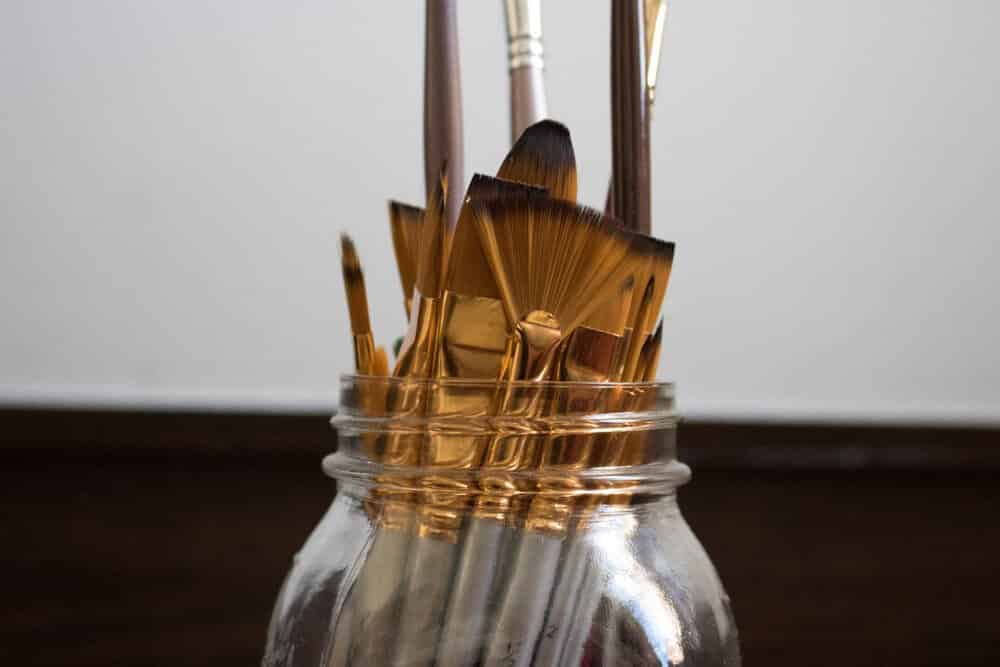 Once you receive your brushes and have started painting with them, it's important that you store them properly to ensure that they survive in your studio for years down the road.
So, when you aren't using them, store them upside down (tip facing up – like the picture above) in either a brush stand or glass jar between use.
This will help to ensure that you don't have any bent bristles the next time you go to paint.
Choosing The Best Brushes For Acrylic Painting
Coming up with our recommendation for the best brushes for acrylic painting took a combination of research, reviewing artist feedback, and ultimately see the results in action.
While we simply don't have the resources to review every single acrylic paint brush on the market, if you feel one should be considered, please let us know.
We feel confident that any one of the above brushes will not only translate to great results in your artwork, but will ultimately make you a happy little artist!