When it comes to painting your next piece of artwork, there is no better surface than canvas. With a fine balance of both texture and its receptivity to acrylic, it's no wonder that this surface has been preferred by artists over the past several centuries.
But in order to get both great archival properties along with a reliable fabric that will showcase your artwork in the best possible light, then you need to go with a quality canvas.
The 10 Best Canvases For Acrylic Reviewed
1. Darice Stretched Canvas
Between both student and artist grade canvases, you will find budget friendly brands like Darice.
Offering up trademark aesthetics typically found in the high-end surfaces like that of the Masterpiece Artist Canvases we reviewed, these Darice canvas surfaces are perfect for artists looking for a great surface to work with their acrylics.
One noteworthy feature of this canvas is the double-primed acrylic coating.
Giving a much smoother and toothier surface, this gives your acrylics and brushes much more control than they would otherwise have with some of the more bargain brands.
Secondly, wood stretcher keys are included with the canvas (again, typically not found at this price), that allow you to further tighten the canvas to preference.
As a brand that has been trusted by artists since 1954, you will love this surface for acrylic painting.
Pros
Double primed
Stretcher keys included
11 sizes available
Variety quantity sizes available
Moderately priced
Cons
Some quality issues mentioned about staple tearing
2. Blick Premiere Canvas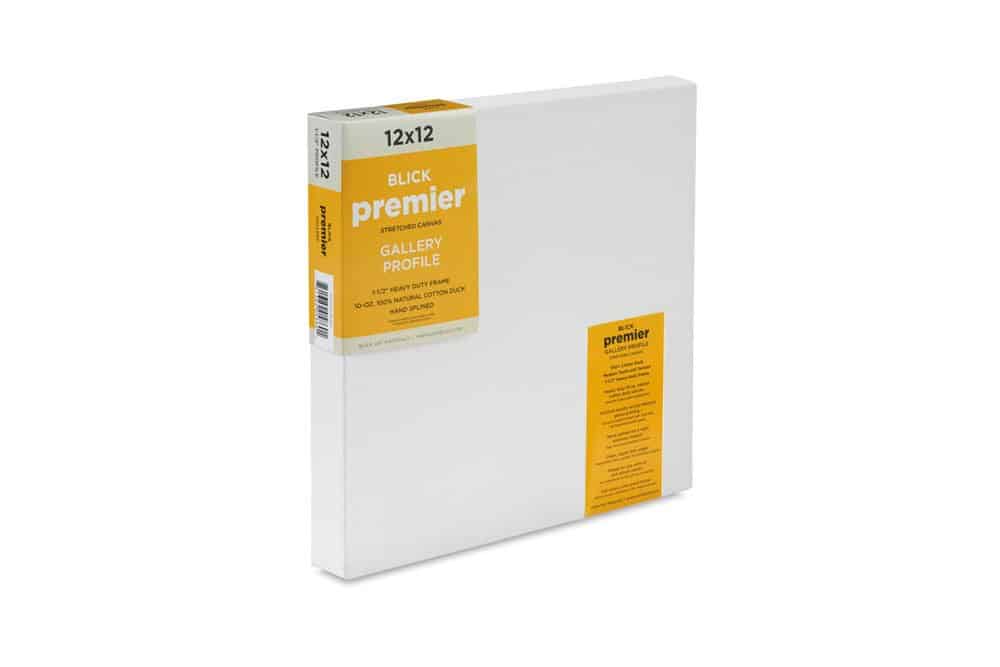 A leader in the world of online art stores, Blick Art Materials not only sells various art supplies, but also makes them as well.
Now normally most artists would pass over the store brand and go with a product from a more established name, however, doing so with this stretched canvas from Blick would be a mistake.
The Blick Premiere Cotton Canvas not only is a more affordable stretched canvas compared to others featured on our list, but it is a professional artist grade surface as well.
Constructed from hand woven fabric, it's an uncompromising surface that will make your acrylic paint and brush work really shine.
Featuring three different depths (.875", 1.5", and 2.375") – you have ultimate in selection for display purposes.
The Blick Premiere canvases have also been triple primed for ultimate in surface tooth.
Available both individually and as part of a multi-pack, these canvases are great for artists who demand more from their supplies.
Pros
Triple primed
3 depth options
India sourced cotton
Sharp and straight corners
Handmade
Cons
3. Masterpiece Artist Canvas – Monet Pro
Once you paint with your acrylics on an artist grade canvas, you will likely never want to go back.
This Masterpiece Artist Canvas (part of their Monet Pro line) has a uniform 100% cotton woven canvas that is coupled with a double primed coating to provide a portrait smooth surface.
With a tooth that is extremely receptive towards both your acrylic and brush, you have total and complete control over the movement of the medium on the surface.
While the surface is uncompromising, the structure of this stretched canvas is equally impressive.
Built with archival qualities in mind, you have a perfectly cornered piece of canvas that won't slack over time.
In addition, the wood itself is sustainably sourced to prevent long term environmental impacts.
Overall, if you have a portrait commissioned or simply are giving your artwork as a gift – this is a quality canvas that you will be extremely happy to paint on.
Pros
Uncompromising quality
Sustainably sourced wood
100% cotton
Double primed
Cons
4. Arteza Stretched White Canvas
There's perhaps no bigger name in the stretched canvas world serving both the hobbyist and student artist than Arteza.
Maker of all things art supply related, their stretched canvas is an extremely affordable pick when purchased in bulk.
Coming in a variety of dimensions that can suit just about anyone's needs, you can find the perfect one to display your latest work on.
When it comes quality, it's about what you would expect from Arteza. The canvas is made from 100% cotton, primed with acrylic gesso (that's also acid-free), and offers up a 100% refund if you are disappointed.
When using your acrylics on this surface, you will not only have ample tooth and texture, but the stretched cotton canvas will also provide a nice light spring for your brush.
Pros
100% cotton
Customer satisfaction guarantee
Primed with gesso
Perfect for acrylics
Variety of sizes available
Affordable
Cons
May be a bit too rough of texture for some
5. Daveliou Stretched Canvas
Artist grade quality stretched canvas by Daveliou is a perfect canvas for oil painting – especially for intermediate level artists.
With a 3-ply canvas back-stapled to a kiln dried wooden frame (to prevent excess slack), it's a great surface to showcase your artistic abilities.
Using their own laboratory grade primer, the surface has an ample tooth that will allow your quality oil paint brushes to latch onto the surface with absolute ease.
In addition to have a great base primer, this canvas is naturally water resistant – making it perfect for those oil painters looking to paint en plein air.
Backed by a 1 year guarantee (pretty much unheard of in the stretched canvas world), this surface is a perfect upgrade if you are coming from a history of painting on panels and looking for something more from your surface.
6. Conda Artist Stretched Canvas
These Conda stretched canvases are absolutely perfect for beginners looking to try out their acrylics on a new surface without breaking the bank.
At just over $1.50 per surface – it really doesn't get much cheaper than this in the stretched canvas market.
But the price isn't the most impressive part about these stretched canvases. These canvases have also been triple primed (yes you read that right) in order to give you a much greater tooth for your brush to work with.
Like the Darice Stretched Canvas, Conda also includes wooden wedges to further adjust the tension of the surface.
While some artists thought that the texture of the canvas surface was a bit too rough and made it difficult to put down straight lines – you can still add your own layer of gesso prior to painting in order to smooth out the surface.
Despite some quality issues reported (largely around shipping mishandling), these are perfect for artists of all ages getting into acrylic painting for the very first time.
Pros
Perfect for kids / absolute beginners
Triple primed
Cotton canvas
Cons
7. US Art Supply Black Stretched Canvas
U.S. Art Supply is mentioned many times on the Createlet site simply due to their wide array of art supplies they make particularly for student level artists – and this black stretched canvas is no exception.
Dyed to a black fabric – this stretched canvas is perfect for creating starry landscapes or deep space galactic scenes.
Also triple-primed like the Conda stretched canvases, you won't have to worry about the canvas surface sucking up all your acrylic paint as you work on your next piece of artwork.
Another great aspect to these stretched canvases is that the wood has been sustainably sourced to reduce environmental impact when they were manufactured.
Pros
Perfect for night time scenes
Triple primed
Sustainably sourced wood
Inexpensive
Cons
May develop some slack with time
8. Art Alternatives Stretched Canvas
This primed, unbleached stretched canvas by Art Alternatives is the perfect surface for portrait work when prepped properly.
While not triple primed like some of the others on our list, when applying a base layer of gesso – you can develop an incredibly smooth surface that will help bring out your best artistic abilities.
Available in several size options, you should have no problem finding the perfect pack to use in your studio.
Given that these are a low-cost surface, it makes them perfect for budding artists of all ages to use.
Lastly, the depth of the canvas is at .5" – making them perfect to hang on your wall once your piece is completed.
Pros
Extremely affordable multi-pack
When primed yourself – great smooth surface
Unbleached cotton for natural look
Perfect for beginners
Cons
Some inconsistency in quality reported
Economy fabric
9. Creative Mark – Stretched Canvas
Featuring a 1.5" or 2.5" depth – this intermediate level stretched canvas is a perfect for displaying your acrylic artwork without a frame.
Not only does the deep profile create an additional dimension to your final piece, but it also will look great with the perfectly folded corners that have no excess slack in the canvas as you normally see in many of the student/beginner level brands.
Like most stretched canvases, Creative Mark canvases are also primed (triple).
Of course, for those more experienced artists out there looking for greater control on the surface, be sure to add a layer or two of your own gesso for best results.
Overall it has trademark craftsmanship that should withstand the test of time.
Pros
Deep profile
Looks great frameless
Triple primed
Cons
10. Masterpiece Artist Canvas – Elite
After the Monet Pro we also covered from Masterpiece Artist Canvas, next up you have the Elite line.
At nearly $80 for a single canvas, this is what the well-funded high end artists use when they are looking for a surface that is uncompromising.
From the perfect corners to the seamless construction of the stretcher bars, artists who have been relying on these canvases for their acrylics have been happy with the results.
The Belgian Linen fiber used in the construction of the canvas create a sturdy fabric that provides a taut surface for your brush and acrylic to get to work.
Pros
Meticulously constructed
Belgian Linen surface
Taut surface
Perfect corners
Professional artist grade
Cons
Always Buy In Bulk When Possible
If you are taking your artwork semi-seriously, then we heavily recommend that you purchase your stretch canvases in bulk.
Not only will this save you a substantial amount of money over the long run – but you will also learn the nuances of a particular surface and help get further control over your brushwork.
Secondly, when buying in bulk, make sure the canvases are wrapped individually (many of the brands we covered in this article did this).
This helps to reduce the occurrence of tearing and scuffs on the surface while in storage.
Primed Canvas For Tooth And Absorption
While canvases can come with up to three coats of primer, we still strongly suggest that you add an additional coating of primer prior to painting.
A coating of gesso helps to build up the tooth on the surface that is typically going to be much better than what the manufacturer and applied during production.
Secondly, a coating or two of your own gesso can be sanded to a much smoother surface.
Why is this important?
If you tried painting on primed canvases before and found that the texture to be a bit too rough or that the canvas would simply suck up all the paint from your brush making detailed straight lines really tough – a primed and sanded surface will fix this common problem.
Choosing The Best Canvas For Acrylic Painting
We spent an inordinate amount of time researching and reviewing the best canvases for acrylic painting.
As you have read, canvases can be starkly different from one another. Whether it's with the wood used in the construction of the frame, the amount of times primed, quality of fabric in the surface itself, all of this amounts to a surface that will showcase your best artwork.
Whether you are a student, intermediate, or even professional level artist – we were happy to give you a few suggestions on surfaces that will work well with your next acrylic painting.