When using acrylics, the available surfaces are nearly limitless for this versatile medium. But one of the most favored surfaces among both student and professional artists alike will be paper.
Unlike standard copier paper, the paper that has been made for acrylic paint will be much thicker, resist yellowing, and have a great texture (and tooth) for your brush and paint to latch on to.
Comparing The Best Acrylic Paper
Here's a comparison of all the different paper types we looked at when putting together this guide:
The 7 Best Acrylic Paper Pads Reviewed
1. Canson Montval Acrylic Paper
One of the best artist grade paper makers currently on the market today is Canson.
Maker of a wide lineup of surfaces that covers just about any medium imaginable, Canson provides the perfect acrylic paper pad for professional level artists in the Montval line.
You can find this paper available in 3 different sizes:
9″ x 12″
12″ x 16″
16″ x 20″
While not as wide of a selection as the Strathmore 400 series (they offer 5 different sizes), for an artist grade paper, it's acceptable.
Size aside, artists will love the quality and texture of the individual sheets themselves.
At a hefty 185 lb (400 g/m2), it won't buckle under several layers of paint.
In addition to the impressive backbone, the paper has been pre-primed (no gesso needed here), and has a toothy texture that will latch onto even the thinnest of acrylic paint with ease.
If you are looking for a more portable option than a stretched canvas and want uncompromising quality, then it doesn't get any better than the Canson Montval acrylic paper.
Be aware that the Canson Montval does only come with 10 sheets per pad – therefore you may want to consider purchasing a few extra pads at checkout so you won't have to restock immediately.
Pros
Size options good compared to others
Paper weight supports layered work
Acid-free
Resists warping
Cons
Limited number of sheets per pad
Expensive
2. Arteza Acrylic Pad
Between extremely affordable brands like U.S. Art Supply and artist grade papers from Canson and Strathmore, you find companies like Arteza making their mark.
In particular, their Acrylic Pad is a perfect product that shares many of the same qualities found in both ends of the spectrum (in a good way).
First the most important part, the paper weight.
At 246lb (400 g/m2) it's got enough weight to hold just about anything you can throw at it. So, if you are just starting out with acrylics and have no idea what you are doing (and that is completely ok!) – the weight of this paper pad by Arteza will not falter.
Secondly, the binding:
While the spiral binding found the Grumbacher and U.S. Art Supply pads can be favored for organization purposes, this pad features a glue binding.
This makes the paper easily torn away so you don't have to worry about cutting sheets with scissors.
Like the artist grade Strathmore 400 acrylic paper pad, the Arteza paper has a linen finish which makes for a finer tooth while also exhibiting some light absorption qualities.
Lastly, this Acrylic Paper Pad by Arteza is acid-free making it great for archival purposes.
Pros
Perfect for students and intermediates
Among the heaviest weighted acrylic paper
Acid-free
Glue bound
Linen finish
Cons
One size available
Pricier for a student grade paper
3. Strathmore 400 Series Acrylic Pad
Competing for one of the best artist grade acrylic papers is the Strathmore 400.
It simply has all the right features that make it a highly-touted product favored by professional artists everywhere.
First, dimensions:
The Strathmore 400 offers the most size options of any companies featured on our list (5 total):
6″ x 6″
9″ x 12″
12″ x 12″
12″ x 18″
18″ x 24″
This not only makes it incredibly versatile for the scale of your acrylic paintings, but it also will give you several price points to go between as well (ranging between $3 – $27).
Beyond the size options, the Strathmore 400 line also has a heavy weight of 246 lb (400 g/m2) – making it a beefier pick compared to the comparable Canson Montval. This will easily resist buckling when several layers of acrylic are added.
While the scale of this paper is second to none, another feature that really separates this from most on our list is the linen fiber used in making the pad.
Linen is a naturally long staple fiber that is both incredibly strong, but smooth as well.
This will make the paper resistant to tearing – perfect for archival reasons.
For those artists who demand a bit more tooth from their acrylic paper pads, you can load up a quality gesso on the sheet to personal preference.
Pros
Strong linen finish
Acid free
Most size options available
Perfect for all levels
Heavy backbone supports several layers
Cons
4. Canson XL Acrylic Paper Pad
While the Canson Montval is perfect for professional grade artists, at a fraction of the price you can try out their student grade offering, the Canson XL Acrylic Paper Pad.
Made for those artists still exploring the wide world of acrylics yet prefer to still paint on a great surface – this Canson XL paper fits perfectly.
In the 24-sheet pad, you still find trademark quality that Canson delivers – an acid-free paper (not typically found in student grade papers), that will not yellow over time.
So, if you really stick with painting for several decades, you can look back on some of your first pieces and see them in nearly the same quality as you originally made them.
Secondly, the paper weight is good – but not great.
Not as heavy as some of the artist grade papers, this pad comes in at 136 lb (290 g/m2).
The Canson XL still has plenty of weight (think of it like cardstock), and can still hold a few layers of acrylic paint with relative ease.
In addition to the weight, the surface of the Canson XL has a canvas like weave to it – making it familiar to many who have been practicing on a formal stretched canvas or even canvas panel.
Size options available on this pad are a bit limited – 2 total (9″ x 12″ & 11″x 14″) – so for those looking for smaller scales, you will need to cut to size.
Overall, this is a great pad of paper, perfect for those artists looking to practice on a good surface.
Pros
Cheap
Good quality for student grade
Acid free
24 sheets included
Cons
2 size options
Lighter weight compared to others
5. U.S. Art Supply Acrylic Painting Paper
A general art supply company that makes just about anything a student-level artist could possibly want including easels, airbrushes, artist sets, and more – U.S. Art Supply serves those budding artists looking for supplies at an affordable price.
When looking at all the acrylic paper pads both on our list and generally in the marketplace, you will seldom see as many with a 246 lb weight (400 g/m2) – that's about 50% heavier than the Canson Montval for reference.
With such a heavy-weighted paper, this pad by U.S. Art Supply will resist warping when several layers are applied or when heavy handed beginners are just starting out.
Given that this comes in a spiral binding, you can rest it up on your easel and not worry about the paper shifting around as you paint (of course bleeding is also not a concern given the thick cut of this paper).
The spiral binding on this pad can be both a pro and con depending on your preference.
While the other pads have a glue binding that keeps it to a slimmer profile, the spiral is nice if you want to keep all your artwork contained within one pad.
In our research, we did find that some artists found inconsistent surface textures when using this pad. Given that this is a student grade product, it's not a deal breaker for most – but worth mentioning.
Pros
Extremely heavy weighted paper
Acid free
Spiral bound
Affordable student grade pick
Cons
Some quality concerns on surface quality
6. Strathmore 300 Series Canvas Paper
Somewhere between a stretched canvas surface and a paper pad you will find the Strathmore Canvas Paper.
Exhibiting that familiar woven texture of traditional canvas, this pad is considered by Strathmore to be a paper surface (ultimately making it qualified to be included on our list).
This pad is perfect for those artists who know their way around the studio but aren't quite ready both technically and for budget reasons to buy artist grade papers.
Perfect for practicing techniques with acrylic paint, this pad is an affordable option for those artists on a strict budget.
While this canvas paper pad by Strathmore is acid free (so it shouldn't yellow over time), it still shouldn't be intended for long term archival use (even Strathmore markets this as a pad for practice).
The weight of the paper is at a rather light 115 lb (187 g/m2) – so you will need to take sheets off individually and mount them onto a separate board or simply keep your artwork to no more than a few layers in order to prevent bleeding.
Pros
Perfect for practicing techniques
Intermediate level artists will love
Woven canvas texture is spot on
Inexpensive
Cons
Not archival quality
Light paper weight requires separate mount
7. Grumbacher Acrylic Pads
Primarily known for their wide variety of mediums, Grumbacher is a trusted brand that has been serving artists around the world for over 100 years.
This NYC founded company (now a part of Chartpak), has a served up a truly unique acrylic paper pad.
While the spiral binding is usually a love it or hate it feature in acrylic paper pads, this one is a bit different…
With pull-away sheets, you can easily take out your paper and paint on it while mounted or on a flat surface and return it back to your spiral binding once it has been dried: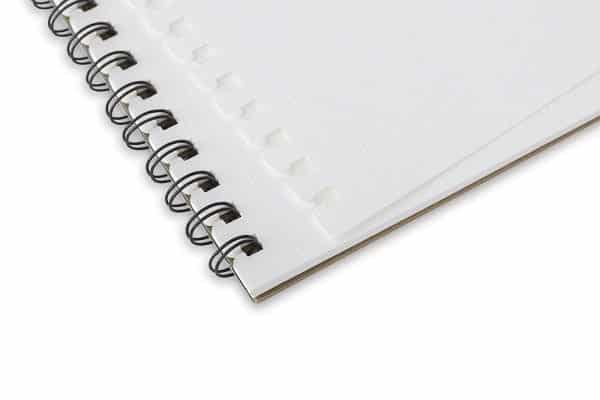 As you can see from the image above, this paper also features a micro perforation – perfect for artists who want a clean and straight edge should you want to display your artwork.
Compared to others, the weight of this paper is fairly light – 140 lb (300 g/m2). Great for light sketch work or 2 (maybe 3) layers of acrylic – it's got backbone, but not nearly as much that artists may prefer.
To prevent warping and bleeding, like watercolors, we would recommend mounting and stretching this paper to a board before painting.
This acrylic pad comes in two different sizes:
Overall, it's a great pick for the artists who like to do field sketches and keep their work organized.
Pros
Acid free
Spiral bound
Micro perforations
Easily portable
2 size options
Affordable
Cons
Lighter weight compared to others
Why Acrylic Paper Is Perfect For Students (And Professionals Too!)
One of the huge benefits to acrylic paint is that it's both fast drying and sticks to just about anything (paper included)!
While professional (artist) grade papers are readily available from larger companies like Strathmore and Canson – the majority of the acrylic paper market is geared towards the student level artists.
Acrylic paper pads are a terrific and affordable way for any artist of any budget to both paint and practice their techniques.
But simple quick studies aside, many of the best acrylic paper pads will be completely free of any acid.
This ensures that the paper will never yellow or become brittle over time. So even if you do end up painting a commissioned piece on a sheet of paper – you never should worry about long term degradation.
How Acrylic Paper Pads Differ From Other Paper Surfaces
Now the biggest question that was evident in search for the best acrylic paper pads was their difference compared to other surfaces – most notably watercolor paper.
While we don't want to go too far beyond the scope of today's article – the biggest difference between acrylic paper and most other paper is three-fold:
It's non-porous (won't absorb watercolors easily)
Oftentimes has a heavier weight compared to other surfaces
Completely different texture
So, for those artists who like to go between several different mediums, know that acrylic paper is structured differently and isn't considered to be a formal mixed media surface.
Beyond the basic properties of acrylic paper pads, artists also like to push the boundaries to get more out of their artwork.
The most common techniques that artists loved to do with their acrylic paper pads (particularly those artists using the Canson Montval and Strathmore 400 series papers) is applying a primer (i.e. Gesso) before they started painting in order to build a terrific tooth and in some cases, apply a varnish to their finished piece.
It's through these various supplies that artists were able to really make things "pop" off the paper while also giving them the familiar texture and tooth that they receive when painting on more formal surfaces like stretched linen or canvas.
Choosing The Best Paper For Acrylic Paint
There's a lot that went into our research in finding you the best paper for acrylic paint.
Whether it was reading through artist's interactions with the surfaces in product reviews, seeing recommendations in popular artist hangout places like WetCanvas or /r/learnart – and of course viewing finished pieces, we are confident that any one of the above surfaces should suit your needs.
But the biggest determination in you getting better as an artist isn't just the piece of paper you are painting on, but through repeated practicing – and there is no better way to achieve your artistic goals that with any of the acrylic paper pads featured in today's article.