Having the right type of plein air easel can make the difference between enjoying painting outdoors, and well, keeping you contained with the four walls of your studio.
That's why we wanted to do the research for you in this complete roundup of the best easels to use when going to paint outdoors.
Based on our review, we found that the Jullian Paris Half Box was the best traditional French easel for all mediums, while the much more modern (and lightweight) En Plein Air Pro aluminum easel perfect for professionals.
Additionally, we also reviewed a variety of lesser used field easels and pochade boxes.
Summary Of All The Plein Air Easels We Reviewed
Reviews of The Best Plein Air Easels
1. Jullian Paris Half Box French Easel
A respected brand that has been in the art supply world for over 70 years is Jullian Paris from France.
Jullian Paris simply understands the artist and all the necessarily aspects to painting outdoors successfully. Whether it's their sturdy canvas carriers, smaller pochade boxes, or their large variety of easels, you are sure to find the essential supplies to make the plein air painting experience a pleasant one.
So, why do artist love this particular French easel?
First off, the slim profile.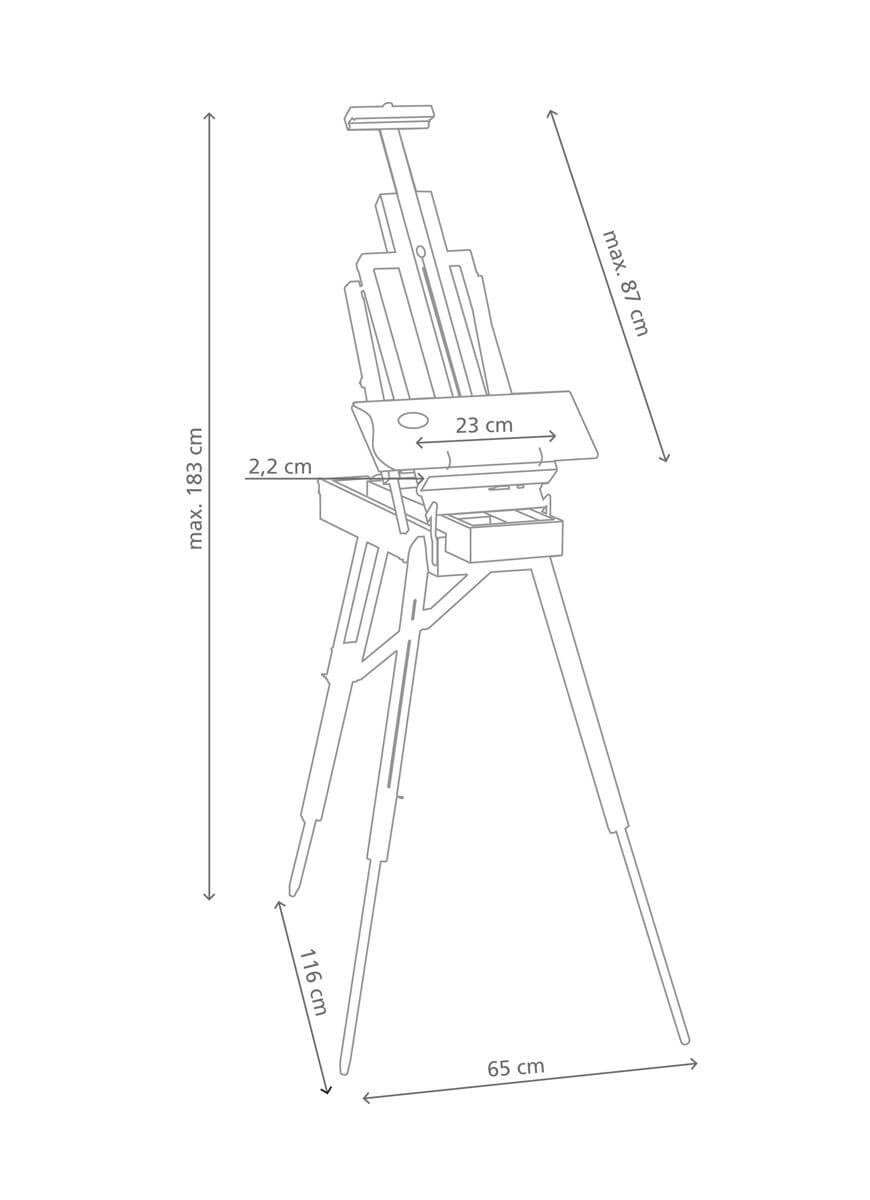 With a total footprint (when folded) of only 23″ x 11.5″ x 6.5″, you can easily sling this easel over your shoulder and head out to your spot without having to worry about it dropping supplies or having it randomly open.
Whether you are using acrylics, oils, watercolors, or any other mediums, you will find that the drawer within the easel will provide more than enough space to store the essentials.
This includes additional storage for solvents (i.e. odorless mineral spirits or turpentine), mediums like Galkyd, Liquin, or linseed oil, and even room for your palette knives.
Furthermore, this half box easel comes packed with a fairly large palette of 15.5" x 11.5" (that's a 178" square inches of space!). This should be more than enough room to get you through the day of mixing colors and fully capture the essence of the landscape.
But it's the details that really set this easel apart and the reason why artists seek out Jullian Paris easels by name.
Included with the easel is an artist's cloth that can attach onto the front of the easel: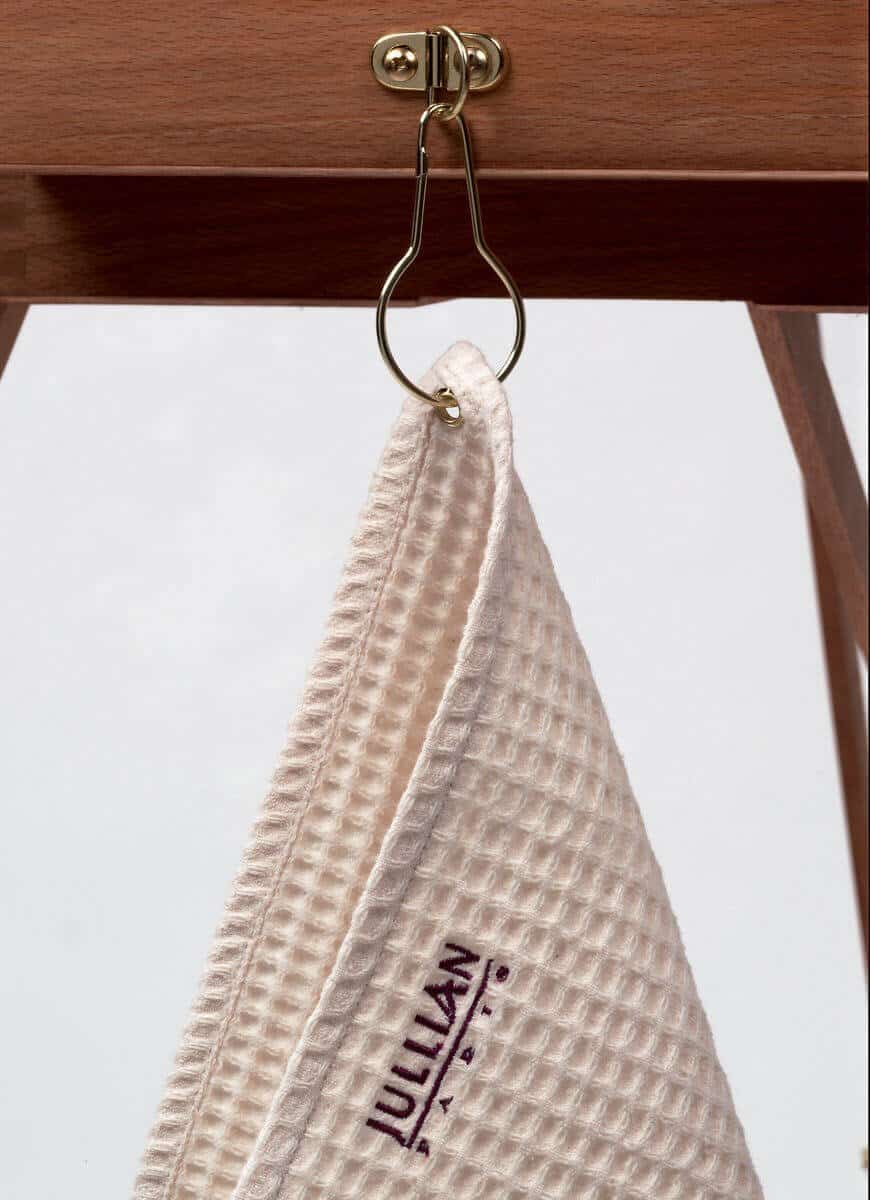 This rugged cloth will be perfect for ensuring that you keep your hands clean while painting and that no pigment transfers to the canvas when you are working on the details.
Secondly, the adjustment nobs: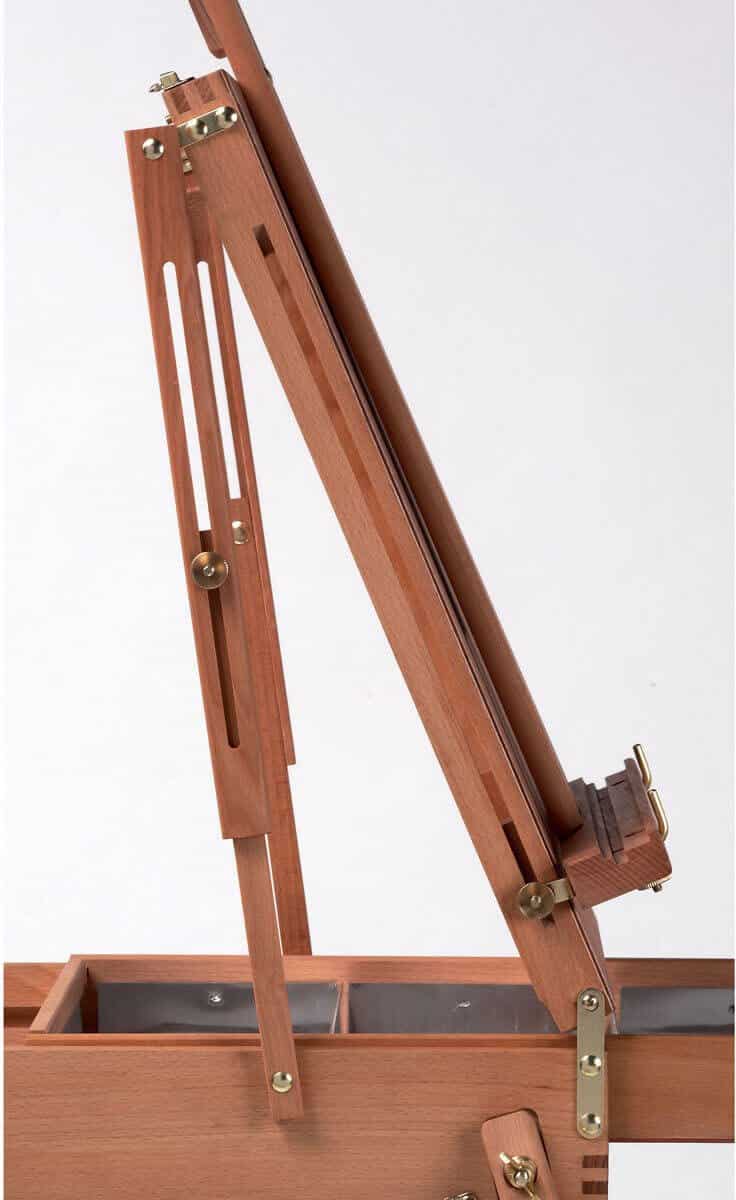 On either side of the easel you can adjust the high of the clamps to place your canvas along with the angle of which you are painting. This allows for no compromise when painting outdoors – so you can focus on your work rather than the easel itself.
For a French easel, it really doesn't get any better than this.
Not only does it have ample heft to ensure it doesn't move when the winds pickup, but the birchwood frame will be able to withstand the raw elements.
Pros
The quintessential French easel
Compact design
Fairly priced
Plenty of adjustments for comfort
Strap for easy carrying on shoulder
Spacious drawer storage
Cons
A bit heavy
Drawer compartments not customizable
2. En Plein Air Pro For Oil & Acrylic
The En Plein Air Pro is without a doubt the best professional plein air easel on the market today.
While the Jullian Paris French easel was designed for the artist in mind of the 1800s, the En Plein Air Pro has been designed for the artist of today.
There is a lot to really love about this easel.
First and foremost, the weight.
Totaling up at 3.3lbs, you can go to the most obscure locations imaginable and not be weighed down by a heavy wooden box.
The lightweight aluminum frame will allow you to set up your studio immediately rather than having to take a 10-minute rest from fatigue.
But even nicer is that instead of a shoulder strap that might run down your arm when walking, the En Plein Air Pro comes with its very own custom made backpack.
This not only makes for easier organization, but having the weight evenly distributed on your back as opposed to a single arm makes the traveling process much more comfortable.
As great as the lightweight design is, it gets even better with the layout.
Instead of having a drawer like most French easels, this easel lays everything out in front of you.
For the Oil & Acrylic easel (they also offer an easel for watercolorists), you have two cup holders to place your solvents and mediums.
This will help to prevent any spillage which is not only harmful to the environment, but also prevents excess costs by way of loss product to you.
Another feature not found in most plein air easels are brush holders.
Usually needed to be purchase separately, this easel comes with 14 holders in total.
This not only gives you easy access to your brushes, but will prevent the bristles from being damaged if stored upside down in a jar.
Lastly, and perhaps the best part of this easel is the palette.
Rather than having to hold your own palette while painting, which may become tiring, this easel offers an expansive 9" x 18.5" mixing area.
Allowing you to easily find the right color of the subject you are painting without having to worry about running out of room. The flat design of the palette also allows you to add solvents or mediums without worrying of it running either off the side of the palette or into the other mixes.
However, there are a few catches with this easel:
First and foremost, it will be the price. Of all the plein air easels we reviewed, this one is 3x the average cost, putting it out of reach for some.
However, as an professional artist, the efficiency and design you get out of this easel is second to none.
Last but not least, storage.
Other than the backpack that comes included, there is no onboard storage for your supplies. So, you may find yourself reaching into the backpack to refill the paint or sift through your palette knives.
While likely not a deal breaker for some, it's at least worth mentioning.
Pros
Lightweight design
Large palette
Cup holders for solvents and mediums
Upright brush storage
High end Slick U8000 tripod
Cons
Expensive
No drawers for supplies
3. Sienna All in One Pochade Box
The Sienna Pochade box is a perfect alternative to the full French easels mentioned above but at a fraction of the size.
Akin to a briefcase, the compact form factor will allow you to set up a studio anywhere you go.
In a truly portable nature that takes up just over a single square foot of space it won't be over bearing when compared to some of the other larger boxes on the market.
But what we really loved about this pochade box from Sienna is its versatility. With a universal tripod mount on the bottom of the box, you can affix a tripod and convert this into a full French style easel.
When it comes to storage, the Sienna is second to none.
With a roomy interior you can store full sized bottles of your solvents, paint tubes, palette knives and more…
…but its what's on the underside of the box that you will really love:
Next to the tripod mount, you have two slots to store canvas panels.
So once you are done painting, you can slide them in and not worry about the wet paint getting accidentally bumped while in transport.
The slide storage area allows for up to two 9" x 12" panels.
Overall, if you are looking for a bit more versatility when it comes to painting en plein air and don't need a full easel, then this option by Sienna is simply one of the best alternatives available.
Pros
Canvas panel holder for transportation
Large storage compartment
Includes palette
Universal tripod mount
Beautiful design
Cons
Expensive
Max canvas size of 17"
4. US Art Supply French Easel
If Jullian Paris is one of the most popular French brands when it comes to easels, on the other side of the Atlantic you will find US Art Supply's easels to be equally popular.
Coming in at a slightly lower price tag than its French counterpart, US Art Supply still packs all the essentials when it comes to a French easel.
Offering up a variety of wood construction types:
Beechwood
Black Cherry
Walnut
You can find the perfect finish that complements your personal design aesthetics and surroundings.
One part of this easel that artists loved though was the metal lined drawer: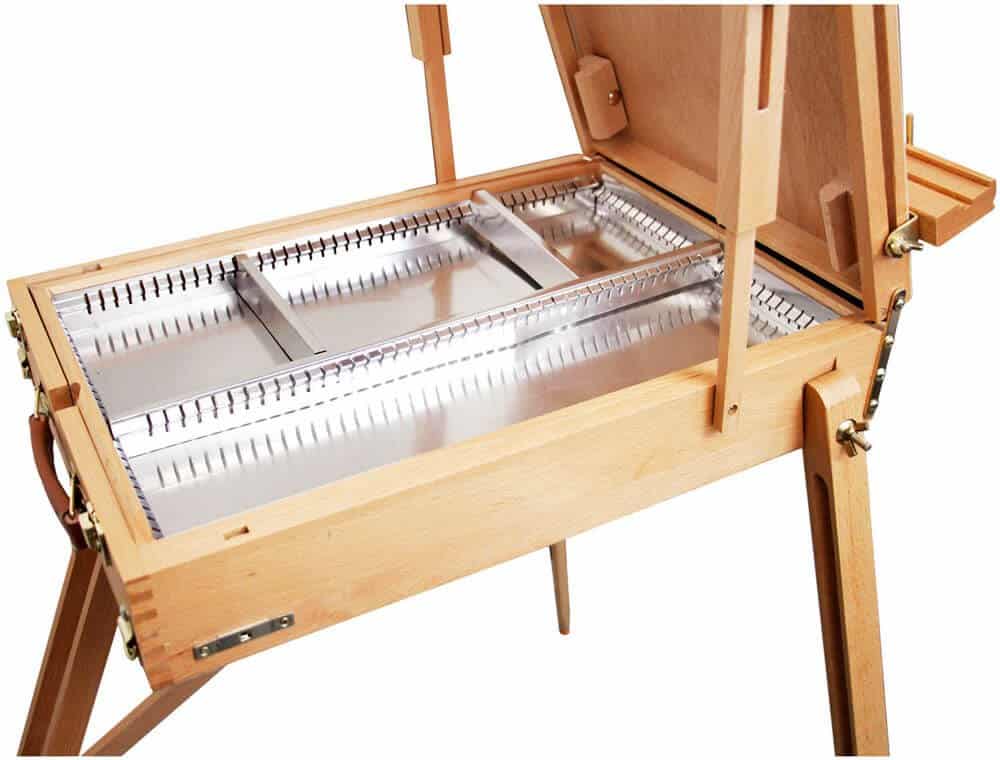 With the metal barriers, you are able to segregate your supplies to conform to your needs, not the easel.
This will not only make you more efficient as a painter, but organized as well.
Efficiency becomes a key aspect when painting outdoors simply due to the fact that weather can change in a moment's notice and you only have a limited amount of time before the sun sets or it completely changes how a landscape will look.
Like other French easels reviewed, the US Art Supply Coronado easel can accommodate rather large canvases (up to 34") and you can also adjust the angle of the canvas once on the easel.
Here is an excellent tutorial on how to set up the US Art Supply French easel in under 3 minutes.
While the video is of the Half Box easel, the process is identical across the US Art Supply lineup:
At 8lbs total, not only is it easy to carry, but the easel should stay put when painting. Making it a perfect outdoors easel.
Pros
Compact and lightweight compared to others
Affordable
Drawer offers customization
Palette included
Can be carried by handle or shoulder strap
Cons
Not as nice hardware finishes
Screws may be susceptible to slipping
5. Guerrilla Painter Pochade Box
Found at popular online art retailers like Blick Art Materials and Amazon comes this popular pochade box by Guerrilla Painter.
While not as nice in the finishing qualities of the Sienna pochade box that we reviewed, the Guerrilla Painter box has it where it counts.
Double the panel storage as the Sienna you can store up to 4 9" x 12" canvas panels within the box or a single 9" x 12" stretched canvas.
The wet painting storage alone makes this box one of the best to own if you plan on making your plein air painting either an all (or multi) day affair.
With a comfortable leather strap on the side, when carrying the 5lb basswood box, your arms won't get too terribly tired allowing you to set up and start painting immediately once you reach your destination.
If you are also a photographer and have a few tripods laying around your studio, you will be happy to learn that this pochade box, like the Sienna, contains a universal tripod mount on the bottom.
This can arguably make for a more study base than some of the French easels that we looked at (depends on the quality of the tripod you plan on using).
The easel itself is contained to the lid, but with the adjustable bracket you have 180-degree motion, allowing you to place it upright for your oil and acrylic paintings or completely flat when laying down a watercolor wash.
Equally impressive in this pochade box is the storage. With room for all your essential paining supplies and perhaps even a midday snack or two, you can keep all your gear well organized without having to worry about space.
While we wish that this pochade boxes and others like it came with a shoulder strap, for the versatility and value, it's really hard to beat this offering.
Great for any medium, it's definitely a solution for artists who like to paint in all sorts of situations.
Pros
Large wet painting storage
Light for a pochade box
Smaller footprint
Universal tripod mount
Great for any medium
Cons
Limited canvas size holder
Expensive
6. Ohuhu Aluminum Field Easel
This aluminum field easel by Ohuhu is perfect for the beginner plein air artist that is a bit intimidated by both the setup and price of some of the other offerings we reviewed.
Weighing in at only 1.9lbs, you can truly take this easel with you anywhere.
Whether you are taking a weekend hike or want to paint a cityscape without drawing as much attention that a full French easel would, the Ohuhu easel is incredibly discreet.
Of course, given that this is a barebones easel, there are a lot of things absent within this product.
Most notably will be the lack of any brush holders, storage compartments, handles, or palettes.
Therefore, if you plan on going with this one, you will want to make sure you have the essential supplies already on hand (also covered in this article).
As lightweight as an aluminum field easel may be, for those artists looking to take this to a coast line or valley where sudden gusts of wind could be an issue, there could be some problems especially if a large canvas is mounted.
Unlike some of the other plein air easels weighing over 10lbs, it won't take much for this easel to move, making it a bit harder for some artists to work on for extended periods.
However, given the inexpensive price, this easel still is great for beginners looking to get outdoors and paint.
Pros
Lightweight
Inexpensive
Good beginners plein air easel
Can fit up to 33.4" canvases
Cons
Will move in sudden gusts of wind
No additional storage
No handle or shoulder strap
No palette included
7. Daler Rowney Portable Wooden Artist Easel
One of the biggest setbacks (and advantage) with the Ohuhu aluminum easel was its weight, at 1.9lbs, it doesn't take much wind to suddenly move the easel.
It's for this reason that some beginner plein air artists may prefer wooden field easels like this one from Daler Rowney.
With a bit more heft at 5.5lbs, it will be able to withstand most sustained winds, ultimately allowing you to concentrate on your piece rather than worrying about your easel falling over.
Like most field easels, the Daler Rowney will also be absent of any of the bells and whistles you may see on traditional French easels or pochade boxes.
So, if you are looking for brush storage, cup holders, or wet painting carrying options, you will need to make sure that you bring a backpack to account for all for this.
To make transportation a fair bit easier, this easel does come with a carry case that you can put around your shoulder for greater comfort.
Pros
Perfect field easel for beginners
Heavy enough to not move from the wind, yet light enough to carry
Great for watercolors, acrylics, and oils
Includes carry case
Cons
A bit expensive for a field easel
No storage options
8. Mont Marte Black French Box Easel
The most striking French easel that we reviewed was this offering from the Australian company, Mont Marte.
In an elegant dark stained finish, this easel has a much more pronounced look when compared to the others mentioned in this article.
Finish aside, the most important aspect of any easel is how it will perform, especially when outdoors.
First up, transporting the easel:
The wooden design of this easel puts it at about the same weight of other French easels at 8lbs (with no supplies stored). Therefore, you shouldn't expect any pronounced muscle fatigue when carrying to an obscure location.
This relatively lightweight design is pretty remarkable given the dimensions: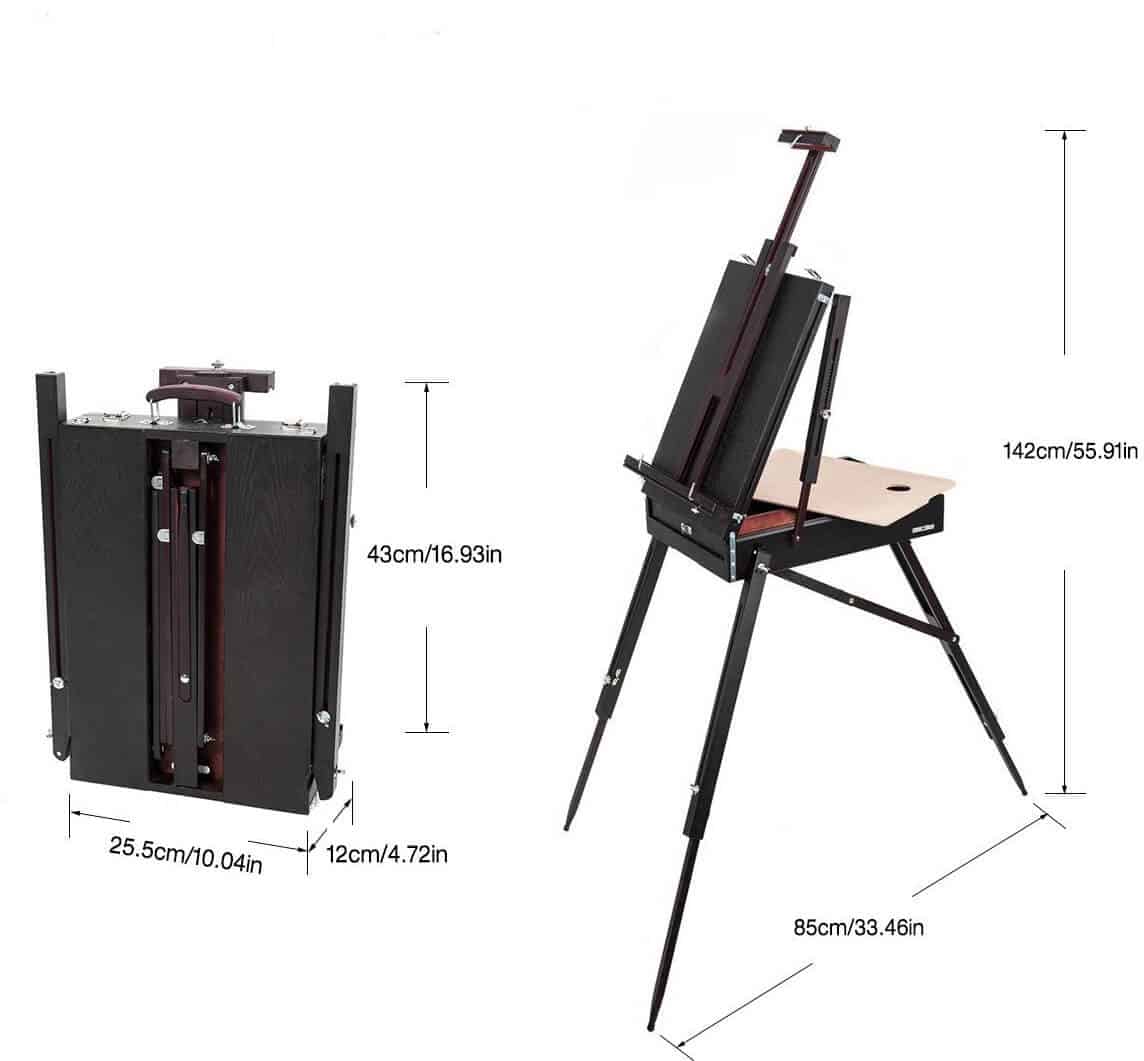 But there's a catch:
The biggest gripe that artists have about this easel will be that it only contains a handle and no shoulder strap or bag.
While not necessarily a deal breaker for most, when compared to other easels at a similarly priced, it's definitely a sticking point.
But beyond transporting the easel, you will be happy to find all the essential adjustment levers to ensure not only a secure canvas while painting, but also comfort for you.
The drawer of the easel is standard and can store all the necessarily supplies that you plan on taking with you.
Furthermore, Mont Marte does include a full-size palette that measures in at 11.2" x 18".
Overall, this is a pretty good French easel that can serve plein air artists extraordinarily well.
If you plan on using the easel more for studio work rather than plein air, then even if the easel doesn't come with a shoulder strap, then it will be a great selection.
Pros
Elegant finish
Full-sized pallet
Lightweight for wood design
Compact footprint when folded
Cons
No shoulder strap or bag
Expensive
Types of Plein Air / Portable Easels
When looking at all the plein air easels, you will find that they fall into 4 main categories:
French style
Pochade box
Custom
Field
We wanted to take this time to outline both the advantages and disadvantages with each one of these varieties: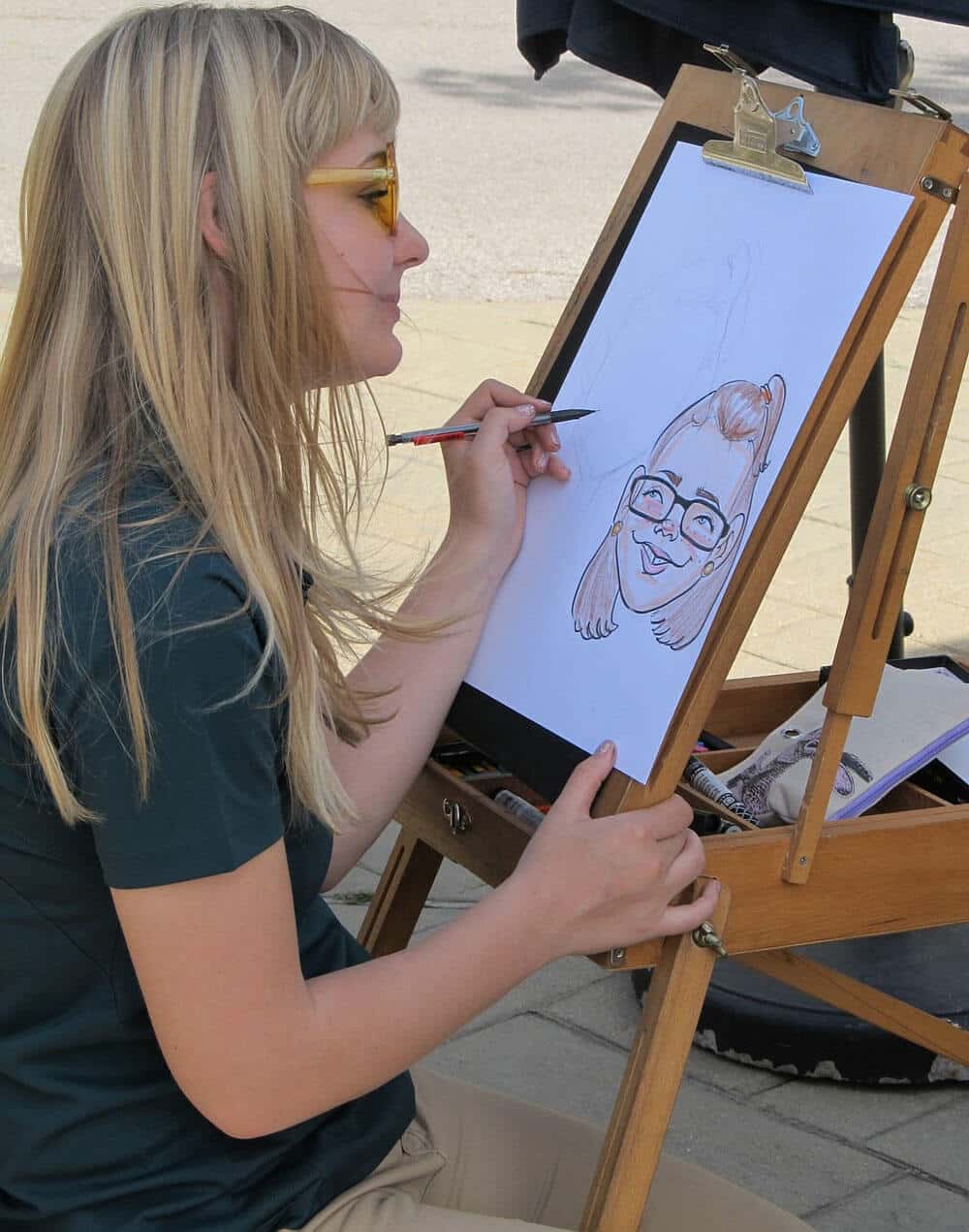 French Style – French style easels were popularized in the 1800s with the Impressionism art movement. Instead of painting in the confines of the studios as the masters have done before them, plein air artists including Van Gogh and Monet took their artwork outside.
While it doesn't seem necessarily as groundbreaking now as it did then, it still was a seismic shift in the approach to landscape painting.
With this in mind, French Style easels are designed to account for everything an artist would need when painting throughout the day.
Without the convenience of a car that an artist could go back and restock, the French easel was designed to pack essential supplies including the paint, solvents, palette knives, brushes, towels, and of course the canvas.
It's with this intent that you will see easels like those from Jullian Paris have drawers and palettes included within the easel itself.
Of all the plein air easels, the French easel is still one of the more moderately priced options on the market.
Usually costing around $100, it not only is affordable for beginners, but professionals can fully appreciate everything the French easel has to offer.
The French easel is also great for those artists in smaller studios or dorms that pack away everything once they are done painting.
French easels are collapsible and can be stored away easily within a closet or under a bed when not in use.
Pochade Boxes – Rivaling the French easel in portability, pochade boxes are perfect for painting on location.
With a small footprint of typically no more than a single square foot, pochade boxes are often used for both outdoor and indoor paintings.
One nice feature found in many of the more modern pochade boxes will be their tripod mount. With the ability to attach any standard tripod used for photography, you can easily transform a pochade box into a makeshift French easel.
Pochade boxes also have much more storage for the essential art supplies.
One feature that really sets the pochade box apart from all other plein air easels will be their wet canvas storage department. As seen in both the Sienna and Guerilla pochade boxes, artists were able to store up to 4 panels or even a full stretched canvas into the box while its being transported.
Of all the plein air easels, pochade boxes do tend to be the costliest of the bunch. Typically costing upwards to $200 (tripod not included), they are often used by professional artists.
The biggest drawback to the pochade box beyond the price however will be canvas size. Most pochade boxes are unable to accommodate surfaces longer than 20".
Therefore, should your artwork call for larger scale pieces, then you will want to consider other options.
Custom Easels – For artists with a large budget, outdoor easels like the En Plein Air Pro are built on a more custom basis. They will usually be inspired by a French easel by having many of the key components, but will be much more light and functional.
Custom easels are more of niche product and can really vary in design from one manufacturer to another.
If you are considering such an easel, its best to reflect on everything you require out of an easel before making your purchase.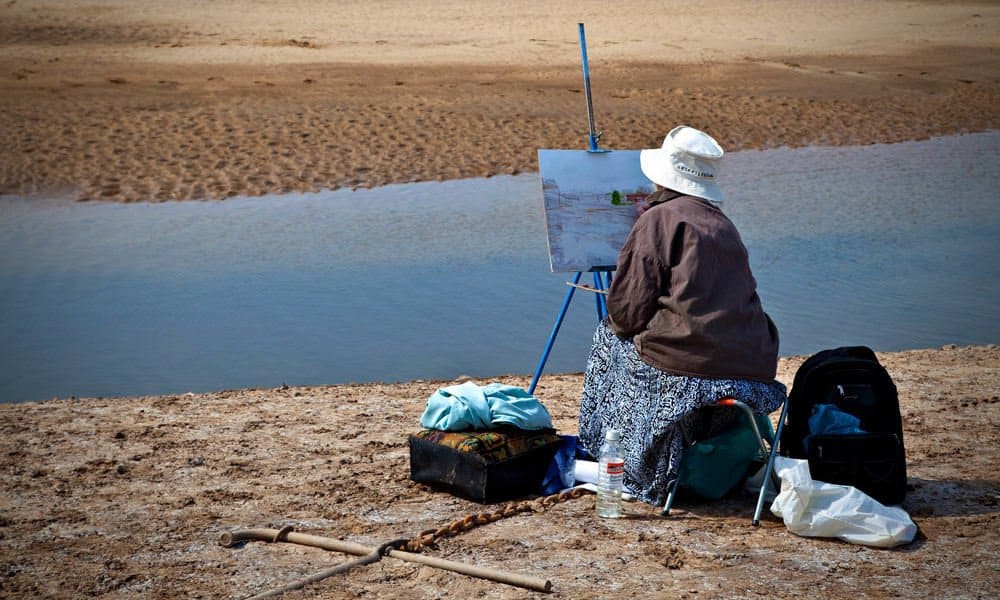 Field Easels – Often the cheapest option available for plein air painting will be the field easel.
This type of easel is a barebones offering that provides the artist with just a canvas holder.
Field easels are perfect for artists who may be painting close to their home or car where they can store the rest of their supplies.
The lightest of all the easels mentioned so far, field easels are also great for those who may have a bit tougher time carrying a full French easel into an obscure location.
Secondly, field easels are also great studio easels for beginners. Not only are they inexpensive, but their slim design won't get in the way and can be easily stored and set up.
Depending on where you plan on spending your time painting outdoors, if you live in a windy area, it's often recommended by artists that you go with a wooden field easel.
While typically weighing a few more pounds than its aluminum counterpart, wooden field easels will be sturdier.
Easels Based On Medium
When selecting a plein air easel, many of the options covered within this article can be used for just about any medium.
The most important factor that comes between both watercolors and oil/acrylics will be the tilt of the canvas itself.
The naturally thin composition of watercolors will require a bit more slanted of a surface in order to prevent the pigment from running down the watercolor block while painting.
In addition, you will also need an area to place a cup for your solvent (water, odorless mineral spirits, turpentine, etc.).
French easels, pochade boxes, and custom easels usually account for this requirement.
However, should you go with a field easel, you will need to have a separate stool or desk to hold the solvent for you.
Other Items You Might Want To Consider When Painting Outdoors
When painting outdoors, comfort is everything.
Therefore, it's important that when you pick up a brand new plein air easel that you also consider a few accessories to go along with it.
Based on our research and feedback from other artists who have been painting outdoors for years, here were a few products that are highly recommended:
Easel Umbrella – With the ability to clip onto the easel or canvas itself, field umbrellas will prevent you from being rained on while in a light sprinkle and also block out the sun.
Secondly, the shade that these umbrellas provide allow you to get accurate colors throughout the duration of your painting.
Wet Canvas Carrier – While wet canvas carriers are a part of the pochade box, for artists going with a French or field easel, then you will want to also pick up a separate canvas carrier. They will ensure that your piece gets back to your studio without any accidents along the way.
View Catcher – This little tool helps you to isolate colors of a landscape to get accurate reproduction in your piece. While it might seem like a novelty item, after a few uses you will never want to leave home without it.
For artists wanting to employ the grid method in their work, this alternative to the view catcher above is perfect for achieving paintings with proper scale.
How To Use A French Easel
When unboxing a French easel, you will be met with a variety of screws and nobs that can seem a bit intimidating at first.
To help you along with the unboxing process, we found this excellent video from Blick Art Materials that walks you through the entire process (and in only 1 minute):