Whether you plan to do some cosplay for an upcoming convention, are a professional face painter, or simply want to have a bit of weekend fun with the kids, a quality face paint will let your imagination run wild and won't deteriorate under tough conditions.
But here's the deal:
Finding a top-rated face paint in the world of Chinese knockoffs, questionable ingredients, and lackluster results can be rather difficult.
In fact, some of the best face paints should not only go on effortlessly, but should also resist a moderate amount of sweat, not cause any adverse side effects (be FDA compliant, non-toxic, and hypoallergenic), while still looking great like this face paint from TAG.
While we will go over reviews of all the face paints we looked at in just a minute, we also want to teach you on how you too can spot a quality face paint from afar.
In addition to going over a few key considerations before you make your final purchase, we also go over a tips and tricks that the best face paint artists use in order to make amazing results.
Let's dive in!
Comparing The Best Face Paints
To provide a bit more of an unbiased look at all the face paints we researched when making this article, here is a table that compares all the key aspects of the face paints we reviewed:
Before You Decide: A Few Things To Consider
When seeking out the best face paint, we kept seeing certain factors bubbling to the surface that were incredibly important when making a purchase. Therefore, we wanted to share a few of our notes with you to help you with your decision.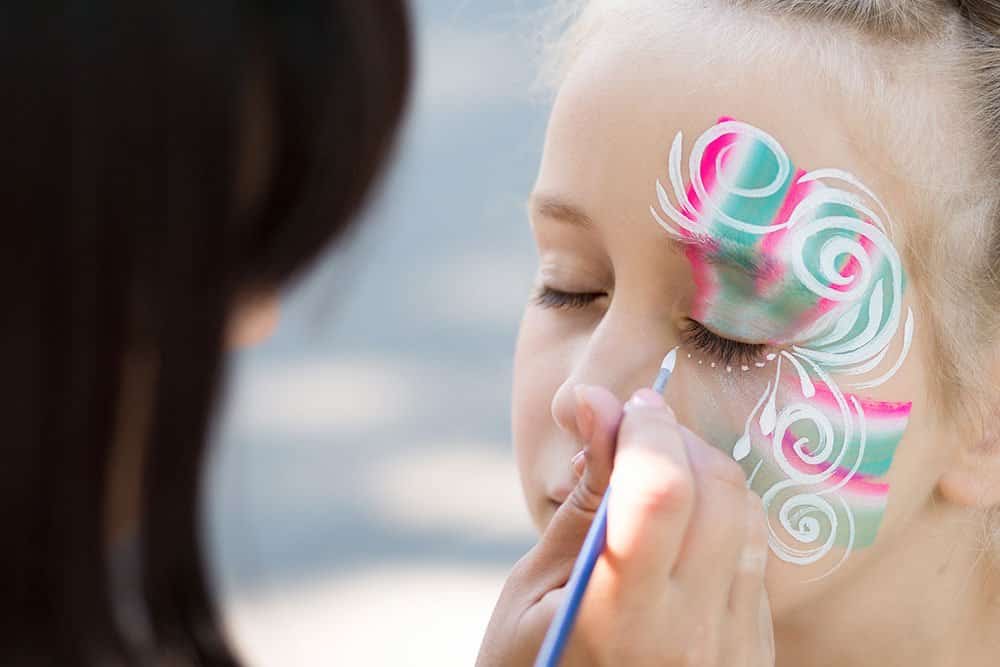 Kids vs. Cosplay vs. Casual vs. Pros
The first thing that many people think of when they hear face paint will inevitably be Halloween, but we quickly found out that there are so many more occasions that face paint may be called for including birthday parties, themed events, sports games, anime conventions, general cosplay, theatre performances, etc. (and this was just scratching the surface).
All these events aside, we identified four main categories:
Kids
Cosplay
Casual
Professionals
Kids Face Paint
Face paints intended for kids will often have a much brighter palette, FDA compliant, and suited for sensitive skin.
In addition, we found that kids face paint usually came with stencils and starter brushes – making them great for even kids to play with.
So, if you have a budding artist in your family, or perhaps you are looking to get them a unique gift for their birthday or holiday, a face paint kit like this one from Snazaroo is a great way for them to express their creativity.
Cosplay Face Paint
Whether you are trying to recreate your favorite superhero or are creating something from your imagination, face paint for cosplay must have a wide color spectrum and higher quality ingredients to work with.
Should you be attending a convention, you may want to consider alcohol or oil activated paints to ensure they don't come off easily when walking the convention floor.
This especially holds true if your costume is rather hot and you will likely be sweating (even just a little).
However, if ventilation is not a problem and you will be in a controlled climate, there is no beating the TAG face paint we reviewed – it simply was one of the best face paints for cosplay.
Casual Face Paint
If you plan on wearing face paint only once, or perhaps your need for it is rather minimal, know that some brands, such as Snazaroo, do sell their paints individually.
This can be great should you be heading to the stadium this weekend to cheer on your favorite team and only need a couple of colors at most.
In addition, when you do buy individually the amount of paint you receive in the pot will be much greater – allowing you to use it several times over (or of course to get your friends in the spirit as well).
Pro Paint
Organization and reliable results are key here.
If you are a seasoned face painter or thinking about getting into the hobby, one visit to a 3-year-old birthday will tell you that face painting is always a hit…
…and will typically have the longest line of all the activities!
Therefore, pro brands like Mehron and Graftobian are perfect picks as they not only have a bright palette (which of course will be a hit with the kids), but also have organized pans which help with productivity – especially if the kiddos are getting restless.
In addition, many of the brands on our list are FDA compliant, making them safe to use on kids without adverse effects should any get in their mouth – especially when the cake arrives.
Kids birthday parties aside, as you will see in our reviews in just a minute, brands like Mehron are used in Broadway performances such as The Lion King and Shrek The Musical – proving that they withstand even the toughest situations.
Added Effects
Depending on your desired look, you may want to go with a face paint kit that has additional effects included such as blood, glitter, gems, etc. or even unique application tools (more on this in a minute).
Most kits will only have a starter size amount of these effects (typically packaged as an extra item), however, if you want a wider selection, stores like FacePaint.com and SillyFarm.com will have a much wider selection of special effects worth checking out.
Plan Your Face Painting
No matter the subject, face painting is a tough skill to master.
Whether you are a professional trying to paint extremely excited kids at a birthday party who are bouncing all over the place, or you simply want to put together your best Harley Quinn for a convention, painting on a moving target or in reverse (from a mirror) is tricky.
Therefore, you will always want to have a plan of attack and map out your artwork before you start.
So, before you sit down, make sure that you have all your tools cleaned and prepped while having colors readily accessible.
And for goodness sake, if you are thirsty, have a straw handy!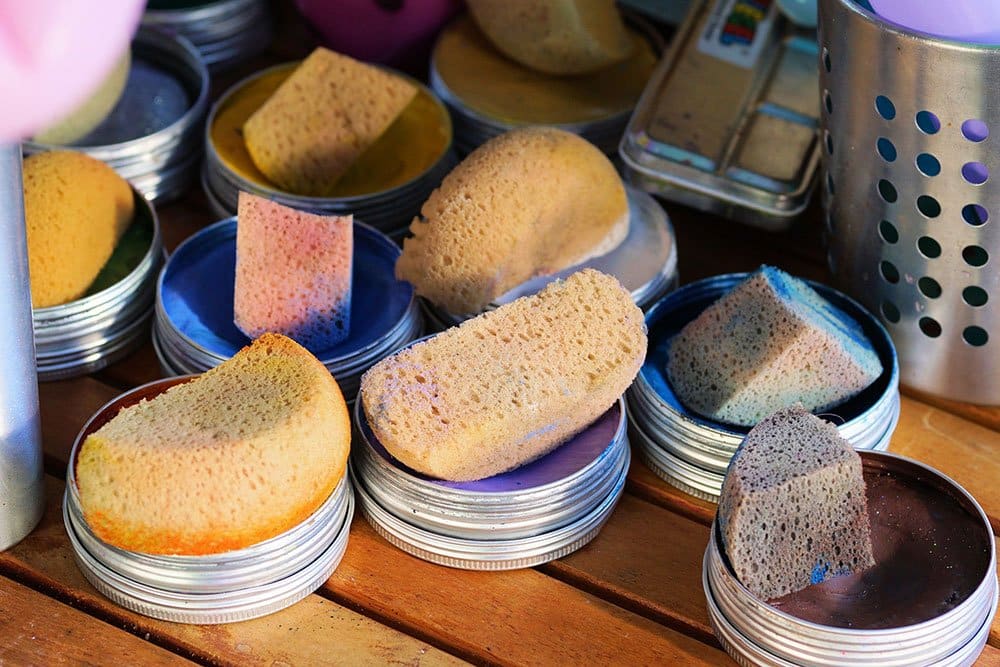 The Right Tools
While of course the face paint itself is important, it really means nothing if you have poor performing tools.
Just like when painting with oils or acrylics, the type of paintbrush you use can create unique effects.
Whether it's the round (which is perfect for detailed work), filbert, or flat brushes (perfect for large patches of painting) – you can get much more precision in your face painting.
But beyond the brush, one tool that professional face painters love is the sponge.
Nothing fancy here – just a micro face painting sponge like this one will do the trick.
Why?
A dampened sponge can evenly spread colors across your face with absolute ease (also perfect for body painting as well).
This can create really smooth looking color blocks on your skin that make for beautiful results.
Lastly, a mirror.
Whether you are painting on yourself or someone else – a mirror is the obvious (yet mostly skipped on) supply when it comes to face painting.
While they do sell face painting mirrors, a simple vanity mirror should suffice (just use the non-magnifying side).
Budget
Like all art supplies, the amount you spend can vary greatly from one brand to another.
Typically, with face paints, the more you spend, the better the paint (but not always).
Higher end brands like Snazaroo and Mehron have higher pigment loads (which deliver brilliant results) and quality ingredients that can withstand a beating and still look great afterwards.
But here's the deal:
If you go to mega online retailers, you may see many obscure brands as well.
Generally, we recommend steering clear of most of these for a few reasons:
One, typically the colors aren't nearly as bright.
Second, the quality standards are lacking.
If you plan on using the face paint on children or you yourself have sensitive skin, you should go with a trusted brand instead of saving a few bucks.
As tempting as it might be to save $2 on face paint, breaking out in a rash after its been applied is never worth it.
So, make sure you go with one that discloses its ingredients directly on the package, is transparent in their production process, and has positive reviews (outside of online retailers and their own website) to support their claims.
Paint Form
Face paint can come in many different forms including pans/cakes, pens, and pots.
For the most part, all of these paints are nearly identical with their end results – however, there are certain physical advantages to each of them.
Wet pots are perfect for instant application – they don't require water to activate (although water can be used to thin them) and are great for face painting on the go.
Pans and cakes are the most popular type of face paint. Like watercolors, pans require a wet brush or sponge to activate before applying.
This type of face paint is also highly portable, making it the preferred choice by professional face painters as well.
Last but not least will be pens/crayons. Pens are more suited for kids and beginners who simply want to put a few lines or marks on their face (think accented eyebrows, whiskers, etc.). They are incredibly clean to use, don't require any additional art supplies, and are easy to travel with.
Naturally, pens are extremely limited in their application – but depending on your planned painting, they may be more than sufficient.
Color Selection
As you will see with the brands we reviewed below, color selection can vary wildly.
Like watercolors, face paints can be mixed with each other (just make sure to do it on the lid of the case or on a separate palette) and then apply.
This can help you to create additional colors not already available within the pans of the set themselves.
Removal
Removing face paint for the most part is a rather straightforward process.
Simply jump into the shower and scrub away with your go to facial cleanser.
Depending how thick your application of the paint was to your face, you may need to scrub a couple of times in order to remove any remaining stains.
When it comes to oil-based face paints such as CCbeauty Professional Face Paint, it is advised that you use a makeup remover or another solvent that will breakdown the oils as water simply won't work well here.
The 7 Best Face Paints Reviewed
After several hours' worth of research, here we narrowed down our list of the best face paints that provide amazing results:
1. Snazaroo Face Paint Set
The most popular face paint brand on our list, and one that delivers when it comes to ingredient quality and vibrant results will be Snazaroo.
There is a lot to like about this U.K. based company.
First, their ingredient profile.
Each one of their face paints are fragrance-free and are made to adhere to both E.U. and US Toy Safety and cosmetic regulations (source).
In addition, their face paints are non-toxic as well – making them safe for use with children.
But as great as the ingredients may be, where it really counts is their vibrancy and color selection.
With 37 base colors (plus metallic and sparkle options), they have one of the widest color selections available.
This allows you to create stunning effects on your face that will turn heads.
One aspect that many artists loved about this face paint was the water-soluble nature.
In order to apply, you simply need a damp brush or sponge to activate and it will be ready to go.
While resistant to sweat, at the end the day, you can easily wash off the Snazaroo paint with warm and soapy water.
Depending on the color, there may some light staining that occurs, but typically a deeper scrub will be able to remove any signs of left-over pigment.
If you want a trusted brand that delivers terrific results and is safe for kids – you can't go wrong here.
Bottom Line
Overall, Snazaroo is the go-to brand for those who face paint regularly. The wide color selection, safe ingredients, and easy to use nature make them highly accessible. At about $8 per cake, they are slightly more expensive than most, but worth it.
2. TAG Face Paint
Australian based TAG is another strong contender for those looking for a new paint to try in cosplay and professional applications.
With several different color palettes available (regular colors pictured above), you should have no problem finding the perfect paint for your intended application.
When compared to the Artiparty Face Paint Kit (also reviewed in this article), we did find that the tones for the paints contained in this kit by TAG to be a shade or two lighter in color.
This isn't necessarily a bad thing, as lighter colors can look a bit more natural and allow your painting to feel a little more 'real'.
As with any quality face paint, TAG uses cosmetic grade and FDA approved ingredients.
In addition, their products are also hypoallergenic and non-toxic making them safe for all skin types and even kids.
The water activated wells in this set will also make application and eventual removal easy as well.
Bottom Line
Overall, we really loved this face painting kit from TAG. It had one of the highest ratings at several online retailers and delivered stellar results. If you want an upgrade to your face painting kit and don't mind paying a small premium, get these, you won't be disappointed.
3. Mehron Paradise AQ Pro Face Paint Palette
A staple product for Broadway productions like The Lion King, Phantom of the Opera, Shrek The Musical, and many more, Mehron is what the pros use in order to create stunning effects.
So, whether you are purchasing a new face paint kit for professional use or even cosplay, it won't get much better than with the Paradise AQ Pro Face Paint Palette.
What makes this so great compared to others on our list?
First the well design.
With 30 shallow wells total, you have an organized palette that is easy to use with either a brush or sponge repeatedly.
Helping to increase your productivity and ultimately generate better results.
As great as the organization may be, one aspect that many professional face paint artists loved about Mehron was its ability to blend.
Simply add a bit of water and the highly pigmented colors will mix with ease.
While the 30 colors included in this kit are terrific, the ability to generate just about any color in the spectrum through blending welcomed.
As with any face paint, safety is another key issue.
Mehron face paints are vegan (so no problem if incidentally ingested), not tested on animals, and FDA compliant (source).
To verify this, we headed over to the Mehron website and looked at the ingredient profile of the Paradise AQ Pro Face Paint Palette and saw a few of the following ingredients included:
Talc
Avocado Oil
Aloe Vera
Cocoa Seed Butter
Lemongrass Extract
And many more plant-based products (who would have thought a face paint could pull double duty as a face moisturizer as well!?).
While this set is rather pricey, it delivers uncompromising performance.
Bottom Line
Overall, if you want the same face paint that they use in Broadway productions, it doesn't get much better than this. The colors blend well and are extremely vibrant. We just wish it was just a tad cheaper.
4. CCbeauty Professional Face Paint
With 24 different colors to choose from in 2 different sets – you have a color palette that rivals the Mehron Paradise AQ.
However, this face paint is starkly different from many of the others mentioned on our list as it is oil based rather than water.
Therefore, there will be no need for water in order to activate the pigment and apply it to your face.
You can simply dip a sponge or a brush into the well and then apply immediately – making this set perfect for travel.
However, given that these are oil-based rather than water, washing them will be much tougher and require additional products.
A waterproof makeup remover like this one should do the trick.
Given that this is oil-based, we would recommend that this only be used on adults and those who don't have sensitive skin as allergic reactions may occur.
Secondly, before you do apply this to your face, we would recommend doing a patch test by applying a small amount to the inside of your elbow and let it rest for a couple of hours to ensure there are no adverse side effects.
While oil-based face paint may seem like a turn off due to the potential allergic reactions and removal process – there are definitely some key advantages as well.
Namely durability.
If you are a stage performer, heading to a sporting event or festival and may sweat profusely (or plan on drinking a few adult beverages), oil-based face paint can withstand wear and tear.
This paint won't get runny if you begin to sweat nor will it crack either (just be sure to apply in thin coats).
Some people did mention that staining occurred on their skin even after washing. So, if you do plan on wearing this, make sure it's not done a day before an important event as it may take time to get fully removed.
Bottom Line
Overall, this oil-based face paint by CCbeauty is perfect for long nights and high-performance situations. The waterproof nature of this paint will look great hours after initial application.
5. Graftobian Face Paint
Like Snazaroo and Mehron, Graftobian has been a fixture in the face painting world for years (est. 1978).
What we (and many others) loved about this particular face paint kit was the pigment concentration.
Each one of the 12 colors in the palette produced vibrant and brilliant results that will make your next painting stand out.
Furthermore, the even pigment distribution ensures that there will be no streaks along with predictable results when blending.
When it comes to performance, these paints won't crack on the creases of your skin – even when applied to high movement areas (i.e. around the eyes and mouth).
The water-soluble nature makes their removal just as easy as application.
While a bit pricier, this face painting kit by Graftobian is a great set for those looking to take their face painting skill to the next level.
Perfect for both cosplay and pro applications, the bright results can make your characters come to life.
Bottom Line
Overall, we think the Graftobian face painting kit is a great step up from the intermediate brands and one that should generate terrific results we think you will be happy with.
6. Artiparty Face Paint Kit
With 16 different colors and up to 120 paintings per well, it can get quite a bit of work done before needing to be restocked.
While not sold individually like the Snazaroo, Graftobian, or Mehron brands also mentioned in this article, this paint set is still nevertheless a great starter kit.
The Artiparty face paint kit is also non-toxic, paraben free, and FDA compliant which provides a little extra peace of mind.
Unlike the CCbeauty kit we reviewed, this face paint kit is water based, making for easy paint activation with a damp brush or sponge along with equally easy removal.
If there were any large concerns around this kit it would be the quality control. Some people did experience a small to moderate allergic reactions, therefore you will want to make sure you patch test before applying to your face.
Bottom Line
Overall, this is an affordable starter kit for those getting into the world of face painting but don't want to pay the steep investment cost of the higher end brands. There have been some quality control issues mentioned about the product.
7. Blue Squid Kids Face Paint
This super casual face painting kit by Blue Squid is perfect for those looking to have a bit of creative fun either by themselves or with a friend.
While the 12 well color palette covers all the basis, what we really loved about this set is the included extras:
This allows kids (and even adults) to try various techniques with the different sized brushes while still having some help through the reusable stencils.
Of course, given that this product is aimed towards kids, the ingredient composition is important.
Blue Squid states that these paints are not only hypoallergenic but also paraben free, vegan, and non-toxic.
This will ensure that there are no adverse reactions should kids get a little crazy expressive with this paint set.
Finally, the return policy. While Blue Squid doesn't have nearly the same brand recognition as say Snazaroo, Mehron, or Graftobian, they do stand by a 100% Satisfaction Guarantee.
If you aren't happy at all with the performance of these paints, you can return them with no questions asked – definitely an added peace of mind!
Bottom Line
Overall, these are great for playing around with kids. Their FDA compliant and vegan composition will help to reduce any chance of an allergic reaction. The liberal return policy is a nice touch.
Questions About Face Painting That You Were Too Afraid To Ask
How can (or should) I make face paint at home?
There are many online tutorials on how to make face paint at home. While we are never one to discourage DIY applications (after all we are an art and craft centric site!) – we think it's best to skip the DIY route and go with a proper face paint.
Not only will the pigments be evenly mixed which make for better results, but the ingredients have been tested to ensure there is no adverse skin reactions.
Secondly, the performance of professionally made face paints will nearly always outlast DIY solutions.
Where to buy face paint online?
While nearly all the products we mentioned above are found on large retailers like Amazon, there are many face and body paint retailers as well (who knew!).
A few that caught our eye were the following:
Now, its worth mentioning that we did publish a post recently that outlined the best online art supply stores as well.
There may be a few retailers there that also sell face paints that are worth checking out.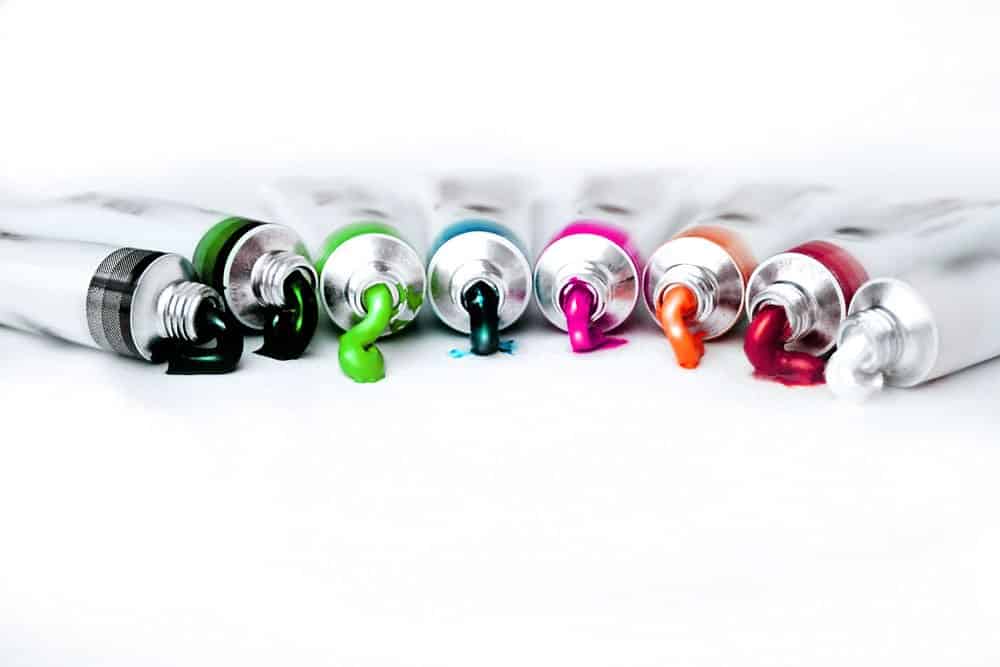 Can I use acrylic or oil paint instead of face paint?
No.
While both of these mediums are terrific in artistic applications, acrylic and oil paints aren't well suited for body or face application.
Acrylic paints are susceptible to cracking and will have troubles with the creases of your skin. Secondly, when applied to your face, acrylic paint may cause allergic reactions or pimples to appear – so don't do this.
In addition, oil paints may take days to dry – so it really won't be logical to use them.
Many of the face paints we reviewed in this guide are plant based, fast drying, and FDA compliant.
Don't try to use your artists paints as a substitute.
Where do I begin with face painting?
Here were a few online tutorials along with tips and tricks that expert painters used to create stunning effects while face painting:
Skull Face Paint Tutorial
Here Shonagh gives us an inside look of how she creates an amazing Skull Face painting (note: she uses Snazaroo face paint – also reviewed in this article).
Spiderman Face Tutorial
This is a simple and straightforward tutorial on how to use a few different tools and colors to create the web slinger himself!
Best Face Paint: Selection Process
Finding the best face paint in 2020 proved to be rather difficult. With so many brands available, it's hard to cut through all the 'fluff' to find a face paint that not only will look and perform great, but also won't cause severe skin reactions.
However, after all the research we did, we feel confident in our selection above – and we think you will too!
But as hard as we tried to find the perfect face paint for you, we do have limited resources and were unable to review every single one on the market.
So, if you feel like one should be added to the list, please get in touch with us, and our team can take a look at it and review accordingly.
We hope you enjoyed reading this guide as much as we did writing it – now go have fun and paint some faces!!!