While most watercolorists get their start on a paper surface, those looking to venture out to other surfaces may take note of wood, cardboard, and of course the most popular surface used in traditional art:
Canvas.
But here's the deal:
If you have been using watercolors for years and experimented on a canvas surface, you likely are familiar that more work will be required before you can use watercolors.
If you just simply try using a watercolor on canvas it will just simply absorb into the fabric without giving you any sort of defined lines to work with – not good.
Therefore, we wanted to serve up some budding artists out there a quick guide on how to get their next watercolor painting on canvas.
So here is the nuts and bolts on how to paint watercolor on canvas the right way!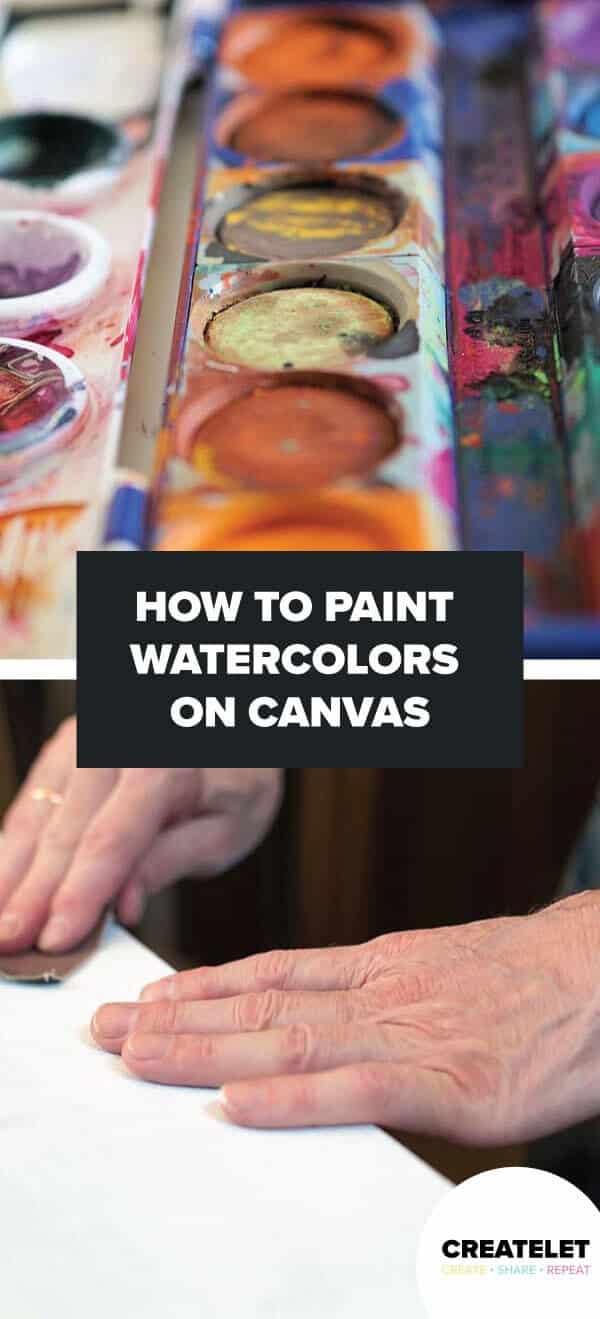 Straight Canvas Won't Work, It Needs To Strike Properties Like Watercolor Paper
As you are likely aware already, watercolor paper is completely unique in its own right when compared to other surfaces like drawing paper or canvas.
The manufacturing process and texture of watercolor paper not only will allow your watercolors to look absolutely beautiful when applied, but will ensure that it preserves your artwork for years by having the right pH balance.
In addition, watercolor paper is incredibly resilient by not allowing it to deteriorate when loaded with water.
So how do you achieve these same properties found in watercolor paper and apply them to canvas?
Simple!
You need to rely on both a primer like gesso and a watercolor ground.
Here's what you need to do: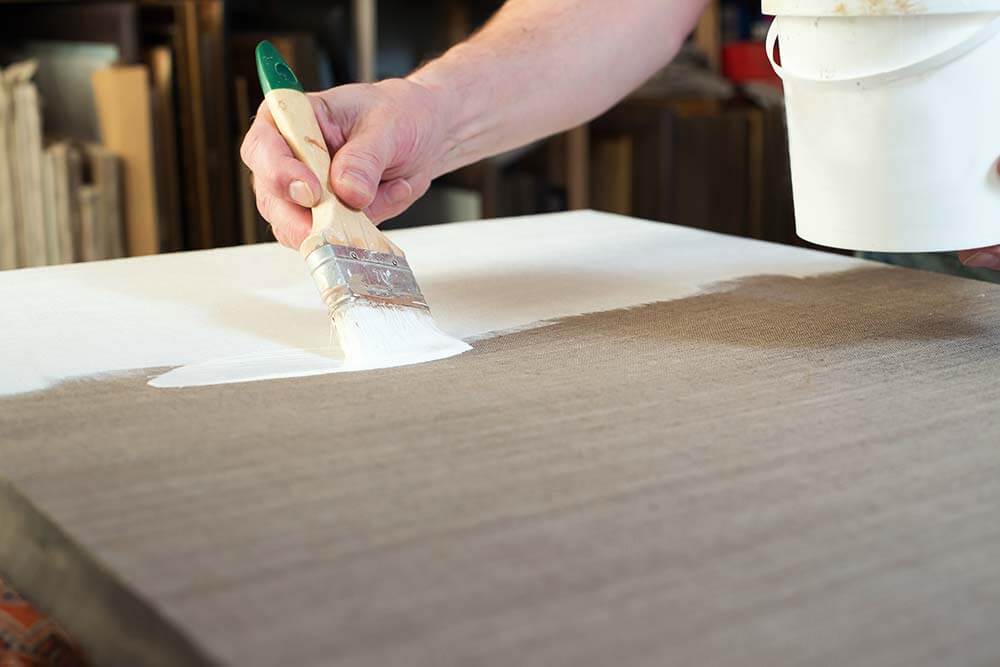 Gesso Must Be Staple In Your Studio
No matter what medium you work with on a daily basis, whether its acrylic, oil, and yes even watercolors, gesso is an item you should always have on hand.
If you don't have it already, we would suggest you head over to Dick Blick and order some there, contrary, online retailers like Amazon also stock this as well.
While it's tempting to cut corners when purchasing primer, we would never advise you to go to your local hardware store.
Primers found there are often chock full of impurities which not only aren't suitable for artist grade paint, but will often carry strong odors that shouldn't be inhaled for an extended period of time.
So, what's great about artist grade gesso?
First and foremost, it provides a coating to the canvas that your watercolor ground can affix to when its applied (more on this in a minute).
Without a proper coating of gesso, just like if you were to paint with oils or acrylic on an untreated canvas, you would open your painting supplies to unnecessary waste.
In Order To Use Watercolors On Canvas You Must Apply A Watercolor Ground
While still a relatively obscure product in the art world, watercolor ground is perfect for using your watercolors on any surface.
As we spoke about it at length when using watercolors on wood, the same theory applies here when it comes to watercolors on canvas.
While gesso will help to provide some rigid properties to the canvas and prevent an over absorption of your paint, watercolor ground is perfect for not only additional absorption properties, but textual properties as well.
After you spread on a few layers of watercolor ground to a canvas that has been treated with gesso, you will find very similar properties that you get when using watercolors on paper.
This not only gives you a surface that will likely feel very familiar (while also shortening the learning curve), but terrific results on the final piece as well…
…and that's not all with watercolor grounds:
Here's the kicker:
While we don't want to get too off topic (as we are only covering watercolors and canvas), but if you want to try your next watercolor painting on metal or glass, these watercolor grounds also work on those surfaces as well!
To put the icing on the cake, while gesso normally comes in a few different color varieties, offerings like this one from Daniel Smith come in 6 different colors (including transparent).
While we noted earlier that gesso is a staple to any artist's studio, watercolor ground should be a staple for watercolorists everywhere who are looking to experiment with a variety of surfaces.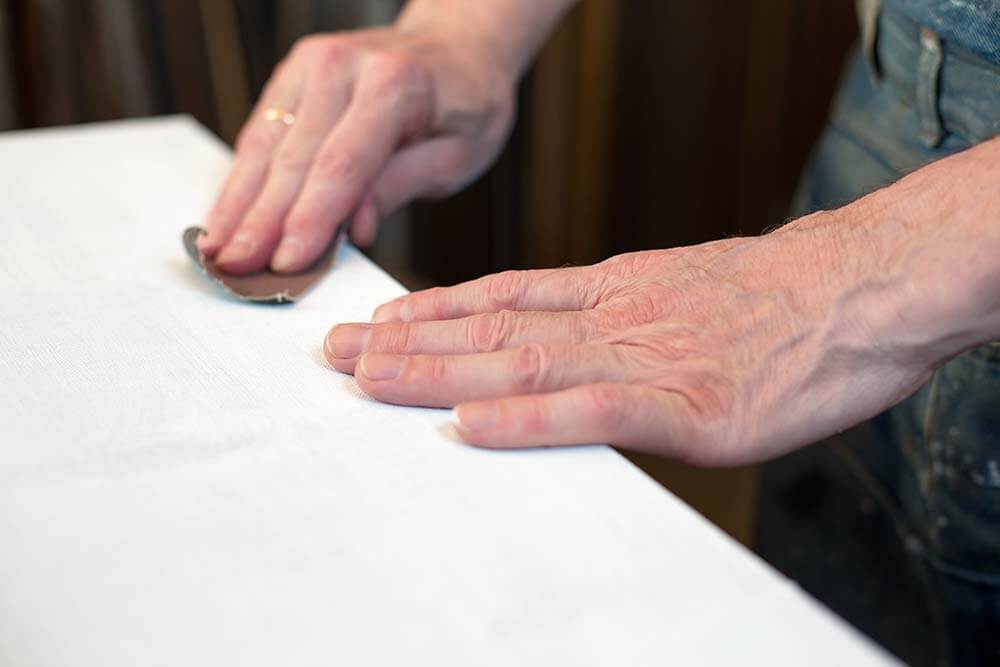 How To Prep A Canvas For Watercolor Paints
All this chatter about gesso and watercolor ground and we still haven't gotten around on how to actually prep a canvas properly!
Here's what you will need to have on hand:
Stretched Canvas
Gesso
Watercolor Ground
Wide Paintbrush
Required Steps
Give your stretched canvas a light coating of gesso with a cheap wide paintbrush (one you can purchase at a hardware store).
You will want to apply two coats as this will be more than sufficient to providing a base for your watercolor ground to stick to.
After the second layer of gesso is dry to touch, you can now layer on your watercolor ground. Generally speaking, when it comes to watercolor grounds, you will want to apply several coats.
While some artists may recommend going for 10 total layers, we find that 5 should be more than sufficient when it comes to good performance.
Just like when applying gesso, when layering your watercolor ground, you will want to wait till the layer has dried before you apply an additional layer.
Optional: Depending on the texture that you prefer, some folks do like to take a very fine grit sandpaper to their finished watercolor ground application. This will help bring additional texture to their surface and may serve as an additional dimension to the final piece.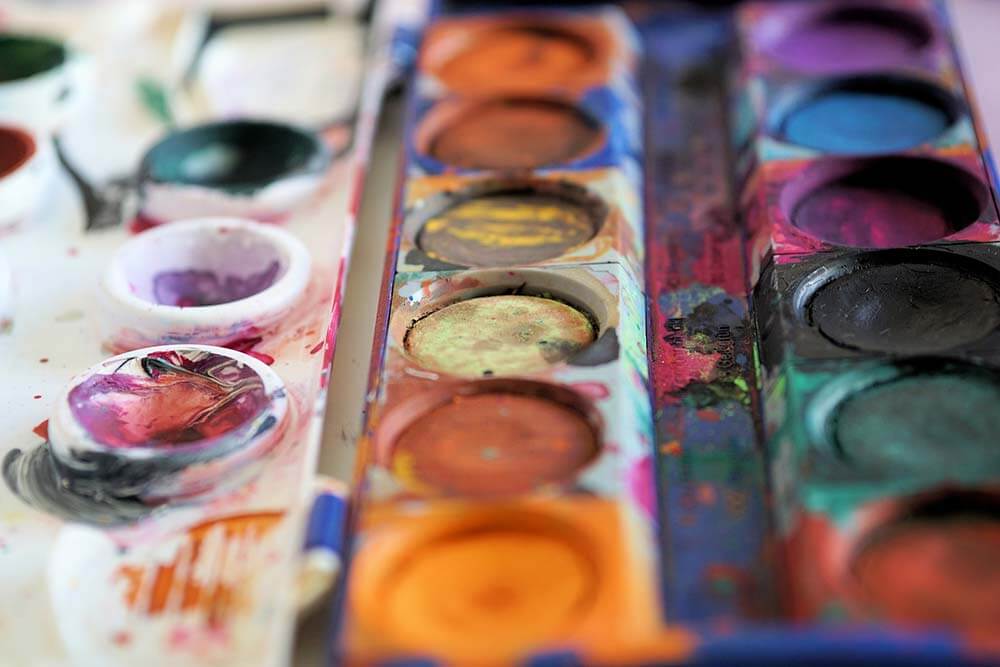 Word Of Note When Using Watercolors On Canvas
As you layer on gesso and watercolor grounds, the texture of the canvas will begin to lose its form.
Some artists may be attracted to canvas in order to get that woven look beneath their piece.
However, the thicker and number of layers you apply, the further away that surface will look like canvas.
Depending on the effect desired could determine your course of action.
If it's imperative that you still retain that classic canvas look on the surface, then we would suggest that you try to apply one very thin layer of gesso and one very thin layer of watercolor ground to the canvas.
While the texture and absorption of the canvas surface may be difficult to work around, it at least provides an alternative option to the steps we outlined above.
The Easy Option – Canvas Watercolor Boards
While not in the spirit of the DIY nature that many artists like to employ, if you are looking to test out a watercolor painting on canvas without the legwork of attempting to layer on gesso and watercolor ground, then you might want to consider these watercolor panels.
These canvas panels have been prepped by a specially formulated primer that will place nice with your watercolors.
Hey, if the results end up working really well, perhaps you can hang the canvas panel in your studio or your next gallery event!