Drawing daily is one of the most effective ways to get better as an artist.
Whether you are looking to capture people, places, animals, or more, a sketchbook should be with you at all times.
But not just any sketchbook…
The best sketchbook should not only have the portability of the artist in mind, but the sheets of paper within should have ample weight, a strong binding, exhibit key archival qualities, all while having a durable cover that will protect your work.
In this ultimate guide we will walk you through features you should think about when buying a sketchbook, provide in-depth reviews of the top sketchbooks currently available, along with a few tips so you get the most from your new sketchbook until each page is filled.
Let's get started:
All The Top Sketchbooks Compared
Here's a quick overview of all the books and pads reviewed today:
Key Considerations When Buying A New Sketchbook
When reviewing all the most popular sketchbook types available to artists today, we found that there were nine key features you should take a minute to think about before making your purchase.
Here's a bit of info on why each of them is important:
1. Acid Free Paper
If you are serious about your art career, then it's imperative that you go with a sketchbook that has archival qualities. Acid-free paper is made differently from your standard copy paper in that the active acid pulp has been removed during the papermaking process (source). Sketch paper that contains acid will become brittle and yellow over time.
2. Hard Cover vs. Soft Cover vs. Sketch Pad
Sketchbooks come in three forms:
Hard covers
Soft covers
Pads
Selecting the right one for you is a personal preference.
Hard Cover Sketchbook: Generally speaking, a hardcover sketchbook is a bit more artist friendly in that they are rigid and give you a flat and firm surface to capture your sketches on.
Soft Cover Sketchbook: Soft cover sketchbooks will need to lay on either your leg, table, or another hard surface when you are sketching. If getting to a flat surface to sketch isn't a problem for you, then don't worry about a sketchbook with a soft cover.
Sketch Pads: These are largely for pure beginners and are often glued together. These are the lowest of quality and should only be used for casual use.
Just take a quick second to think about your daily habits and how your new sketchbook fits into that workflow.
3. Binding – Wire Bound vs. Glue Bound vs. Thread Bound
Artist sketchbooks are available in three binding types:
Wire bound or spiral bound
Glue bound
Thread bound
Here's a bit more on each:
Wire bound / spiral bound sketchbook – Likely a form factor you are already familiar with, a wire or spiral binding is extremely versatile. Able to be folded completely over to have one flat drawing surface, they are easy to manage and draw upon. Unfortunately, the biggest drawback to a wire bound sketchbook is that it may get damaged when taken outdoors. A bent wire can be frustrating when you are looking to turn pages fluidly or showing off your sketchbook. In addition, wire sketchbooks are bulky compared to others. Making them a bit less portable. However, spiral sketchbooks do tend to have a lower price point.
Glue bound – Glue bindings are among the least favorable for serious artists. They often don't lay completely flat and can get in the way when drawing. Furthermore, the glue that companies rely on are generally harmful from an archival perspective. Glue bound is most often found on inexpensive sketch pads. Our recommendation here is that if you do go with a glue bound sketchbook, cut out the pages with an X-ACTO knife in order to preserve your sketches longer.
Thread Bound – Found in the high-end sketchbooks, thread bindings give the book a much thinner profile. This difference is especially pronounced when compared to a wire bound sketchbook. A thread binding is also absent of any glue or chemicals, making this a strong choice for those artists that want to have better archival properties. Lastly, having a sketchbook that lays flat, such as one with a thread binding, allows you to concentrate on sketching rather than holding down the paper.
4. Perforated Sheets
Some sketchbooks offer micro perforated sheets which can be great if you like to display your sketches. Perforated sheets are often only found on wire bound sketchbooks. If you don't want to carry a bulky wire bound sketchbook with you but still want to display your sketches, as we stated earlier, an X-ACTO knife will help you to gently and cleanly cut away the sheet if necessary.
5. Paper Weight, Texture, Composition
Depending on sketchbook intent (more on this in a minute) will determine the paper weight required for your artistic purposes. Virtually all sketchbooks will usually have a paper weight anywhere between 100 gsm (grams per meter) and 300 gsm. If you are using dry mediums such as gel pens, graphite, charcoal, etc. then a sketchbook below 200 gsm should be more than enough for your daily sketches.
In addition to weight, another key component of the paper will be the texture.
Sketchbooks can come in a variety of textures typically ranging from light to heavily textured. The texture of the surface can play a huge role in the performance of your medium and how it interacts with the surface. Generally speaking, a heavy textured sketching paper can capture more of the dry media (graphite, charcoal, etc.) allowing for greater layering and blending control.
Another point of consideration is if the paper is made from recycled materials. Unfortunately many of the top sketchbooks are made from fresh trees (as opposed to post consumer recycled paper).
If you want to make sure that you don't cause an impact on the environment, most companies we researched are committed to sustainable forest management like Canson, Moleskine, and many more.
No matter the sketchbook build, quality paper selection is the most important when finding the right sketchbook for you.
6. Paper Intent
Building off the previous section, the intent of which you use the paper will dictate which is the right sketchbook for you. Whether you are using the sketchbook with markers, ink, gel pens, or daily drawings, finding one to meet your needs will be key. As we expand on the reviews below, you will see that each of the sketchbooks reviewed vary greatly and can perform much better with certain wet or dry mediums and artistic skills.
7. Paper Color
Some artists enjoy a cream colored paper while others love the contrast of a bright white paper sheet. No matter the scenario, you can find a sketchbook with the right toned paper for you. As discussed in great detail here, toned paper is ideal when paired with a sketchbook as you have greater control over values when sketching in the field.
8. Sheet Capacity
Whether you like to have a large timespan of sketches captured within your sketchbook or you like to keep it light, sheet capacity can be an important factor when finding the perfect sketchbook to meet your needs. Capacities typically range anywhere between 24 and 100 sheets. One word of caution when selecting a sketchbook based on page count.
Many companies like to count both sides of the sheet making their book seem much bigger than it actually is – for example, if advertised as a 96 page sketchbook, there will be only 48 sheets within. So, if you are picking up a sketchbook for a vacation or an extended trip, you may want to double up if the sheet count is small.
9. Portability
The very nature of sketchbooks is that they are intensely portable and should be treated as such. If you don't carry a backpack or purse in your daily life, then a pocket-sized sketchbook may be the right choice for you. However, if you are a student or carry a bag with you everywhere you go, then size limitation likely isn't as important. The key takeaway here is to go with a sketchbook that works effortlessly into your everyday life.
Don't go too big, because chances are that you will never want to take it with you. Lastly, some sketchbooks offer back pockets that can store simple supplies (small pen, pencil, etc.) which can improve portability. However, we recommend that if you do get one with a back pocket, make sure it has an elastic closure in order to keep your supplies organized.
The Best Sketchbooks of 2020 Reviewed
1. Canson XL Mix Media Sketchbook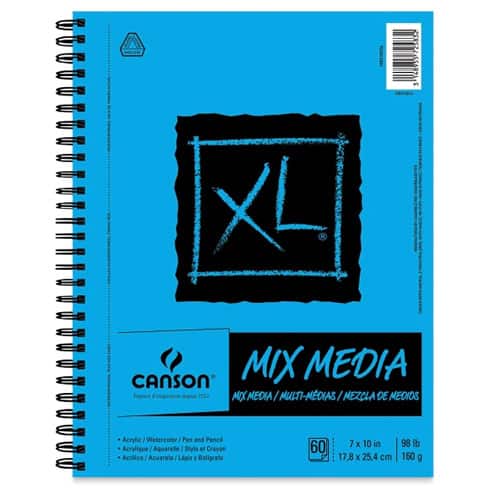 One of the most popular sketchpads used by students will be the Canson Mixed Media Sketchbook.
With a paper weight of 160 gsm (98lb) this sketchbook has ample weight that can not only withstand heavy erasing, but also works well across many different mediums.
Whether you are using pen, acrylics, or even markers, you can expect very little (if any bleed through) between the pages.
This Canson spiral bound sketch book lays flat making it easier to do quick sketches while not worrying about holding down the paper with your other hand.
Size options are another strong point to this sketchbook.
Available in 6 different sizes – you shouldn't have a problem finding the perfect one to meet your personal preference.
Lastly, each sheet in the sketchbook has a micro-perforation and is acid-free. Making it easy to share your sketches or preserve them for many years.
Most downsides that artists had about this sketchbook were around the spiral binding. It's bulky and doesn't protect your artwork nearly as good as a book. If you want to upgrade from this mix media book, Canson does offer a hardcover sketchbook in the Canson Artist Series line.
Pros
Beginners and students love the low price
Lay flat design allows you to concentrate on sketching rather than managing the book
Available in several different sizes
Cons
Spiral binding doesn't fully protect your artwork
Paper may warp when used with wet mediums
Bottom Line
This sketchbook is preferred by students due to both the quality of the paper and its affordable price. If you are just getting into daily sketching, this is a great pick.
2. Blick Studio Hardbound Sketchbook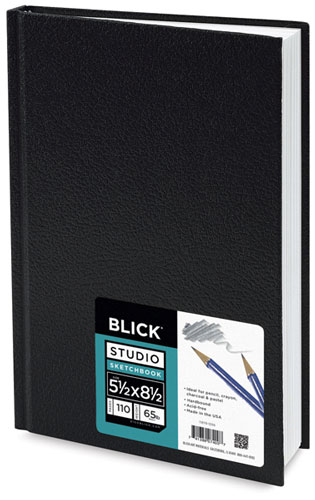 While you may already be familiar with the Blick art store, as they offer over 90,000 supplies for artists, what you may not be familiar with is their exceptional artist-focused product lines – of which includes their black cover hardbound sketch book.
This 98 gsm weighted paper is an archival-friendly offering that allows you to capture quick sketches without paying a premium.
With a medium tooth that allows for easily layering, you will have total control over your sketches when it comes to blending.
In addition, the cream colored pages allow for you to use a greater range of values in your sketch – especially if you like to rotate between different pencil weights.
While the paper is lighter when compared to most, it will still resist piling when erasing and should work with other mediums such as charcoal, ink, and colored pencils.
This sketchbook is absent of an elastic strap to keep any loose sketch paper contained.
However, it's worth noting that the hardbound sketchbook body will still offer plenty of protection.
Available in either an 8.5" x 5.5" or 11" x 8.5" sheet size, the options are slightly limited when compared to others, but it's a compromise worth taking if you are looking for an affordable sketchbook.
Pros
Save money with this budget-friendly sketchbook that has been well made
Cream colored sheets allow for greater value range
Available in two different sizes
Cons
Paper weight is a bit lighter than others
No perforated edges
Bottom Line
If you are looking for a well-performing sketchbook at half the price of others, then this will be your best bet. Blick makes a great sketchbook that will work with your budget.
3. Pentalic Sketch Book (Nature)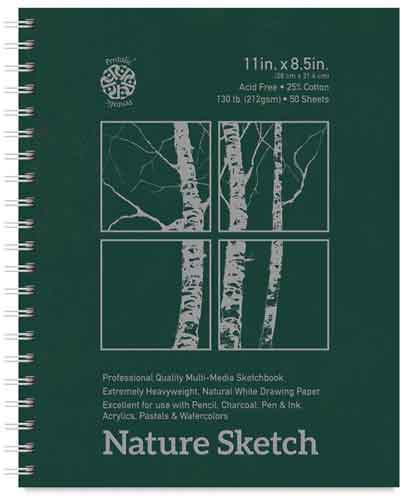 This heavyweight (211 gsm) sketchbook by Pentalic is the ultimate when it comes to heavier mediums such as acrylic washes, markers, ink, pens, and more.
With a strong tooth and heavy backbone, the paper will naturally resist warping and piling with heavy erasing. This is largely attained through the 25% cotton composition within each sheet.
In addition to receiving wet mediums well, the raised tooth also allows dry media such as charcoal and graphite to be layered easily.
What really sets this sketch book apart from many others on our list is the nature focus. A portion of every sale goes directly to the American Wildlife Foundation.
While the spiral binding may be a deal breaker for some artists, the size varieties available through this Pentalic sketchbook are second to none. At time of publication, they currently offer this sketchbook in 6 different sizes:
6″ x 12″
7″ x 5″
9″ x 6″
11″ x 8.5″
15″ x 11″
18″ x 24″
Therefore, you can use a small one as a daily driver (such as the 7″ x 5″) to do quick sketches throughout the day and a large scale one for home or studio use.
Pros
Heavy paper good for a lot of mediums
Portion of every sale benefits a great cause
Wide array of sizes available
Cons
A bit pricier compared to others
Bottom Line
Pentalic is known for their quality sketchbooks. They deliver great performance and allow for strong stroke control. The inclusion of cotton within the paper provides added durability.
4. Crescent RendR No Show Thru Sketchbooks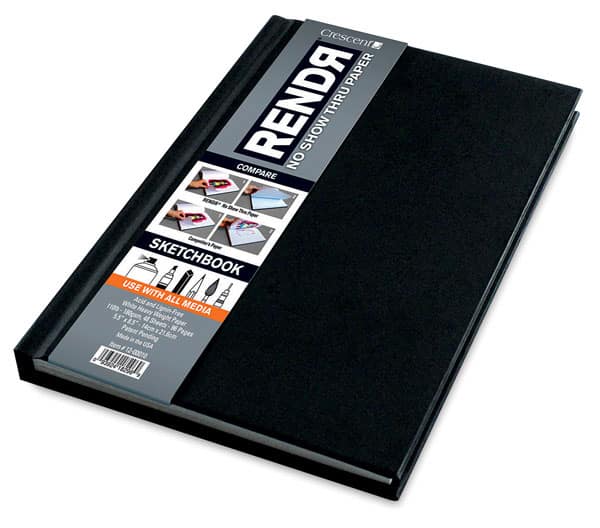 Undoubtedly the best sketchbook for markers (especially Copics) is the Crescent RendR No Show Thru Sketchbook.
With a very thick 180 gsm paper weight, heavy layering of Copics, ink, gel pens, and acrylic washes will have no problem on this paper.
While suited for markers, those artists that want to use this book for sketches with graphite will be happy with the toothy surface as it allows for clean blends.
Now given that this is marketed as a no show thru sketchbook, you might be wondering if you can use this with watercolors as well.
Unless you plan on painting very light washes, we would recommend going with a watercolor sketchbook instead as the weight is still less than the required 300 gsm and will still warp if it gets extremely wet.
Paper quality aside, the sketchbook is available in two form factors:
Both of which have a durable cover and strong spine.
Lastly, the sketchbook is available in a few different sizes:
5" x 5.5" (Hardbound) – 48 sheets
11" x 8.5" (Hardbound) – 48 sheets
5" x 5.5" (Lay Flat) – 32 sheets
5" x 11" (Lay Flat) – 32 sheets
Given that markers won't bleed through at all, you really get 64 or 96 pages to work with – which should last for months.
Pros
White paper won't bleed thru, making it perfect for markers and ink
Delivers on value as you can use both sides of the sheet
Hardbound sketchbook cover protects your work
Thick 180 gsm gives it a nice tooth
Cons
Limited size varieties
Lack of elastic band won't contain as well as others
Bottom Line
If you have Copics or any other alcohol-based markers you will be happy with the performance of the paper within the sketchbook. With the ability to use both sides of the sheet due to the no show thru, it delivers tremendous value.
5. Stillman & Birn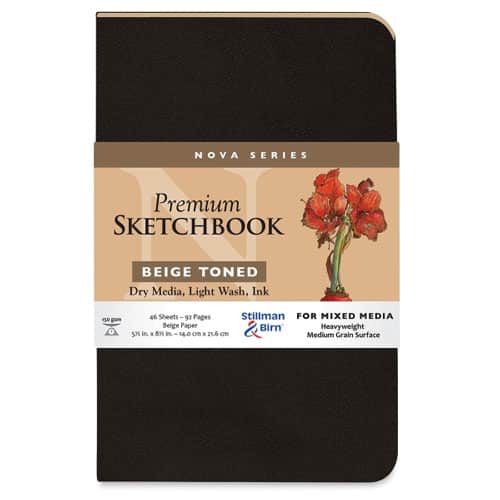 At 150 gsm and a medium grain texture, this sketchbook by Stillman & Birn is perfect to use with colored pencils.
Whether you have Prismacolors, Caran d'Ache, or even the oily Faber-Castell Polychromos, the textured paper used in this sketchbook will allow for easy blending – a key requirement when using colored pencils.
Another strong offering within this sketchbook beyond the textured surface, is the toned colors available.
Stillman & Birn makes their sketchbook available in the following colors:
All three colors are available at a size of 8.5" x 5.5" or 10" x 8" (all options with 46 sheets).
Now if you can't decide on a specific color to compliment your artistic style, Stillman & Birn makes a Trio sketchbook that contains all three.
While we think that this sketchbook is best suited for colored pencils, other mediums such as pastels (soft and hard), watercolors, gel pens, gouache, ink, and graphite should also work fine as well.
For exterior protection, these sketchbooks offer a soft cover (only for single color options) while the Trio comes in a wire/spiral binding.
Pros
Raised texture works well with colored pencils
Should have no problem blending oil or wax-based colored pencils
Tone colors allow for greater value range in your artwork
Durable cover made of quality
Cons
Expensive
No elastic closure
Bottom Line
Stillman & Birn make a great sketchbook that will work well not only with colored pencils, but several other mediums as well. The toned paper gives you additional versatility in your artwork.
6. Moleskine Sketchbook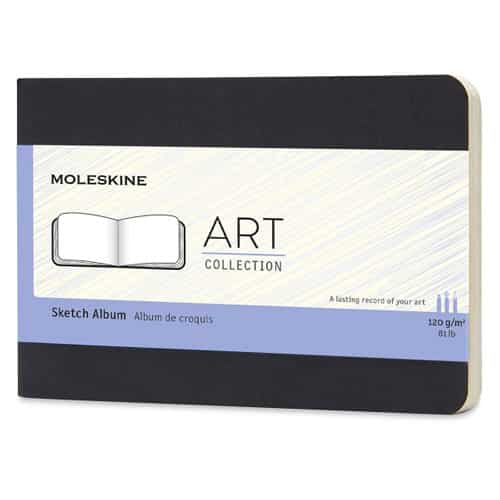 The one paper products company that has a recognizable name largely for their excellent notebooks, journals, paper tablets, bags, and more is Moleskine.
While the Moleskine Art Plus Sketchbook is both beautiful and very cool, but when it comes to the high demands of professional artists, it's not the best – largely due to the lack of texture and tooth.
While the lower set tooth isn't great for blending (especially for dry media work), we do think that this ivory colored paper is perfect for technical applications, markers, ink, etc. where clean and straight lines are required – specifically those who are architects.
Paper aside, we think that the Moleskine really shines with consistency, aesthetics, and availability.
If you are looking to draw for several years, Moleskine has a knack for not really changing up their existing product line too much.
Therefore, if you want a nice uniform bookshelf of your sketches that you can page through, then they are a great pick.
Secondly, aesthetics.
Unlike many of the sketchbooks reviewed, the Moleskine sketchbooks include an elastic band that keeps the book firmly shut when not in use.
This little extra strap is a great way to keep your sketches protected.
Another benefit of Moleskine is their availability. Found in malls, office supply stores, or general art stores, you should have no problem finding one quickly.
Pros
Smoother surface perfect for architects making technical sketches
Wide availability of sketch books makes it easy to buy locally
Elastic closure will protect your artwork
Back pocket great for simple storage
Cons
Not the best for professional artists
No hardcover sketchbook available
High priced given the performance
Bottom Line
Moleskine is a brand that has brought fine stationary to millions over the recent years. The smooth paper makes it a good selection for those performing technical drawings where layering isn't as important. Smart design allows for protected artwork as well.
7. Strathmore 400 Series Softcover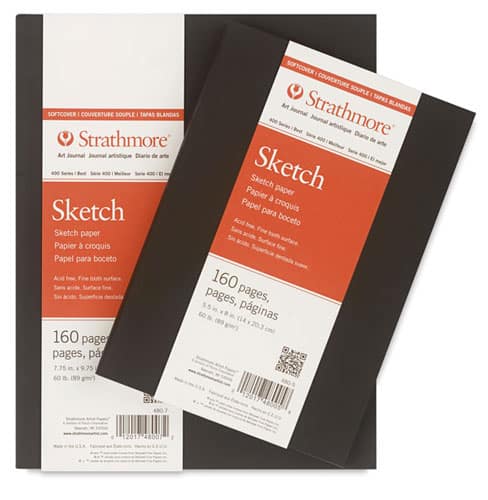 This quality sketchbook by Strathmore is the perfect companion to take with you everywhere.
Available in either a 8″ x 5.5″ or 9.75″ x 7.75″ size, it's an easy to carry sketch that has a sturdy and durable cover to protect your artwork.
However, where this sketchbook really shines is with the paper itself. With a fine tooth, it is among the best when it comes to working with various inks.
Your pens will have no problem gliding along the surface, making for clean and controlled lines.
Now if you are concerned about bleeding of the paper, the 89 gsm paper should be enough to prevent any seepage.
While we think that this sketchbook works great for inks, its is fairly flexible and is suitable for other dry media (charcoal, graphite, pens, etc.) as well.
Pros
Fine tooth surface allows for clean strokes
Acceptable weight for most mediums
Strong archival qualities
Cons
Will likely warp with watercolors or acrylic
Bottom Line
If you favor ink as a medium, the fine tooth surface in this sketchbook will showcase your talents perfectly. Can also be a great pick for architects and those like to draw technical lines. It's lightweight and easy to carry with you throughout the day.
Tips on Caring for Your New Sketchbook
While all the sketchbooks reviewed in this guide should have no problem with the daily wear and tear, we did want to share a few tips we learned along the way to ensure you get the most from your new sketchbook.
Here's our three easy (and useful) tips:
1. Write Your Contact Info
Before you draw your first sketch, write your contact info within the front cover.
Be it your email address, phone, Instagram username, etc.
Make it extremely EASY for someone to reach out should your sketchbook ever get misplaced.
Not only will this save you the $20 you just invested into this book, but also a wealth of memories and sketches as well!
2. Decorate or Paint the Cover
As you saw in the pictures of this guide, sketchbooks are pretty boring looking.
A discrete black cover is great if you are trying to keep a low profile, but a decorated one makes it much easier to spot so you don't lose it.
You're an artist – showcase your talents.
Pick up a bit of acrylic paint and have a bit of fun by letting your personality shine on your cover.
Not only will it be easier to keep track of, but a distinct cover will be easier to organize when you build a collection of sketchbooks over the years.
3. Carpenter's Pencil for The Pocket
If you happen to own a sketchbook with a back pocket, get yourself a carpenter's pencil to stuff in it.
These extremely thin pencils are great to pair with a sketchbook should you accidentally leave your drawing tools at home or simply run out of lead/ink.
Therefore, you can always practice your artwork so long as you have your sketchbook with you at all times.
Best Sketchbook: Selection Process
Finding the best sketchbook of 2020 was a difficult task. With so many options available to artists today (in fact, Blick offers 133 different sketchbook types at the time of publication), finding the perfect one to meet your needs can be challenging.
However, after careful review and consideration for all those listed above, we are confident that you will be happy with the ones featured today.
Thanks for checking out the guide, we hope it helped you in finding the perfect sketchbook for you.