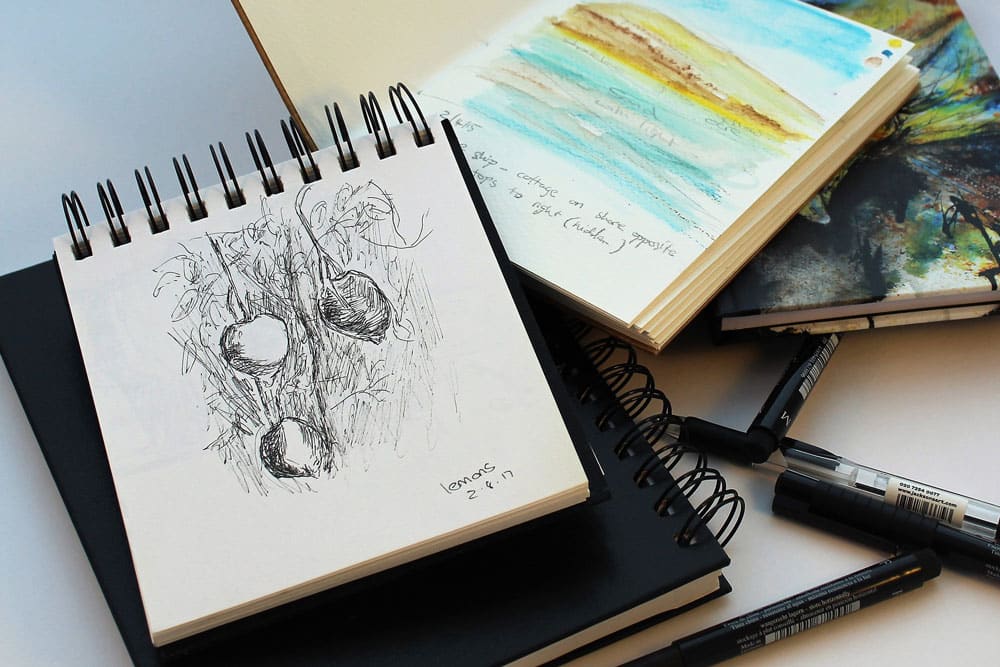 7 Best Sketchbooks To Quickly Capture Your Ideas & Imagination
This Article May Contain Affiliate Links
Drawing daily is one of the most effective ways to get better as an artist.
Whether you are looking to capture people, places, animals, or more, a sketchbook should be with you at all times.
But not just any sketchbook…
The best sketchbook should not only have the portability of the artist in mind, but the sheets of paper within should have ample weight, a strong binding, exhibit key archival qualities, all while having a durable cover that will protect your work.
In this ultimate guide we will walk you through features you should think about when buying a sketchbook, provide in-depth reviews of the top sketchbooks currently available, along with a few tips so you get the most from your new sketchbook until each page is filled.
Let's get started:
Quick Summary: The Best Sketchbooks
All The Top Sketchbooks Compared
Here's a quick overview of all the books and pads reviewed today:
Key Considerations When Buying A New Sketchbook
When reviewing all the most popular sketchbook types available to artists today, we found that there were nine key features you should take a minute to think about before making your purchase.
Here's a bit of info on why each of them is important:
1. Acid Free Paper
If you are serious about your art career, then it's imperative that you go with a sketchbook that has archival qualities.
Acid-free paper is made differently from your standard copy paper in that the active acid pulp has been removed during the papermaking process (source).
Sketch paper that contains acid will become brittle and yellow over time.
2. Hard Cover vs. Soft Cover vs. Sketch Pad
Sketchbooks come in three forms:
Hard covers
Soft covers
Pads
Selecting the right one for you is a personal preference.
Generally speaking, a hardcover sketchbook is a bit more artist friendly in that they are rigid and give you a flat and firm surface to capture your sketches on.
Soft cover sketchbooks will need to lay on either your leg, table, or another hard surface when you are sketching.
If getting to a flat surface to sketch isn't a problem for you, then don't worry about a sketchbook with a soft cover.
Lastly, sketch pads are largely for pure beginners and are often glued together. These are the lowest of quality and should only be used for casual use.
Just take a quick second to think about your daily habits and how your new sketchbook fits into that workflow.
3. Binding – Wire Bound vs. Glue Bound vs. Thread Bound
Artist sketchbooks are available in three binding types:
Wire bound or spiral bound
Glue bound
Thread bound
Here's a bit more on each:
Wire bound / spiral bound sketchbook – Likely a form factor you are already familiar with, a wire or spiral binding is extremely versatile.
Able to be folded completely over to have one flat drawing surface, they are easy to manage and draw upon.
Unfortunately, the biggest drawback to a wire bound sketchbook is that it may get damaged when taken outdoors.
A bent wire can be frustrating when you are looking to turn pages fluidly or showing off your sketchbook.
In addition, wire sketchbooks are bulky compared to others. Making them a bit less portable. However, spiral sketchbooks do tend to have a lower price point.
Glue bound – Glue bindings are among the least favorable for serious artists. They often don't lay completely flat and can get in the way when drawing.
Furthermore, the glue that companies rely on are generally harmful from an archival perspective.
Glue bound is most often found on inexpensive sketch pads.
Our recommendation here is that if you do go with a glue bound sketchbook, cut out the pages with an X-ACTO knife in order to preserve your sketches longer.
Thread Bound – Found in the high-end sketchbooks, thread bindings give the book a much thinner profile.
This difference is especially pronounced when compared to a wire bound sketchbook.
A thread binding is also absent of any glue or chemicals, making this a strong choice for those artists that want to have better archival properties.
Lastly, having a sketchbook that lays flat, such as one with a thread binding, allows you to concentrate on sketching rather than holding down the paper.
4. Perforated Sheets
Some sketchbooks offer micro perforated sheets which can be great if you like to display your sketches.
Perforated sheets are often only found on wire bound sketchbooks.
If you don't want to carry a bulky wire bound sketchbook with you but still want to display your sketches, as we stated earlier, an X-ACTO knife will help you to gently and cleanly cut away the sheet if necessary.
5. Paper Weight, Texture, Composition
Depending on sketchbook intent (more on this in a minute) will determine the paper weight required for your artistic purposes.
Virtually all sketchbooks will usually have a paper weight anywhere between 100 gsm (grams per meter) and 300 gsm.
If you are using dry mediums such as gel pens, graphite, charcoal, etc. then a sketchbook below 200 gsm should be more than enough for your daily sketches.
In addition to weight, another key component of the paper will be the texture.
Sketchbooks can come in a variety of textures typically ranging from light to heavily textured.
The texture of the surface can play a huge role in the performance of your medium and how it interacts with the surface.
Generally speaking, a heavy textured sketching paper can capture more of the dry media (graphite, charcoal, etc.) allowing for greater layering and blending control.
Another point of consideration is if the paper is made from recycled materials. Unfortunately many of the top sketchbooks are made from fresh trees (as opposed to post consumer recycled paper).
If you want to make sure that you don't cause an impact on the environment, most companies we researched are committed to sustainable forest management like Canson, Moleskine, and many more.
No matter the sketchbook build, quality paper selection is the most important when finding the right sketchbook for you.
6. Paper Intent
Building off the previous section, the intent of which you use the paper will dictate which is the right sketchbook for you.
Whether you are using the sketchbook with markers, ink, gel pens, or daily drawings, finding one to meet your needs will be key.
As we expand on the reviews below, you will see that each of the sketchbooks reviewed vary greatly and can perform much better with certain wet or dry mediums and artistic skills.
7. Paper Color
Some artists enjoy a cream colored paper while others love the contrast of a bright white paper sheet. No matter the scenario, you can find a sketchbook with the right toned paper for you.
As discussed in great detail here, toned paper is ideal when paired with a sketchbook as you have greater control over values when sketching in the field.
8. Sheet Capacity
Whether you like to have a large timespan of sketches captured within your sketchbook or you like to keep it light, sheet capacity can be an important factor when finding the perfect sketchbook to meet your needs.
Capacities typically range anywhere between 24 and 100 sheets.
One word of caution when selecting a sketchbook based on page count.
Many companies like to count both sides of the sheet making their book seem much bigger than it actually is – for example, if advertised as a 96 page sketchbook, there will be only 48 sheets within.
So, if you are picking up a sketchbook for a vacation or an extended trip, you may want to double up if the sheet count is small.
9. Portability
The very nature of sketchbooks is that they are intensely portable and should be treated as such.
If you don't carry a backpack or purse in your daily life, then a pocket-sized sketchbook may be the right choice for you.
However, if you are a student or carry a bag with you everywhere you go, then size limitation likely isn't as important.
The key takeaway here is to go with a sketchbook that works effortlessly into your everyday life.
Don't go too big, because chances are that you will never want to take it with you.
Lastly, some sketchbooks offer back pockets that can store simple supplies (small pen, pencil, etc.) which can improve portability. However, we recommend that if you do get one with a back pocket, make sure it has an elastic closure in order to keep your supplies organized.
The Best Sketchbooks of 2019 Reviewed
After reading countless reviews, forums, and reviewing each sketchbook objectively, here's our list of the top rated sketchbooks currently available:
Tips on Caring for Your New Sketchbook
While all the sketchbooks reviewed in this guide should have no problem with the daily wear and tear, we did want to share a few tips we learned along the way to ensure you get the most from your new sketchbook.
Here's our three easy (and useful) tips:
1. Write Your Contact Info
Before you draw your first sketch, write your contact info within the front cover.
Be it your email address, phone, Instagram username, etc.
Make it extremely EASY for someone to reach out should your sketchbook ever get misplaced.
Not only will this save you the $20 you just invested into this book, but also a wealth of memories and sketches as well!
2. Decorate or Paint the Cover
As you saw in the pictures of this guide, sketchbooks are pretty boring looking.
A discrete black cover is great if you are trying to keep a low profile, but a decorated one makes it much easier to spot so you don't lose it.
You're an artist – showcase your talents.
Pick up a bit of acrylic paint and have a bit of fun by letting your personality shine on your cover.
Not only will it be easier to keep track of, but a distinct cover will be easier to organize when you build a collection of sketchbooks over the years.
3. Carpenter's Pencil for The Pocket
If you happen to own a sketchbook with a back pocket, get yourself a carpenter's pencil to stuff in it.
These extremely thin pencils are great to pair with a sketchbook should you accidentally leave your drawing tools at home or simply run out of lead/ink.
Therefore, you can always practice your artwork so long as you have your sketchbook with you at all times.
Common Questions Artists Had About Selecting A Sketchbook
Best Sketchbook: Selection Process
Finding the best sketchbook of 2019 was a difficult task. With so many options available to artists today (in fact, Blick offers 133 different sketchbook types at the time of publication), finding the perfect one to meet your needs can be challenging.
However, after careful review and consideration for all those listed above, we are confident that you will be happy with the ones featured today.
Thanks for checking out the guide, we hope it helped you in finding the perfect sketchbook for you.