When it comes to finding a palette to mix your acrylic paint on, it largely boils down to personal preference.
Are you an artist that is looking for a palette to use plein air? Or perhaps you want to get a palette that not only has a lid for travel but also is perfect for studio use?
No matter the reason, here are 7 of the best palettes for acrylic paint that can cover just about any scenario – you are sure to find one below that you will absolutely love:
Comparing The Best Acrylic Painting Palettes
If you want more of an apples-to-apples comparison between all the palettes, check out our table below that compares key details:
The 7 Best Acrylic Painting Palettes Reviewed
1. Sta-Wet Palette
Designed for a few different mediums, this palette uses a unique combination of acrylic paper and a cellulose sponge in order to retain the moisture in your acrylic paints.
While acrylic paints naturally dry out quickly, this unique system by Sta-Wet allows you to keep your paints around a bit longer.
This not only saves a huge chunk from your art budget by stopping excess waste, but also its great if you want to work on a piece for a few days at a time.
The inclusion of a lid also makes this palette great for travel – perfect for both field and school use.
2. Darice Acrylic Painting Palette
While flat palettes like Sta-Wet are great for preservation and travel, palettes like this one from Darice are perfect for color organization and mixing.
With 20 different wells, you can not only keep all your paint orderly, but the larger slanted square wells are perfect for pulling out various hues in your acrylic paint.
All of this works together in producing much better results for your artwork.
Given that this is a general use palette, if you like to go between various mediums, the Darice palette will be compatible with both watercolor and oil based paints.
With a sub $5 price tag, you really can't go wrong with this palette by Darice.
3. Artlicious
Currently the #1 seller on Amazon with a near perfect rating, this palette by Artlicious is a no-frills palette that is perfect for artists who like to stand up while painting (due to the included thumb hole).
While designed for standing artists, the compact nature of the palette (it only has 10 wells) makes it also great for those artists who want to paint en plein air.
A polarizing design choice in the palette is the well design.
With 6 rounded wells and 4 irregular shaped wells, it may prove to be frustrating for some artists who look for some uniformity in their palette. It likely won't be a deal breaker for many given the compact size, but one worth mentioning before you decide to add this to your cart.
4. Strathmore 300 Series Palette Paper
A maker of top-rated paper for acrylic painting, Strathmore serves up a great pad of paper that will give you a great surface for mixing your acrylic paints.
Unlike your standard parchment or freezer paper that some DIY artists may use as a mixing surface, this palette paper is more than just a household item that has been repackaged and resold at a markup.
With the ability to lie completely flat along with easy tear-away sheets (tape bound), this palette pad is perfect for artists who want to keep minimum "stuff" in their studios.
But another great use for this palette paper is in the classroom setting. Whether it's a paint & sip class or formal art class, using this over a traditional palette will make cleanup incredibly easy (just throw away once done).
Simply put, this palette paper is a non-traditional take on the formal palettes used for acrylic painting mixing and one worth considering.
5. Large Oval Palette
At nearly 12" x 16.5", this palette is a completely blank slate for you to mix your acrylic paints on.
With a light segregated surface that only features 3 dividers (this helps to prevent thin washes from seeping into other colors), it's a perfect palette for artists who want to be in complete control with their acrylic paints.
This palette is also perfect for standing artists given that it has a thumb hole. Now if you are worried about hand fatigue, you will be happy to learn that while this palette is rather large, it only weighs 8 ounces.
Lastly, if you find that this palette is a bit too large for your personal preference, they do offer a 30-day return window if you aren't satisfied.
6. Amaco Paragona Glass Palette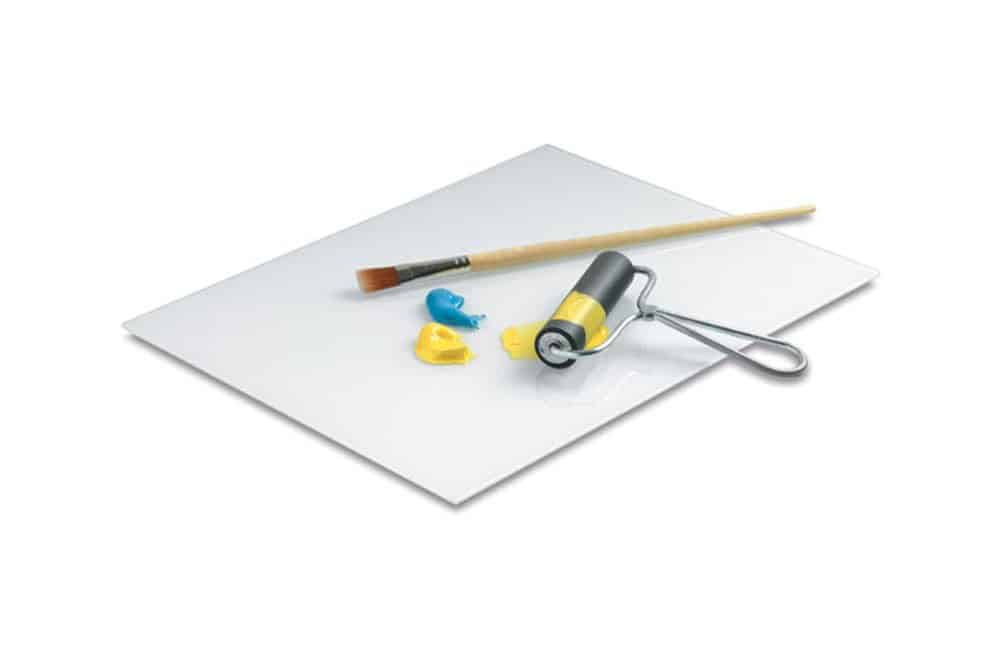 Glass palettes are not only a sustainably sourced option, but one that will last you a lifetime if handled with care.
This Amaco Paragona glass palette is a nice oversized (11" x 14") palette that is absolutely perfect for studio use.
Absent of any ridges or wells, this palette is a flat surface that gives you complete control over color mixing.
If the rectangular palette doesn't work for you, Amaco Paragona also provides an Oval palette (also includes thumb-hole) for a few dollars more (same overall dimensions).
Another huge advantage of the glass palette is cleanup.
When your acrylics dry to the surface, you can simply use a razor blade and scrape it clean (something you can't do with plastic palettes).
7. Blick Clear Acrylic Palette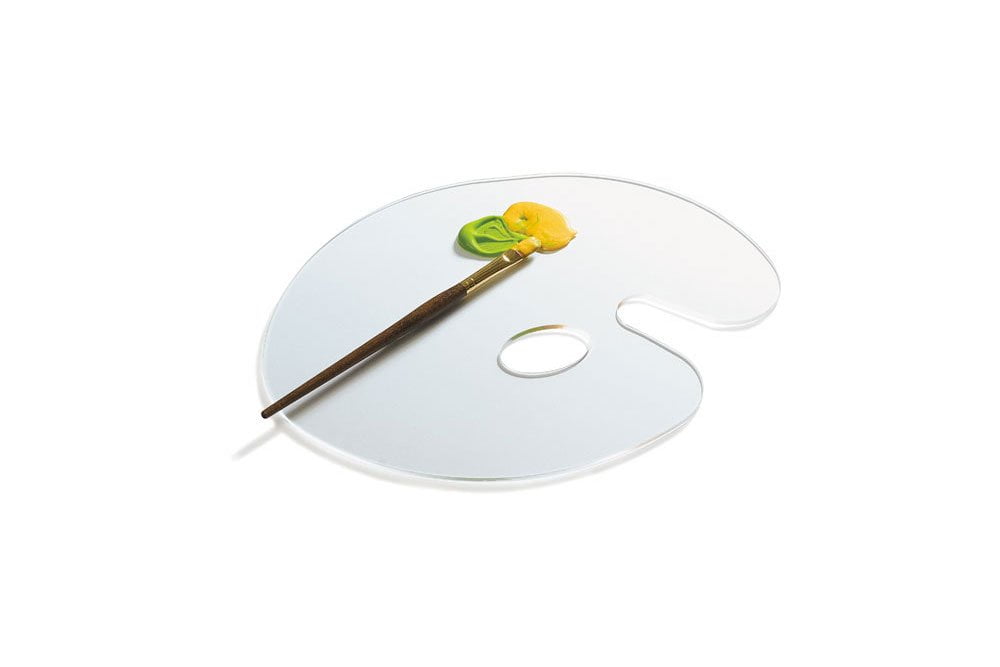 This Blick Clear Acrylic Palette is a perfect pick for artists who want a glass-like surface of that found in in the Amaco Paragona but don't want to pay the premium.
At about 1/3 the cost of the pricier glass palette, this acrylic based palette by Blick is a great alternative.
With a completely flat surface, you can mix your acrylics to your preference without worrying about well constraints.
Now when it comes to cleaning, while a flat razor is out of the picture as it will chip or scrape the acrylic – you will need to use a solvent (i.e. alcohol) to get it completely clean.