If you are still using a hair spray in lieu of a workable or final fixative, its probably time for an upgrade.
Why?
Proper fixatives for your pastels not only will perform much better (as they have been designed for this complex medium instead of your hair), but will also feature better archival qualities including an acid-free base while also resisting any yellowing with time.
In fact, a top rated fixative will come in two forms – workable or final, provide a light spray coating for greater control, and is designed for pastels – like the Grumbacher Workable Fixative Spray.
The scope of today's article has several goals.
Of course, we will review the best fixatives for pastels, but we will also go over a few key considerations you should know about before purchasing a fixative, along with a guide on how to use your new fixative when it arrives in the mail.
Let's get started!
Summary Of The Best Fixatives For Pastels At All Skill Levels
As you will find out in our reviews below, fixatives come in many different forms. Here is the summary of our findings after several hours of research:
Comparing The Best Fixatives For Pastels
For those of you who like to easily compare the products mentioned in this post, here is a handy table to help you see how each one of the fixative sprays vary from one another:
Before You Decide: A Few Things To Consider
While purchasing a pastel fixative is fairly straight forward purchase, during our research, we did find that these were a few important buying considerations that many pastel artists like yourself tend to think about before deciding on their next fixative:
Budget
Like any art supply, prices will often vary drastically between the products. With companies carrying an impressive legacy like Sennelier, to more house hold names like Krylon, you can find a fixative to match your budget.
But what do you really get in exchange for loftier prices?
A few things actually.
We found during our research that the higher end brands (think Sennelier, Grumbacher, Winsor & Newton, etc.) had a higher quality mix of ingredients and more specificity in their intended use.
This means that they will perform best with pastels (both oil and soft), and be less prone to any side effects both in terms of performance and health.
We found that inexpensive fixatives often carried several health warnings with their label. So, if you are one that tries to steer clear of "junky" ingredient profiles when making purchases, you will want to be mindful of this when deciding the best fixative for your pastels.
Intended Pastel Type
Building off the previous section, many fixatives can work across several different mediums including pencil, charcoal, and chalk.
While soft and oil pastels are starkly different mediums, many of the fixatives we reviewed below can (and do) work across both of these mediums.
So, try not to get too hung up on finding a specific fixative for your preferred pastel type.
Workable vs. Final
Within the world of fixatives, you will find two main categories – workable and final.
As inferred by their name, their intended applications are starkly different.
If you are looking to add layers to your pastel work be it soft, hard, or oil pastels, then you will want to go with a workable fixative.
Workable fixatives provide a unique matte texture that gives you additional tooth to work with.
This allows your pastels to latch on effortlessly as they did when initially applied to the surface.
The tooth on workable fixatives will also allow you to easily blend your soft pastels– so there should be no concern here.
Final fixatives on the other hand are made for your finished piece of work.
As is the case with soft pastels, and to a lesser extent oil pastels, the pigment and binder within the pastel can easily detach from the surface.
A final fixative will not only ensure that the pastel remains in place on the surface, but will give you a nice final coat that won't dull the colors.
Final fixatives often come in two forms, matte and gloss.
So, think about the one that will suit your personal preference – if undecided, we recommend going with a matte finish (therefore, if the artwork is hung, the glass will naturally provide a glossy surface and won't compete with your artwork).
Student vs. Artist Grade Fixatives
Unlike just about everything in the world of art supplies where its bucketed into either student or artist grade, fixatives transcend both categories.
We can tell you that artist brands like Grumbacher, Sennelier, Winsor & Newton, etc. are designed for more professional artists, however, beginners still shouldn't shy away from them.
The key point here is to find a fixative that works for you and your own techniques that you employ in your artwork and that you enjoy using.
Best Fixatives For Pastels Reviewed
Here's a look at some of the fixatives we found to be standout performers based on our research:
1. Sennelier Fixative for Pastels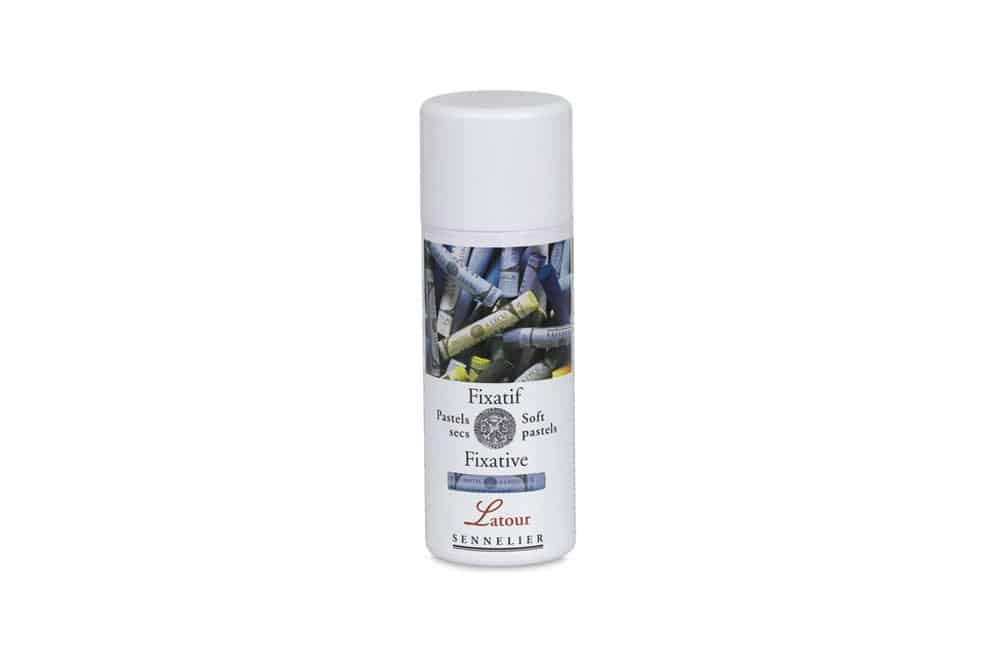 There is no other name on our list that brings so much clout to the world of pastels than Sennelier…
…and with good reason.
This French based company has been in existence since 1887 and has served many well known artists including Cezanne, Gauguin, Picasso, and Van Gogh (source).
With a store directly across the street from the Louvre – you really can't get any more authentic than this.
But you see, its one thing to have been good long ago, but its another to carry on this legacy as well (heavy lies the crown anyone?!).
Sennelier makes two different types of final fixative sprays – one for soft pastels (Latour) and another for oil pastels (D'Artigny).
While many may think that this is just clever marketing between both sprays and likely contain the same ingredients…
…you would be mistaken.
When researching their MSDS (Materials Safety Data Sheet) information – Latour here, D'Artigny here – their respective compositions are starkly differ – which tells us that they are specifically formulated for their intended mediums and shouldn't be used elsewhere.
Ingredients aside, it's really the results that matter…
When reviewing the feedback that artists had to say about these sprays – they were incredibly pleased with the results.
The sprays went on both extremely light and dried rather fast.
Which each spray requiring a few coats before it was "final", the fast-drying nature was welcomed.
But what really is great about this incredibly light coat is the pigment preservation.
If there was any underlying story we found about the Sennelier fixative sprays it's that they preserve the original artwork to its true form.
So, you don't have to worry about a fixative destroying your precious piece that you worked hours on by dampening or altering the colors in any way.
Bottom Line
Overall, it doesn't get much better for pastel final fixatives than Sennelier. While they demand a premium price point – the quality in the fixative is second to none. If you want your artwork to look amazing years down the road, go with this one, you won't be disappointed.
2. Krylon Workable Fixatif Spray
One of the more widely known brands on our list will undoubtedly be Krylon.
Maker of all things spray related, Krylon serves up a workable fixative spray that works across several different mediums including both soft and oil pastels.
Perfect for budget minded artists who are exploring pastels for the very first time, Krylon is an extremely affordable pick if you are watching your spending.
Both non-yellowing and acid free, the Krylon workable fixative will also be able to withstand the test of time.
While we found some concerns around color alteration and spray consistency, if you are just practicing techniques with some beginner level soft pastels, then it should suffice.
In addition, each layer that you put down with this workable fixative should take about 30 minutes to dry to a toothy and matte finish, so you will want to plan accordingly.
Bottom Line
Overall, the Krylon fixative is aimed at beginners. It has some great preservation qualities but also carries with it some concerns around color alteration and drying times. It's still a great budget pick for those artists looking to pinch a few pennies.
3. Winsor & Newton Artists' Workable Fixative
Whether you know of Winsor & Newton through their top-rated watercolors or their incredible acrylic paint, they are undoubtedly a respected name in the world when it comes to art supplies.
This U.K. based art company is one of the older ones on our list and was established in 1832.
In true Winsor & Newton fashion, this workable fixative provides terrific performance at an equally terrific price point (typically hovers around $11 to $12).
This versatile fixative can work across several different medias including charcoal, pencil, chalk, and of course oil and soft pastels.
Like the Sennelier fixative sprays we reviewed, the Winsor & Newton Workable Fixative spray goes on lightly – which allows for thin coats (perfect for controlling the amount of tooth desired) along with faster drying times.
While most fixatives may alter the color slightly, pastel artists found that this one had very little effect on their piece (perhaps just a touch darker).
Bottom Line
Overall, if you are looking from a step up from a budget brand and want one that works with several different mediums, then you can't go wrong with the Winsor & Newton spray. It's moderately priced and works well.
4. Grumbacher Workable Fixative Spray
Like Winsor & Newton, Grumbacher is one of those names that is a fixture in the art supply world.
Their products are typically well made, well thought out, and perform at a quality that matches some of the higher end brands…
…and their workable fixative is no exception.
Able to work on both dusty/chalky and greasy mediums including soft and oil pastels, the matte texture of this fixative builds up a nice tooth that allows the pigment and binder to latch on to effortlessly.
When applying this fixative, per the official Grumbacher instructions, you can expect a rather light coat that should be touch dry in about 5 to 7 minutes (a huge time savings when compared to the Krylon Workable Fixative).
Once you have sprayed a layer with the Grumbacher Fixative, you don't have to worry too much in the way of color alteration – we found that colors remained true and consistent even after a few generous applications.
Longer term, artists found that this fixative also resists yellowing.
Bottom Line
Overall, it's a pretty good fixative for both intermediate and professional level artists. If there were any downsides, it would be the cost. We found this to be one of the more expensive fixatives during our research.
5. SpectraFix Spray Fixative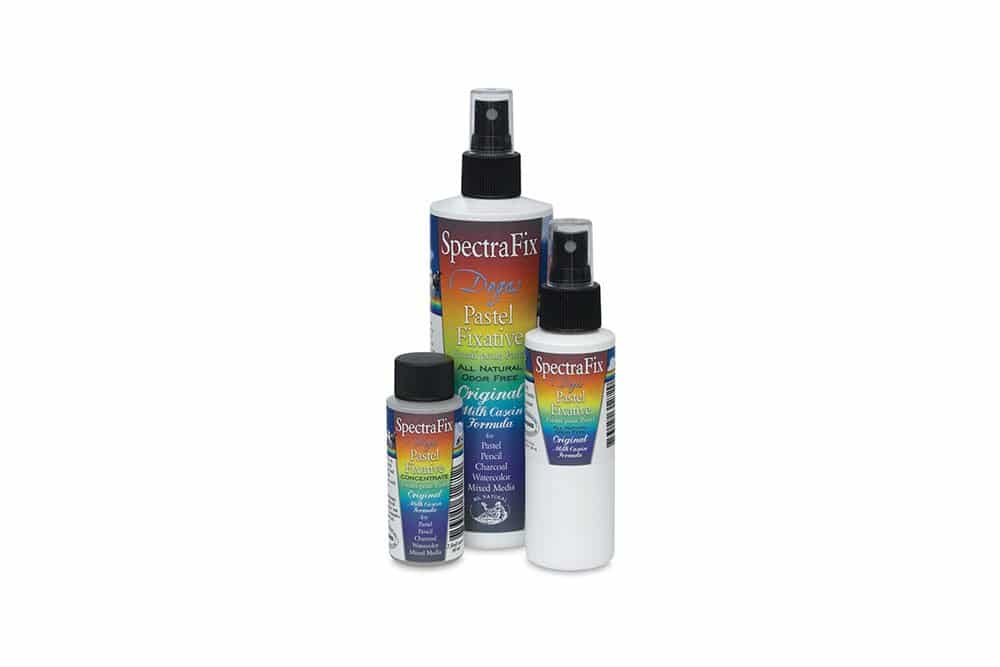 For those artists that are turned off by some of the scary warning labels found on some fixatives (and rightfully so), then you will want to take a look at SpectraFix.
In a world of harsh chemicals, SpectraFix is a non-toxic yet highly workable fixative that is also acid free.
So, what's in the bottle and how do they do it?
SpectraFix heavily relies on casein (a milk protein), denatured ethanol (denatured alcohol), and water – according to the SpectraFix MSDS.
This simple ingredient profile provides an extra peace of mind, especially to any pastel artists reading who are also expecting or plan on using pastels with a younger artist.
Beyond the safer spray, especially when compared to others, SpectraFix is also rather affordable for the size (about $14 per bottle).
Like the Grumbacher, Winsor & Newton, and Krylon sprays we also reviewed, SpectraFix can be used with several different mediums including charcoal, watercolor, gouache, and other mixed media purposes.
As great as the non-toxic and environmentally friendly nature that this fixative is, one of the largest drawbacks was the spray feature itself.
Given that this doesn't rely on propellants such as butane or propane, the manual pump spray may lead to non-uniform coverage (although it does provide a fine mist).
While likely not a huge issue, especially for those artists who are still learning, for professionals, this can be a tough feature to look past.
Bottom Line
Overall, this is great workable fixative for expectant mothers and children. The environmentally friendly and non-toxic nature will put many minds at ease. It will still provide a great tooth and terrific results in your planned pastel piece.
6. Blick Matte Fixative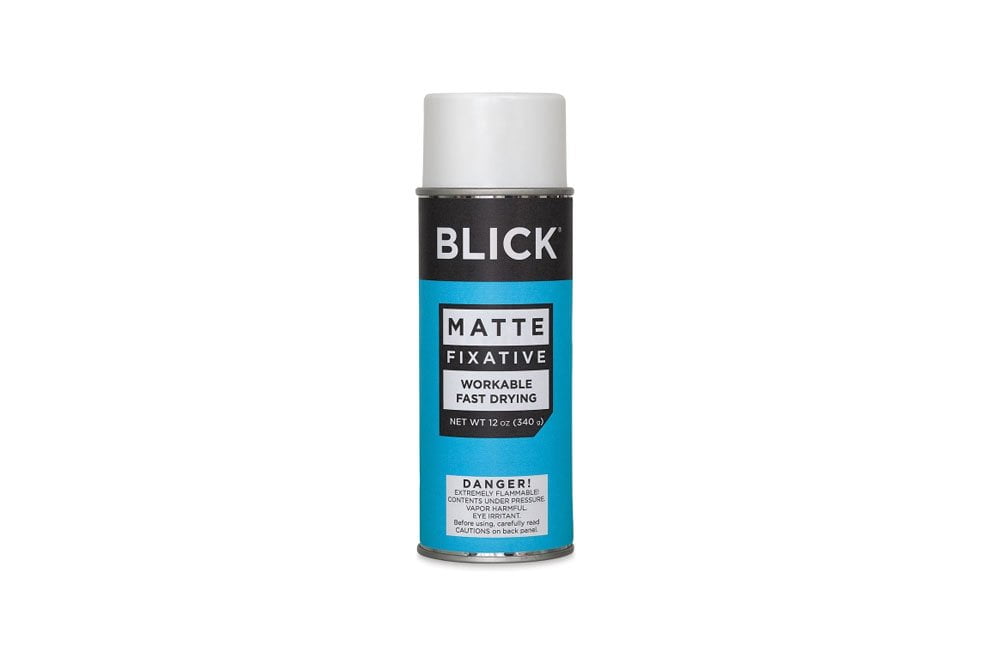 Many artists know Blick for their incredible selection on art supplies (over 90,000 products), but what many artists seem to miss will be the quality products that they make under their own name.
The Blick Matte Fixative is no exception to the quality products we have seen come out of this company time and time again.
One of the most affordable picks on our list (retails for about $6 each – discounts for those who buy in bulk), this is the perfect selection to those artists who are starting out with soft or oil pastels for the first time and are looking to explore the world of complex layering and blending.
Available in both a matte (non-glossy) and gloss option, you can find the right one for your planned piece.
Now even if you are exploring fixatives for the very first time, unlike some of the higher end brands that are just for pastels, this fixative by Blick can be used across several mediums including pencil, charcoal, and mixed media.
As great as this workable fixative is, its not without its faults. Some artists were turned off by its stronger smell (so make sure you use in a well-ventilated area), and its drying time between coats.
While not as long as the Krylon's 30-minute drying time, pastel artists found that this workable fixative took about 15 minutes to dry between layers.
But once dry, the tooth they had to work with was rather 'grippy' and worked well.
Bottom Line
Overall, this workable fixative is perfect for students or those on a restrictive budget. The ingredients found within are rather harsh, so be sure that you use outdoors in a large open space. This will not only protect your health, but also help speed up the lengthy drying time required.
Fixative FAQs And Usage Tips
Should You Really Use Hair Spray Instead Of A Fixative?
No.
I remember hearing from an art restoration professional that said household solutions like hair spray is what keeps them employed.
While we all like to use substitutes to save a dollar or two, when it comes to preserving your piece for years, spend the few extra bucks on a proper fixative.
It will ensure that your piece lasts a lifetime.
How To Use A Fixative Spray Properly?
Always follow directions on the can as they can vary from one manufacturer to another.
With that being said, you will generally want to lay your piece on a flat surface and hold the can back about 1 or 2 feet and apply a light, even, and consistent coats.
Make sure that you let the fixative dry before applying any additional layers.
The number of layers will vary depending on the fixative type and the contents contained within the can.
Where To Buy A Fixative Spray Online?
While we mostly covered products that were sold at both Blick Art Materials and Amazon, as they both ship to multiple countries and have favorable return policies, artists looking to buy elsewhere should check out our recent post where we covered some of the best places to buy art supplies online.
There we go over a variety of online retailers, return policies, shipping costs, etc. for easy comparison.
Best Fixative For Pastels: Selection Process
Finding the best fixative for pastels in 2020 proved to be rather difficult. With so many options on the market, and so many new entrants in recent years, it can be quite a challenge to cut through the fluff – especially given the fact that the newer entrants haven't really withstood the test of time.
But after several hours of research, reviewing artist feedback, reading online reviews by others, and a technical look between the brands, we are confident we found the best fixative sprays currently available – and more importantly, we think you will be happy as well!
Now, given that we have a smaller team here at Createlet, we unfortunately didn't have the resources to look at every single option out there.
Therefore, if you feel like we should add another fixative to our list, then please let us know – we would love to hear!