DeviantArt has been a fixture for artists for nearly 20 years. From digital to traditional art, photography and more, its likely one of the first places artists end up when they are looking for lively online communities, sharing, and more when it comes to their artwork.
Today we wanted to round up a few great alternatives to DeviantArt – not necessarily because it's bad (far from it), but it great to know about some of the other communities that are quickly growing as well.
These will not only be communities which you can share your work, but also some great areas where you can find some inspiration for the next piece you might be planning.
Here Are 14 Sites Like DeivantArt That Are Great For Artists
From general interest to traditional and digital media – here are some sites you will want to check out:
ArtStation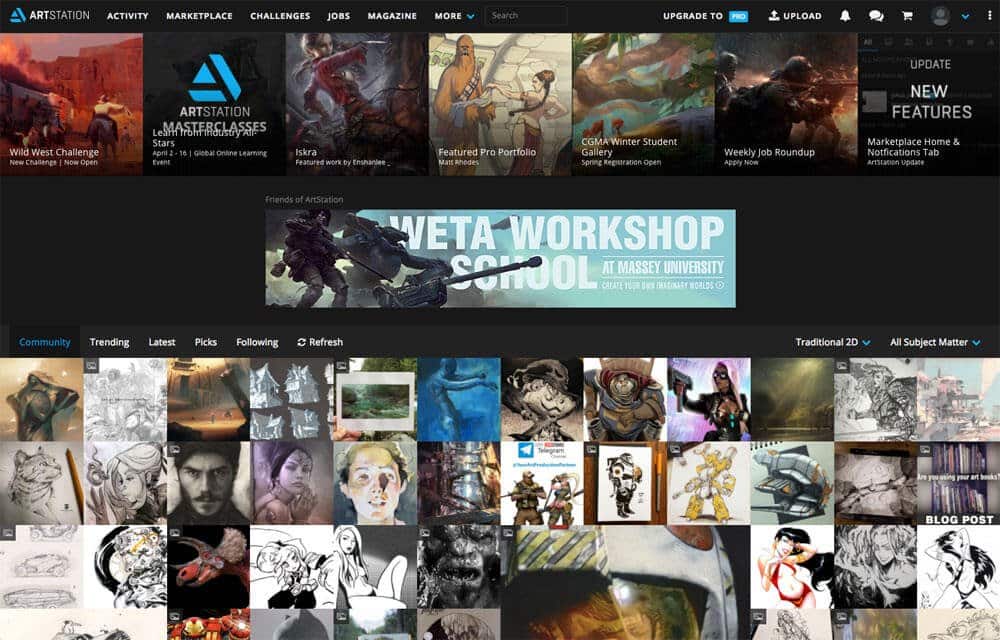 While largely focusing on digital 2D and 3D media, ArtStation is a terrific source when it comes to traditional 2D media as well.
With an endless sea of results that seem to go on forever, this will be the one online community that we think a lot of artists who frequent DeviantArt will love.
With the ability to filter and search through their impressive database of drawings and paintings, there is definitely no shortage when it comes to inspiration.
Artists looking for a platform that's not loaded with adult rated images will equally love the unobtrusive 'Mature Content' warnings – making it great to check out at work or even a coffee shop without having to fear who might be looking over your shoulder: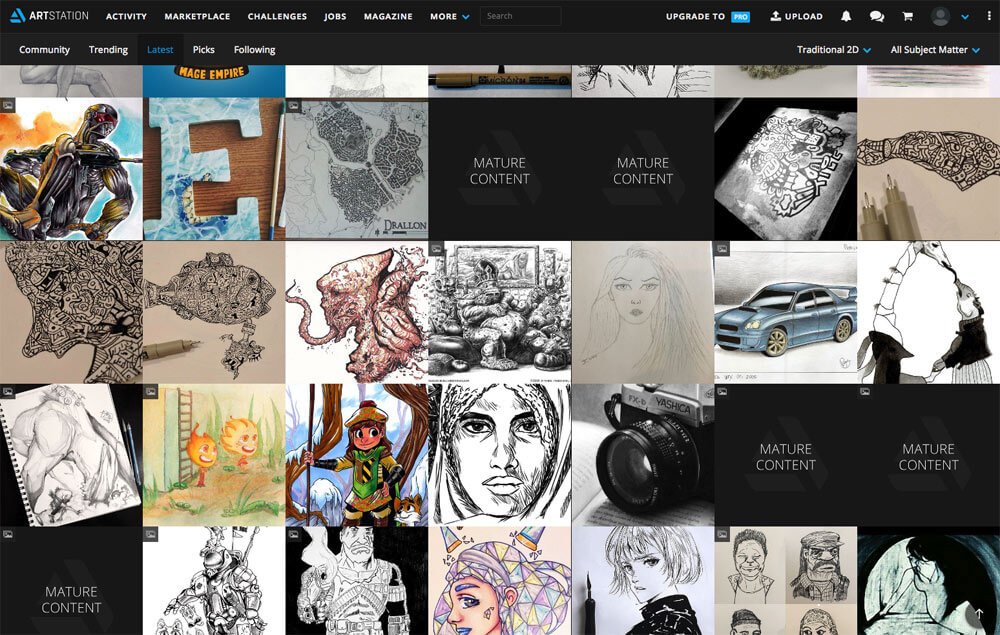 When it comes to sharing your work, in ArtStation you will see many of the familiar social sharing features including likes, views, and comments.
For digital artists, the ArtStation Marketplace is also a great way to add to your tool set by buying brushes, game assets, textures, and even tutorials.
For the artists looking for some work, many of the larger video game publishers including Insomniac Games, Naughty Dog, CD Projekt Red, etc. do occasionally post jobs.
Lastly, ArtStation does have a Magazine section that is perfect for sharpening your skills.  While largely tailored to digital artists, it will likely become a resource you will want to check out regularly.
Ello.co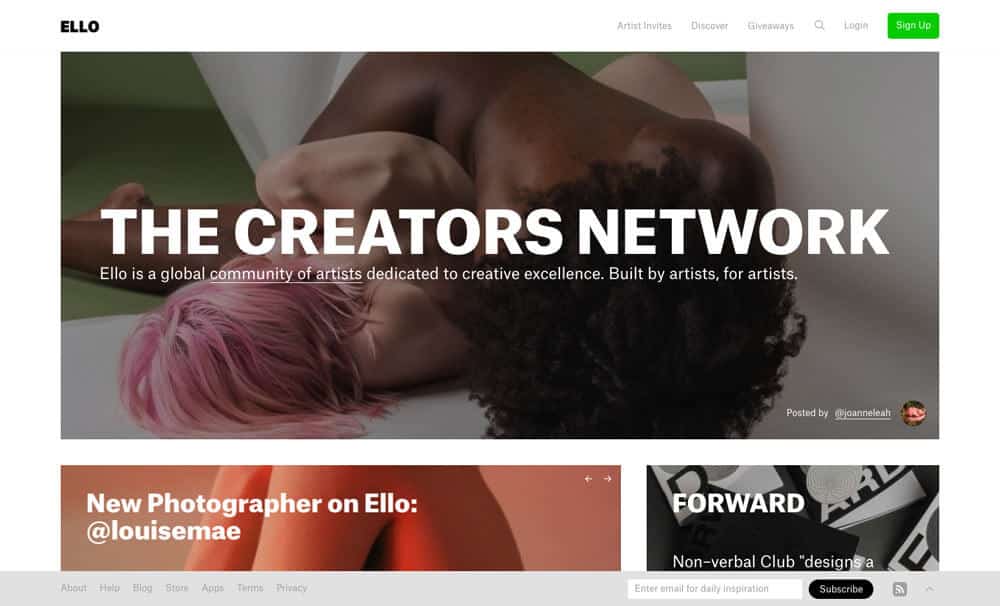 Proclaimed as 'The Creators Network' Ello.co is truly a one of a kind experience when it comes to online art communities.
While not nearly as robust as sites like DeviantArt or ArtStation, the layout on this site when it comes to artwork is very clean, modern, and to an extent, minimal: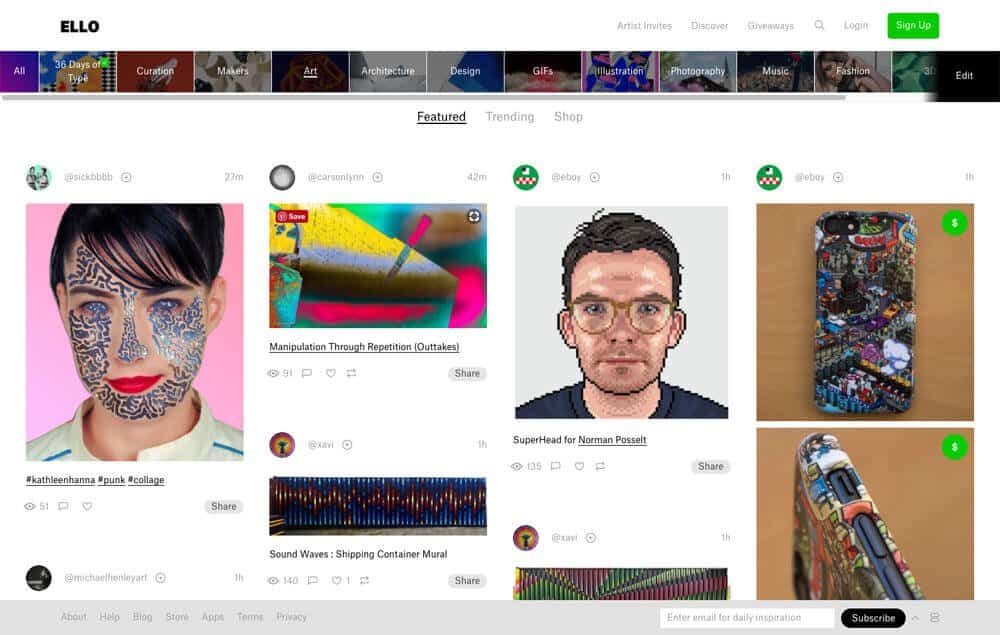 With 37 different categories, you can follow anything from Art, which largely encompasses traditional 2D art, all the way to Skate photography and even Textile (quilts, embroideries, etc.).
Like most art communities, fellow artists can like and comment on posts. In addition, you also do have the ability to repost others artwork that you are a fan of.
One feature that really sets Ello apart from a lot on this list is the ability to buy and sell artwork.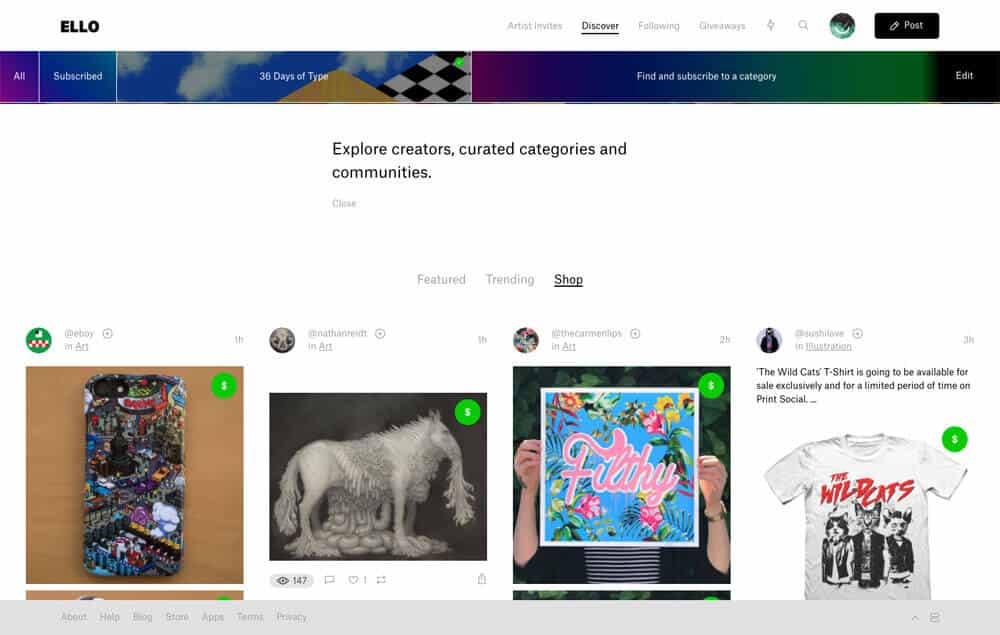 Getting as many eyes on your artwork is one of the best ways to not only get recognized as an artist, but to also pay the bills.
But it gets even better:
One of the great parts of their marketplace is that if you are listing a painting, drawing, etc. you can link directly to your own site so you don't have to share any of the sale with Ello!
Overall, I think that this art community is definitely one to keep an eye on as it seems to be doing everything just right.
Behance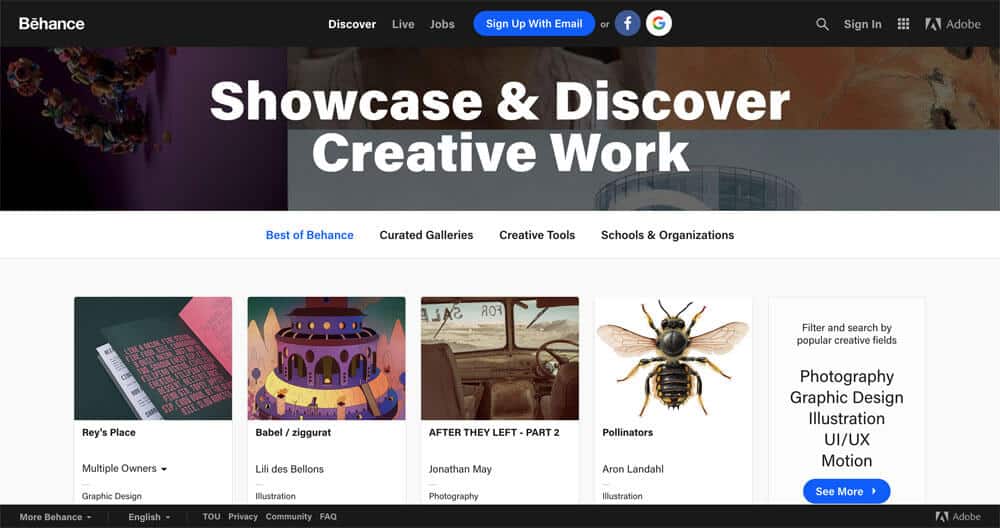 More of a showcase for designers, Behance has expanded in recent years to include fine arts, crafts, and more within their curated galleries: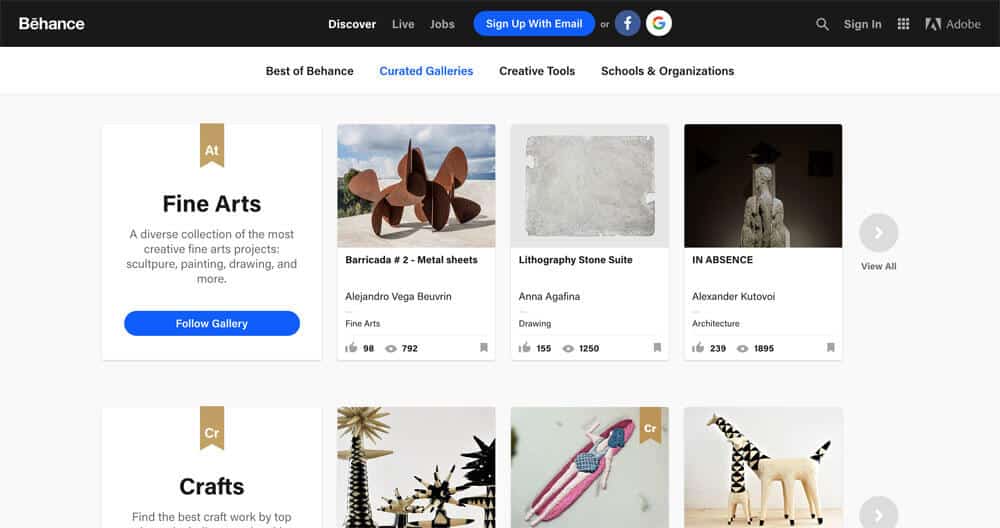 There you can showcase anything from paintings (both traditional and digital) along with other projects you are working on.
But what really sets Behance apart is its inclusion into the Adobe family.
With integration in all the popular apps like Illustrator and Photoshop, you can share what you are working on with your followers in only a few simple clicks – making it extremely easy to market yourself.
University students at some of the select design schools (including RISD, Pratt, FIT, RIT, and more) will also want to check out their college section where you can showcase your work: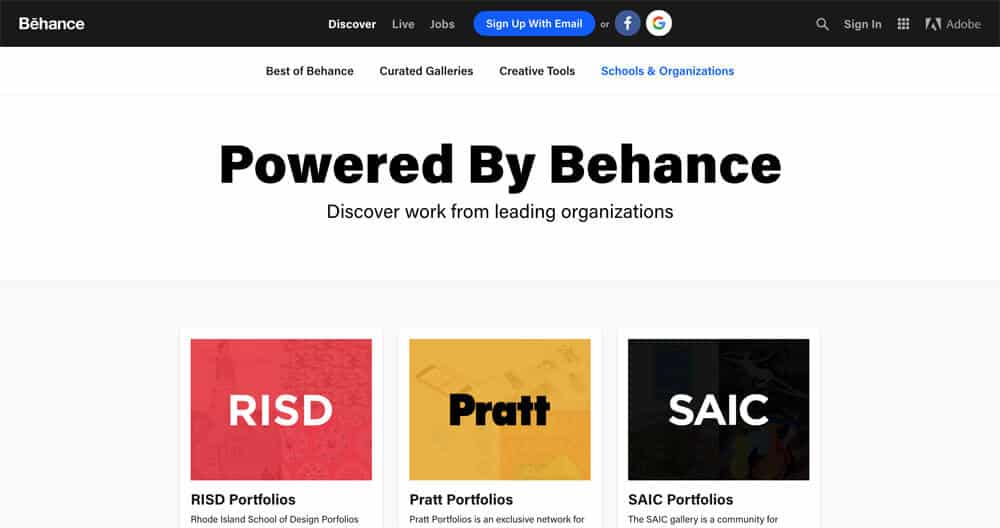 The one feature that a lot of painters, designers, and other creatives will love about Behance is their Jobs section.
Attracting top workplaces like Paypal, Under Armor, The Hill, Humble Bundle, and tons more, you have a curated job board aimed at the creative niche without having to sift through mass listings like Indeed.
Last but not least, Behance launched a Live section that has a huge library of videos: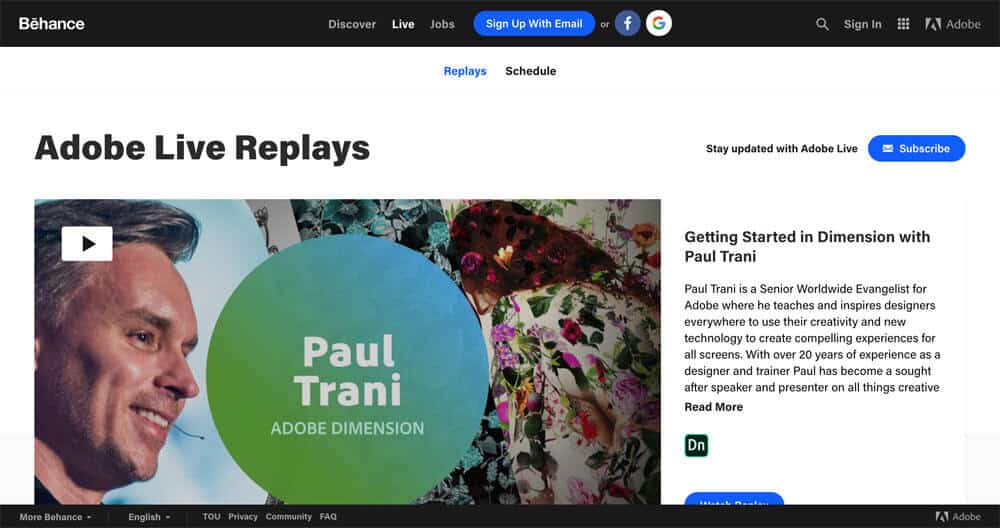 While they all concentrate on Adobe products – it's a great way to strengthen your skill set in the tools to become better in your craft.
Pinterest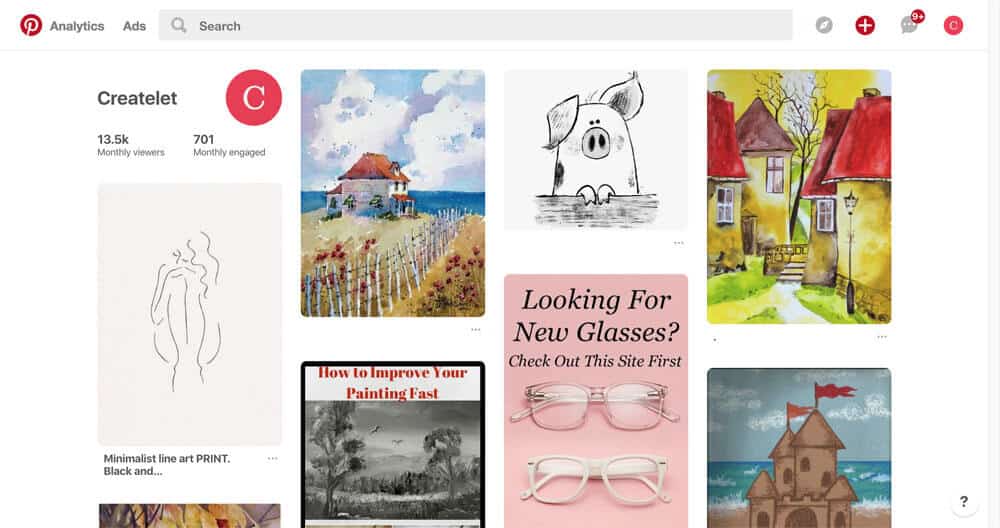 I was hesitant in including this one into the list simply because it's not really an art specific website.
However, when used properly, Pinterest can be a powerful way to promote your work to a huge user base.
If you run your own art website, Etsy storefront, or any other social platforms, Pinterest can be a great way to bring attention to your work.
But beyond promotion, Pinterest is also pretty great for discovering inspiration, tip, techniques, and other great online guides about artwork.
Just be sure that if you do use Pinterest that you check out the Createlet profile as we try to pin some great stuff regularly.
Twitch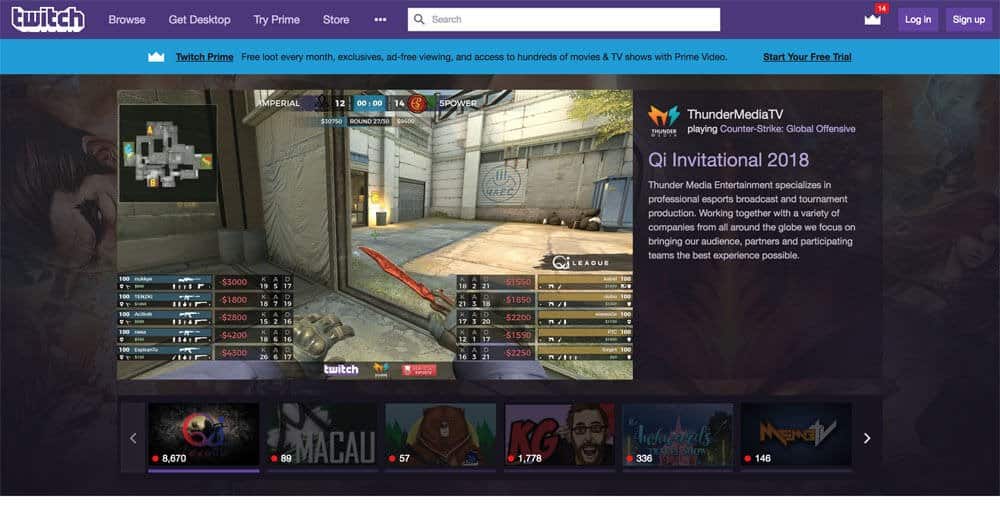 Twitch probably isn't the first thing that comes to mind when it comes to alternatives to DeviantArt, however in recent years they have really started to take off in both the number of folks that use the site, but also the sections they feature.
Whether you have no qualms about sitting in front of the camera and talking others through your workflow or you want to see what others do when making their paintings, the Twitch creative section is incredible for doing just that: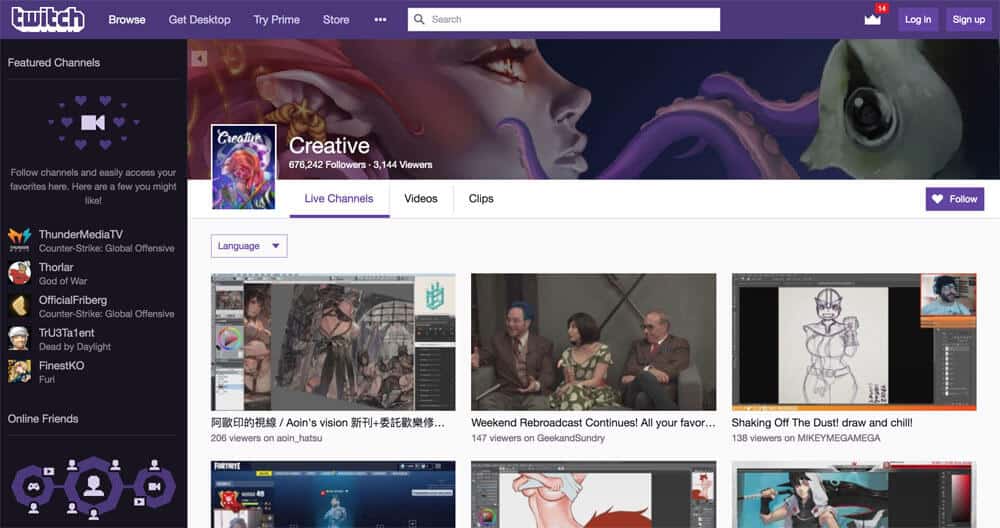 While gearing more towards digital arts, you should be able to find traditional artists on there as well.
As far as the audience, its quickly growing.
With no less than a few thousand viewers on at a given time, it's a great time to join the community as this site is sure to grow rapidly in a few years.
Dribbble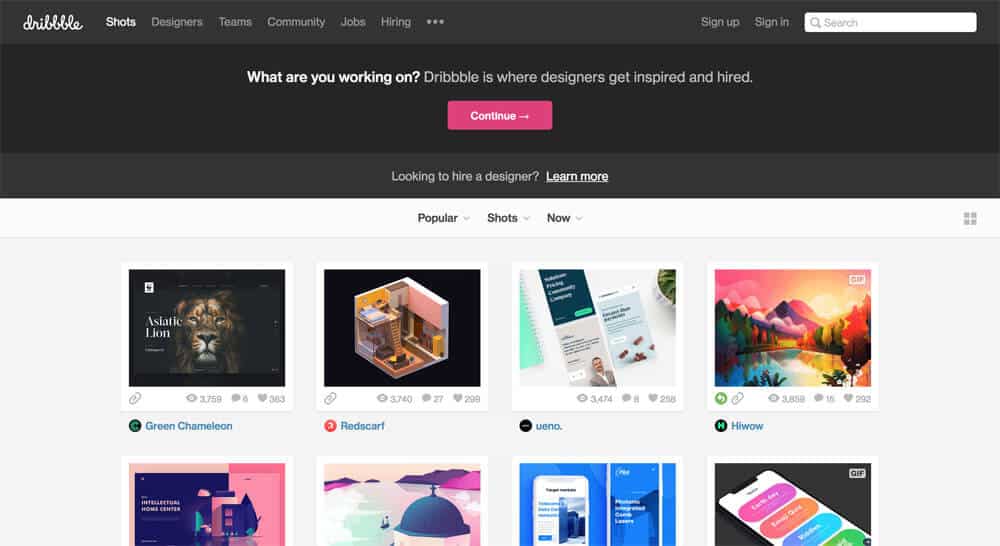 Focused squarely around design, Dribbble is great for artists looking for inspiration for a future project.
Suited well for the digital artists reading, Dribbble features many of the same key aspects that Behance offers including sharing shots of a project you are working on, attaining a follower base, and more.
But a few things that really sets Dribbble apart from sites like DeviantArt, and one of the reasons why we wanted to include it is their huge marketplace where creators can share their digital creations, an active job board that gets updated regularly, and perhaps the most unique aspect is their local meetup board: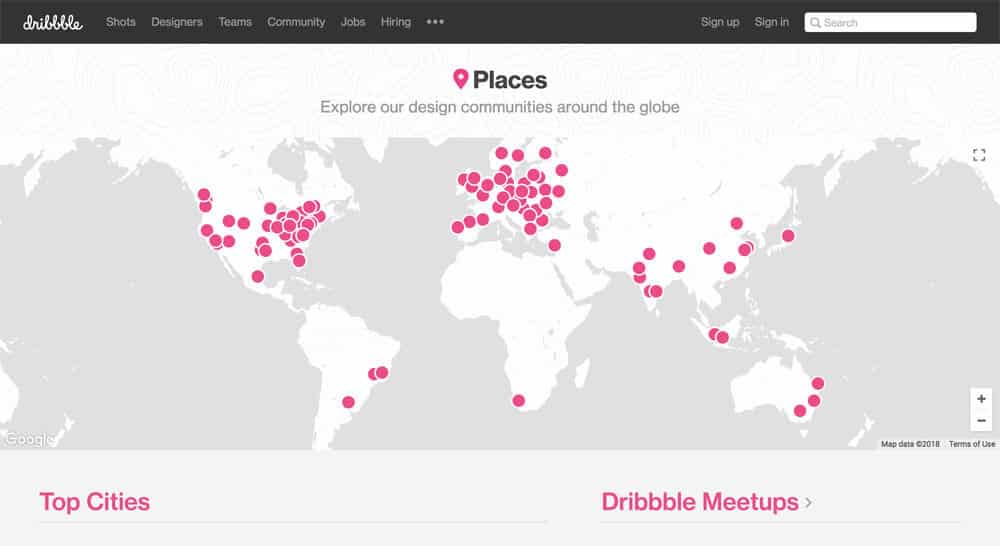 No matter where you live in the world, you should be able to find fellow artists to network with on a regular basis.
This not only may lead to future job opportunities, but organic discussions that could even result in some like-minded friends!
CGSociety
Fans of the digital art category of DeviantArt will likely fall in love with CGSociety.
A mix between both ArtStation and Behance, CGSociety is not only a great place to showcase your latest artwork, but also view some great tutorials from famed artists in their CGS-TV section: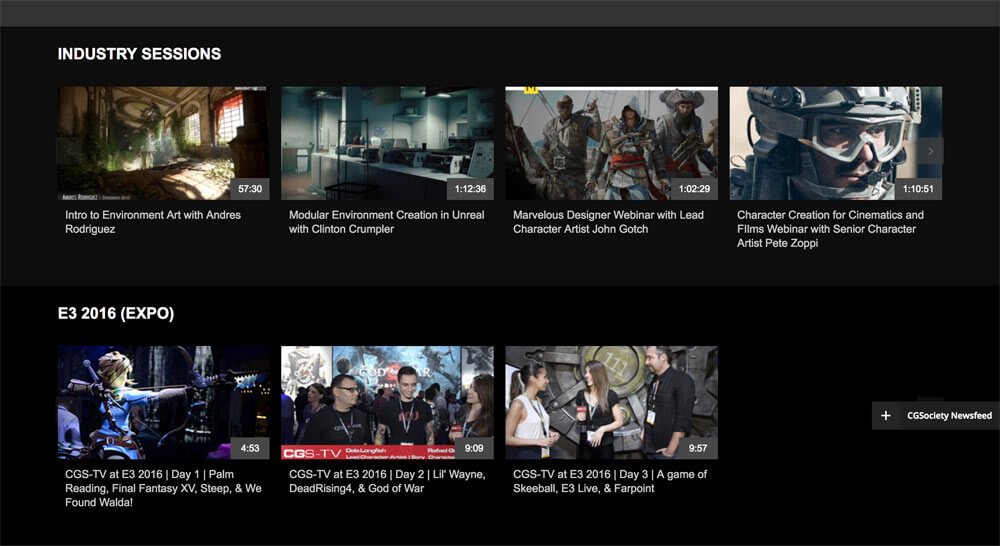 But even if you aren't into the digital form of art, traditional artists still have a place at CGSociety despite the name.
When filtering by broad tags like watercolor or oil painting, you are met with a sea of breathtaking results from its members: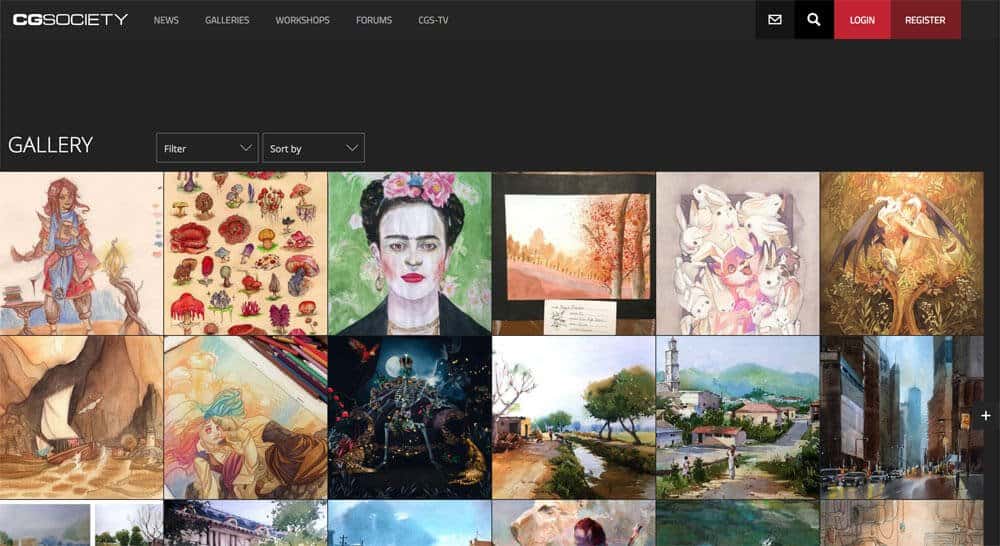 ConceptArt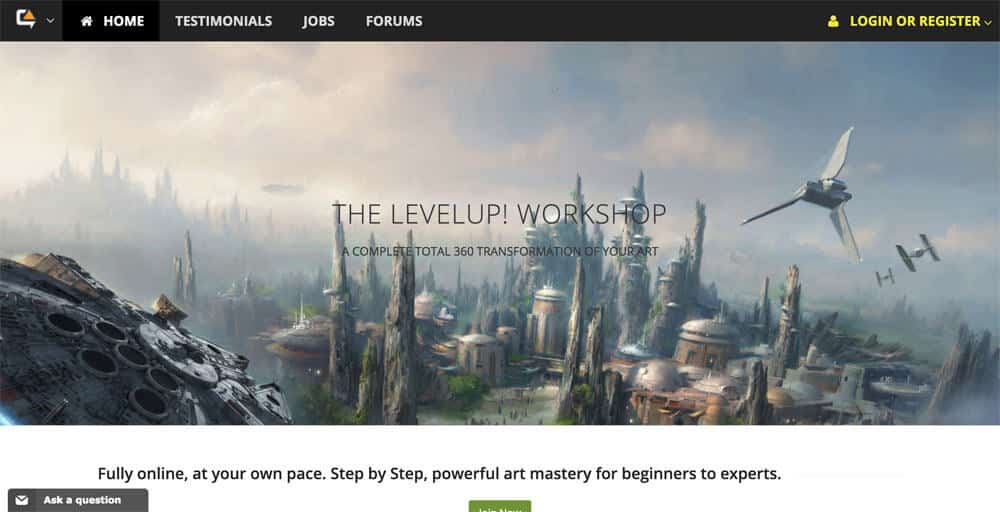 Half online art class and half robust online art forum, ConceptArt features one of the most robust online art communities outside DeviantArt.
While it might be inferred by the name that it slants heavily towards digital artists, their forum has millions of posts and replies from artists on various topics: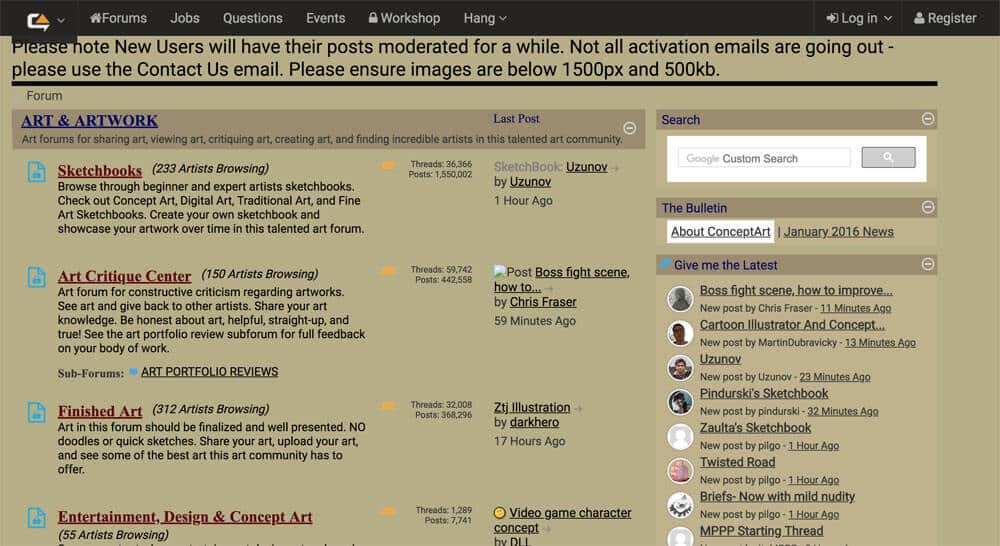 From sketchbooks (their most popular section) to art critiques, it's easy to get lost in the community that ConceptArt has built.
Like DeviantArt, Concept art also has a fairly robust job board that features posts from highly sought after studios (with many of the jobs being remote).
Polycount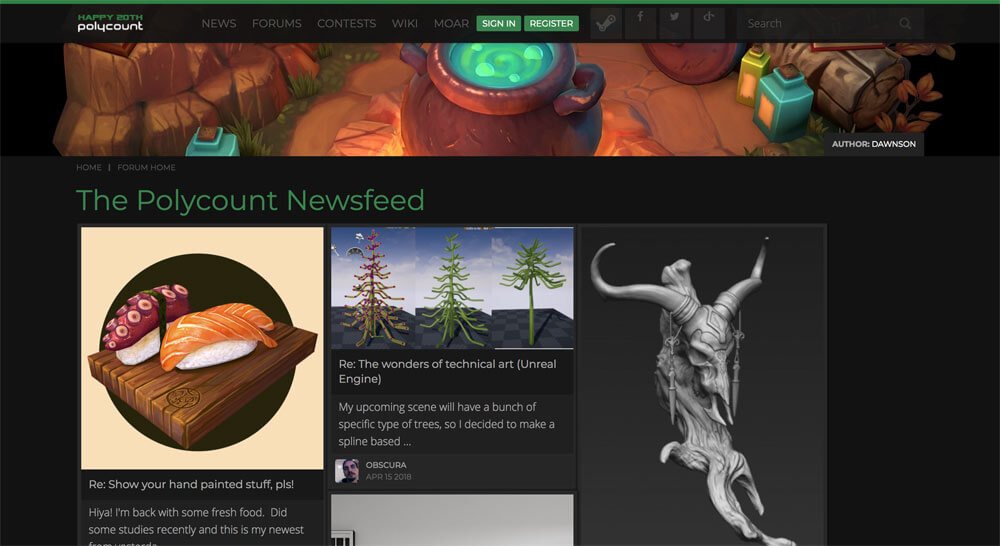 Perfect for artists looking to engage in discussions with others outside of sites like DeviantArt will love Polycount.
Like ConceptArt, the forum centric design is perfect for chatting with other artists in both the 2D and 3D digital realm.
But one of our favorite sections, and one we find ourselves personally looking at time and time again, will definitely be their Technical Talk section.
Seriously, you can learn everything here when it comes to digital art!
Beyond the regular discussions and critiques (you can both give and take), Polycount also offers up contests on a repeat basis.
3DTotal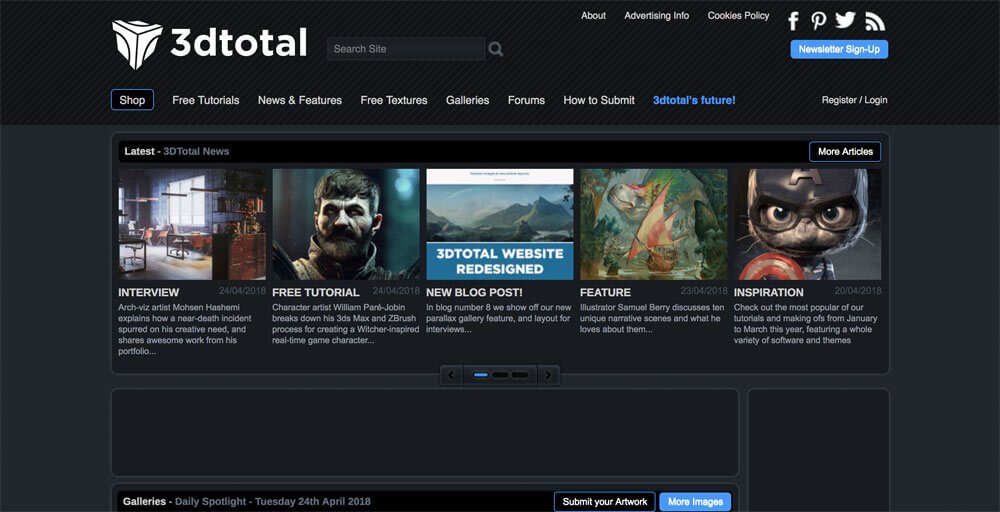 One of the most robust sites on the list (with still DeviantArt taking that crown) will be 3DTotal.
Not only is this site great for showcasing your own digital artwork to an enormous user base, but the shop is great for expanding your reference guide through anatomy figures, sketching tools, magazines, and more: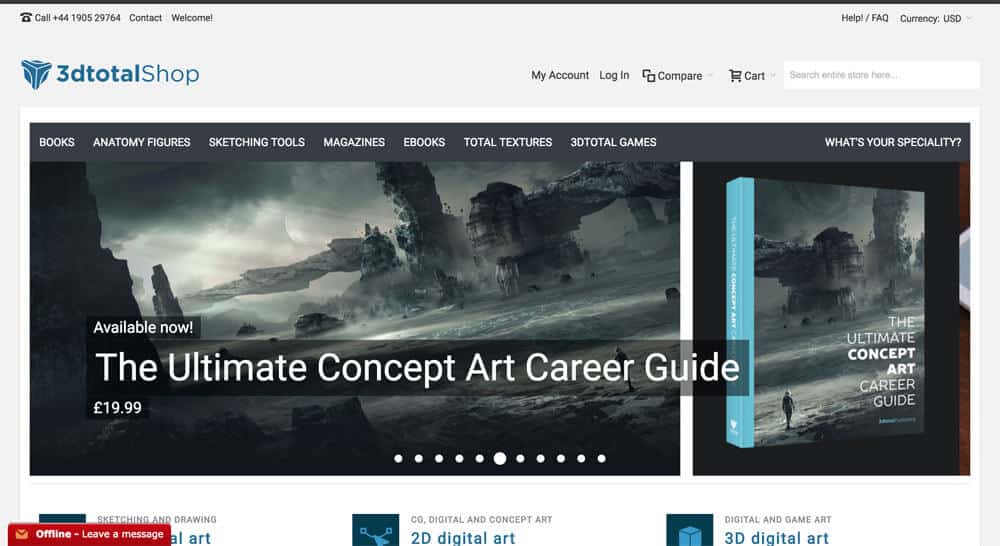 But it gets better:
3dtotal has a metric ton of free tutorials and free textures (we're talking thousands – and more structured than YouTube):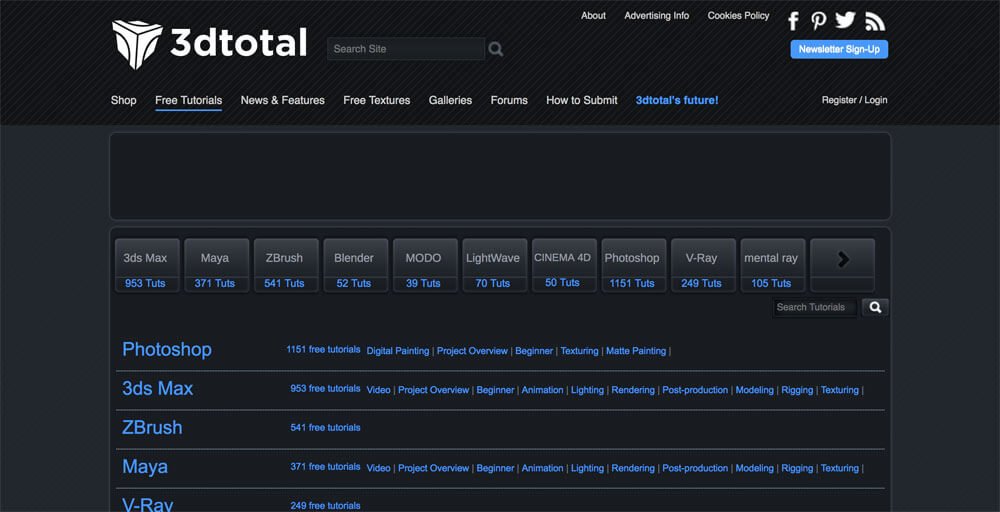 So, if you want to get a bit better in Maya, 3ds Max, ZBrush, or any of the other popular tools – then be sure to check this great site.
Our Art Corner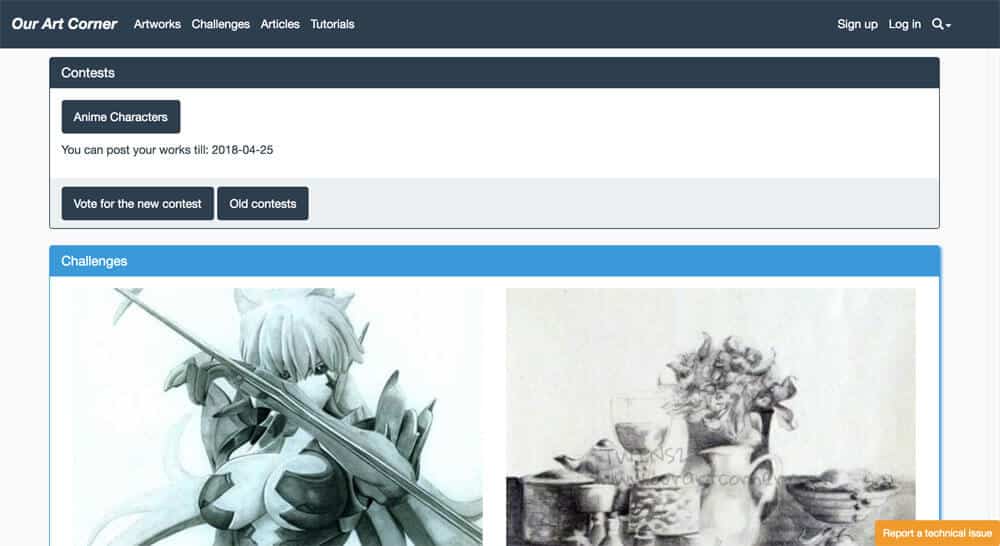 I hesitated on including this site, simply because it's nothing really like DeviantArt, but then I passed this by one of my Hannah (resident intern) and she absolutely loved it.
Our Art Corner is simply an art challenge and critique site.
With an immensely minimalist design, most of the community over there will focus on either the artwork or challenges section.
The artwork section is like most on this list – another great place to share your artwork for the world to see.
But the challenge section is what truly sets Our Art Corner apart from the rest.
Randomly squaring two artists against one another on a weekly basis, the community will decide on which piece they like better.
In addition to 1-to-1 challenges, there are also 'Group Battles' where groups of users will face one another: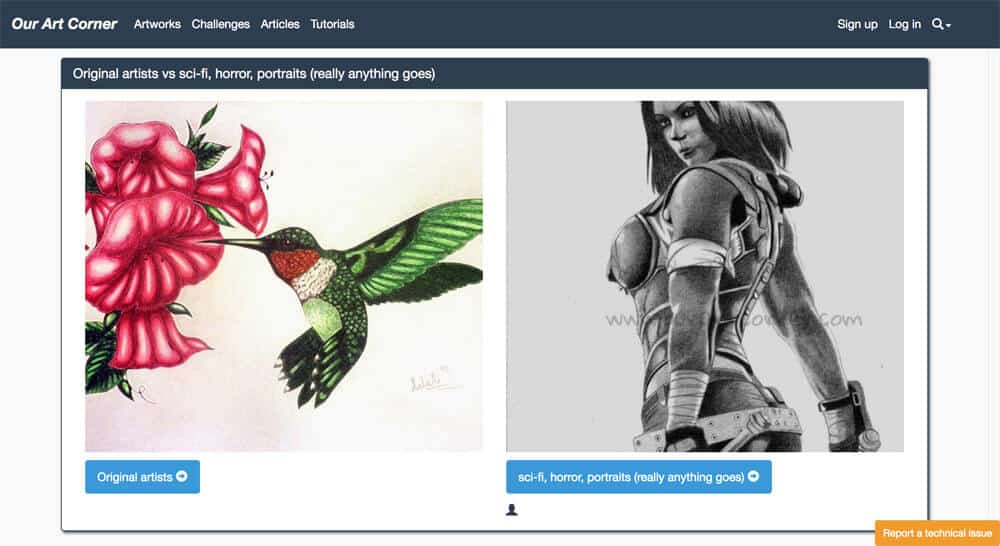 It's unique.
There is no doubt about it – and a great way to see how you stack up to others in the world.
Pixiv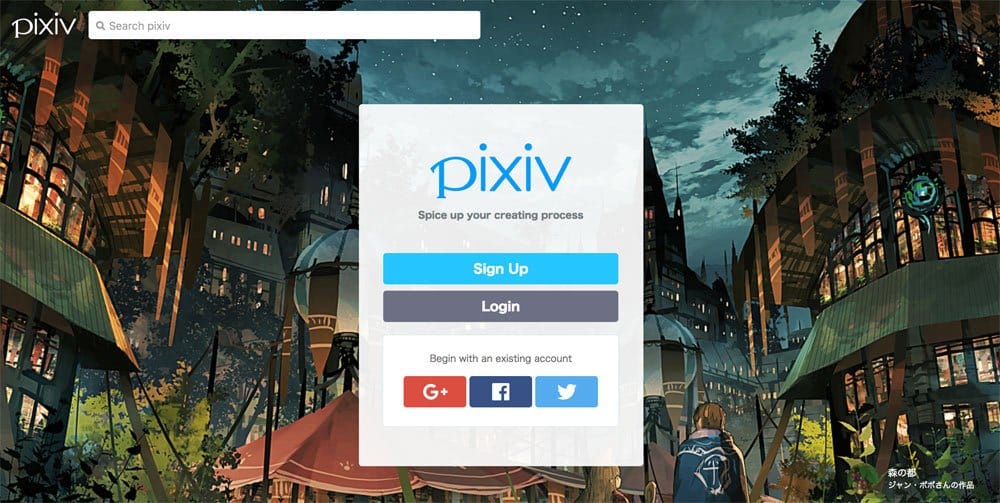 It's incredibly easy to forget just how massive the online world is when we visit the same sites from time and time again.
But beyond the English speaking base of DeviantArt you have the incredible Japanese site Pixiv.
While it might seem a bit overwhelming at first when visiting a site in Japanese given that you can't even try to guess your way around, it's really not too bad at all.
Their search bar centric design (akin to Google) makes it incredibly easy to find the popular works you may be seeking.
For instance, when searching the term Mario, Pixiv not only gives accurate results, but it is fairly bilingual friendly by giving you both the Japanese (katakana) and English translation: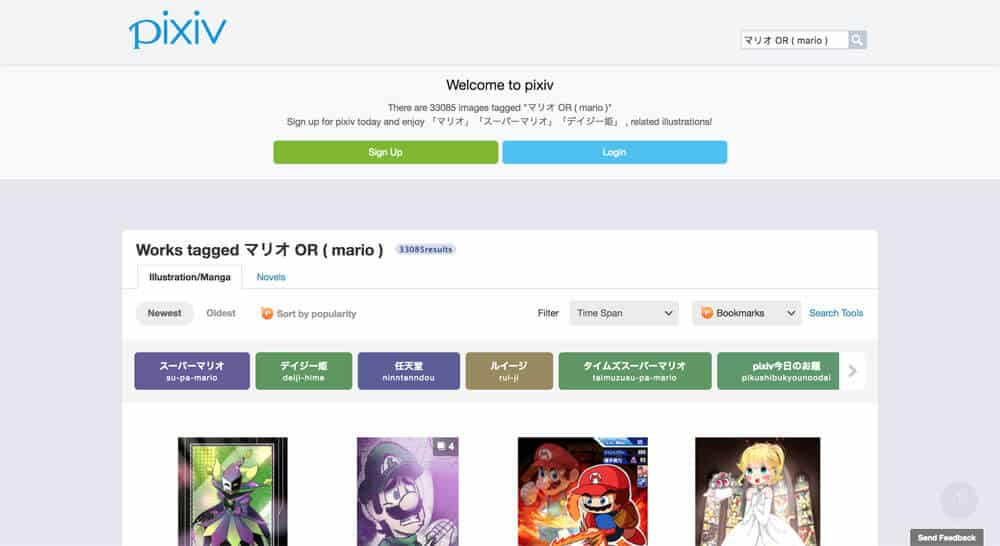 Even when looking for non-Japanese based subjects, you are still met with a plethora of results:
But check this out:
Here was a little tip that helped return better and more accurate results.
If you notice in the screenshot above, there were 412 results for 'watercolors' (which is good but not great).
But if you notice that in the first green box you have the kanji Japanese characters (水彩) followed by the phonetic English translation (suisai):

If you copy and paste that Kanji character into Google Translate, you will know what you are searching a bit easier: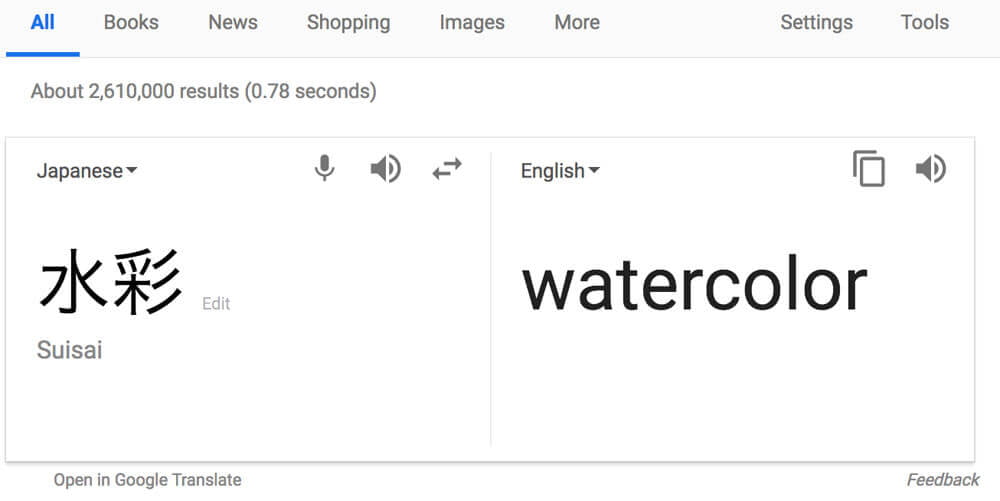 Of course modifying your search to the local language helped to bring more relevant results: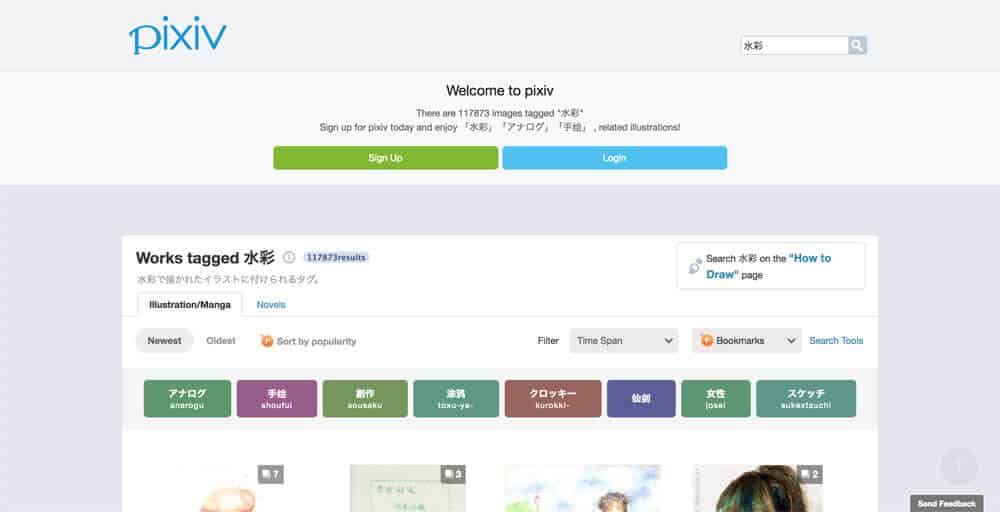 Over 117,873 results!!
Image searches are about the limitation for English speaking users, but if you want some inspiration, it really doesn't get much better than this outside of DeviantArt!
Paigee World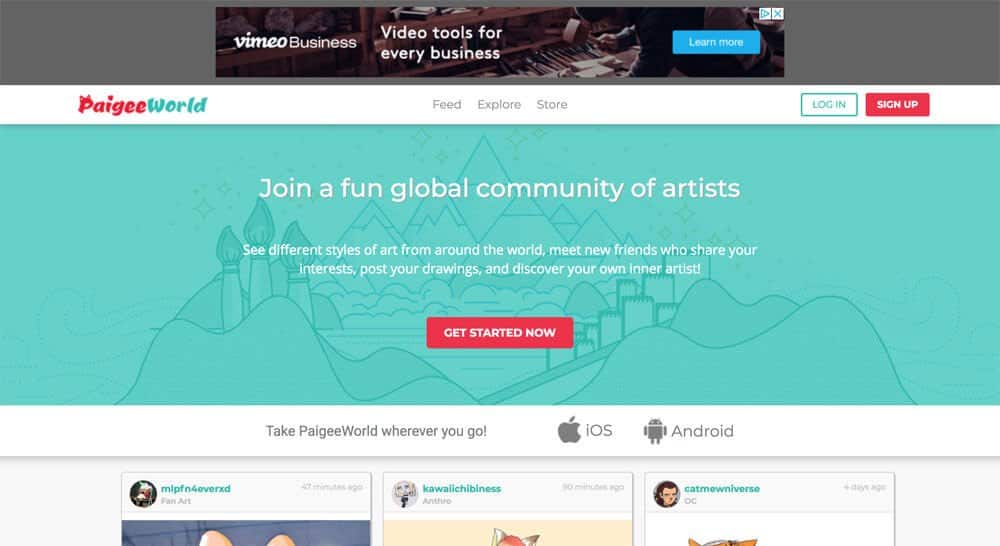 A more obscure site on this list will be Paigee World – a site highly focused on Japanese inspired artwork.
Don't be surprised if you come across some questionable images that may not be suited for the workplace as Paigee world is definitely one of the more casual alternatives to DeviantArt on our list.
Sifting through the artwork on the site though is incredibly easy as it shares many common design elements to Pinterest.
With #hashtag support along with many of the staple social media features (like, comment, follow, etc.) it's great for not only discovering new artists but marketing yourself among the vast user base.
Paigee does also have a few free tutorials through their Store section that can be great for those looking to get better in anime style drawing.
NewGrounds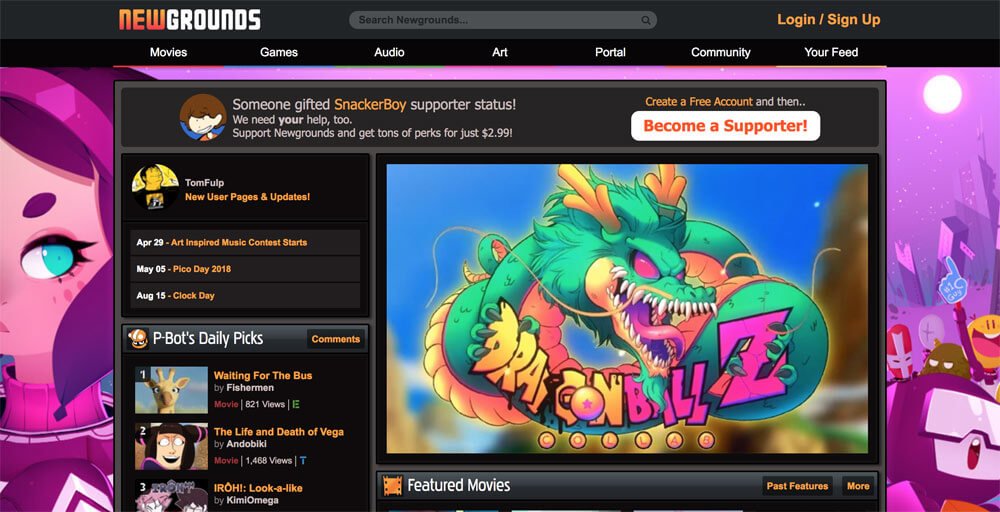 A massive site featuring creator made movies, games, audio, art, and more – there is virtually no limit when it comes to the breadth of content featured on NewGrounds.
Quite possibly one of the best alternatives to DeviantArt for artists who like to explore and see new things, NewGrounds has it where it counts – tons of artwork.
A trip over to their Art section will give you a smattering of fine art, 3D art, pixel, illustration, and more: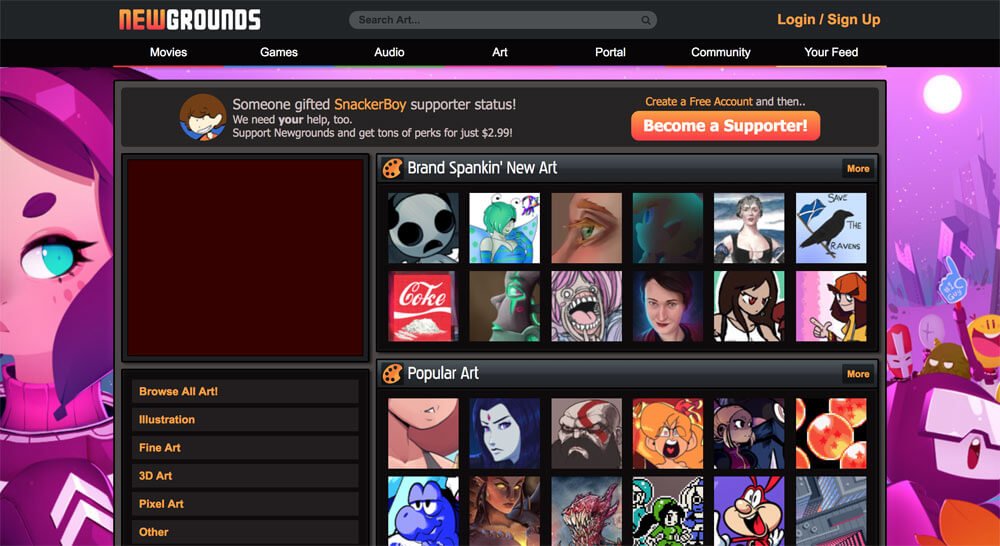 But it gets better than the impressive art section.
Their Community section is pretty active and a great way to get tips and have engaging conversations with other people who really love anime and other cartoon stylized artwork.