Given the inherit adhesive nature of oil paints, deciding on a palette that not only provides a smooth surface for mixing, but one that can be thoroughly cleaned proves to be a challenge.
However, based on our own personal testing and feedback from other oil painters, we found that the palettes listed below were simply the best palettes for oil painting.
But when it comes to choosing a palette, you must consider the area where you plan on using it.
Whether it's at school, painting en plein air, or simply in your studio – your environment will have a large impact on the palette that you decide to get.
Comparing The Best Palettes For Oil Painting
Here's a list of all the palettes compared:
The 10 Best Palettes For Oil Painting Reviewed
1. New Wave Glass Palette
Glass is undoubtedly one of the best surfaces to use when it comes to mixing your oil paints.
It's environmentally friendly, it can be scrapped completely clean with a razor, and it's the smoothest surface to use when mixing your paints with a brush or palette knife.
It was these properties and more is why we loved this palette by New Wave.
With 3 sizes available:
9" x 12"
12" x 16"
16" x 20"
You have a generous mixing area and never feel overly cramped.
While not suitable for plein air use, simply due to its size, it's definitely one of the best studio palettes money can buy.
The rubber reinforced corners also help to prevent any incidental cracks, or chips while using.
Another great feature of this palette is the frosted backing. Available in clear, grey, or white – it makes it easier to mix colors and get accurate color representation.
2. Caran d'Ache Palette Aquarelle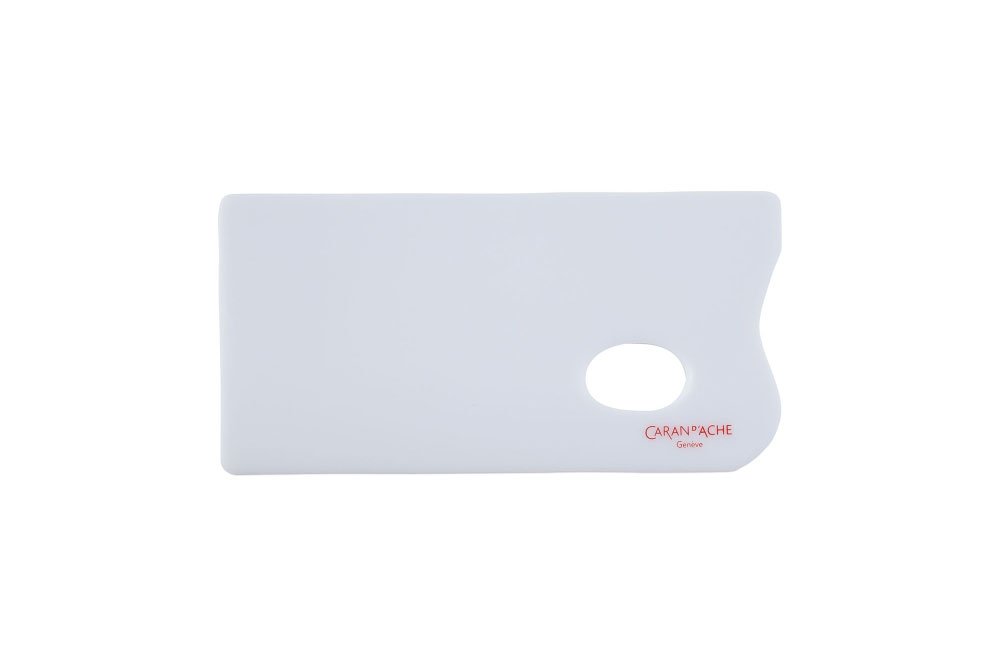 This hybrid palette by Caran d'Ache is the absolute perfect palette for artists who never want to stick to just a single medium.
Formed from a single piece of Plexiglas – it features two distinct surfaces on either side (rough and smooth).
The rough side is perfect for wet mediums like watercolor blends to prevent them from rolling off the edge.
The smooth side of this palette will be great for oils, acrylics, gouache as it can make mixing extremely easy.
While it's still not a glass surface (sorry no flat razors work here), you will need to use a solvent in order to get it completely clean.
Lastly, the versatility.
While typically these sorts of palettes are designed strictly for studio use, the addition of thumb hole makes it great for standing. The Plexiglas will also be perfect for travel as it won't chip or crack.
At only $12 bucks, it's a pretty well-rounded palette for artists who are still trying to figure out if oil is their medium of choice.
3. Mijello Multi-Purpose Palette
There's a lot to love with this full-sized yet travel friendly palette by Mijello.
One of the biggest problems when taking a standard palette to school or en plein air is that you need to wipe it clean while traveling.
With this 13.5" x 9" palette, it has a lid that is air tight when snapped together.
This means two things:
First, your oil paints won't leak out while traveling (thus saving you more money), but the oil paints won't dry out either.
So even after a few days in storage, you won't have to worry about them becoming rock hard, instead, they will be just as fluid as when you initially squirted them out of the tube.
Another great benefit of this palette, is that once you get back to your studio from a day out in the field or the classroom, all your mixed colors will stay put.
This means you don't have to worry about trying to mix the same exact color to continue where you left off.
While we wish this was a hair smaller for painting outdoors – it still is an extremely versatile palette that's worth checking out.
4. Pro Art Oil Palette Pad
Perfect for classroom and plein air use, this palette pad by Pro Art is a great disposable pick if you are painting on the go.
With easily tear away sheets, you can mix your oil paint and throw away once you are done.
While not the most sustainable, nor the easiest to mix on given the lack of weight (especially when compared to the New Wave glass palette), it's a very use case specific palette.
Sheets for this palette come in two sizes:
9" x 12" (50 sheets)
12" x 16" (50 sheets)
Making for ample real estate while mixing.
The biggest gripe about this pad from some artists was that it can tear away from the binding while you are using it.
However, that is easily counteracted by simply bringing a roll of tape and affixing it to either an extra canvas panel or board if readily available.
5. Art Advantage Non-Stick Palette
This white acrylic palette is a budget friendly pick for artists looking to save a few bucks on their art supply budget.
With a price tag under $15 bucks, it's enough to get the job done.
The biggest advantage of this palette is the thumbhole.
With the ability to stand while painting on an easel or en plein air, it's extremely comfortable to work with.
Now given that this isn't glass like the New Wave palette we also reviewed, your cleanup options are slightly limited.
Instead of using a flat razor blade to clean the surface, you will have to rely on a solvent like odorless mineral spirits or turpentine in order to wipe clean.
Using a razor repeatedly can result in deep scratches and chips that ultimately will make for a poor mixing surface (plus paint can get trapped in the crevices).
At 11" x 15" it's a sizeable yet versatile palette that you can take with you when painting outdoors or in your studio.
6. Xpassion Palettes
There's a lot to love about this little palette from Xpassion.
Absolute perfect for beginners looking for organization, this palette has it where it counts.
10 separate wells (6 circular, 4 irregular), it's perfect for not only keeping your colors separate to prevent any incidental muddying but also for mixing.
In addition, if you are a bit heavy handed with the linseed oil or odorless mineral spirits you don't have to worry about it destroying all your paint.
Given that this comes in a small size (9" x 7"), it's perfect for academic, plein air, and even studio use.
Also, this palette does come in a set of three.
So, if you accidentally chip, crack, or simply break one, you can swap it out for another.
While not the most environmentally friendly one on our list – it's a great pick for the hobbyist or casual painter that doesn't demand a silky smooth glass or acrylic slate like the others we covered.
Plus its budget friendly, by costing ~$7 bucks for the set.
7. Mijello Ellipse Peel Off Palettes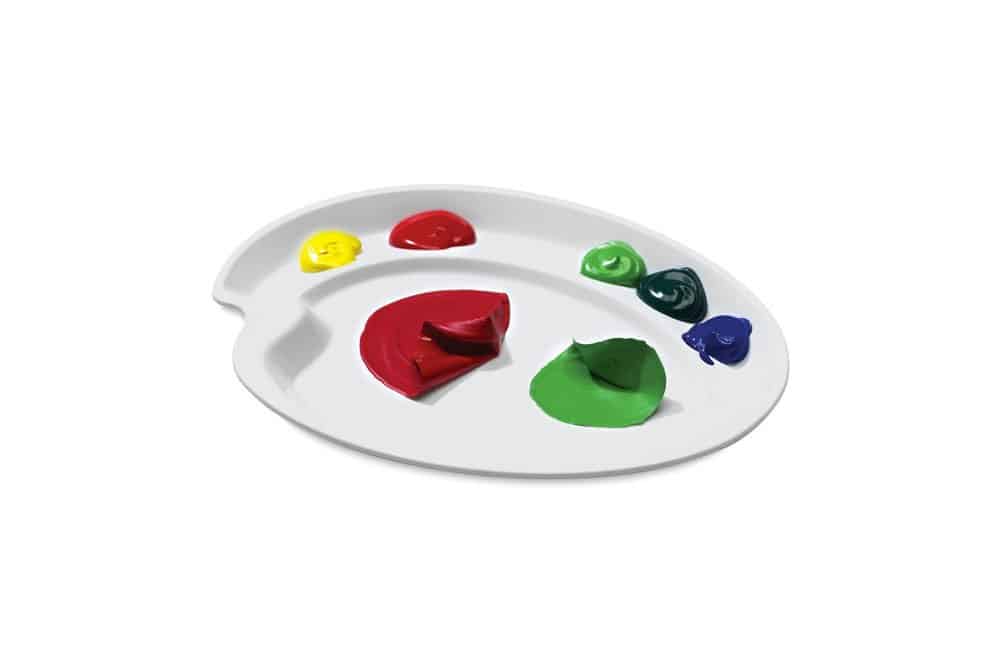 Even the most seasoned oil painters were skeptical of this palette, and rightfully so.
This unique plastic palette is a non-porous surface that when oil dries on it, it will peel away.
Be it acrylics and of course oils, you don't have to worry about breaking out a razor or solvents, just simply peel with your hands.
While it might sound like some late-night TV commercial, the proof was in the reviews left by other artists. With statements like "I couldn't believe it was so easy" to "…my oil paint was on for 3 weeks and it peeled away like magic."
Needless to say, if you want a no fuss solution to a palette that is both portable (7.75" x 10.5") and versatile (includes thumb hole), take a look at this palette by Mijello.
8. New Wave Posh Tabletop Palette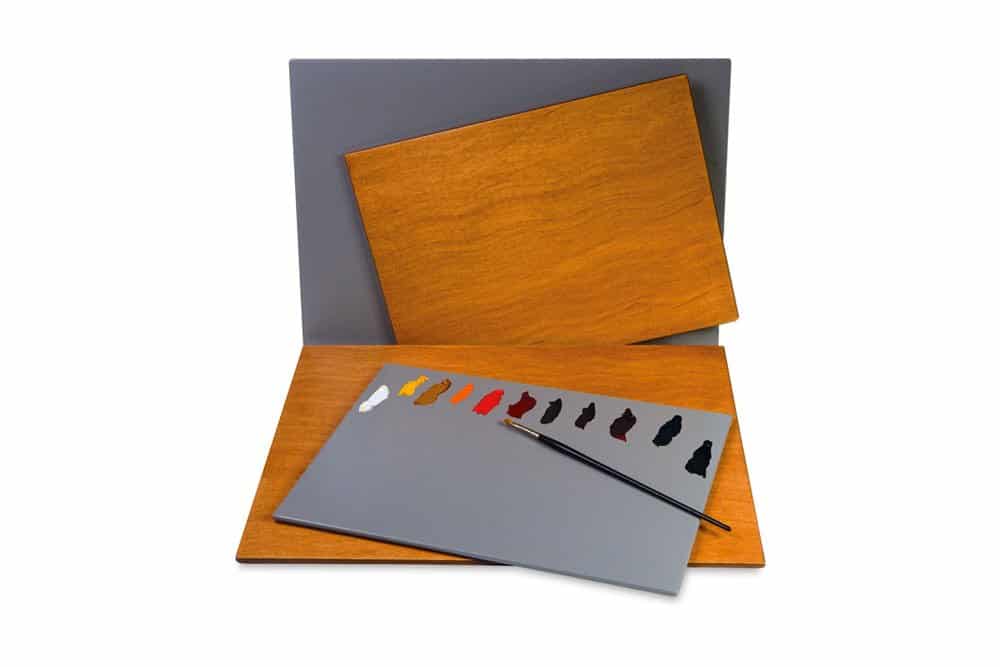 While we loved the glass palette by New Wave (also reviewed in this article), we would be remiss if we didn't also cover their wooden palette.
Made by the Amish in Lancaster, Pennsylvania – it's a single sheet of hardwood maple that not only looks incredible in just about any artist's studio, but it's an excellent surface for your oils.
Impenetrable to harsh solvents and dried on oils, this super smooth surface will make mixing with both palette knife and brushes a breeze.
While not exactly the most portable or versatile, if you are giving a gift of an art supply to someone else (or yourself :-)), it's a unique and nice palette.
Given that this has been constructed by hand, there inevitably will be a marked increase in price (about $40).
New Wave does offer this palette in both grey toned and maple – we recommend springing for the maple since it looks so nice.
9. Stephen Quiller Color Wheel Palette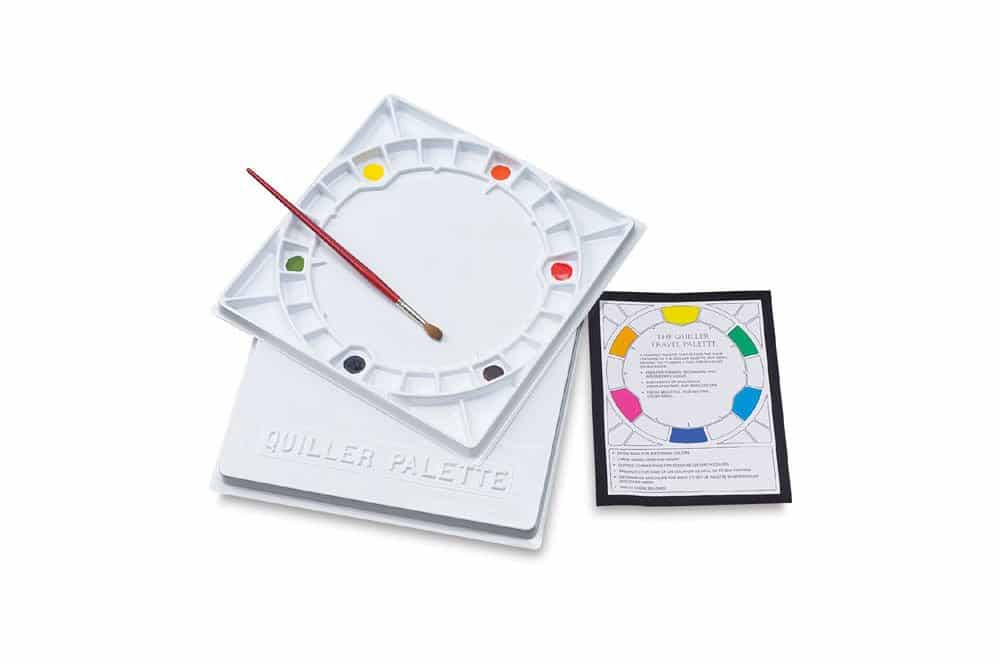 If there was one palette that would be perfect for the absolute beginner, it would be this one by Stephen Quiller.
Formed into a circle (representing the color wheel), it makes mixing both fun and incredibly easy.
Whether you are just starting out with oils or perhaps have a teen or small child exploring painting for the very first time, this palette is a great introductory into color mixing in a completely logical manner.
To help reinforce this process, Stephen Quiller also includes a color wheel for guidance along with generous mixing wells on both the center and corner areas if you want to see how complimentary, triadic, and analogous colors look when next to or mixed with each other.
10. Richeson Wooden Palettes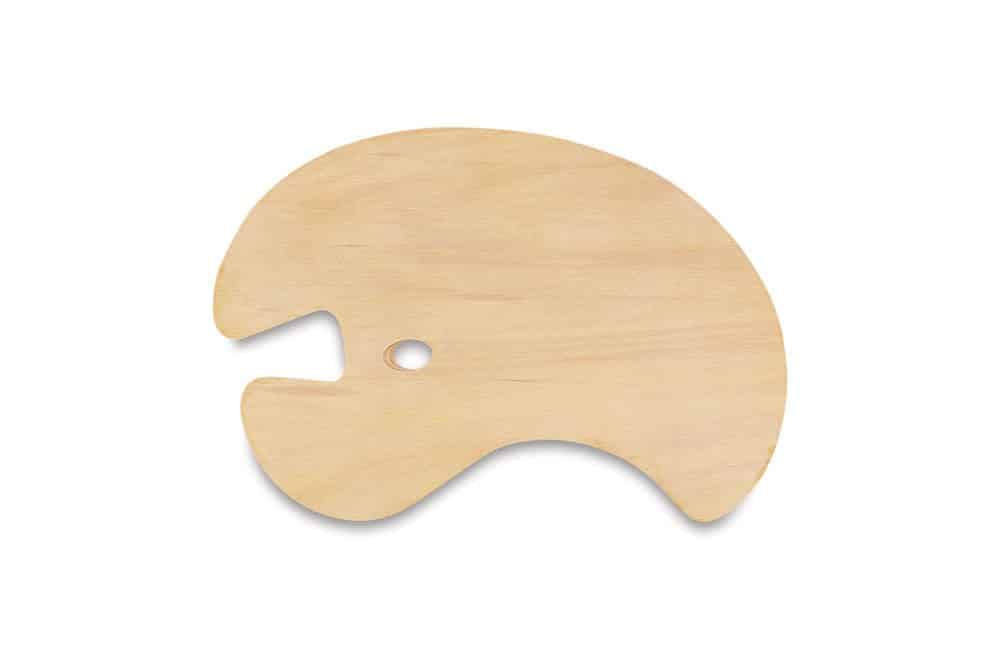 For the artists looking to get that old school look and feel like the great masters of centuries ago, there perhaps is no better choice than this offering by Richeson.
Coming in 4 distinct styles that wrap around both your hand and body, these palettes make painting comfortable.
While not the most travel friendly (given that there is no lid and its rather large), this palette is a perfect studio addition when painting in front of the easel.
With a price tag starting at under $5 for a single palette (by far one of the more affordable ones on our list), it's a great pick for the hobbyist and decorators that don't find themselves painting daily.