What Is Plein Air Painting?
This Article May Contain Affiliate Links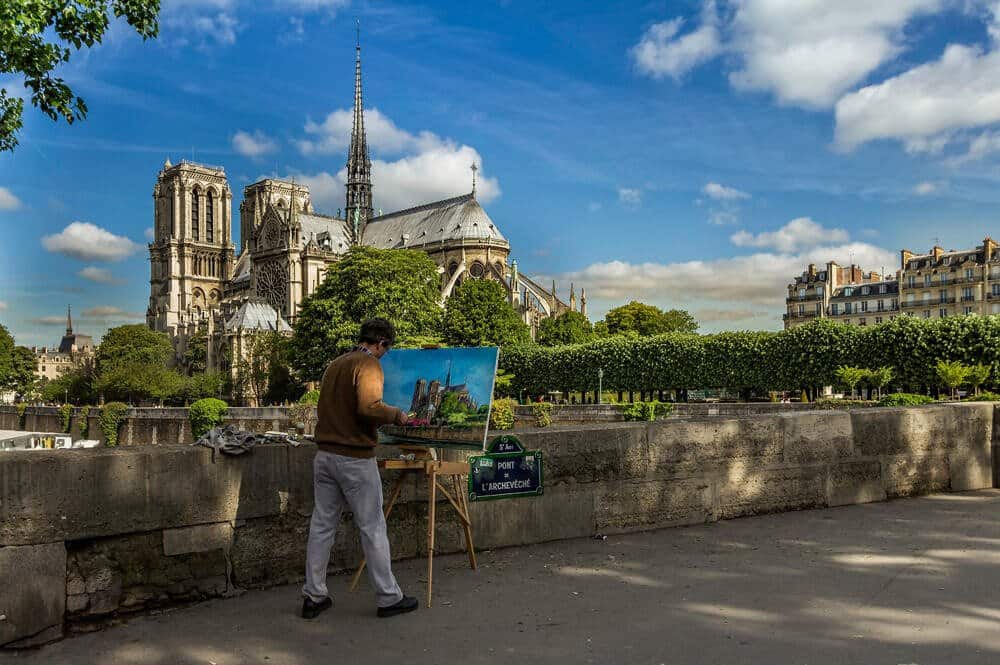 In the warm days of summer, many artists will kick off the dust from their pochade boxes or French easels and take in the great outdoors by painting en plein air.
But what exactly is plein air painting and when did it come to be?
To put it formally, plein air painting is the act of painting outdoors. The primary focus of plein air painting is to paint in a more natural environment as opposed to a studio and really capture the raw atmosphere outdoors.
Plein air painting itself was largely popularized in the mid 1800s with the Impressionist movement…
…but likely not the reason that you may think.
Sure, artists like Monet got outside and did countless paintings of haystacks and Rouen Cathedral while this Impressionist movement was counter to formal studio painting that preceded it…
…but one of the big reasons artists could go outdoors was the paint itself.
Prior to the 1800s, paint was a lot different than it is today.
Instead of being housed in a metal tube, paint had to be made by the artists themselves.
This not only meant that they would have to find the natural pigment and grind it to a bloody pulp, but they would also have to mix in binders that would help to carry the paint.
What did this mean for the artist?
It was immensely time consuming and would require an enormous amount of prep work before they could start to paint (we are really spoiled as artists nowadays).
But what made matters worse was that after doing all this prep work to make the paint themselves, it would inevitably dry out!
Could you imagine!
All that work invested into the paint making process only to be sitting there with a dried-out palette if you didn't finish the painting within the next day or two.
Needless to say, when paint began to be sold in tubes, it was a massive win for artists everywhere.
No longer did they have to worry about grinding the pigment, instead they had time for more important things, like making art.
But the paint tube also gave artists portability.
With the ability to pack all the paints in a bag or French easel, they could immediately go outdoors with the sunrise, set up their studio, and begin painting.
Why A French Easel or Pochade Box Are Plein Air Staples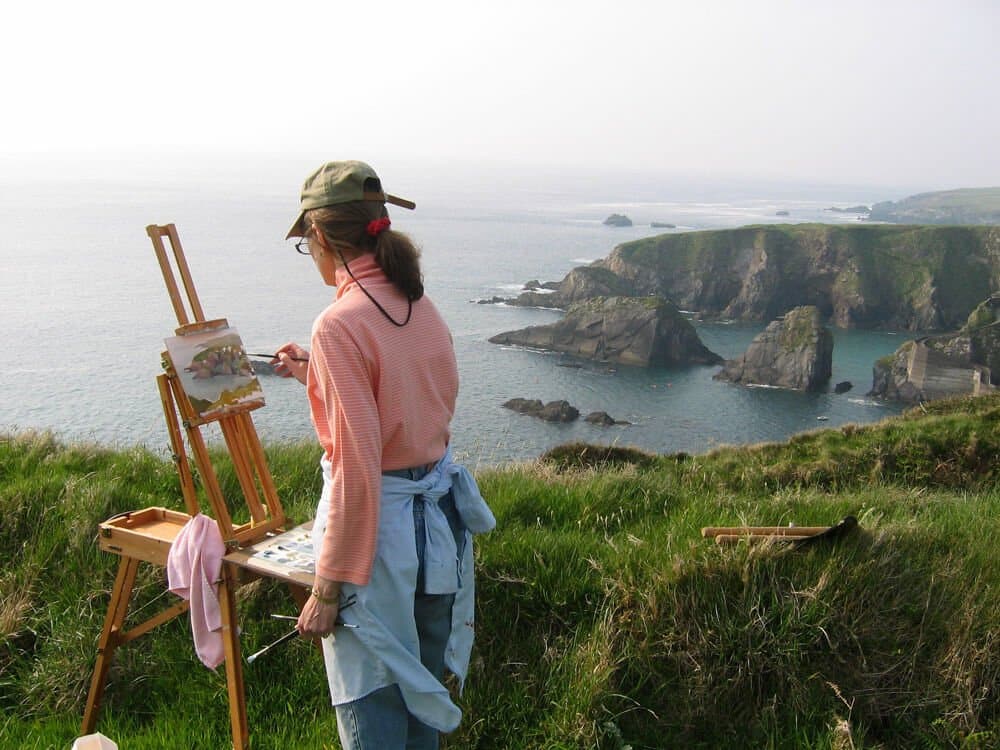 As artists were making their ways outside of the studio, one of the key inventions at the time was also the French Easel.
Unlike traditional easels that were found in most artists' studios, the French easel could be folded up into a compact size for easy transportation.
As evident in even the best plein air easels of today, French easels not only offered ample storage for the paints, but also for the essentials including solvents, mediums, brushes, palette knives, and even their very own palette for mixing.
While easy to forget that you are reading this post in modern times, artists of the 1800s didn't have the convenience of an automobile to take them to their preferred location.
Instead they would have had to either hike or take a horse to remote locations so they could set up their portable studio.
This is why French easels are designed with shoulder straps or handles in order to accommodate a long walk off the beaten path.
An alternative to the French easel that is used to a much lesser extent is the pochade box.
While having many of the same storage features as a French easel, pochade boxes often will have storage for canvas panels or stretched canvas on the bottom of the box – making transportation of wet paintings immensely either (could you imagine the travesty if Van Gogh dropped Starry Night?!).
Although we think Van Gogh didn't use a pochade box but rather a French or portable easel as we learned here.
As great as pochade boxes are at transporting wet paintings, they do have a common caveat with them – no legs.
While it may have been a big deal over a century ago, most pochade boxes on the market today offer a universal tripod mount on the bottom, making it extremely easy for artists to use a simple camera tripod and convert a common pochade box into a makeshift easel that doesn't need to rest on the ground or a table.
Mediums Used For Plein Air Painting
Inevitably when folks first learn about plein air painting and some of the caveats that come with it (i.e. you have to carry all your stuff with you), they may rethink the entire process and all that it entails.
Luckily today, its fairly easy to visit online art retailers like Amazon or Blick Art Materials and load up on small 37ml tubes of paint – making them pretty light and transportable:

Source: Blick Art Materials
But say if you want to go to the beach or perhaps have a picnic with the family and do a little sketch to capture the moment and not be weighed down by a whole French easel, oil paints, or even acrylics…
Then probably the best medium for that are watercolors (of course sketching with a graphite pencil will work if you don't necessarily need color).
With the best watercolor sketchbooks packing hefty 140lb (300 gsm) paper, you have uncompromising quality when it comes to watercolors.
Even if you don't plan on taking a bottle of water with you, devices like water brushes can be loaded up ahead of time and should be able to retain enough water to get you through a few sketches.
Furthermore, beyond the tube variety of watercolors that come out wet, you also have traditional watercolor pans, watercolor markers, and even watercolor pencils that can even fool the most keen of eyes when it comes to their results.
Plein Air Techniques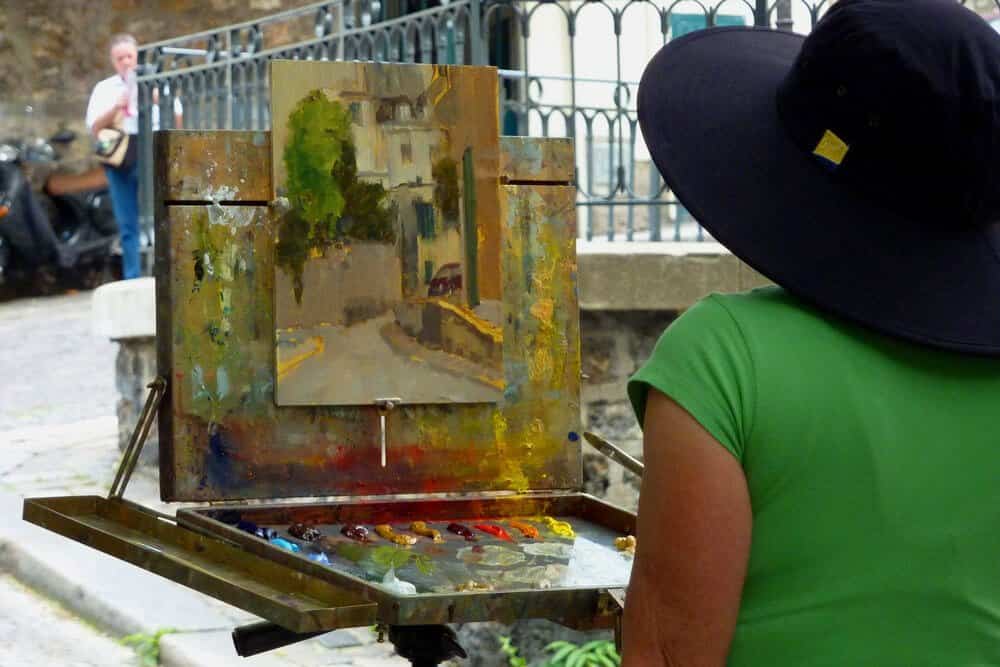 While we don't want to go too far beyond the scope of this article (as we were only intent on covering the question what is plein air painting), there are a few core techniques that most plein air artists employ when out in the field.
Here is a collection of a few of the most popular ones:
Set Your Easel In A Shaded Area
While it may seem obvious at first, but some sun-starved artists may be tempted to set up their easel in direct sunlight in order to be a bit warmer or perhaps to double the painting experience as a great way to get a nice tan going.
However, when you are in direct sunlight, it may skew the color temperature in your piece.
Don't Wear Reflective Clothing
Wearing any white or bright colors can be highly reflective on your canvas as your painting – again, just like above, may skew the color temperature of your piece.
If possible, try to wear more neutral colors like browns or off-blacks (colors that absorb light).
Take A Minute To Observe Nature
Just like when you may do a gesture drawing to capture the essence of the figure, when it comes to painting en plein air take a minute to absorb the natural ebb and flow found in nature.
Whether it's a golden meadow flowing in the breeze or the waves crashing down on the beach there is a certain level of intensity found in objects.
While plein air painting is a somewhat time compressed process as the light is ever changing, be sure to take a minute to capture the world in front of you.
Remember The Basics
While some artists may try to rush the painting process once they begin to paint outside, try to resist.
Sure, the sun may be casting tougher shadows or perhaps a sudden cloud completely throws of the colors of your piece, regardless of the scenario, remember you still adopt the basics of painting.
Remember fat over lean, underpaintings, etc. as they will still ensure that your artwork will look amazing once you are finished.
Famous Plein Air Painters
While Vincent Van Gogh and Claude Monet are a few artists that instantly come to mind when it comes to plein air painting – it's important to remember they aren't the only two!
Therefore, we wanted to put together a list of some famous plein air painters that not only will evoke a level of inspiration within you, but will allow you to study their techniques that they used when painting en plein air.
Due to various copyright restrictions, we can only link to the name rather than show the artwork on our site:
How useful was this post?
Click on a star to rate it!
Average rating / 5. Vote count:
We are sorry that this post was not useful for you!
Let us improve this post!
Thanks for your feedback!