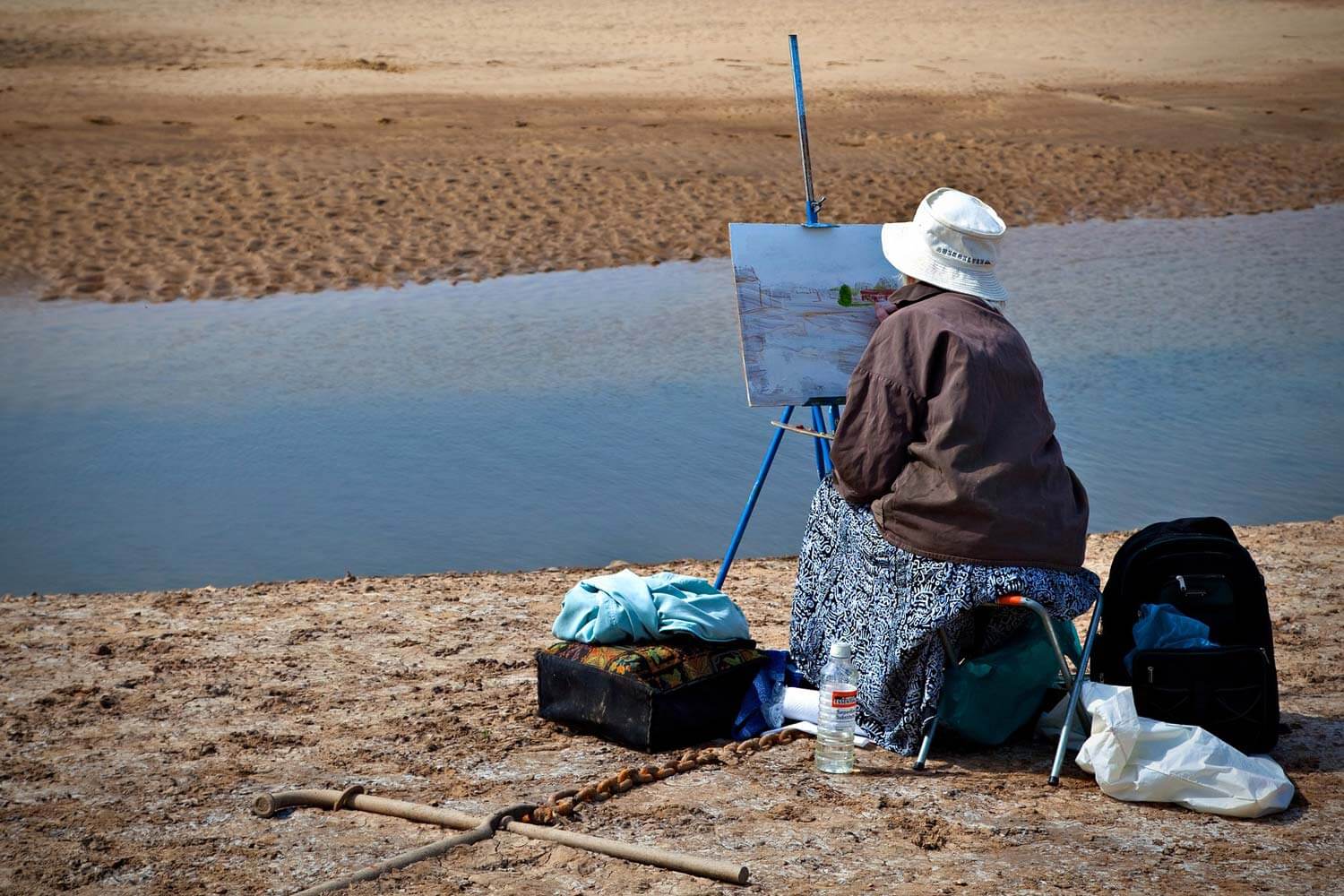 11 Must-Know Tips When Painting En Plein Air With Watercolors
This Article May Contain Affiliate Links
When expanding your studio beyond the four walls, artists refer to this as going plein air (or en plein air).
Now depending on the medium and subject that you plan on painting will largely determine your pack list.
Today, we wanted to take a closer look at going plein air with watercolors.
Watercolors are beloved by artists far and wide, and typically one of the first mediums that they may use before diving deep into the world of acrylics, oil, pastels, and more!
Now here's the deal:
Plein air can mean a lot of different things to artists everywhere.
Simply going to your coffee shop or painting while on a leisurely weekend hike can be interpreted as painting plein air.
For the purposes of this article, and likely the reason you are here right now, we are going to strictly talk about painting a landscape that is easily accessible and a place that you may return time and time again to capture the different lights and attitudes of the scene itself (i.e. not a mile-long hike off trail or stuff you would bring to your local coffee house).
With that, here are a few tips you will want to follow when watercoloring plein air:
Watercolor Block Is A Requirement For Plein Air Watercolors
As we talked in great length in our article comparing the best watercolor papers, watercolor paper comes in many different form factors.
Just simply browsing your local art store or online retailer, you will quickly find rolls, sheets, pads, and blocks.
When painting outdoors, your best bet will be a watercolor block.
Watercolor blocks are perfect for plein air as the edges have been glued down and have been pre-stretched.
Here's a quick illustration demonstrating watercolor block design: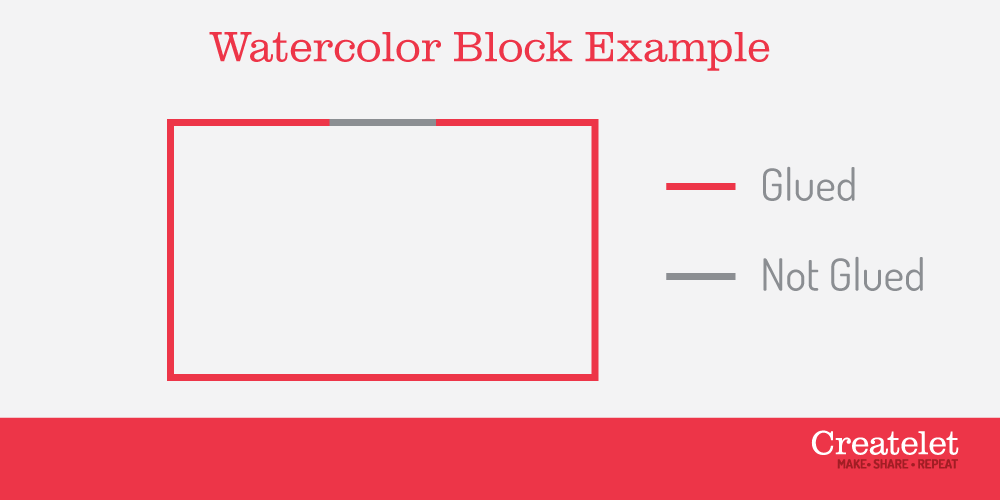 This means you won't have to worry about any gummed paper tape or masking tape when stretching your paper.
Furthermore, should you decide to paint a seaside landscape, sudden breezes from the wind won't cause your paper to go flying.
This will allow you to concentrate solely on your piece to capture the wind, rather than combating the wind itself.
Tip: Many manufacturers like Arches and Canson offer watercolor blocks in many different sizes, making it perfect to find one to bring with you while painting outside without being too unwieldy.
Waterbrush Or Portable Glass Jars
While we don't want to state the obvious when packing watercolors that you will need water, we do want briefly mention a few other options.
Simple glass jars are not only pretty cheap (less than $5), but if you carry a few of them, you can continuously have clean water in order to get the best (and most brilliant) results from your painting.
We would recommend most artists to carry at least two so you can have one jar for the initial bath of the brush and another for a secondary rinse.
Of course, if you bring a larger water bottle with you, you can clean out a single jar regularly as well.
But if carrying jars may weigh you down, or you want one less thing to worry about, waterbrushes, such as these from Caran d'Ache can be capped – making for unparalleled portability.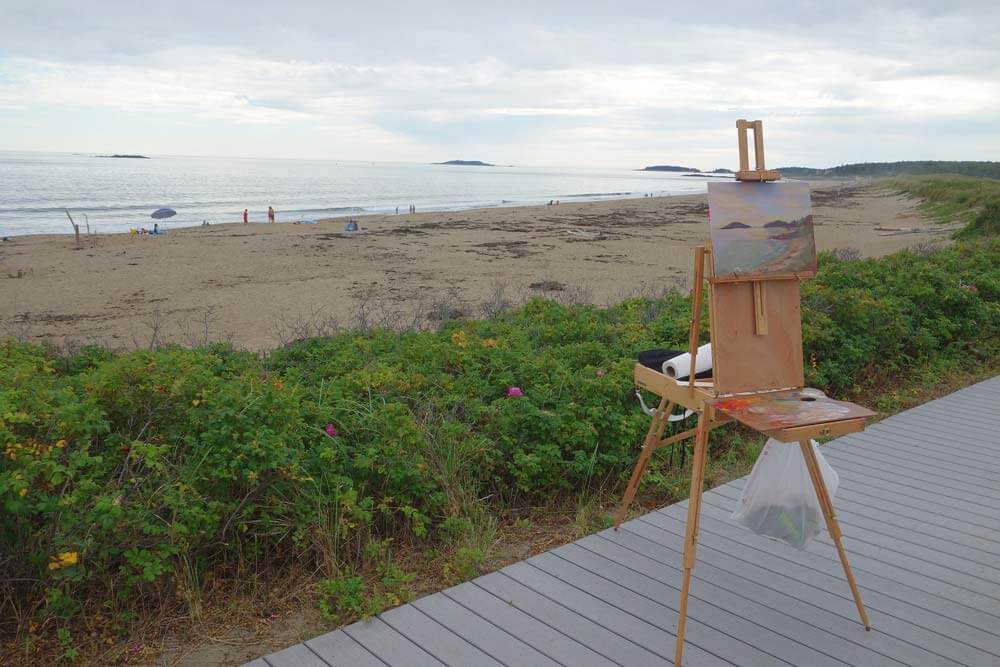 French Easel Is Designed For Watercolorists Who Want to Paint Plein Air
Designed for the great outdoors, no other easel matches the traditional French Easel for plein air painting.
With the ability to fold into a compact briefcase design, French easels allow you to comfortably stand up or sit while painting, making it perfect for watercolorists who plan on making their painting a several hour-long affair.
But it gets better:
Beyond comfort, the French easel has all the necessary compartments, palette slots, and even a spot to affix a field umbrella (more on this in a minute).
Why is this important?
When you plan on packing up all your watercolor supplies in the morning before heading out, you can store everything within the easel itself.
This means you can store all the other necessary stuff in your backpack or purse while still having a hand free.
And yes, your watercolor block will be able to fit seamlessly onto the canvas holder!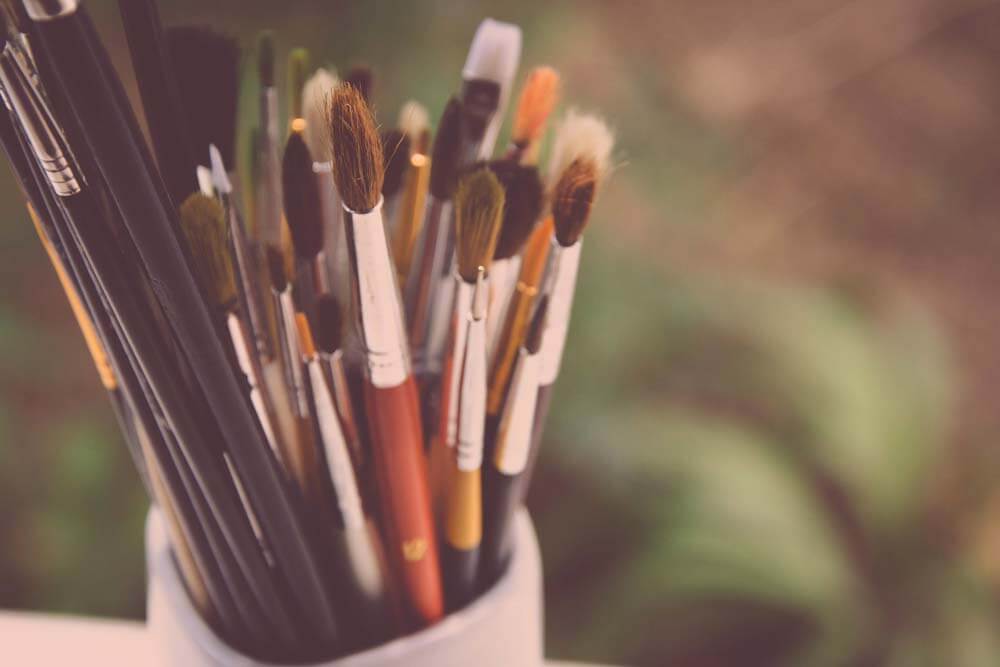 Don't Find Yourself Looking For Brushes
Now, I'll be completely honest, when I do a watercolor paint, I find myself never using more than a few brushes in a given piece.
I might use one for the initial wash, and then a couple others for the painting itself.
However, when I do paint with watercolors, I am often in the comfort of my own studio.
So, in those times where I am feeling a bit creative and want to give another brush a try, it will always be within an arm's reach.
But when you watercolor plein air, that luxury you take for granted in your studio of having all your supplies readily available disappears.
Therefore, when getting set to go outside, we ALWAYS recommend taking a few other paintbrushes with you.
While it's of course rare that one should break or get lost, having a few extra brushes can never hurt.
Hey who knows, you may find yourself discovering a fun new brush while you are in the middle of painting that you wouldn't otherwise normally use while in the studio.
Pre Paint Stretches
Whether you are 20 or 80 (or somewhere in between), painting outside can be physically challenging.
Without the ability to take a simple break and leave your supplies out in the open, many watercolorists will attempt to remain stationary until their painting is fully finished…
…but there is a bigger reason for this…
You don't have to go far in an Art History book to find Monet's Rouen Cathedral, or better yet, the Haystack series to really see how much a landscape changes over the course of a given day.
With constant rotation of the earth, the light of the sun and how it changes the colors of a landscape can be challenging.
In order to fully capture the essence of a scene, watercolorists will find themselves attempting to paint a piece quickly before it changes too much.
Therefore, if you are embarking on a marathon painting session, we would recommend that you do appropriate leg and back stretches before starting your painting.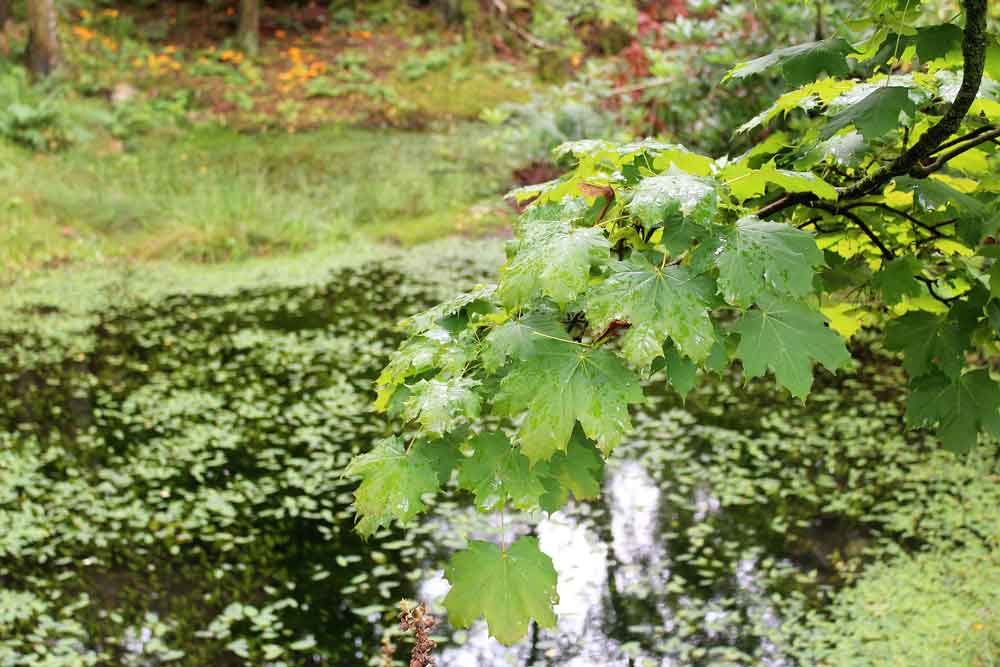 Scouting Your Location
Does this scenario sound familiar?
You wake up early, pack all your supplies, hop into your car or bike to your favorite location and find that it just doesn't have that desired look you are seeking?!
For some reason it seems just a bit duller, or perhaps it's just too busy of people, and you don't feel like painting on display (you know that unsettling feeling of people peeking over your shoulder)…
…this happens to me all the time!
That is until I switched up my process.
Way before I am ready to set out with my watercolor supplies, I will scout a location of where I want to paint first.
But furthermore, I take my trusty smartphone and take a picture of the setting.
Once I get home, I can easily review all the places I visited for the afternoon and compare them side-by-side.
This gives me a much better view on the different landscapes and where to plan my next painting.
But check out this 'hack':
If you are going to really obscure places around your area, make sure to turn on the geolocation attributes for the pictures taken on your smartphone.
This allows you to get precise GPS level locations so you don't ever forget!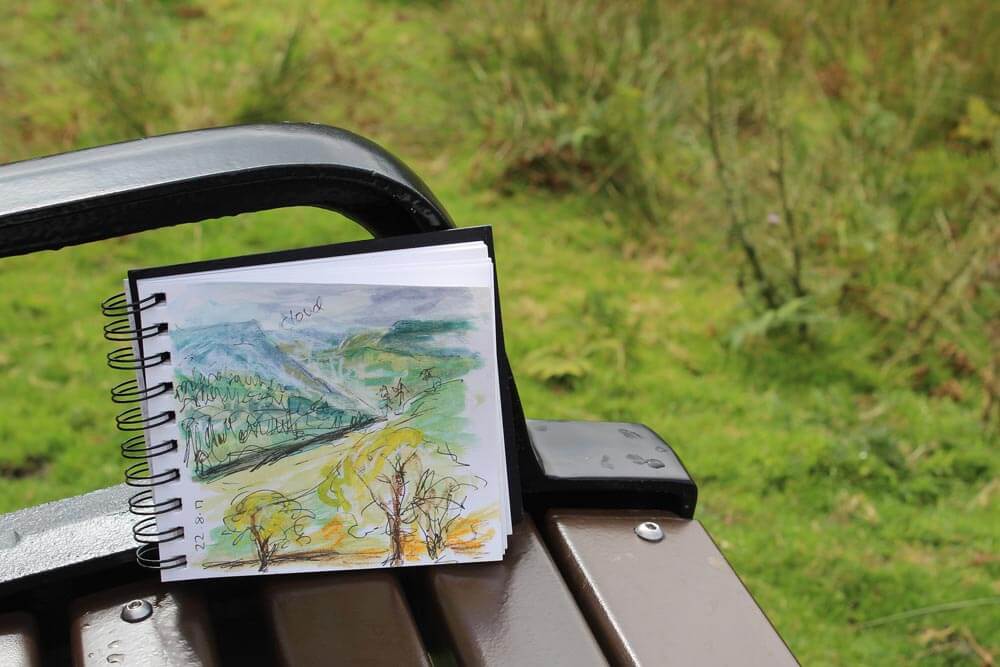 Watercolor Sketch Book
Now for some watercolorists, the idea of investing in a French easel or watercolor block can be a bit too much to purchase immediately…
…and that's completely ok!
As we covered in our recent review of watercolor papers, we found that this Field Artists 4" x 4" notebook can be a perfect substitute – especially if you don't have the budget to invest in a beautiful Moleskine watercolor notebook.
These smaller form watercolor sketch books can be perfect for making quicker landscape paintings without all the extra 'stuff'.
Secondly, if you are painting large urban areas where foot traffic might be high (i.e. NYC), the small sketch book is perfect for still capturing the essence of an area.
Camera or Phone For Lengthy Paintings
Depending on the size or scale of your painting, you may want to take pictures of your landscape throughout the course of your painting.
As we eluded to earlier, the light shifts throughout the day, as do the clouds.
With a documentation of photographs, should any interruptions occur (i.e. rain storm), you have a picture for reference instead relying on memory when you finish the piece in your studio.
Being that this is a watercolor painting and one that is likely not going to be hyper-realistic, the quality of the camera shouldn't matter.
Stool or Seating For Those Who Can't Stand All Day
While I might have a few more grey hairs than I would like to admit, the reality is that I'm not 20 and can't stand for more than a couple hours at a time.
Therefore, a portable stool is a much welcomed addition when watercoloring plein air.
What I find works well for me and many other painters who go paint outdoors are compact travel stools like this one.
Their lightweight and compact design can easily slide into the side of most backpacks making it perfect for painting plein air.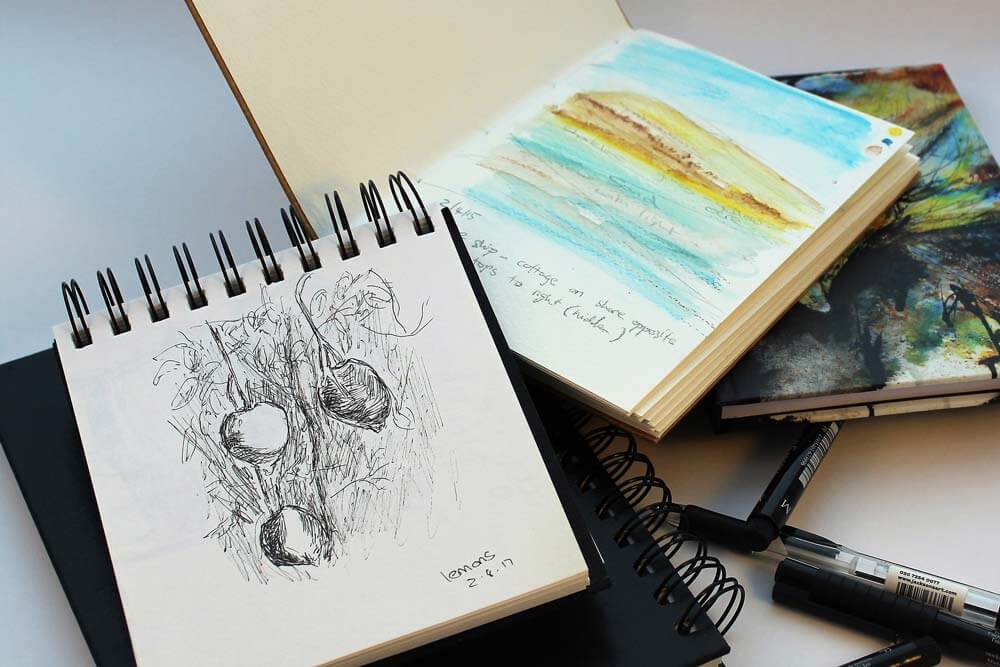 Sketching Materials To Add Another Dimension To Your Piece
Some watercolorists like to just simply use their watercolor paints and that's it when making a piece…
…and that's completely fine!
Opposite of the purists, there are also others who are in the camp of wanting to place a sketch on their watercolor block prior to painting.
Not only will the lines add a nice dimension to your piece, especially if you use an ink pen, but can help when following the lines of a vast landscape or the tall buildings of an urban setting.
Whether you keep all your sketching materials in a pencil bag or in your art bin, we thought it important to add this to the list as many watercolorists might not have all the necessary supplies stored in their French easel before they head out.
Other Key Essentials To Note
Now these may not be imperative to your next plein air watercolor painting, we often rely on these staples to just make the time painting a bit more enjoyable and comfortable:
Dress In Layers
Depending on where you are painting coupled with the time of year, you may want to dress in layers so you don't have to run back to your car or house in order to be comfortable.
Dressing in thin layers will not only help to regulate your temp, but will also be much lighter than carrying around a big bulky jacket with the rest of your painting supplies.
Sunscreen
Now perhaps it was my recent visit to the dermatologist that has me writing this, or maybe it's my family history of sun aliments, but regardless, it's important to make sure that you apply sunscreen if you are painting plein air.
It doesn't have to be anything fancy, but just make that its rated at least SPF 30 as this will block out the majority of harmful UVA/UVB rays.
Even if you are painting in a much cooler temp, the sun still does emit these rays – so don't take your application of sunscreen lightly!
Field Umbrella
If you decided to purchase a French easel, you may have already noticed that it could have a slot for a field umbrella (if not you can usually simply clip them on).
These will not only help to further block the sun, but will help you to get more accurate colors when painting.
Too much sun exposure to the watercolor block may cause you to overcompensate with darker colors which could leave you with less than desirable results once you review your piece when you get back to your studio.
Paper Towels
Whether you accidentally spill your glass jar, need to clean up a mild imperfection in your piece, or you want to wipe your hands clean, you can't go wrong with carrying a few extra paper towels with you – trust me!
Food or Snacks
If you are really painting off the beaten path or are in an area where you can't just simply walk away from your makeshift studio (i.e. painting in a city), then you will want to make sure that you bring a few goodies with you.
Personally, I found that protein rich foods are not only filling, but are much smaller as well.  This can be helpful if you are worried about the overall weight of all the supplies you intend to carry.
Locate A Bathroom Ahead of Time
When painting in nature, you never know if nature will call.
Depending on the area where you are painting and how secluded you may be, you might be able to go au naturale as they say.
However, for 99% of the cases, this likely won't be the scenario!
Therefore, take a minute or two to locate the nearest bathroom before you set up.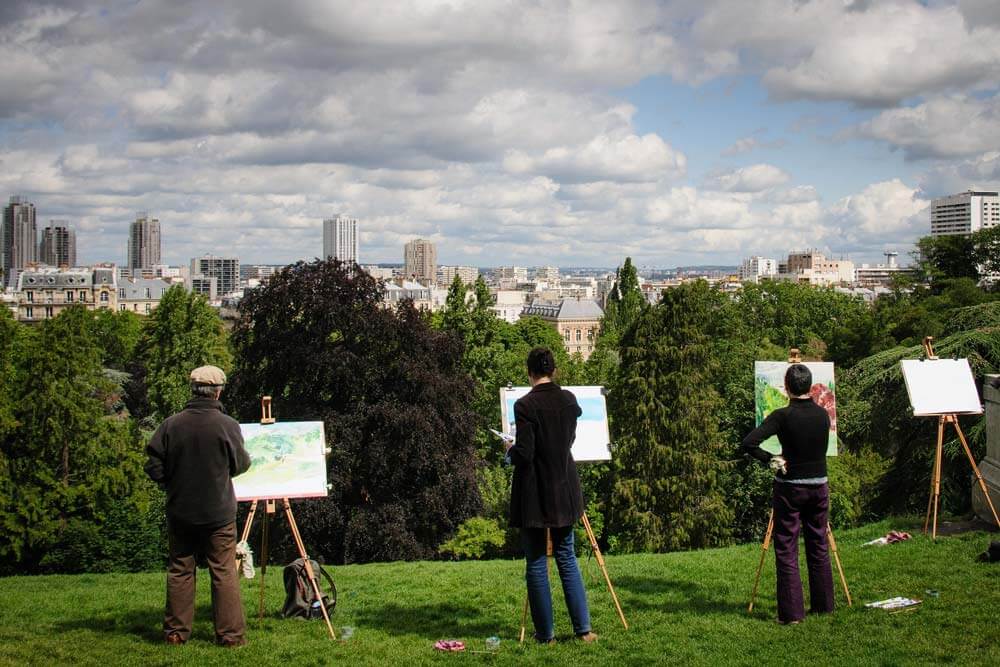 The Most Important Tip When Watercoloring Plein Air
Enjoy it!
Revel in it!
Embrace it!
Plein air painting can be frustrating for a lot of reasons.  A simple missing supply on your pack list or the 'just not right' conditions can make or break a lot of watercolorists.
Should you encounter a situation that might be less than desirable, don't let it bother you.
The raw beauty of painting outdoors is what plein air is all about.
Having people peeking over your shoulder, struggling with wind, or fast moving clouds casting difficult shadows not only are great challenges to take on as an artist, but it will also help shape your experience and make you better with time.
So most importantly, we part you with this:
Get out there and have fun and paint!