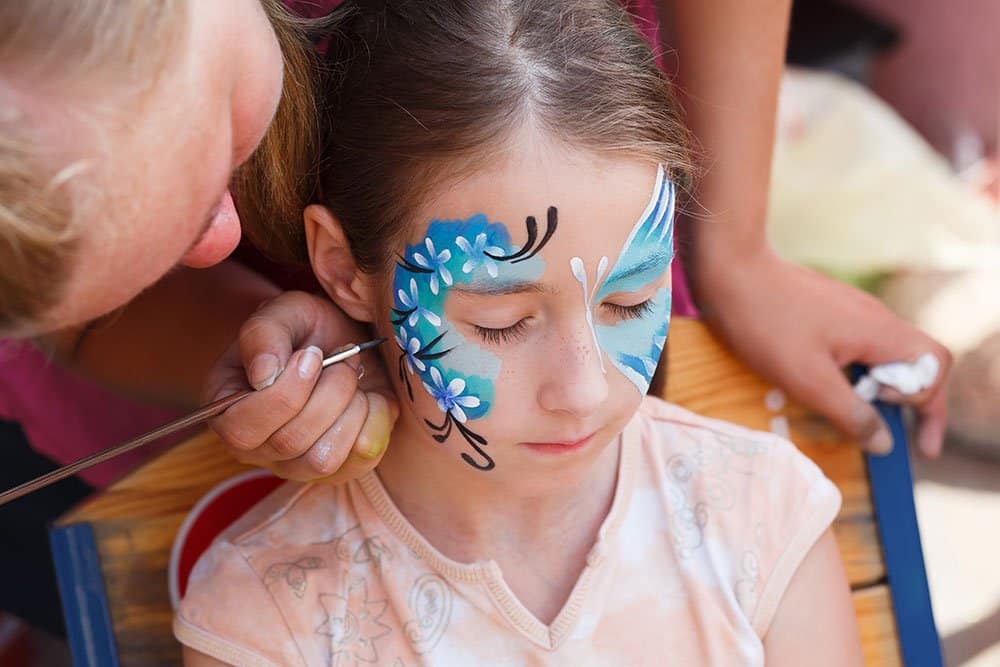 After working once with a face painting kit, many novice artists instantly realize how hard it is to get control over this fun yet unique medium.
With so many different types of faces to work on along with basic layering, color theory, and tools – there is a lot to learn with this medium.
Today we wanted to highlight a few of the key techniques that professional face painters like to use in order to bring their paintings to life.
Let's take a look:
10 Face Painting Techniques Found On YouTube
Here is a list of a few face painting techniques and tutorials that we (and many others) felt showcased this medium perfectly.
As you will see, many of the techniques used below don't require a ton of supplies or expensive face paints – just simply a bit of creativity with a brush or sponge.
1. Double Dipped Flowers by Love Birdy
This is a pretty neat video on how the artist uses a few techniques in order to paint beautiful flower petals. Most notably, the simple double-dip technique with the paint brush allows her to create beautiful two-toned flowers with ease.
As one commenter said about the video "you blew my mind and changed the game". If there is anything we learned in art over the years, it's that even the simplest of techniques can really bring a painting to life.
Check out this video, you won't be disappointed.
2. Three Horse Power by Fairy Fox Design
What little girl doesn't like a unicorn, horse, or zebra?! In this video Laura goes over her face painting techniques to bring these animals to life.
With only a few simple strokes and colors and a little bit of practice, you too should be able to create one of these in no time.
What we also loved about this video was how simple everything was. Really when you look at the video from a supply standpoint she only relies on an applicator, brush, and a few different paints – showing you that it's not all about the supplies and color palette, but rather the techniques employed that make a difference.
If you like Laura's teaching style, we do recommend that you check out her Skillshare course as well – there she has a few videos that go over some of the more popular face paint designs for kids.
3. Arty Cake Princess by Silly Heather
When it comes to kids face painting, princess designs are always in – no matter if Disney just released another hit movie. In this video Heather clearly walks us through every step she takes in order to transform a little girl into a princess.
From expertly using split cakes with brushes to employing a sponge for a light wash – this video has a little bit of everything for people of all skill levels to learn from.
Beyond this video, Heather runs the site SillyFarm.com (which we recommend checking out) and also has countless videos on the SillyFarm YouTube page (which you should also check out) to help push your creative limits.
4. Face Painting Tutorial by LiveLifeSketch
This hour-long video is perfect for those who have never picked up a brush and are looking to get into the world of face painting but have no idea where to start.
The artist goes over all the basic techniques including loading your brush with the proper amount of water to prevent runny paint, how to load up paint from a cake, turning your brush to create smooth lines, making petals, along with countless other tips (remember, it's an hour long).
So, carve out some time, get your notebook and face paint kit ready and follow along at home with this insightful face painting tutorial.
5. Rainbow Fairy Mask by Fairy Fox Design
Another video by Laura (see three horses mentioned at #2), this on location video is a perfect over-the-shoulder look of an artist at work.
If you have ever wondered how face painting artists were able to achieve a smooth rainbow gradient – this video shows you the secret – sponges and split cakes.
In addition to creating a wide and smooth color spectrum on a face, Laura also adds little line details with both a flat and round brush to bring the painting to the next level.
This is a great way to see just how valuable each one of the face painting supplies really are.
6. Half Skull Tutorial by Roxxsaurus
While we have been covering mostly tutorials for kids face paintings thus far, it's time to switch gears and cover a few tutorials for adults.
This easy to follow and well explained video by Roxxsaurus shows us her secret to creating amazing face paintings that bring your most ghoulish ideas to life.
At just over 6 minutes long, we love the expertly edited video that she put together – and we think you will too!
7. Harley Quinn Tutorial by Madeyewlook
If we learned anything during our time researching face paints and reading various cosplay forums it's that Harley Quinn is hands down the most popular character that women (and a few guys) love to bring to life.
In this face paint tutorial by Madeyewlook (cool channel name btw), she goes all out in making her Harley Quinn costume.
Instead of just applying a white foundation and a few accents on the face, here you see the artist bring the rest of her body into the painting as well.
One of the things that we really love about this video from a technical standpoint, it's that you don't need to really learn all these complicated brush stroke to create a beautiful piece of work.
Here you can see how just a few simple details can bring an entire costume together.
7. Gamora (Guardians of the Galaxy) Face Painting Tutorial by Shonagh Scott
From eyeliners to wax Shonagh uses just about everything to look identical to Zoe Saldana's character, Gamora, from Guardians Of The Galaxy.
This is a fairly intense face painting video that covers a lot of techniques used by experts.
While the video is just under 10 minutes long, expect to learn a few really good nuggets of information – such as flattening your eyebrows, importance of barrier sprays/foams, and so much more.
Check out this video if you are looking to take your face painting skills to the next level.
8. Avatar Face Painting Tutorial by Jasmine Allyse
Certified Special FX artist Jasmine demonstrates how you don't need anything more than just two simple supplies – brushes and paints in order to bring a character to life.
With a smooth initial wash, subtle blends, and dots you can see how Jasmine easily recreates a character from one of the most popular movies ever made – Avatar.
9. One Stroke Face Painting Techniques by Cameron Garrett
From breathtaking roses to feathers, Cameron shows you how you can create beautiful face paintings with just a single stroke of the brush.
A heavy reliance on split cakes, you can see how Cameron's techniques make simple objects come to life.
This 11-minute video is perfect for pure beginners who are trying to understand how artists are able to get nice lines effortlessly.
10. Glitter Gel Techniques by SophiesTips
When used properly, glitter gel can add another dimension to a face painting. See how Sophie incorporates glitter into a finished flower-based face painting.
From stroke control to tiny dots – a glitter gel will definitely be a hit with little girls (and perhaps a few boys) for the next face painting you do.
While the video does cover some of the other basics of face painting, for those interested in the glitter gel, jump ahead to the 3:30 mark.
Final Thoughts On Learning To Face Paint Better
Whether you are painting on a face or a canvas, when it comes to making art, practice and persistence are the two most important factors to becoming better.
Allowing your face painting supplies to gather dust between use won't allow you to see the improvements over time.
So, if you are serious about becoming better, make practicing a habit.
Now we aren't saying that you should paint on your face every single day (although if you do that, more power to you), instead, just simple stroke and technique practice on your non-dominate forearm will be more than enough.
Last but not least, don't forget to have a bit of fun!