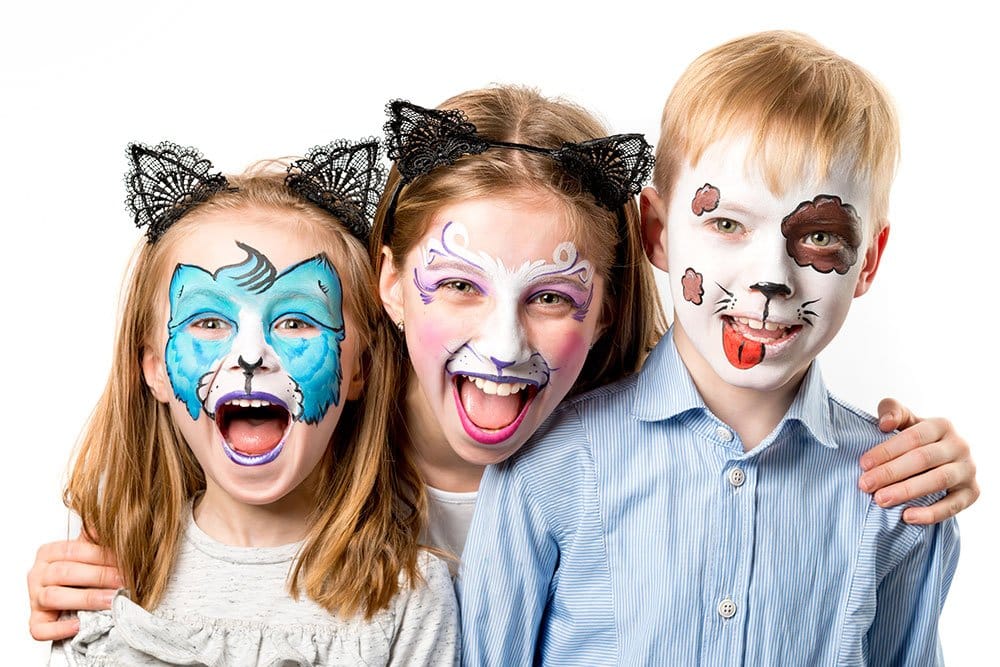 Best Face Painting Kits: Top Brands Compared & Reviewed
This Article May Contain Affiliate Links
Curious Who Won? These 3 Were The Best:
Face painting kits are a great way to explore the world of this fun medium without having to layout a ton of cash.
With the availability of a wide color spectrum along with many of the essential face painting supplies already included, you can immediately start bringing your wildest creations to life.
But here's the deal:
If you accidentally purchase a face painting kit that doesn't meet certain quality standards – you will instantly know.
Poor face paints are not only susceptible to clumping, peeling, and cracking, but they are often made by obscure brands that have zero quality standards and their only intention is to make a quick buck. Too often during our research of face paints did we read (and see) reviews of people breaking out in rashes due to bad ingredients.
Therefore, when selecting a face paint, you will want one that looks and performs well, while also having a proven track record of delivering safe and quality results.
Today we are going to review some of these quality face paint kits along with teaching you on how to spot a quality kit from afar.
So, without wasting a minute more, let's get started!
Comparing The Best Face Painting Kits
Before You Buy: A Few Things To Consider
When comparing and researching face painting kits, we found that these were a few of the key factors that were on the mind of many before making a purchase.
Here we wanted to share a highlight of our research notes on why these considerations are important:
Included Extras
The required extras included with a face painting kit are largely dependent on the intended use of the kit itself.
If you are looking for a kit that kids can play with, then simply a brush will be more than enough for them to have tons of fun!
However, if you are looking to make a good face painting be it for professional reasons, theatre, or simply cosplay – then a high-density sponge will be critical.
Something as simple as a sponge can help to lay down more uniform and clean layers. In addition, added extras such as glitter or stencils can further help bring the imaginary character to life.
So, take a second to think about your requirements before selecting your face painting kit.
Budget
Budget within the face painting world is all over the place. Some starter kits and face paint sticks will cost under $20 bucks – however, quality kits can also demand a $75 price tag (and without even the extras included)!
The biggest difference between the kits across the price ranges can vary greatly.
However, we found that more pricier kits had a higher pigment concentration (which means brighter colors), can mix well together (to generate new colors), while also having uncompromising ingredients (more on this in a minute).
If the face painting kit you are looking for is a one-time use, then don't waste your money – any of the more affordable options on our list will suffice.
Now if you are looking to start a career in face painting, then the pricier options may make sense.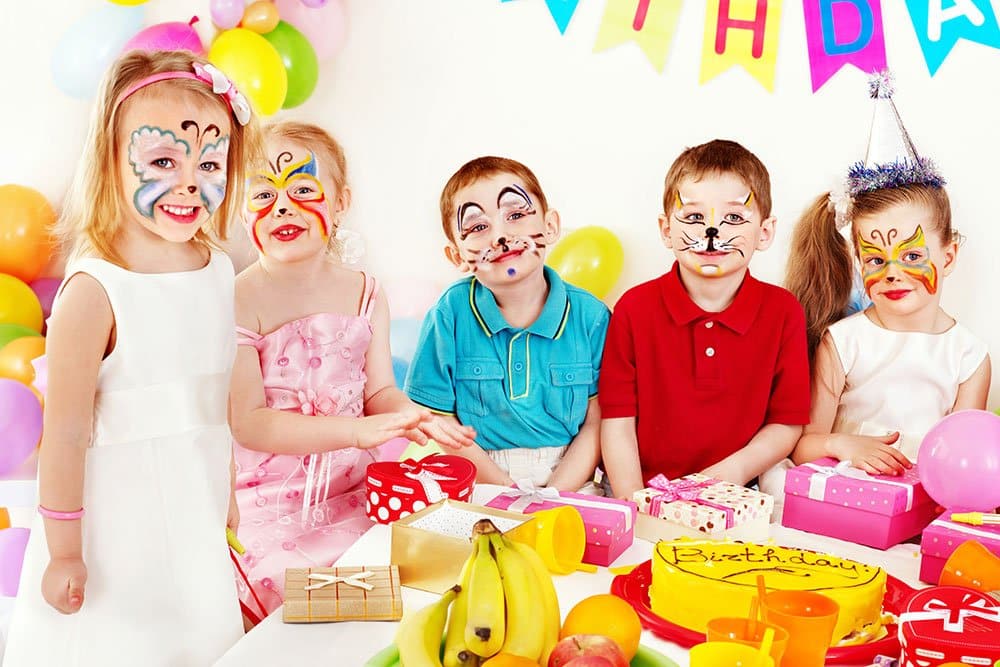 Ingredient Safety
We take safety here at Createlet seriously, therefore none of the brands mentioned below are known to contain harmful ingredients.
Of course, the ultimate responsibility lays on the face paint company itself – so should any allergic reaction ever occur, then you will want to demand some answers from them.
Every brand we reviewed claimed to contain only FDA-compliant ingredients. Many were non-toxic, hypoallergenic, and fragrance-free.
High end brands (i.e. Mehron) also featured natural oils and moisturizers in their face paints as it helps to provide greater comfort for your skin while it was being worn.
Needless to say, should you be looking for a face paint kit at the craft store yourself, be sure you understand what is inside the paint before buying.
Lastly, no matter what face paint you go with, always do a patch test prior to a full application – this will ensure no adverse side effects may occur.
7 Best Face Painting Kits Reviewed
When it comes to the world of face paints, one brand that you will see time and time again is Snazaroo.
This U.K. based company has been around for years and has built quite a following of fans – simply due to the quality products that they put together.
Not only are their products incredibly safe – FDA compliant, non-toxic, fragrance-free, adhere to U.S. cosmetic regulations, etc. – but they also perform rather well.
In all our time researching face paints, one of the biggest reasons why people loved Snazaroo was their easy on easy off application – making it perfect for costume, cosplay, or just casual fun.
When reviewing this set, we were happy to see a wide variety of colors (12 total), along with a few key face painting tools – namely sponges (4 total) and brushes (2 total).
This will give you plenty of creative freedom when working your next face painting.
The Bottom Line
Overall, Snazaroo paints are perfect for face painting at all ages. Its incredibly gentle formulation will ensure no rashes occur. Secondly, the party pack has everything you need to get started with face painting – no extra purchases necessary.
Blue Squid is a relatively new face paint company (est. 2016) that has been making waves in recent years with strong offerings, like their Face Paint Kit that people just simply love.
They seem to be doing just about everything right when it comes to delivering a quality face painting kit.
Included in this 52-piece kit you will find the following:
12 vibrant colors
2 large pans – black & white
2 brushes
4 sponges
2 glitter types
30 stencils
Making this kit one of the most comprehensive on our list.
But beyond having all the pieces you could possibly want when face painting, Blue Squid also has an impressive website that provides tutorials for just about any character you might want to create.
Whether you are looking to create Darth Maul, Frankenstein, or simply a Fantasy Tiger, you should check out some of these easy to follow tutorials.
But as we eluded to at the start of this article, equally important to the set is the ingredients used within.
Blue Squid takes pride in offering a face paint that is hypoallergenic, FDA-compliant, paraben-free, non-toxic, and vegan – making it safe for use on people of all ages and those with sensitive skin.
Equally impressive is their online rating. With an average score of 4.4 (out of 5), they are among the highest rated face paints out there.
The Bottom Line
Overall, Blue Squid has a compelling set for those looking to have a bit of fun with face painting. With 12 bright colors and a safe ingredients – expect to see great results!
As you are likely aware, face paints can come in many different forms including creams, water activated pans, and sticks.
This 24-piece set by JOYIN is one of the best selling face paint crayon kits on the market.
Not only does it have one of the most impressive color spectrums on our list, but the crayons themselves go on incredibly easy.
Therefore, should you be applying this to kids, toddlers, etc. you won't have to worry about discomfort during application.
Unlike most high performing crayons that are oil-based, the JOYIN face painting crayons are water-based.
Therefore, once the event, festival, etc. is over, you can simply take warm and soapy water to the artwork and wash away with ease.
Like many on our list, the ingredients found within these sticks are top-notch. Not only are they FDA-compliant, but they also are paraben-free (free of nasty preservatives), non-toxic, and suitable for sensitive skin (another reason why these are perfect for kids).
So, if you plan on just doing a simple face painting that only involves a few accent marks (i.e. outline design, fake tattoo, cat whiskers, etc.) these should be more than enough.
Lastly, within the colors included, JOYIN does include 6 metallic colors – which can really make a face painting stand out.
The Bottom Line
Overall, for the modest price and wide array of colors, these are perfect for casual use. When applied they are bright and vibrant while still having a really safe ingredient list.
One of the most comprehensive sets on our list will be this 81-piece offering by Zenovika.
Within the set you will find the following:
60 Jumbo Stencils
15 Face Paints
2 Glitters
2 Sponges
2 Chalk Hair Colors
This set is perfect for those who need a bit of everything, yet don't want to pay the much higher prices demanded by the premium brands that charge upwards to $15 for a single color.
In fact, this set by Zenovika costs roughly $22 bucks (or about $1.46 per color – not including extras) and is a great value pick.
But one aspect about this kit that we really loved were the stencils. Within the set of 60, you have a variety of designs including a spider, cat, Christmas tree, giraffe, paw prints, unicorn, and so much more.
This water-based face paint relies primarily on glycerol as its primary binder. In addition to the relatively safe ingredients, this kit also includes candelilla wax – this will help preserve the painting on your skin and reduce the occurrences of any chipping or flaking while wearing.
The Bottom Line
Overall, it's a perfect starter kit that delivers bright and brilliant colors. The addition of chalk hair coloring is a nice bonus. The number of stencils is unprecedented and should please anyone's personal preference.
A step up from the more kids-centric offerings, this kit by Global BodyArt is a semi-professional face paint kit that includes a TON of colors.
As you can see from the picture above, within this kit you will have access to a variety of split cakes.
These types of cakes are perfect for those who want a variety of color offerings in one compact size.
When used with a high-density sponge (not included), you can create face paintings in a variety of shades that really stand out.
Of course, if you want to do a single color face painting, you can simply brush or swipe a sponge along a single color as well.
These water-based colors are hypoallergenic and FDA compliant.
If there was any major complaints with this kit it would be around the included extras (or lack thereof). While the color kit is impressive, unlike some of the other kits featured on this list, you won't find stencils, brushes, or sponges included – therefore you will want to pick up these during checkout.
The Bottom Line
Overall, Global BodyArt is a trusted brand by many and delivers quality results. Split cakes like those featured in this offering are a great (and easy) way to add a really cool dimension to your face paintings. Just don't forget to get sponges, brushes, and stencils during checkout.
Organization is by far the biggest selling point when looking at this intermediate level face painting kit by Bo Buggles.
With 16 different pots – you have perfect holders for each one of your paints whether you are in the middle of a painting or traveling.
In addition to the paint holders, this Bo Buggles kit also has two slots for the included paint brushes as well.
Organization aside, the paints themselves are equally terrific. With 12 colors and 4 glitters, you can really push your imagination when using these. Each of the water-based paints are also skin-safe, glycerin-based, and comply to strict FDA standards.
Now as great as this kit is on both color selection and organization, its not without a few faults.
Most notably the lack of sponges. If you are looking for a uniform and non-streaking results in your painting, you must own a high-density sponge.
Secondly, the paint jars themselves.
Unlike other face painting kits that feature a wide set pan, the jars can be tougher to use with sponges (although completely ok with a brush).
But we understand this is largely a personal preference and one that might not be a big deal if you are just casually face painting.
The Bottom Line
Overall, for the price and the amount of paint received, this kit by Bo Buggles is a steal. The included 30 disposable stencils are also a nice touch. We just wish a sponge was also included to complete this kit.
By all measures, this Mehron Paradise AQ Face Paint kit shouldn't have made the list…
…it includes no stencils, no brushes, nor are sponges added in.
To make it even worse, this kit normally retails for about $75 – making it also one of the most expensive on the market.
Now sure, if you are looking for a casual face painting kit for a one-time use – then this kit isn't for you.
However, if you are looking to make a career out of face painting or as a professional makeup artist – then you will want to pay attention.
Within this kit you have 30 different colors to choose from (really only 26 unique colors as 3 black and 3 white pans are included).
Each one of the colors are not only incredibly brilliant due to their high pigment concentration but are also highly mixable too – making the creation of new colors rather easy.
But it's what's behind the colors that really makes this Mehron kit special.
Each one of the colors in the Paradise AQ line rely on top-notch ingredients. Some of those ingredients include:
Avocado Oil
Cocoa Seed Butter
Cucumber Extract
Vitamin E
…and so many more!
Therefore, when this face paint is applied, it will go on feeling smooth and comfortable.
But this isn't even the half of it.
For a water-based face paint – they perform incredibly well (just make sure to use a setting spray).
Mehron paints are commonly found Broadway plays, television, and circuses everywhere – making them by far one of the most credible brands on our list.
With a 90+ year history – they have perfected the art of face paint.
Of course, as we started earlier in our review, the Mehron's don't include the extras required (sponges, brushes, etc.) – so don't forget to have these on hand before you start painting.
The Bottom Line
Overall, if you are looking to build a career in face painting or you want uncompromising performance and don't mind paying a premium, it doesn't get much better than this face painting kit from Mehron.
Best Face Painting Kits: Selection Process
From ingredient profiles to budget, and even the included extras – finding the best face painting kit in 2019 proved to be rather tricky.
You don't have to go far on a mega-retailer website to see countless options available to choose from. But after hours of research, reading forums, reviewing results, and of course reading the feedback of others, we feel confident in our list above, and we think you will love any one of the face painting kits we picked out.
Now given that we are a bit limited in resources, we were unable to review every single face painting kit on the market.
Therefore, if you feel one should be added to the list, we would love to know!