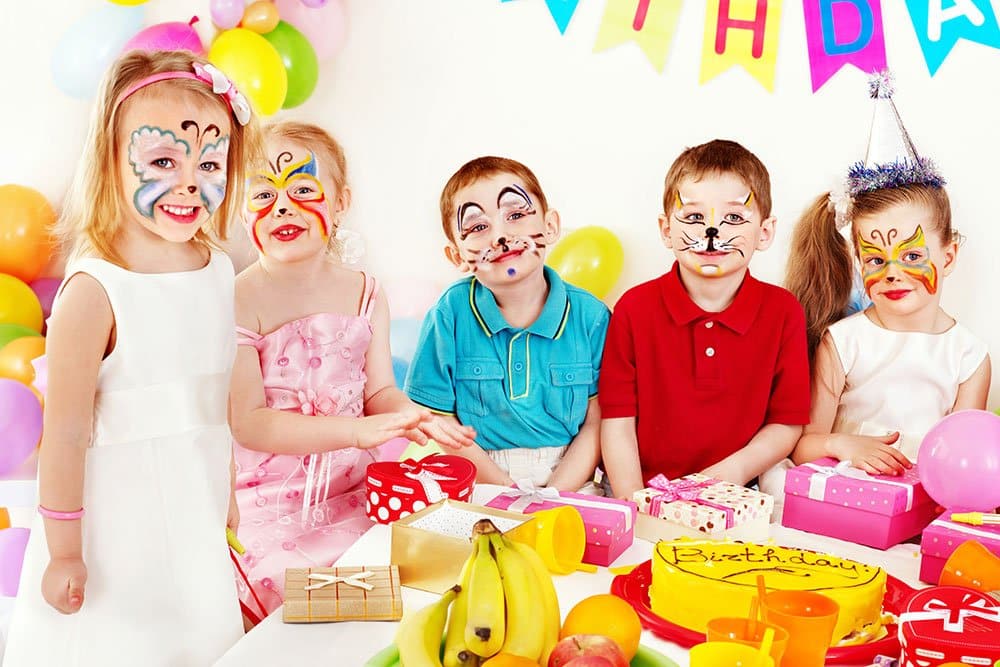 Best Face Paint For Kids: Top Brands Compared & Reviewed
This Article May Contain Affiliate Links
Curious Who Won? These 3 Were The Best:
When it comes to selecting a face paint for kids, safety is the most important factor.
But in the world of mega online retailers that allow cheap knockoffs to exist in their marketplace, there has never been a time where you need to have your guard up as a parent when finding the right face paint for your child.
The goal of today's guide is two-fold:
Share with you a few tips on how to navigate this mine field of poor products
Provide in-depth reviews of the most popular face paints for kids
We know you are probably pretty busy – so, let's get started:
Comparing The Best Face Paints For Kids
During our research we found a few key differences between the top brands.
We try to highlight these differences in our table below, so you can easily decide on the perfect face paint that meets your needs:
Before You Buy: A Few Things To Consider
As we did our research we found a few concerns among shoppers when it came to selecting the right face paint for kids. Here were a few of our findings that we wanted to share in order for you to make a smarter choice when deciding on a face paint:
Safety
Whether its paint for yourself or a child, safety is always the most important factor when choosing a face or body paint.
All too often we saw reviews for brands (none featured on our list) where rashes and other allergic reactions occurred shortly after applying the paints.
Based on our understanding, this nearly always has to do with the manufacturing process. Face paints that are made in far away factories often never adhere to high quality standards.
Therefore, we recommend that any face paint you choose be FDA-compliant (all brands on our list met this strict requirement). This ensures a higher level of safety for the child that is using the paint.
Lastly, all of the paints below are not food grade paints – therefore you won't want to share them with any children (under the age of 3) that may try to drink or put them in their mouth.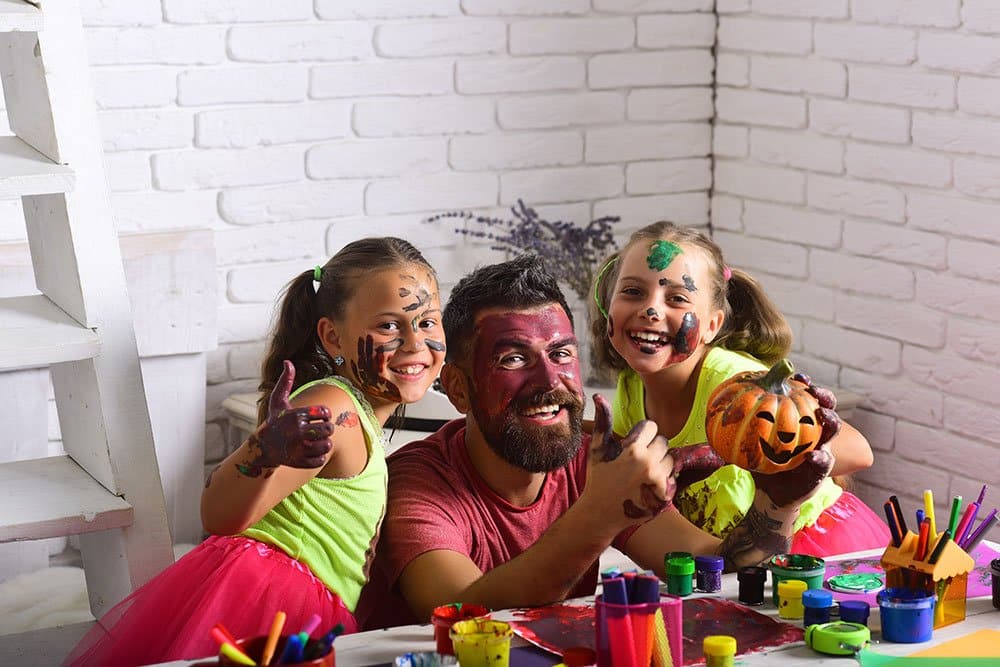 Creativity
Whether it's on a canvas or on your skin, painting is a terrific way to push the bounds of one's creativity.
Not only can face painting unlock a child's inner van Gogh, but it allows them to learn more about the details of one face while increase their concentration and fine motor skills.
As you will see below, face paint kits that include extras like stencils, glitter, and skin jewelry will help to foster this imagination.
Lastly, should this face painting kit be a part of a larger costume, don't forget any fun accessories to go with the kit (i.e. wigs, costumes, etc.)!
Form
Face paint comes in two primary forms – pans and sticks.
Pans are very similar to watercolors and will be easy to use for children of all ages. Just simply take a damp sponge or brush to the color and apply to the skin – simple as that.
In addition to easy, organized, and clean usage, pans can also be stored cleanly between uses.
When compared to sticks, pans are usually the best pick as they offer much more in both color variety, creativity, and general enjoyment for children.
Sticks on the other hand are highly portable and easier to use for those children who skew a bit younger (think Pre-K and Kindergarteners).
In addition, sticks can be great if the intended face paint is to simply be a symbol or accent (i.e. cat whiskers, blood, etc.).
The Best Face Paints For Kids Reviewed
From cosplay to costumes and everything in between – Snazaroo is one of the most trusted names by mom's in the face paint world.
Not only is their ingredient list squeaky clean as they are FDA-compliant, non-toxic, and adhere to strict toy and cosmetic regulations, but they are also suitable for sensitive skin.
In addition to checking all the boxes when it comes to product safety, Snazaroo products are made in the U.K. where they have much more strict production oversight than if the same product was made in China.
As great as the ingredients may be, what we also equally loved about this kit was the inclusion of all the necessary supplies – sponges, brushes, 12 different colors, and even 2 glitter pots that can make any child's imagination spring to life.
The Bottom Line
Overall, if you are looking for a safe and trusted brand of mom's everywhere – you really can't go wrong with Snazaroo. Of course, should accidents happen (as they likely will), this paint is water-soluble making it easy to clean with warm and soapy water.
What happens when a professional face paint company makes a kit for kids – magic!
If you are looking for a gift or activity for an older child (12+) that wants to explore the world of face paints – order them this kit, it will unlock their imagination.
As you can see from the picture above, the colored cakes included in this kit are both striped and solid.
This allows the face painter to create beautiful and colorful results on the skin when applied with a sponge.
Furthermore, if you want just a single color, you can easily draw up the pigment with the brush (or edge of sponge) and from a split cake as well.
While the split cakes are a great way to generate beautiful results with ease – another feature we loved about this kit was the stencils.
Unlike all the other kits featured on our list, this kit by Kryvaline features reusable stencils – making this a toy that isn't a one and done.
Lastly, Kryvaline also includes skin jewels (perfect for accents) and biodegradable glitter in a spill proof bottle (kudos to them here).
Given that this is made by a pro level company, the ingredients are top notch and safe for kids. In addition, the colors will be incredibly bright and vibrant when applied.
The Bottom Line
Overall, this is one of the best face paints for kids on the market. The split cakes are an awesome touch and one that will push a child's creativity further. Reusable stencils will allow this kit to withstand many face painting sessions.
We absolutely fell in love with this face paint kit from Create-A-Face.
Why?
Safe ingredients + tons of extras.
First the ingredients – this kit is FDA-compliant, non-toxic, and hypoallergenic.
But it's the extras that really set this kit apart.
Included you will find the following:
8 Colors
2 Glitter Gels
2 Sponges
2 Brushes
1 applicator
30 stencils
The 8 colors are water-based, making their activation incredibly easy – just simply dampen the included brush or sponge and you can begin painting.
But what we really loved (as well as kids) was the stencils.
Featuring all the most iconic artwork including Batman, Superman, Dragons, Unicorns, Butterflies, etc. this kit will be an instant hit with a little boy or girl.
To sweeten the deal, Create-A-Face also includes an 18 page eBook upon purchase that walks you through a few easy to follow tutorials.
Lastly, if you are at all disappointed, Create-A-Face does offer a no-questions asked return policy.
The Bottom Line
Overall, if you are looking for a small face painting kit for a little boy or girl, you can't go wrong with this one. The colors are bright, the painting tools are kid sized, and the included stencils make it fun for all.
Established in 2016, Blue Squid is quickly becoming a big brand in the world of face paints…
…and with this kit made specifically for kids, it's no wonder.
Aimed for the slightly older kid (we think around 8 to 12 is the sweet spot), this 12-color kit is perfect for unlocking their imagination.
Beyond the 12 colors, this kit also includes 3 brushes (perfect for trying different stroke work) and 30 stencils.
Like the Create-A-Face, the stencil variety will be a hit.
But one feature about this tray that we really liked is that it's a great introductory into more professional face paint applications.
Each of the pans in the tray are removable – therefore, if you are working on a face painting of just a couple of colors (i.e. red, blue, white for Spiderman), you can easily just take those one out.
If there was any downside to this kit, it would be around the lack of a sponge. Using just a brush may prove to be a bit messier and frustrating for the child – therefore, we would recommend pickup up a high-density sponge like this as well.
Last but not least, the ingredients. All paints contained within this Blue Squid set are paraben-free, FDA-compliant, and are washable.
The Bottom Line
Overall, this is a perfect set for a slightly older kid. The brush variety is terrific, and the paints are vivid. We only wish it also included a sponge.
Perfect for preschoolers and those who want just a simple costume, face paint sticks are a perfect introductory medium to begin to push the boundaries of one's imagination.
Similar in form and feel to your standard Crayola crayon, these face paint sticks apply to skin with ease.
Not only does their easy application reduce discomfort when applying, but equally easy is their removal.
Highly washable and safe, once the party or event is over, you won't have to worry about scrubbing your child to hard when removing the pigment.
Available in 12 bright colors, these safe and non-toxic face paint sticks are perfect to have at parties.
The Bottom Line
Overall, if you are looking for something that is simple, cheap, and washable – you can't go wrong with these sticks. They don't require brushes and sponges – making them also easy to take with you on the go.
Competing head to head with the Create-A-Face and Blue Squid face kits – this kit by Artsy Fartsy (cheeky I know), is a well-rounded kit that has all the essentials any kid could possibly want when face painting.
Inside the box you will find the following:
14 Colors
2 Glitter Shades
50 Stencils
4 Sponges
2 Applicators
2 Brushes
Whether they are looking to create smooth gradients or lines, any of the tools will work perfect to achieve such results without frustration.
Like other kits we reviewed, the included stencils contain a wide array of fun characters – so if you have a little boy that wants to unlock his inner Batman you can rest assured that The Dark Knight's logo is included.
For the parents concerned about safety, this face paint claims the following:
FDA-compliant
Hypoallergenic
Non-Toxic
Paraben Free
Lastly, this is a water-based paint, so once the little one has had enough, you can just simply get some warm and soapy water to wipe them clean.
The Bottom Line
Overall, this is perfect for kids. The stencils, sponges, and glitter will be accessories that take their creations to the next level. The paint will produce vibrant and bright results.
Choosing The Best Face Paints For Kids
When we initially set out to find the best face paints for kids in 2019, we thought this was going to be a fairly easy assignment. But we quickly found out that there are a ton of poor performing and, to be quite frank, dangerous paints on the market. With obscure ingredient labels and questionable companies behind them, it took us quite a bit of time to cut through the fluff.
However, after all the research, reading forums, looking at results, and scouring the web for general user feedback, we feel confident that any of the above paints should work well for kids – and we think you will be happy too!
While Createlet is more of a boutique than a large review company, a few paints may have gotten by us that we should have reviewed. If this is the case and you want us to look at a particular brand, we would love to know!
Just simply get in touch with us and we will consider adding it to the above list!