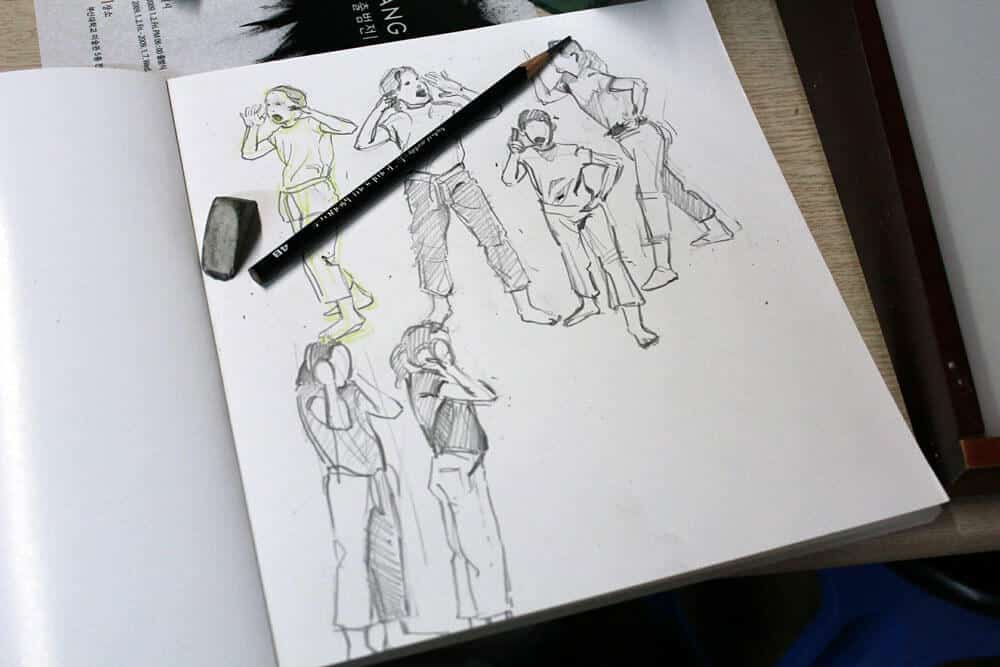 Before you get into painting, watercolors, or any other mediums, it's important to fully understand the fundamentals when it comes to drawing.
Drawing is the foundation of which the rest of your artwork depends on.
As Anthony Ryder said in the preface of The Artist's Complete Guide To Figure Drawing:
"In painting, everything depends on the drawing"
We couldn't agree more!
Whether its nailing down the right perspective or having the correct proportions when it comes to drawing the human figure, drawing properly is incredibly important.
While I had spent a semester at my local University taking both drawing and painting classes, I was able to learn much more from these books than any professor could cover in a semester.
Below is a collection of some of the best books that myself (and other artists) have depended on time and time again.
Comparing The Best Drawing Books
For those that want just the gist of what the books cover, here's a brief summary and price range for each of the books mentioned on our list below:
Here's The 11 Best Drawing Books For Beginners
While you can jump between books, this list was constructed in a logical order. After getting feedback from student artists, we found that this order was the most effective at developing an artist both quickly and properly:
1. Perspective Made Easy
From understanding vanishing point placement, the importance of eye level all the way to properly placing figures in a drawing, Ernest Norling covers all the essentials you need to understand in Perspective Made Easy.
After reading this book, you will start to look at the world around you quite differently by studying the lines in buildings and seeing how everything truly comes together.
While this book was originally published in 1939, it has withstood the test of time, not only because the rules of perspective haven't (and will never) change, but the way Ernest Norling walks the readers through the book is both simple and well thought out – which is especially refreshing given a relatively abstract subject.
With over 256 drawings throughout the book, you will see the principle that the author is demonstrating clearly.
Read Reviews
2. How To Draw: Drawing And Sketching Objects From Your Imagination
Scott Peterson, a prolific author of several drawing books has put together one of the best books on drawing from the imagination and really developing the subject in a much different manner.
Rather than drawing from what you see, Scott takes quite a different approach:
Model building.
This means that you will be building volumes and building objects instead.
So, what does this mean for you the artist?
That you will have much different understanding on how the world around you is built rather than solely relying on your eyes.
Here's a short video of Scott Robertson himself walking us through the book:
One aspect of this book that we really loved is Scott's requirement that you draw in ink rather than pencil.
This not only forces you to not weigh too heavily on your mistakes, but will make you concentrate on the lessons that he is teaching at hand.
As we mentioned briefly above, this list is laid out in a logical order, therefore some artists may be a bit too overwhelmed if they jump into this book immediately as it covers some pretty complex topics including:
Creating Grids
Ellipses And Rotations
Working With Volume
Drawing Environments
…plus many more!
But it doesn't end there – one really cool feature of this book is the 10 hours of companion video. When you download the app that comes with it, you can scan a QR code in the book and have Scott walk you through the drawing process he is explaining in the book.
Read Reviews
3. Light For Visual Artists: Understanding & Using Light In Art & Design
Whether you plan on drawing with traditional pencil and paper or in a digital realm – the importance of light cannot be emphasized enough.
Before you proceed into composition or figure drawing (which we will cover in just a minute), light can really set an atmosphere for whatever the subject is that you are drawing.
But instead of being a simple step-by-step drawing guide, Light For Visual Artists takes a much different approach.
Walking you through a variety of scenes including photography, 3D renderings, and drawings, you can see how certain sources of light, fabrics, and textures will transform the light in completely unique ways.
Excellent as a reference guide, there is something for everyone in Light For Visual Artists.
Read Reviews
4. Framed Ink: Drawing And Composition For Visual Storytellers
While the first two books on our list concentrated heavily on perspective and building volume within an environment, Framed Ink will really take your artwork to the next level: composition and storytelling.
Composition is everything when it comes to artwork.
A well composed piece not only can make a dull scene look captivating, but can also convey emotions to the viewer.
Famed visual concept and comic book artist Marcos Mateu-Mestre provides the ultimate class in composition.
Now you might be hesitant on this book because it introduces figure drawing (which we will cover next), but the rules taught in this book will make the subsequent books much more valuable.
Framed Ink will walk you through the following:
Marcos General Thoughts On Narrative Art
Drawing And Composing A Single Image
Composing Shots With A Purpose
Composing For Continuity
The Graphic Novel
While this might seem a bit light from the onset, it's not.
Through Framed Ink you will learn all about order vs. chaos, conveying emotions, nighttime vs daytime drawings and so much more.
Here's a quick flip through the book:
Even if you plan on solely painting landscapes your entire career, there are some intensely valuable lessons you can pick up and apply in your artwork.
Read Reviews
5. Figure Drawing For All Its Worth
Andrew Loomis simply sets the gold standard when it comes to understanding and explaining figure drawing.
Even just a few short evenings with Figure Drawing For All Its Worth will instantly make you better at figure drawing – not because it will unlock some magic potential that you had within yourself (that has always been there), but rather it does such a good job at covering the fundamentals.
While Andrew goes over the basics of proportions for men, women, and children and how to find it in any figure position (which was a huge help for me), he walks you through a much deeper understanding of the human figure.
By dedicating an entire section of the book on both the bones and muscles, you will understand how to draw a figure in a way that makes anatomical sense.
Furthermore, Andrew also gives you a variety of walk-throughs on drawing the human figure in just about any position imaginable including kneeling, reclining, crouching, sitting, walking, running, etc.
Once you are done reading Figure Drawing For All Its Worth and employing the many exercises that Andrew put before you, you will no longer have a question on how to draw the human form and will be able to compose your drawings with absolute confidence.
Read Reviews
6. The Artist's Complete Guide To Figure Drawing
Building on what you learned in Andrew Loomis' book we just went over, Anthony Ryder expertly walks you through his process of drawing the human figure to absolute perfection in The Artist's Complete Guide To Figure Drawing.
Rather than concentrating on the figure itself by drawing what you think you see, Anthony pivots you to learn how to draw what you actually see.
Employing the block-in method of figure drawing coupled with concentration on contours and of course drawing the body itself, you will get a much deeper understanding of striking the right value in your piece to accurately represent the figure.
Here's a quick flip through The Artist's Complete Guide To Figure Drawing:
What we really loved though was the lesson on light and how it relates to the figure. This section alone will make your artwork really come to life.
Geared for the more intermediate and expert artists out there – if you are trying to jump ahead with your drawing lessons, this book will likely be a bit too much for beginners.
Read Reviews
7. Drawing The Head & Hands
Next up on our list is another book by Andrew Loomis, Drawing The Head & Hands.
Probably the two parts of the human figure that provide the most challenge to any level of artist, Andrew Loomis tackles it head on (pun intended)!
Looking at heads in several different perspectives, ages, men, women, children and teens – Andrew puts it all out there in this not only easy to read book (that won't intimidate a beginner), but certain rules and anatomical structures to really get things right.
But it goes deeper than just looking at heads and hands in great detail – Andrew also concentrates on tones, modeling planes, expressions, and so much more.
When you couple this with Framed Ink, you will have the essentials to not only tell a compelling story with your artwork, but all the perspectives and proportions will flow off the tip of your pencil effortlessly.
While some artists may be apprehensive about trying this book since it's not new (originally published in 1956), the theories applied all remain true to this day.
Read Reviews
8. Figure Drawing: Design And Invention
Rather than focusing on tone or value of the figure, Michael Hampton guides you through the human figure by way of geometry, guides, and most importantly muscle structure.
While some of the previous figure drawing books concentrated on the subject of the figure itself, in Figure Drawing: Design And Invention, you will learn the muscle groups of the human form in a full-color and easy to digest manner.
This is really important in understanding why a certain pose makes sense when compared to another that just seems off for some reason (in that the human muscles don't just bend in a certain way).
As you can see in this flip-through, the illustration-laden pages give you great guidance on all the subjects to make you have a much richer understanding of the human anatomy as an artist:
Read Reviews
9. Force: Dynamic Life Drawing For Animators
Once you have learned all the fundamentals of figure drawing, it's now time to put those learning to work.
There is no better way to do that than through the Mike Mattesi book, Force: Dynamic Life Drawing For Animators.
While most figure drawings concentrate on the nude body in its purest form (which Mike does open with in this book), he also brings into the equation of clothes and how they can convey motion of the figure.
One of the topics that Mike also introduces as it wasn't mentioned previously in many of the books is the drawing of animals.
In Force: Dynamic Life Drawing For Animators, Mike walks you through the form of primates, seals, birds, and more – a great way to really add components to piece.
Unlike artists like Andrew Loomis who have passed away more than half a century ago, Mike Mattesi is still actively drawing and has published this hour-long guide on his ideas and philosophies on drawing:
If you are struggling with conveying motion in your artwork but have confidence in your figure drawing, then you will want to give this book a read.
Read Reviews
10. The Skillful Huntsman
This book by a team of artists including Khang Le, Mike Yamada, Felix Yoon, and Scott Robertson (same author as How To Draw featured in this list), put together an incredible compilation of artwork.
Geared squarely at the artists who plan on drawing fantasy concept art, the team of artists outline various huntsmen, castles, forests, monsters, and more.
While this may be an unrelated niche for some artists who plan on painting landscapes or portraits instead, the inspiration alone of The Skillful Huntsman makes this one worth checking out.
Artists who have gone through this book loved that it was so imaginative and had great reference material.
This book does assume that you are well versed in figure drawing and perspective – making it well suited for artists who have a firm grip on drawing and composition.
Read Reviews
11. Designing Creatures And Characters
Building off The Skillful Huntsman above, Designing Creatures And Characters provides you with some concrete guidance to developing completely imaginative figures from scratch.
With all the fundamentals of composition and figure drawing already covered in the books above, it's now time to really let your imagination run wild…
…and this book will help push you in that direction.
Not only is this book loaded with challenging exercises but covers the drawing process of just about any creature imaginable.
As you can see in this flip-through:
The book features full color illustrations accompanied with a several tips from Marco Holmes.
While more of a niche category for artists looking to get into the world of concept art, this book is great for being both a reference and inspiring – and one you will find yourself flipping through time and time again.
Read Reviews