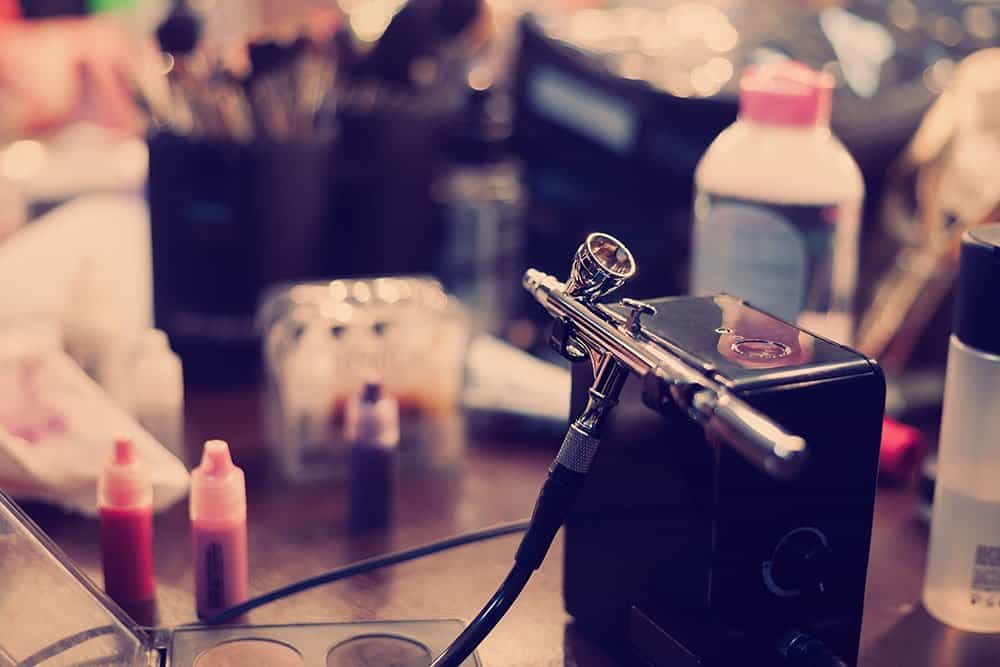 Best Airbrush For Body Painting: Top Brands Compared & Reviewed
This Article May Contain Affiliate Links
Airbrushes can be used for many different applications including toy model painting, cake decoration, and even when applying makeup.
However, the focus of today's guide is going to be on airbrush kits that are to be used for body painting.
A quality airbrush kit must have consistent and reliable airbrushes, proper hoses, fittings, and of course the compressor in order to showcase your artistic talent.
In this guide we will be going over the following:
A few key considerations you should think about before purchasing an airbrush kit for body painting
Reviews of some of the most popular airbrushes and compressors on the market
Provide a few tips and tutorials that professionals when airbrushing
Let's get started:
Comparing The Best Airbrushes For Body Painting
For those who want a bit clearer comparison of the most popular airbrush kits we reviewed, here are a few key differences between all the kits mentioned in this article:
Before You Decide: A Few Things To Consider
Diving into the world of airbrush painting can get confusing rather quickly, therefore we wanted to share a few notes we took when reviewing the kits.
Please use the below information as a reference when you are deciding on the right airbrush kit for you:
Kit vs. Individual Purchase
Whether you are searching at retailers like Amazon and elsewhere, you will find that airbrushes are sold both individually and as a kit.
The scope of today's article will be squarely around kits.
We find that kits are perfect for beginners as they often contain all the essentials you could possibly need when first starting out with this fun medium.
However, as you get a firm handle on airbrushing, it is easy to mix across brands and go outside the kit (this is encouraged) as you can see how compressors and airbrushes can vary significantly across brands.
When it comes to selecting an airbrush kit for body painting – you will want to make sure that the following are included:
At least 1 Airbrush with a needle
Hose for attaching the airbrush to the compressor
A jar for holding the paint (only if you get a siphon feed airbrush)
Compressor for propelling the paint from the airbrush
Paint for airbrush use
Each one of the above components is required in order to do a body painting – the reason why we stress this is that some airbrush kits may exclude an item or two in order to lower the overall price – so ensure that all are included before purchasing as to prevent any surprises from happening when you unbox.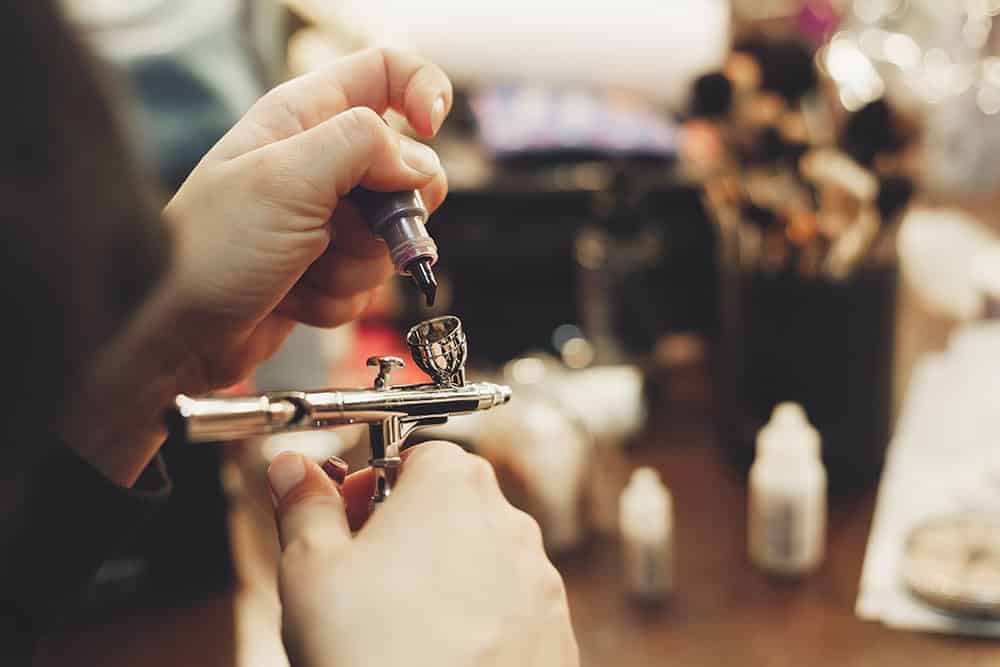 Selecting The Right Paint
The body paint that is used for an airbrush will be completely different the more traditional body paints.
Airbrush body paints will be much thinner as to reduce clogs from occurring when the paint passes through the airbrush.
However, like some of the top-rated body paints we recently reviewed, airbrush paints will have water base.
Making their application and removal incredibly safe.
Furthermore, airbrush paints will also typically be FDA-compliant and non-toxic – of course you will want to confirm this with the paint company itself.
While many of the kits we reviewed may have a starter set of paint, these are typically just small samples that will only last you a few paintings.
So, if you plan on practicing heavily once your kit arrives in the mail, we would also recommend picking up Mehron liquid makeup or Global Body Art paint as well.
Return Policy
Given that airbrush kits are a form of machinery, the warranty and return policy with the machines are much more graceful than other art supplies.
During our research it wasn't uncommon to see some companies have a 1 or 2-year return or warranty window – especially on the more mechanical components like the airbrush or compressor.
It's an extra level of comfort that's nice, especially if you plan on investing upwards to a few hundred dollars on your new airbrush kit.
Budget
Speaking of investment, you will see in a minute that airbrush kit prices can vary wildly.
The biggest factors that impact the price of the kit will be the airbrush and the compressor.
Compressors from companies like Iwata charge several hundreds to thousands of dollars for one of their products.
On the other hand, there are smaller portable compressors that carry a sub $100 price tag.
Naturally the amount of settings, reliability, and of course construction have a large impact on this price.
Secondly, professional airbrushes by themselves can also command a $100 or $200 price tag.
Where are we going with this?
If you are just jumping into the world of body painting with an airbrush, expect to pay at minimum $100 for something that won't break within a few weeks of opening (while the gracious return policies are always nice – going through them is usually a pain).
However, when upgrading, you will find there are going to be great brands like Iwata, Paasche, and Badger to name a few.
Limited Selection
In our research we were surprised to see how small the airbrush market really was. Similar to our recent post covering scanners for artwork, there are very few brands that control the majority of the market.
Therefore, to try and make our review list as comprehensive as possible, we did look at a few different models from the same brands as they were truly unique offerings.
The Best Airbrushes For Body Painting Reviewed
After hours of research, here is our summary on some of the best airbrush kits for body painting:
Getting The Most Out of Your New Airbrush Kit
Like any art supply, practice rather than price will determine how great the supplies perform.
Therefore, to get the most out of your new airbrush kit, you will need to make sure you practice body painting regularly.
In order to reduce the learning curve, we did come across a few videos in our research that we wanted to share.
Here we thought the following body painting artists did a great job explaining the tips and tricks to a great body painting:
Airbrush Newbie Tips by Josh Seaman
Here you can see how a professional airbrush artist talks about the importance of the airbrush along with a few creative ways to practice your techniques.
But what is also great about this video is that Josh explains what he is doing while painting – making this hugely helpful for beginners.
Airbrush Face Painting
In this video you will learn proper setup of the airbrush itself along with a tutorial on applying the paint to the skin.
Furthermore, you can see how the artist uses stencils to their advantage in order to create nice color blocks on the skin.
For those who like to skip ahead, the painting begins at the 1:48 mark.
Airbrush Body Painting With Stencils
Similar to the previous video, here you can look over the shoulder of a fellow artist and see how they use stencils to create a Biomechanical effect in their finished body painting.
Where Can You Buy Airbrush Kits Online?
Of course, the most popular online retailer, Amazon, has a wide selection of airbrushes, compressors, and complete kits (many of which we linked to above).
But if you are one looking to purchase from a more boutique retailer or simply are looking for a wider selection, we recommend checking out these stores:
Choosing The Best Airbrush Kit For Body Painting
When we set out on our assignment to review the best airbrush kits for body painting in 2019, we were surprised by the limited selection. With only a few brands taking the lions share of the market, artists hands are somewhat tied when making a decision.
However, after several careful hours of research, reading forums, subreddits, customer reviews, and seeing results, we do feel confident that we found the best airbrush kits currently on the market.
Now given that we are a bit smaller team here at Createlet, inevitably a product or two might have gotten by us. If you want us to take a look at another brand, please let us know!
So, if you are jumping into the world of body painting with an airbrush, we hope our guide was helpful in finding the perfect kit for you.